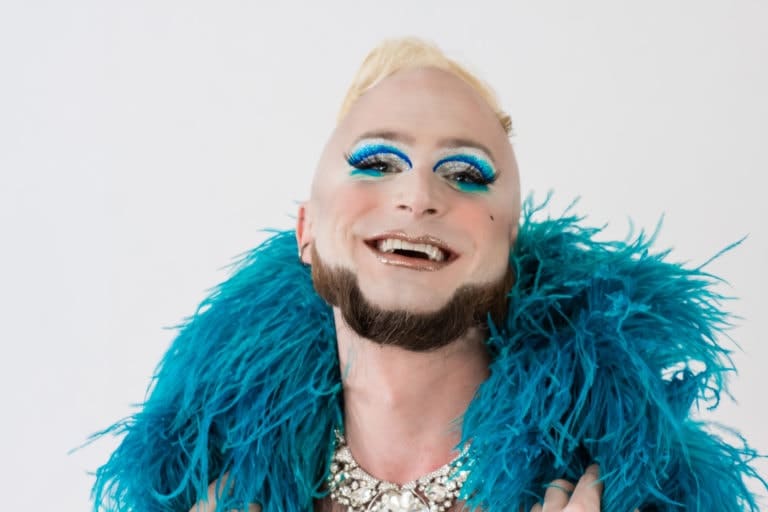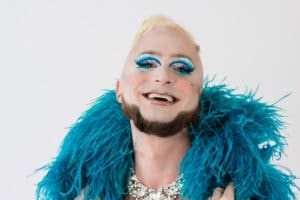 EmpeROAR Fabulous joined us last year as Miss Kitty Baby's stage kitten helping clear the Divas Take the Hill performance stage between acts. His style and antics are absolutely brilliant and his personality is as sparkling as his smile and wit. EmpeRoar Fabulous is a fine addition to this year's show benefitting PSKS, don't miss out!
Learn More About EmpeROAR Fabulous
EmpeROAR Fabulous!!! is a vocalist, songwriter, burlesque performer, and emcee, who's been teasing since 2008. His whip clever and tongue in cheek songs are carried on vocals with a wide range, and delivery spanning sweet to gruff to flamboyantly cartoonish. As an emcee, his trademark is ridiculous narratives that turn tangents into points, line by line. As a burlesque performer, his camp and sass have girded him with trophies and sashes from near and not-quite-so-near, television appearances (America's Got Talent), and has made him a flaming figure of the festival circuit, who'll fire your fuse and explode your senses. His exclamations will leave you marked! He's thrilled to be competing in the Best Boylesque category at this year's Burlesque Hall Of Fame Weekend.
Whether EmpeROAR Fabulous is revealing flesh or feelings, The Exposing Composer leaves audiences reeling. Amongst his many burlesque festival circuits, he has made multiple appearances at The Vancouver International Burlesque Festival as a host, dancer, and singer. The Great Burlesque Expo in Boston and The Carolina Burlesque Festival bestowed The Judges Choice and Best Variety awards, respectively, upon him for singing live to original music in his burlesque acts, and he was an invited performer the following year at The Great Burlesque Expo.Other festivals include The Seattle Boylesque Festival, The Seattle Erotic Arts Festival, Seattle Fringe Festival, The Seattle International Cabaret Festival, and The Solo Performance Festival. He holds a Bachelor of Music from Cornish College of The Arts, where he studied Vocal Performance and Songwriting.
Don't miss the party! Divas Take the Hill is Thursday, June 9 at Velocity Dance Center in the heart of Capitol Hill. Get your tickets online!