The first hint of the changing colors of the leaves means different things for different people. For some its back to school. For others its time to cook up a batch of soup. And for others it's the first sneak peek of the the 2011 – 2012 arts season. For the Divas its time to get back into the Theater and see some of Seattle's prime art companies do what they do best – create art!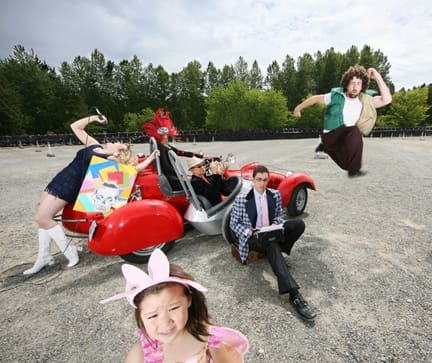 Arts Crush 2011 kicks off in October. Its four whole weeks of ART. That's right – nothing but ART. "31 days of creative adventures in art, literature, music, theatre, dance, film and more!" – According to the Arts Crush organizing crew. All over the city, artists are going to entertain, provoke and frankly make Seattle the best city to experience an Arts Crush.
The rest of fall arts season looks invigorating and interesting. There are several pieces that we are looking forward to in the coming months. Here are a couple of shows that we are really looking forward to seeing this season.
DANCE
On the Boards – zoe|juniper will be making their Seattle debut of A Crack In Everything at On the Boards in December. The Divas have watched them develop the piece from pure movement to a very layered post-avant garde take on art. Do not miss out!
Spectrum Dance Company – The Beast. Donald Byrd's work is often challenging in all the genres he undertakes. Personally I'm most fascinated by his exploration of love and relationships – sometimes violent but always moving. Donald has some of the best trained and theatrical dancers in Seattle. I have no doubt that The Beast will be a 2011 favorite.
Merce Cummingham Dance Company – The Legacy Tour at STG
THEATER
Dog Sees God | Confessions of a Teenage Blockhead by Balagan Theatre at ACT Theatre: First off, anything about the Peanuts gang growing up and going to high school sounds fun and a little off kilter. Second, its Balagan at our favorite stage in the city – ACT Theatre.
Keep up to date on our Facebook site for the shows we're intrigued by and the artists we love to support->