They vote the entire ballot! It's a ton of information to process and we get that many of you are over this election. But guess what? There are important decisions on this year's ballot that will determine how Washington state functions for the next 30 years. Think about it. What if we had planned for Light Rail 30 years ago before Seattle became a tech company hub? What if we had an effective plan for growth and affordable houses 20 years ago?  This is why it is imperative that all our Divaland peeps vote the entire ballot!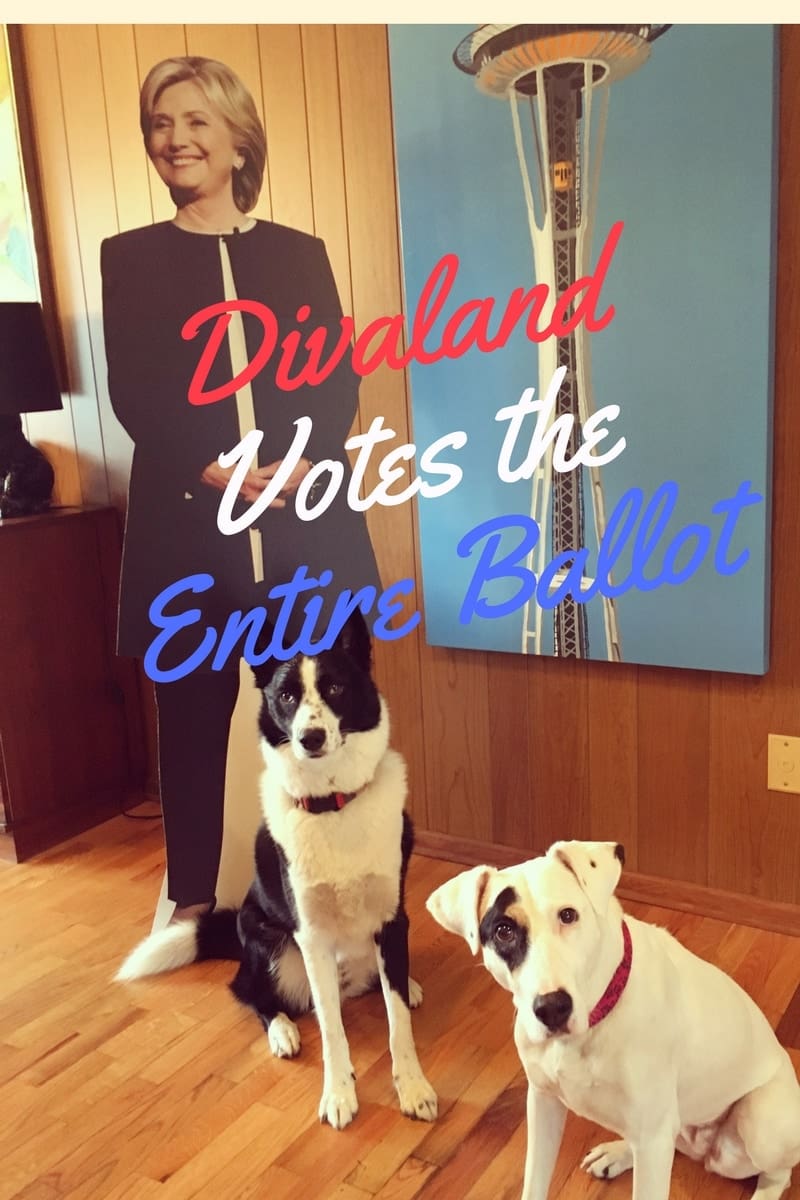 To help we have come up with a cheat sheet on how we Divas see these issues. We get that not everyone is going to agree with us on everything. But guess what? It's a free country (at least for now!) so we are completely open to respectful intelligent dissenting discourse. In fact, we encourage it! That means folks are talking about the issues and educating each other. So let's get this conversation going!
First Things First: THROW A VOTING PARTY
Voting with others is fun. Check out our guide to throwing your own party or be sure to join the Divas at their party.
Voting the Initiatives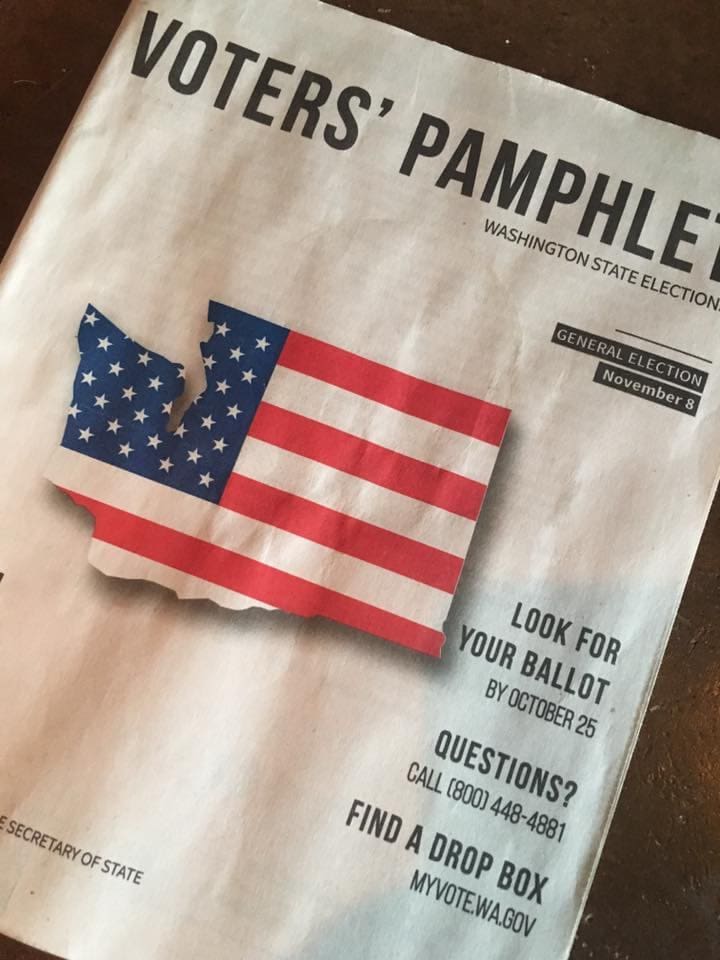 Initiative Measure 1433: Raises the Minimum Wage. We say Vote Yes! Seattle already has a $15 minimum wage. This initiative raises the wages across the state to a whopping $13.50 by 2020.
Initiative Measure 1464: Creates a Campaign-Finance System and Restrict Lobbying by Former Public Employees. We say Vote Yes! Without a doubt, the best way we as average voters can help improve the election process is to restrict the flow of big money in elections. The League of Women voters endorsed this initiative and so do we.
Initiative Measure 1491: Extreme Risk Protection Orders. We say Vote Yes! This initiative would temporarily suspend access to guns for those who are deemed to be a risk to themselves or others. We know this is not a perfect law, but if it prevents even one suicide or one event such as the Orlando shooting then we support it!
Initiative Measure 1501: Protects Vulnerable Adults and their Caregiver. This one is complicated but we say Vote Yes! If you read the Stranger this initiative is about restricting access to public records "I-1501 would prohibit the release of the names of home-health-care workers—workers who, by the way, are paid with public dollars" –The Stranger. Meanwhile, the Teachers Union has endorsed this initiative. I think our favorite response is by the Seattlish
I-1501/Protecting seniors but it's complicated: To some extent, this is what it says on the label: protect vulnerable adults and their caregivers. But the spirit of it is a little bit different—it would keep names of state caregivers out of the public record so they can't be harassed by right-to-work orgs, which happens honestly kind of a lot. This is important, too, because many caretakers live with the people they care for, which can set them up for identity theft. Vote yes. 
Initiative Measure 732: Impose a carbon emission tax on fossil fuels. Vote Yes or No! The bottom line is that the Federal Government is locked up by a bunch anti-science people who think climate change is a hoax. We need to make progress. This initiative is not perfect. It is not endorsed by key environmentalist organizations. At the same time, something needs to happen. Half of our team is voting yes and the other no. Do your research and vote your heart/head.
Initiative Measure 735: Corporations Are not People. Vote Yes! Basically, this initiative is the big middle finger to Citizen's United. They love causing gridlock in Washington and disrupting democracy with money from undisclosed sources. We are leaning yes but have no idea how effective this initiative will be if it becomes a law.
Advisory Vote 14 and 15: We say Maintain! Please look up the other resources below if you want more pertinent information.
Senate Joint Resolution 8210: We say Approve. Redistricting is another way for the extreme right to maintain control of key areas of politics. Look at  Texas, North Carolina or Lousiana. The redistricting maps support one party. The reason why we can't get a grand bargain on major issues like social security is that there are so few swing/centrist districts left in the nation because of this effed up gerrymandering.
Voting for Every Position on the Ballot – Candidates
President: There is only one option in Divaland and that is Hillary Clinton! If you would like a refresher here you go.
US Senator: Patty Murray. Senator Murray get's shit done for women, Planned Parenthood, education, children, veterans, LGBTQ community, the environment, and so much more. Patty is more than mom in tennis shoes. She is the mom in tennis shoes who get's shit done!
US District 1: Suzan DelBene. To quote the Seattlish "Suzan DelBene is dope as hell, she's a rising star and will also probably run for Governor. Vote DelBene."
US District 7: Brady Walkinshaw or Pramila Jayapal. Frankly, they are both excellent candidates. Do some research and vote for the candidate who best supports the issues you care about.
US District 8: Tony Ventrella. Team Diva cannot stand Reichert. That bronzed turd has voted against Planned Parenthood and LGBTQ rights to many times to count. Please Eastside friends. Be cool. Unfortunately Tony has run a poor campaign. Commit like a Diva and make some change happen Tony!
US District 9: Adam Smith. Adam Smith has been an effective Congress person for many years and he definitely get's shit done in DC. He is often in the community and works hard to bring home resources to our often overlooked area of City.
State Government Positions
Governor: Jay Inslee. Jay has been a good Governor who actively is actively working to address transportation, climate change, and education issues in our state. Let's keep him!
Lieutenant Governor: Cyrus Habib. Cyrus biggest issue is getting k-12 fully funded. School funding is a joke in this state. We are one of the biggest tech cities in the world and have some of the worst public schools. We need an advocate who will push for real change in education.
Secretary of State: Tina Podlodowski. Vote for Tina! This race is strangely very close and we need to do something about it. Diva Dweller Helen summed up the case for Tina perfectly.
"We so need to get Tina elected. I was in touch with her when I discovered, (it's my first federal election), that the ballots do not have prepaid postage which prevents many people from voting. There are insufficient dropboxes, millennials rarely use the mail service, and low income people may be unable to avoid the price of a stamp or the time to go and buy a stamp…the act of making people "pay to vote" disenfranchises many voters. Tina is pro making mailing ballots free we so need her to be Secretary of State."
State Treasurer: Duane Davidson. Yes the Divas do vote for responsible Republicans. Duane came out early against Donald Trump. Sometimes we cannot make true progress by only taking one path to the finish line. There are so many ways to get there.
State Auditor: Pat McCarthy. Divas are fans of super smart women getting into office. Yes, she will bore you with the details. But frankly, we find that comforting. Verus her opponent, who is one of the people behind the anti-trans bathroom bills. Lame-o!
Attorney General: Bob Ferguson. We are 100% behind Bob Ferguson. He stands up against anti-trans discrimination and will make sure that all people in Washington state are treated fairly regardless if they are Muslim, Jewish, LGBTQ, etc. America is for all of us not just old white angry people.
Commissioner of Public Lands: Hilary Franz. Remember all of those good environmentalist initiatives we just voted for. Guess what. They are irrelevant if you do not have someone who believes in climate change in this position. Hilary wants to protect Washington's public lands and create clean energy jobs. This is important!
Superintendent of Public Instruction: Hmmmm we really do not know! A good portion of our friends are voting Chris Reykdal. But a lot of our friends who work in social justice in schools are adamant that Erin Jones is the person to make progressive change in our school systems. Unfortunately, Erin made a big snafu and showed a level of ignorance for our LGBTQ community. She has genuinely tried to make it up. Do your research and vote for the person that most aligns with our own viewpoint.
Insurance Commissioner: Mike Kreidler. Even the Stranger said he gets shit done!
State Representatives: There are so many different districts in Divaland. I strongly recommend you read through the resources below for your specific district.
District 33: Tina Orwall / The other person looks crazy.
District 34 Position 1: Eileen Cody / She is a nurse and has a ton of experience.
District 34 Position 2: Joe Fitzgibbon / Joe is awesome and is fighting to prevent climate change.
District 36: Rueven Carlyle / Noel Chistina Frame / Gael Tarleton
District 37: Postition 1; Sharon Tomiko Santos and Position 2: Eric Pettigrew
District 43: Position 1: Nicole Macri or Dan Shih Both candidates are great. Vote for who aligns most with your values.
District 46 Position 1: Gerry Pollet / The other candidate has no experience but is pro-pot if that is your jam.
District 48 Position 2: Jessyn Farrell / Cause she is a winner!
Supreme Court Justices and Local Court Races
The Race for Washington State Court Justices is one of the most interesting and critical portions of our election in Washington state. Team Diva strongly believes that we should support public education. The current Supreme Court strongly supports full funding of voter-approved school funding. There is an unprecedented amount of money coming into this election to oppose the current court justices. Specifically in the Charles Wiggins race. Justice Wiggins has done so much great work to make sure that there are more people of color represented on juries, that our schools are funded, and so much more. It is BS that some billionaires in our state have decided to buy our court system. Here are our choices for Judges below:
Mary Yu
Charles Wiggins
Barbara Madsen
King County Superior Court Judges
Nicole Gaines Phelps (Judge Phelps is a dear friend of our friend Andrea Chatard which makes her all the more awesome!)
David Keenan
Helen Halpert
Cathy Moore
Anthony Gipe
Mariane Spearman
Local Initiatives and Propositions
City of Seattle Initiative No 124: Protects Women Hotel Worker. Vote YES!  Hotel workers are mostly women and majority of them do not speak English as their primary language. This law would raise health and safety standards for hotel workers and protect them from harassment. Team Diva has always stood with our most vulnerable portions of our broader community.
Prop 1: Mass Transit – APPROVE – Our friends at the Move to the Tacoma blog have an amazing podcast about why this regional transit initiative is CRITICAL!
Here are Some Other Resources on How to Vote the Entire Ballot
Voting by the issues
Endorsements by the Local Publications
The Divas and Diva Dogs appreciate you taking the time to read this blog and for taking a stand on the important issues that impact us locally and nationally.  Thank you for Voting the Entire Ballot with Divaland!