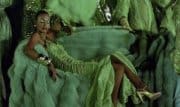 One of the events of the season is just around the corner and we Divas could not be more excited! Kt Niehoff's Lingo Dance Company and CityArts Fest are presenting the next installment Lingo Dance's Collision Theory exhibition this Saturday, October 20th from 8:00-11:00 PM. Collision Theory is an extended performance art experience, aimed at entangling people in a creative adventure full of dinner parties, fashion shows, dance exhibitions, and more. We have loved following up on the goings-on of Collision Theory since it began in June of this year and we cannot wait to see what is in store with the next big event.
This next installment of Collision Theory is called Emerald City: Be Seen in Green. As the title seems to suggest, tonight will be the night to don yourself in your most fabulous green dress and make an appearance in the Emerald City (AKA the unique boutique, Baby&Co). This event is sure to be a hit, with live dance performances, musical entertainment, and lots of good-lookin' peeps (with makeup by the artist to the stars, Lindsey Watkins – she's even done Taylor Swift's makeup!). Oh, and did me mention that there will be a full bar? Yes, a full bar. What could be better? Absolutely nothing. We really hope to be seeing every one of you strutting your stuff and getting your groove on at this event. Dress to the nines (but remember green is the key) and come get stalked by the paparazzi, or at least by our resident photographer.
What should you do next? Well tell all your friends and gather your posse – if nothing less, let us know if you want to go! Next, purchase your tickets for whatever time you would like to arrive in the Emerald City. Finally, pick your outfit and dress to kill. See you on all this Saturday, October 20! Be there. Be seen in Green.