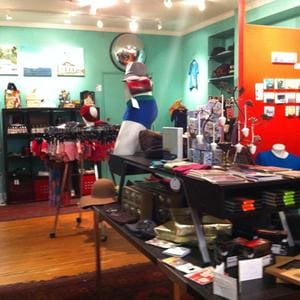 If you've ever taken a walk down Pike Street up on Capitol Hill, you're sure to have seen one of our favorite stores, Retail Therapy. The store is hard to miss with the mannequins in the window, dressed with all types of men's undies. Owned by one of our very own Divotees, Wazhma, Retail Therapy has sponsored a number of Diva events, even being the host location for the first ever Divas Take the Hill event last year.
We love Retail Therapy because it offers the design-savvy shopper unique and sometimes outlandish clothes, cards, and trinkets. From one-of-a-kind dresses to those cute little Japanese figurines, you can find some of the most unique gifts, whether it be for yourself or a friend. Some of the all-time best sellers in the store are the sexy, stylish, and distinct underwear collection that lines an entire wall in the store, including favorite brands such as Ginch Gonch and Danial Webster Design. We even had a few models walking around the crowd showing off the "goods" while selling raffle tickets at the Divas Take the Hill event in June.
Retail Therapy truly is a secret little treasure trove right smack in the middle of bustling Capitol Hill. The next time you are looking for something special, something that nobody else has, head on over to see our friend Wazhma, who has been running this place for seven years. She has an incredible eye for fun and tasteful clothes, knick-knacks, and gadgets, so she will be able to help you find something for anybody.