Congratulations DonnaTella Howe on Your Reign as Olympia 45 (Empress of Seattle)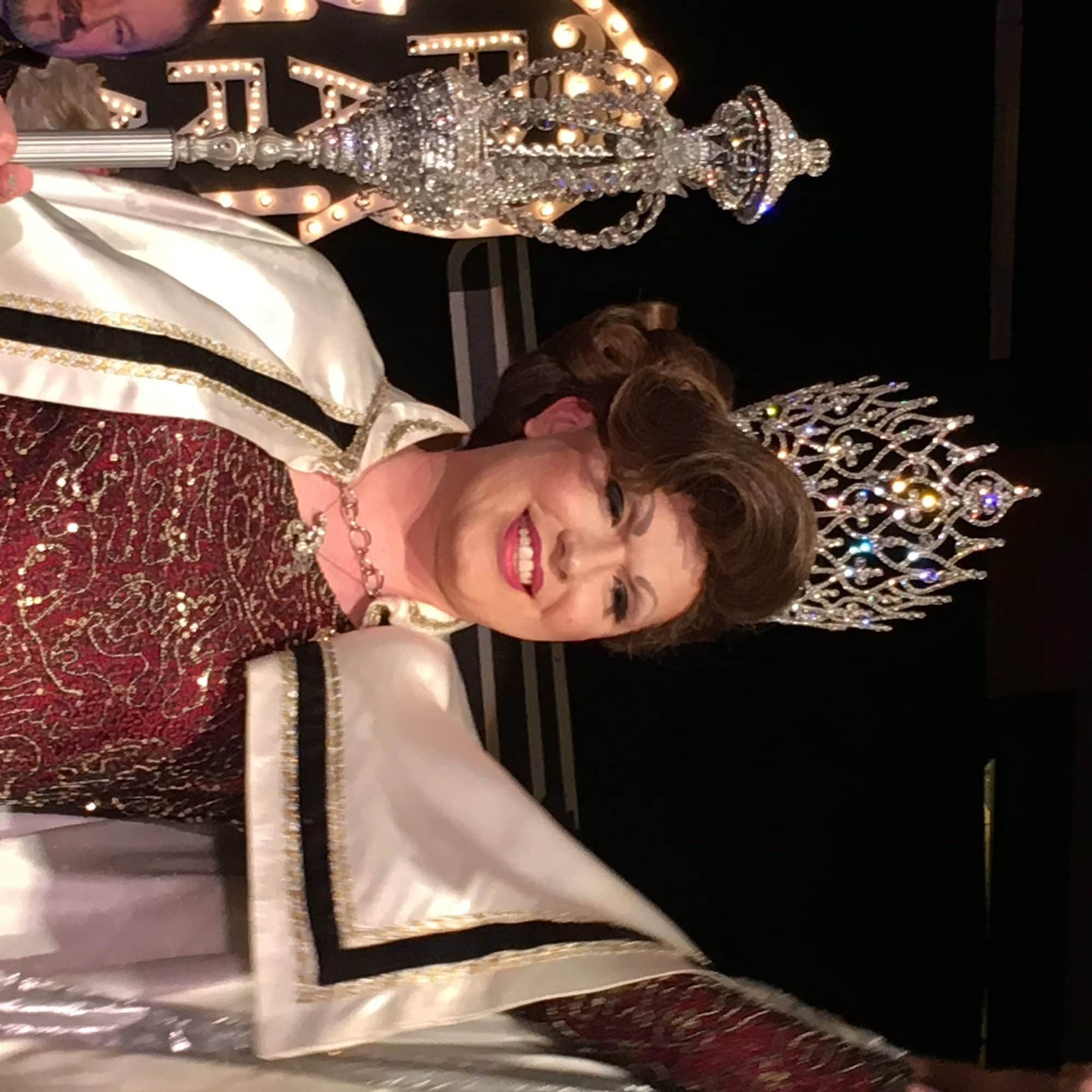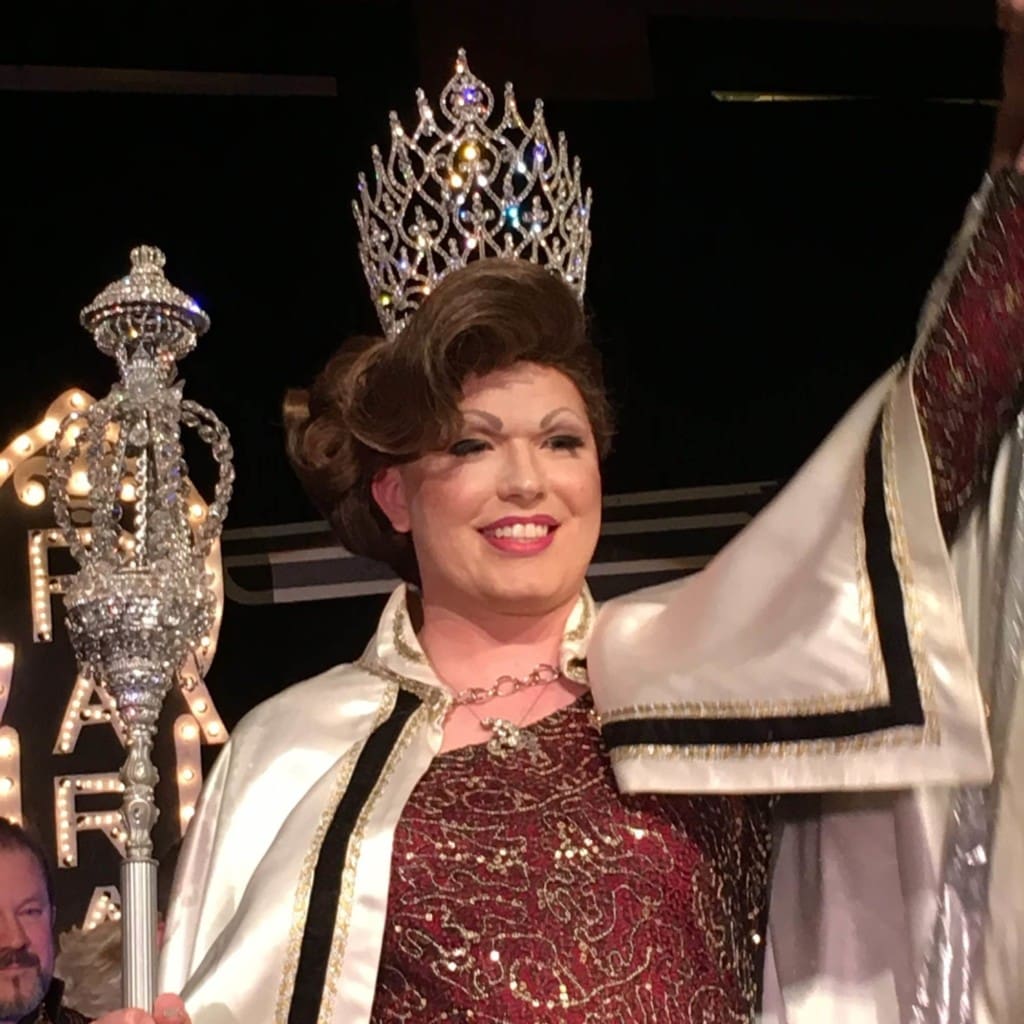 Also known as: Seattle's Diva-Dwelling, boxy-hipped, athletic drag queen. The Surreal, Hysteric and Jurassic Empress – Olympia XLV DonnaTella Howe
Yes – our little office now has an Empress in our midst. Crazy. Congratulations DonnaTella. You worked that boxy hipped look all over Seattle. And in the process managed to bring together the Sisters, Burlesque, and Rugby community coming out to support your candidacy. You are a community builder and it came through clearly on your awesome campaign video below.
We remember her back when she hosted her first event at
Divas Take the Hill
. That same year she became Miss Gay Seattle. Now our
Diva Desk Dude
is now an Empress. We all knew it was going to happen.
On Saturday, February 13th the Saturgays and entourage crowded around Table 4 and watched more glitter and glam than any of us have seen in our life. We thought we were so fancy in our stunning black dresses and modern jewelry. Oh no! Apparently rhinestones, crowns, scepters, and full length formal gowns was the outfit de rigeur. NEXT TIME!
Oh and Team Diva won Business of the Year (I think we are officially lesbian royalty now).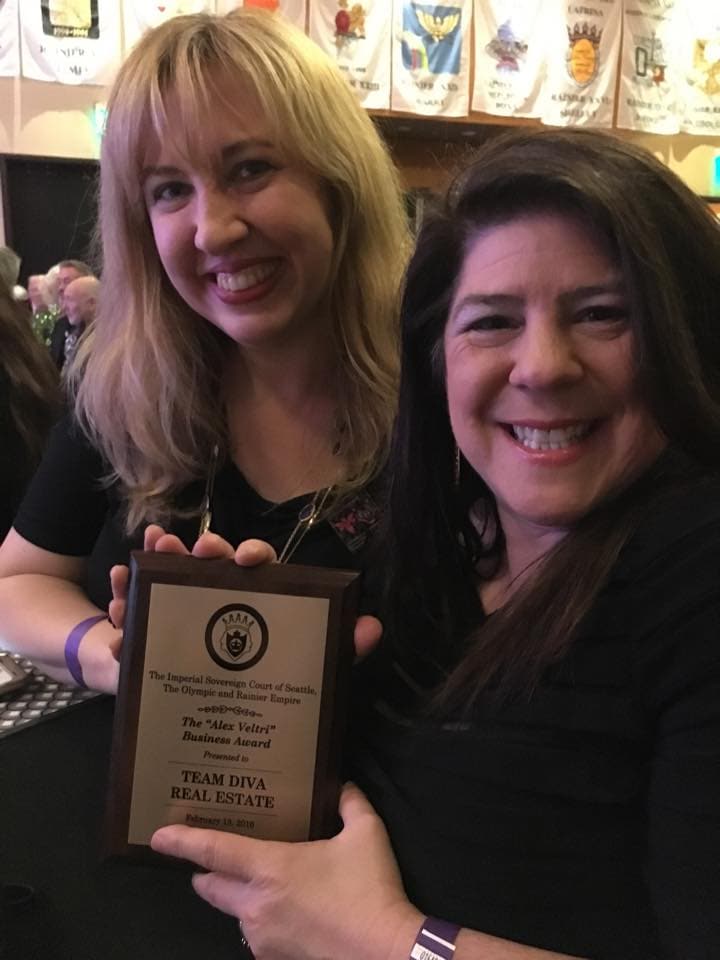 The Imperial Court System was founded in San Francisco in 1965 by Jose Sarria aka "Mama Jose" and was later followed by Portland, Seattle and then Vancouver, BC and so on. Spanning Canada, the US and Mexico each empire works to serve their community and bestowing members of each imperial family with titles of nobility as figureheads. Charitable fundraising and support of other organizations and communities are the main goals. Having evolved from such needs as paying off cops to have gay/queer bars to the AIDS crisis,  gay marriage and LGBT scholarships. This rich history of community service and LGBT royalty continues on finding new ways to evolve as an organization and help further local and regional causes as needed.
Team Diva is looking forward to supporting DonnaTella during her reign as Olympia 45. The Imperial Sovereign Court is an important organization in our Seattle GLBTQ community. DonnaTella will be assisting them in improving their fundraising efforts by bringing in more partnerships like the one between Team Diva and our real estate community partnership. And continuing to bring in more people to the organization. Go get 'em DonnaTella you boxy hipped Diva Desk Empress!
Join us in congratulating our Empress DonnaTella!