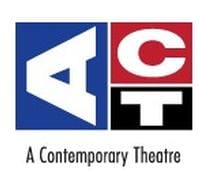 Considering that ACT stands for "A Contemporary Theater," it requires no explanation to show that this organization focuses on providing the community with quality contemporary artistic productions.  Since 1965, ACT Theater has been dedicated to providing inquisitive (and sometimes brave) Seattle audiences with promising productions.
The Divas have long been supporters of ACT Theater.  We admire the organization's commitment to constructive conversation through the exposure of contemporary concepts and contentions.  By providing this experience in the heart of downtown Seattle, all are invited to take part in deeper thought into the struggles of everyday existence in today's increasingly complex world.  However, not only do the Divas appreciate this commitment to conversation, but the pure artistic savvy of these peeps really shines through in all of their works.
So if you enjoy the arts and the issues, just like the Divas do, you should most definitely support ACT Theater.  Go to a show. Grab a subscription. Or just donate some funds.  Let's keep these contemporary artists confronting contemporary issues.