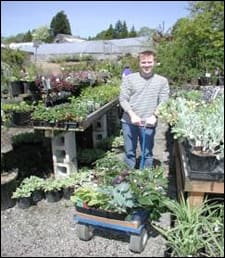 The constant downpour of rain this past couple of weeks is starting to dampen my garden spirit. I look at the window of my home office at Chez Diva and see remnants of last years brussel sprouts that I forgot to compost and the occasional gourd left over from our 2010 gourd explosion. Oh and yes – there is some lettuce popping up out of the muddy mess as well. Dismayed as I may be, I recently got a newsletter from my local garden spot Minter's Earlington Greenhouse. It is located on Renton Ave between Skyway and Renton and run by a couple of lovely older gay gentleman. In Earlington's newsletter there was a flash of spring flowers and a list of SPRING VEGGIESÂ  – from SEED!
So, the only person I know who starts her garden from seeds is Diva Pal + Dweller Aimee. She takes each seed and creates these amazing packets on her kitchen windowsill to nurture them along until they are ready to plant. Being the finance guru that she is, the cost vs benefit of starting one's veggies from seeds is a win win.
I love to garden and last year's vegetable garden was an amazing success. We are still eating the pickled green tomatoes and giggling about the gourd explosion that miraculously manifested itself out of nowhere. But from seed? Scary as it may be – I am confident I can do this whole gardening from seed thing. This little excerpt from the gentlemen of Earlington calmed my nerves ->
Each garden and each season in our area is different and only by experimenting, and with trial and error, will you get to "know" your garden. Be patient, perfection takes time!  Gardening is both an art and a science, each playing off the other. Gardening can be extremely rewarding, whether you choose to grow from seeds or seedlings and success comes in the trying.  And not to fear, if your seeds don't behave quite the way you expected, we will have you "covered" with vegetable starts available here at the nursery throughout the growing season.  Just go out and have fun with seeds!
The gentlemen of Earlington recommend starting certain veggies indoors first during the early days of spring.
Lettuce
Spinach
Mustard Greens
Broccoli
Cabbage
Cauliflower
Swiss Chard
Earlington
also said that you can start some vegetables in your garden now. Toss your peas into the soil but make sure your yard has dried out a wee bit. One can also plant onions, rhubarb and potatoes directly into the garden around this time.
Done! I'm off to Earlington to get my seed packets and taking Diva Pal Aimee with me to coach me through this process. Keep checking into the Diva Blog- Victory Gardens over the spring and summer and we will post updates to Chez Divas veggie yard.
Get inspired by others planting their veggies from seeds:
http://www.rootsimple.com/ – Places where it is actually warm!
http://reneesgardenseeds.blogspot.com/