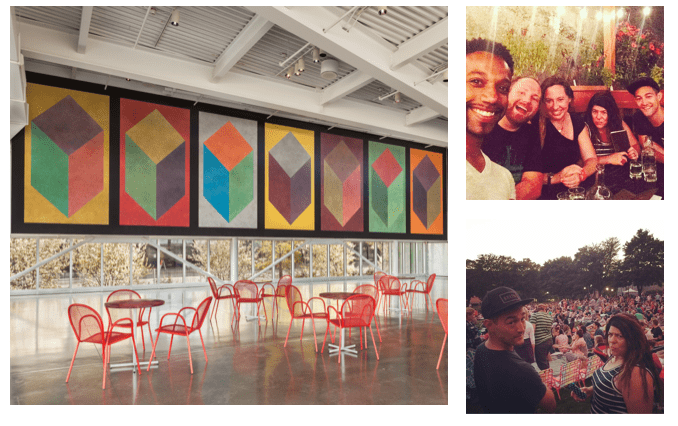 We can't believe August is already upon us! That means summer in Seattle is at it's height, but also that summer is starting to dwindle — believe it or not, days are getting shorter and multicolored leaves are not too far off. For people who already fit in a relaxing summer vacation to some exotic place, this isn't a huge deal. But then there is the rest of us, sitting here in the spirit of the Go-Gos screaming "Vacation, all I ever wanted!" Well that's why August will forever be known as the month of the staycation — and lucky us, we all live in one of the best cities in the world for a little end-of-summer soireé right here in Seattle. So go ahead, take a week off, and check out a few of the Diva Team's favorite summer activities!
BBQ at Golden Gardens Park: Seattle is one of the lucky cities to be blessed with tons of outdoor greenspace: parks, lakes, beaches, the Sound…we have it all! But the space that ranks high above the rest is definitely Golden Gardens Park, especially at sunset. This beautiful park faces West overlooking the Sound, and it's one of the few places in the city that actually makes you feel like you are on vacation, lounging on a white sand beach. It's got everything from sunset concerts to impromptu volleyball games, so make sure you show up early because on sunny days it gets crammed!
Diva Dude Happy Hour (Friday's around 5:30): When Friday comes around and the sun is out, the Diva Dudes go in search of the nearest deck to sip some liquid relaxation. The origins of Diva Dude Happy Hour are unclear — maybe it started one time the Divas were out of town or maybe it happened among the workday madness that World Cup brought — but what is clear is that it is now one of the things that always gets us through the week. We hope it does the same for you. Here are some of our fav places for Diva Dude Happy Hour: 95 Slide (upstairs deck is the bomb), Sun Liquor on Pike, The Comet (new and improved) and Bait Shop just to name a few.
Three Dollar Bill Cinema's Movies in Cal Anderson: Every Friday in August, Three Dollar Bill Cinema hosts  an evening in Cal Anderson Park, complete with DJs, dancing, games, and a screening of your favorite guilty pleasure movies. This year's theme is TEENAGE DREAM, so they are playing some of your favorite teen flicks from the past including Bring It On, Dirty Dancing, Clueless, and Teenage Witch. Seriously what else would you rather be doing on a Friday night?!
Olympic Sculpture Park: The Olympic Sculpture Park is one of Seattle best kept secrets that actually isn't a secret at all — it's free, it's beautiful, and it's probably one of the best places in Seattle to catch a sunset (it opens 30 minutes prior to sunrise and 30 minutes after sunset). While you are there, make sure to stop into the PACCAR Pavilion and check out the mural that Diva Dude Roy helped to re-create earlier this year!
SAM Remix on August 22nd: Speaking of the Sculpture Park, one of the things that we are most excited about this month is the SAM Remix event. This event happens four times every year, but it's the summer one in the Sculpture Park that takes the cake. This Remix theme? Modernism in the Pacific Northwest: the Mythic and the Mystical. "No two Remixes are the same," so be sure to come out and see what this one is all about and get ready to see some incredible art installations all while dancing the night away under the stars.
Georgetown Trailer Park Mall: For all the small town folks out there like Diva Chavi and Diva Dudes Chris + Roy, sometimes all we want in this city is a little taste of home. Usually that entails cheap beers, a rodeo, or some form of a demolition derby — but nothing is better than a good trailer park. Well here in Seattle, we are lucky enough to have our very own summer Trailer Park pop up every 2nd Saturday, complete with a vintage/artisan market, local food + drank, and even performances from some of our fav #DivaDwellers, Sylvia O'Stayformore and DonnaTella Howe every now and again!
Cougar Juice Patio Time: On the rare occasion that the Diva posse is just too tired to make a public appearance, the newly remodeled patio at Chez Diva is always open . So when all else fails, just be sure to find the nearest friend's sunny patio, fire up the grill, and pop open a few bottles of cougar juice (AKA Rosé) for the perfect relaxing summer evening.