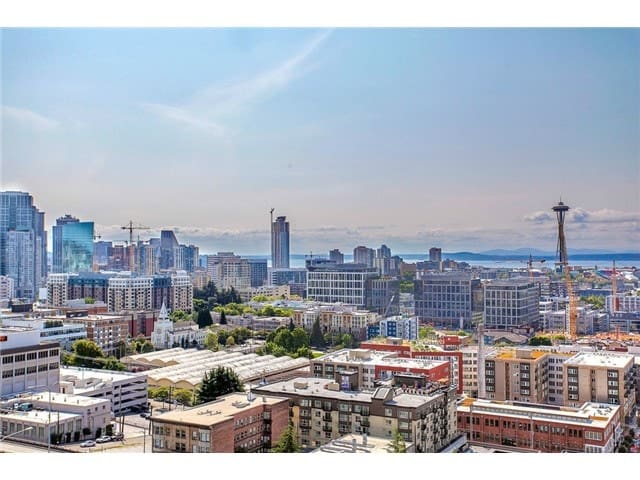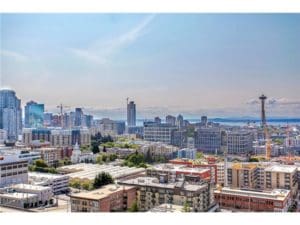 The Melrose Terrace is the  most affordable building on Capitol Hill.  When it comes to buying a home we all have to start somewhere, but a what fabulous start you can have at the latest listing in the Melrose Terrace. This unit in the Melrose Terrace is listed for sale by Diva pal Sam Lamb at Lake & Company. It is the perfect unit for the first time home buyer searching for affordable in-city living.
The thing that surprised me most about this unit is how much natural light it receives even though it not on the brightest side of the building. The floor to ceiling wall mirrors, which normally I am not a huge fan of are a smart addition to the space. They do an outstanding job of brightening up what could have been a dark, dull room with bright, warm, southwestern light.
The bedroom is spacious enough to easily accommodate a king size bed and it still has plenty of room for accent furniture. There is also plenty of closet space to accommodate that growing wardrobe as you climb up that corporate ladder to success. Beautiful maple hardwood floors have been installed throughout the living and dining rooms adding that extra touch for a simple yet luxurious feel. The kitchen is functional and ready for a cook of any level to use. Nice and cozy in size, a few simple upgrades would turn it into a chefs paradise.
One of my favorite things about Melrose Terrace is all of the amenities. We all love pool access especially during these hot summer days but lets face it, Seattle's weather can be less then stellar for outdoor pool action outside of August. The indoor pool at the Melrose Terrace is ready for you to enjoy and frolic in year round. In addition to the welcoming pool the building features a recreation room, a toddler room, and an exercise room for your enjoyment. And for those of you that have out of town guests but no air mattress for them to crash on, there are guest suites that can be rented for a nominal nightly charge.
Even with all of those amenities the co-op association has managed to have the building undergo $2 million in renovations on the exterior, patio deck, roof and more. The Melrose Terrace went from being a depressing Capitol Hill eyesore to a glimmering palace that anyone would be proud to live in. So whether you are a first time homebuyer or a seasoned homeowner looking to downsize, Melrose Tower would make a fantastic place to call home.
One thing special little note is that Melrose Terrace may look like a condo building but it is actually a co-op. Not a bad thing at all, I think co-ops are fantastic places to live and often have great value. There are just some things you will need to know about them before you decide to buy. Feel free to reach out to me with any questions and I will get you information about the differences in co-op and condo ownership.
Check out all of my favorite Capitol Hill listings of the week here >
As always I love touring the Hill. Send me a text at 206-795-6292 or email me at rocky@teamdivarealestate.com
Photos Courtesy of Sam Lamb @ Lake & Company