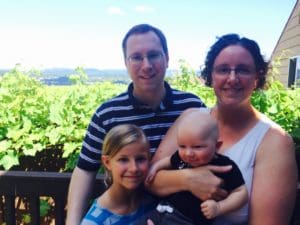 Diva Dwellers Leigh and Chris and their awesome family have a long history in Divaland. The Divas were thinking back on when they met Leigh and REALIZED that the majority of their team is the result of Leigh and Chris. Roy is friends with Noel from Seattle University. Noel's bestie is Shane (also a Diva Dweller along with his husband Jesse) who ALSO went to school with Leigh. Leigh started working with Chavi at WaMu and introduced Chavi to Shane. Shane introduced us to Noel. Noel introduced the Divas to Chris Clem and Roy Powell. And last but not least Leigh volunteered with Chavi at the Pacific Northwest Ballet where we ALL met Rocky!!!!
Ok – way back in them olden days Leigh use to label Kim's postcards at Northwest AIDS Foundation. She saw Kim's name over and over again. At the same time Leigh was working with Shane at WaMu where Diva Chavi would wait in line for one of them to cash her checks. Leigh moved to North Carolina and eventually started working in the mothership of WaMu with Chavi. Leigh and Chris found out that they were pregnant with their spunky daughter Sophia and knew the family was in a career change process. Kim was at the point in her career that she needed an assistant. Hence started Leigh's career with Kim – where she labeled postcards with Kim's name on them over and over again – Just like the olden days! But hands down Leigh came on board and was Team Member #1 (yes Chavi was #2) and helped take Kim from a top 15 agent into the top 10 agent.
Name: Leigh + Chris + Sophia + Jack
Hood: Lakeridge
How did you meet the Divas?
We originally met Kim while volunteering at Northwest AIDS Foundation (now Lifelong AIDS Foundation) in the mid-1990s. Then Chris and I moved back from living in NC for six years and I ended up working in the same department at Washington Mutual as Chavi in 2003. That's when I really became friends with the Divas. So… wow – it really has been a while!
What type of home did you purchase?
We purchased a lovely 1940s home on West Hill with a huge basement and a peek-a-boo view of Lake Washington.
What was your first "OMG" house moment?
There were a few — but the view of course! And then the 2-car garage with additional parking out front for Chris' hobby cars; the mechanics pit; the gorgeously landscaped back yard; the huge basement; storage loft; the coved ceilings; the archways; the hardwood floors…what's not to love?! When we viewed the house, we kept moving from room to room, getting more and more excited.
What is your greatest home extravagance?
Buying it in the first place, honestly. It was a stretch purchase for us, but we haven't regretted it.
What is in your junk drawer?
Lots of batteries for kids toys, glue, tape, keys to things we don't own anymore, instruction manuals for things we don't own anymore…maybe I should clean it out.
Would you rather?

Mow lawn / Paint the fence — Mow the lawn
Untangle computer cords / Sort socks — Sort socks
Test the smoke detectors / Fix squeaky doors — Test the smoke detectors
Plunge the toilet / Clean out the refrigerator — Clean out fridge
Clean the gutters / Take down holiday decorations — Take down holiday decorations
What is your favorite Hood hangout spot?
As a pure hangout spot, the Lakeridge Swim Club – it's a cool, refreshing, and laid-back way to spend a hot day. For food, Pizzaria Pulcinella, which offers Neopolitan pizza and good beer, with a strong neighborhood flavor (including the upside-down sign). For drinks, The Beachcomber, a neighborhood bar with surprisingly good food and a laid-back atmosphere.
What is your favorite local organization/non-profit?
We really love Donors Choose — we both come from families with a lot of teachers. Donors Choose allows us to support the work they and their colleagues are doing. It feels great to know our dollars are going directly to projects that will immediately improve the learning environment for students.
What do you love the most about your house?
The space in each room; back in the 1940s they weren't afraid to make a house with relatively few (but large) rooms. It always feels nice and open.