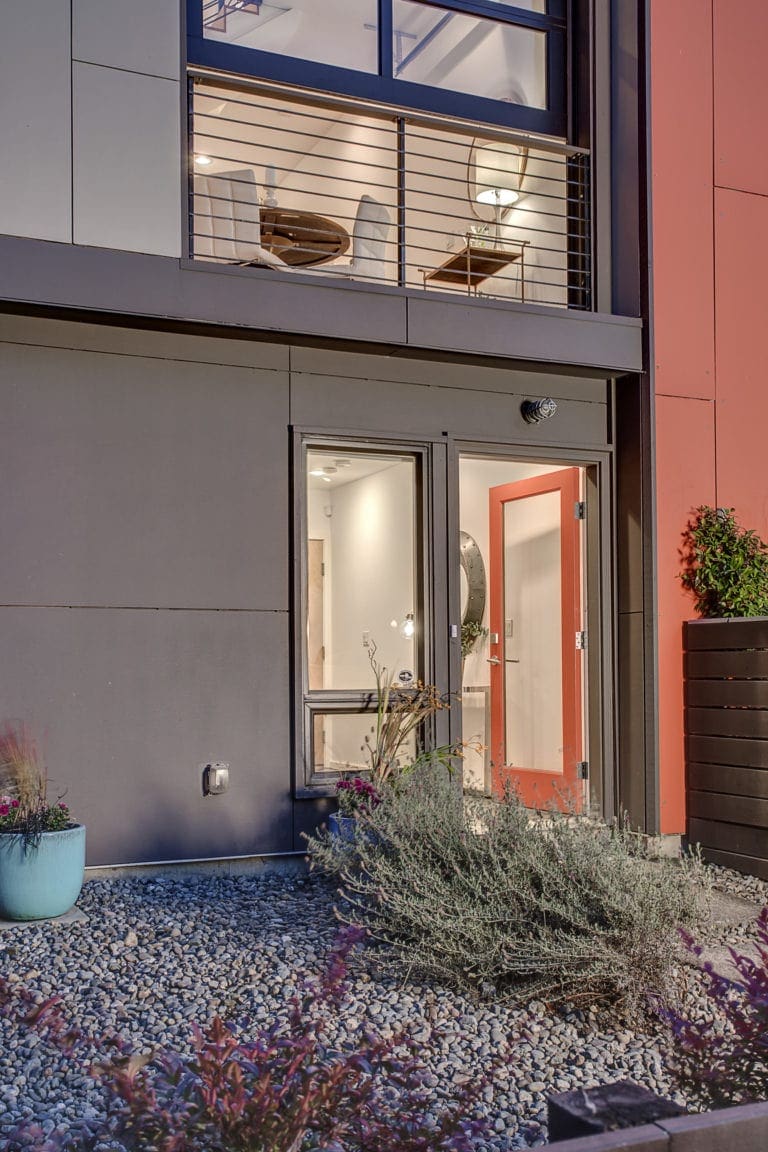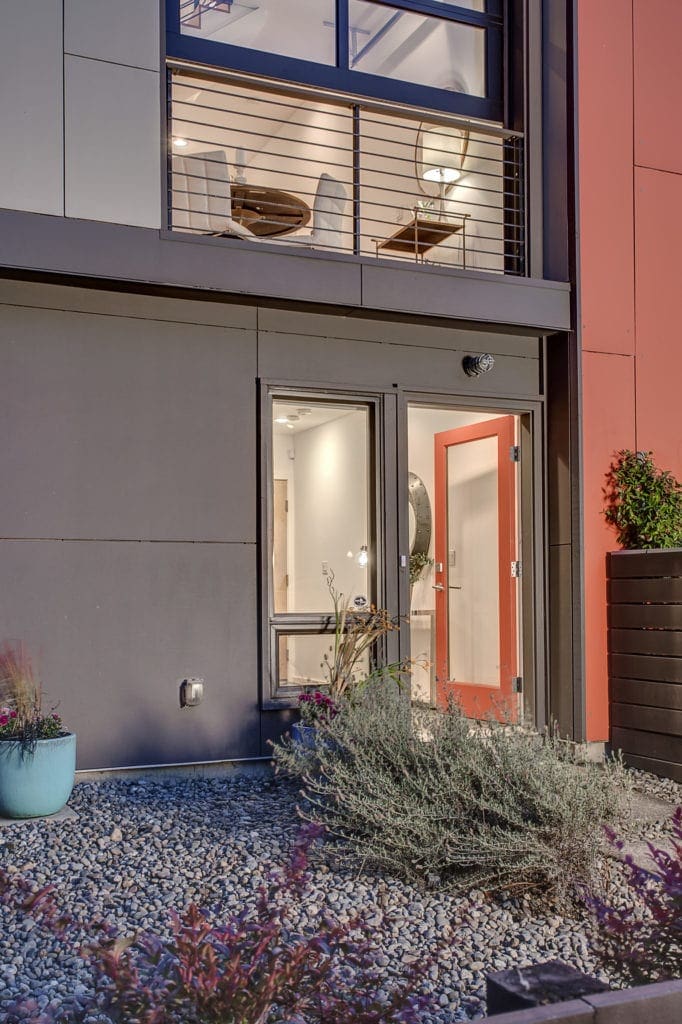 Modern Capitol Hill Townhomes is something we love the most about our market. In this blog, we are going to dive into what makes this particular Modern Capitol Hill Townhome. Specifically, we love the architectural elements like the garage door rolling window in the dining nook, the custom made sustainable bamboo cabinets and floors, the handcrafted made steel central staircase, an actual garage, and the fact there is a real yard for summer fun and BBQs. In addition, we are going to talk about what makes this the location of this Modern Capitol Hill Townhome so special. And give you a little bit of information on what you need to know if you want to buy a Townhome in Seattle.
Modern Capitol Hill Townhomes Are Not Built Like This One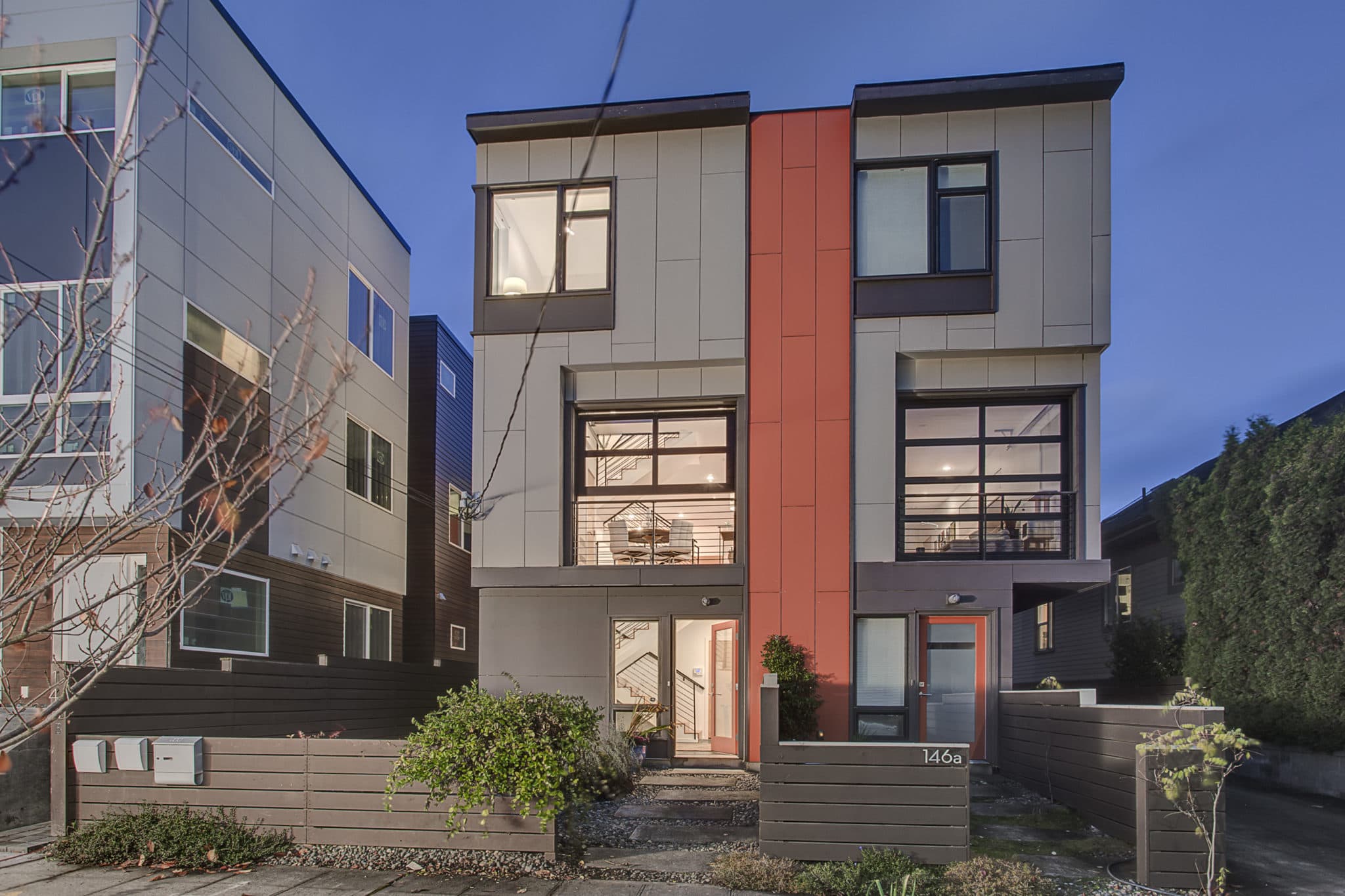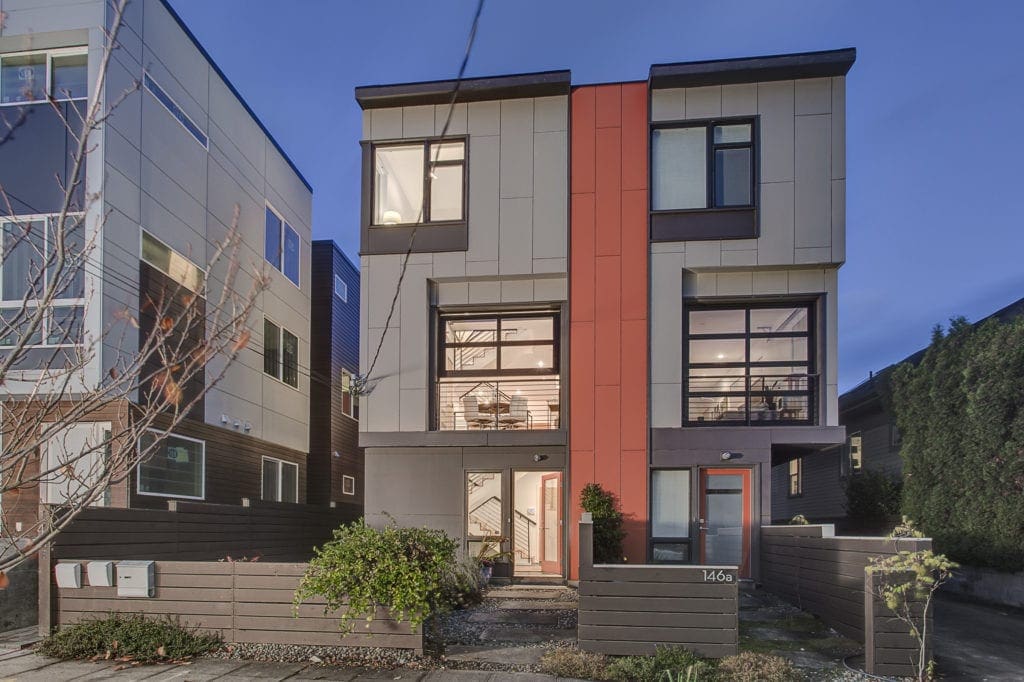 Modern Capitol Hill townhomes tend to be newer buildings (built in the last 10 or so years), often with green-built standards in mind, and a goal of increasing density around hubs. But needless to say, not all townhouses are created equal. Currently, the bulk of the new construction is being built with density in mind (8 homes on one lot instead of 3) and not with the practicality of the fact that we do not have a decent transit system in our city. Basically, almost all of the newer townhomes do not have off-street parking much less a garage.
And then there are some that are so exquisite, the kind that set the standard for townhomes in Seattle. Are we bragging? We might be bragging…
Here are some of the features of our current Modern Capitol Hill Townhome that show HOW. IT'S. DONE. We'll start in the main living area.
When Have You Ever Seen a Modern Capitol Hill Townhome With a Garage Door Window in Your Dining Room?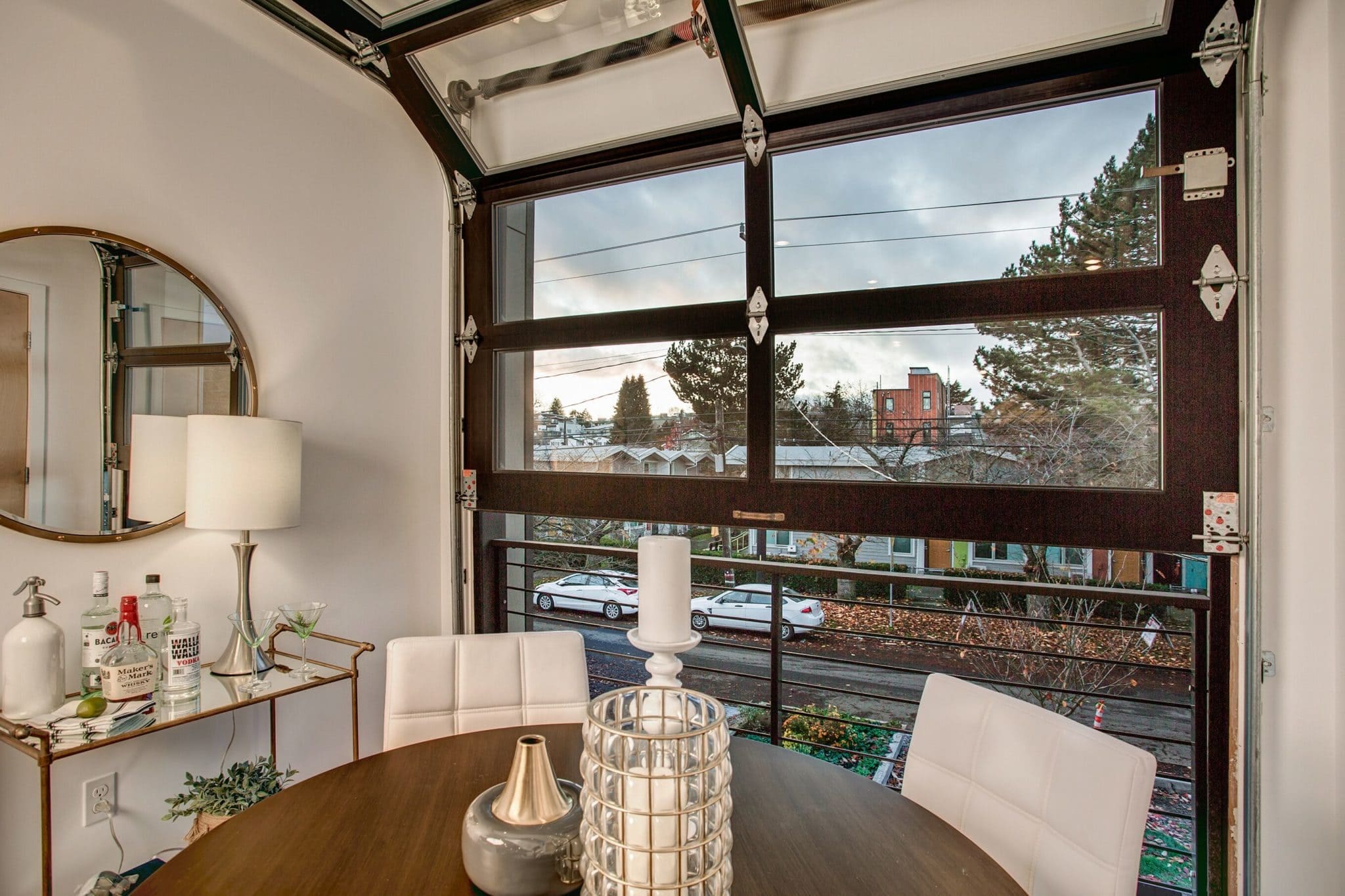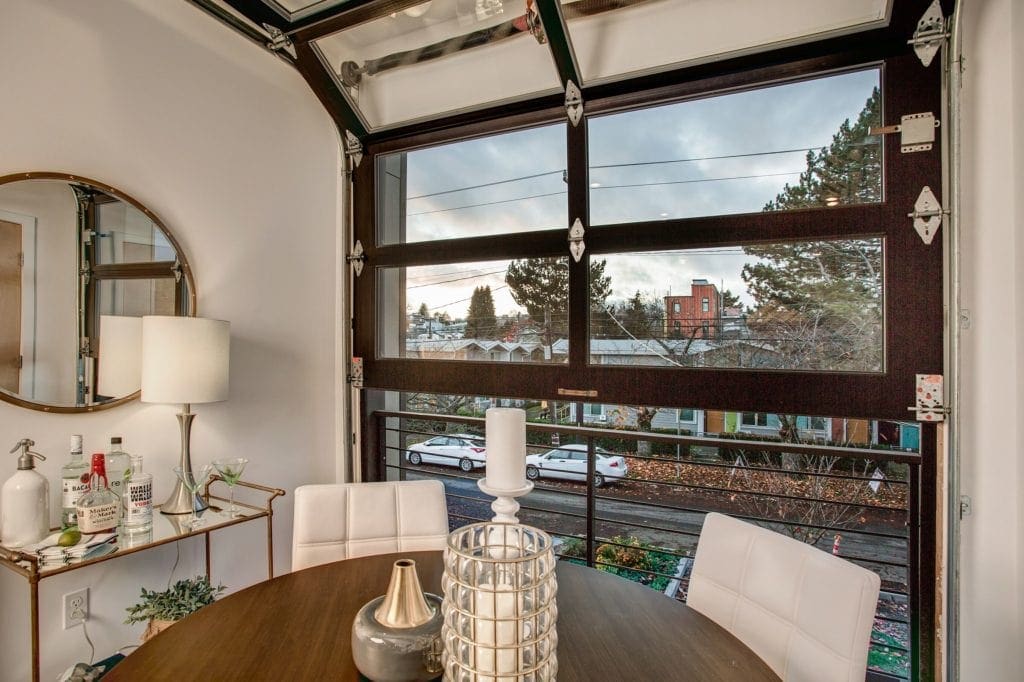 In this stately modern Capitol Hill townhome, it is so great to breathe the fresh air or enjoy the wall of window view you have of Capitol Hill. We have been working on the Hill for a long time. And hands down I can tell you of three homes we have ever seen with this garage door wall of windows. This was the element and reason why our client bought the home many years ago. And it is what we love the most about this home.
Oh did we mention that in this Modern Capitol Hill Townhome, the dining room is perched in the front of the home and is nestled next to the exquisite floor to ceiling rolling window? A railing across the front makes it feel like dining and drinking on a roofed terrace. Too fabulous. And if turning your entire dining room into an open-air cafe seems excessive— so be it!
Sustainability Was at the Heart of The Custom Bamboo Flooring in This Townhome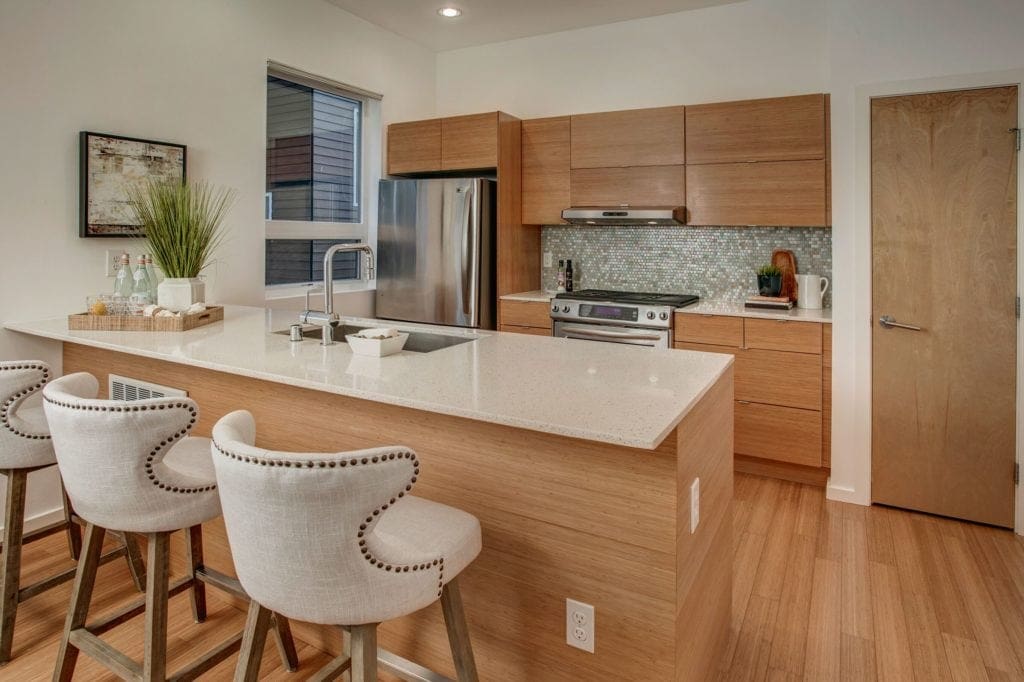 There was a time in Seattle's recent past that sustainability and creativity were core to crafting modern Capitol Hill townhomes. Builders were competitive with each other to mold, craft, and create elements that were different from each other and true to their sense of renewability. Somehow or another the new push for density without vision has taken over.  The thick bamboo flooring in this Modern Capitol Hill townhome is gorgeous, durable and eco-conscious. The builder custom cut and installed each flooring piece, the kitchen cabinets, the vanities in the bathrooms, and the oversize cabinets in the upstairs bathrooms. Specifically, the bamboo cabinets are a distinct yet classic design that looks great with the stainless steel appliances and tiled kitchen wall.
Also, this kitchen has REAL storage. Cause real people live here!
The Central Hand Crafted Steel Stylish Staircase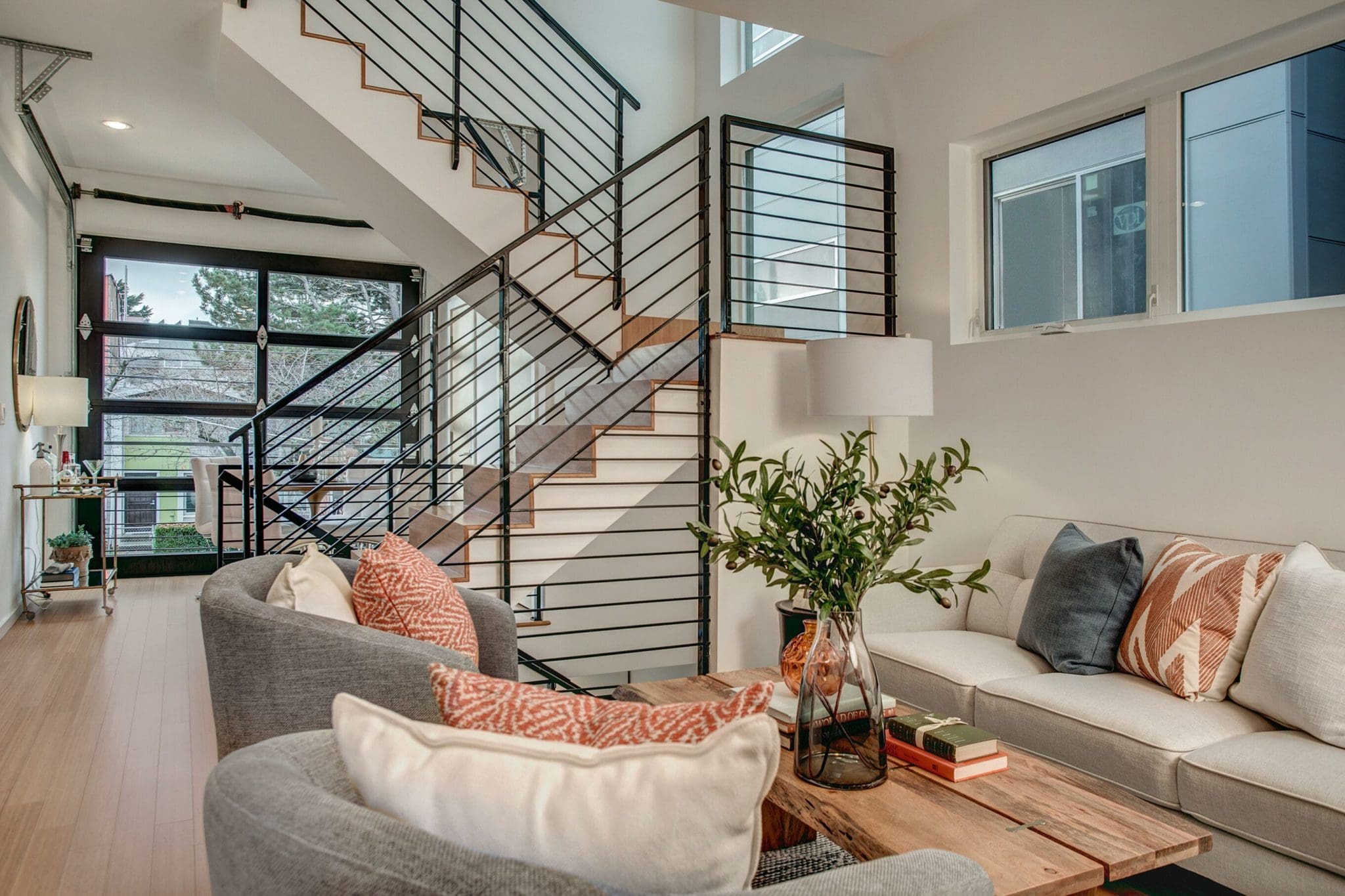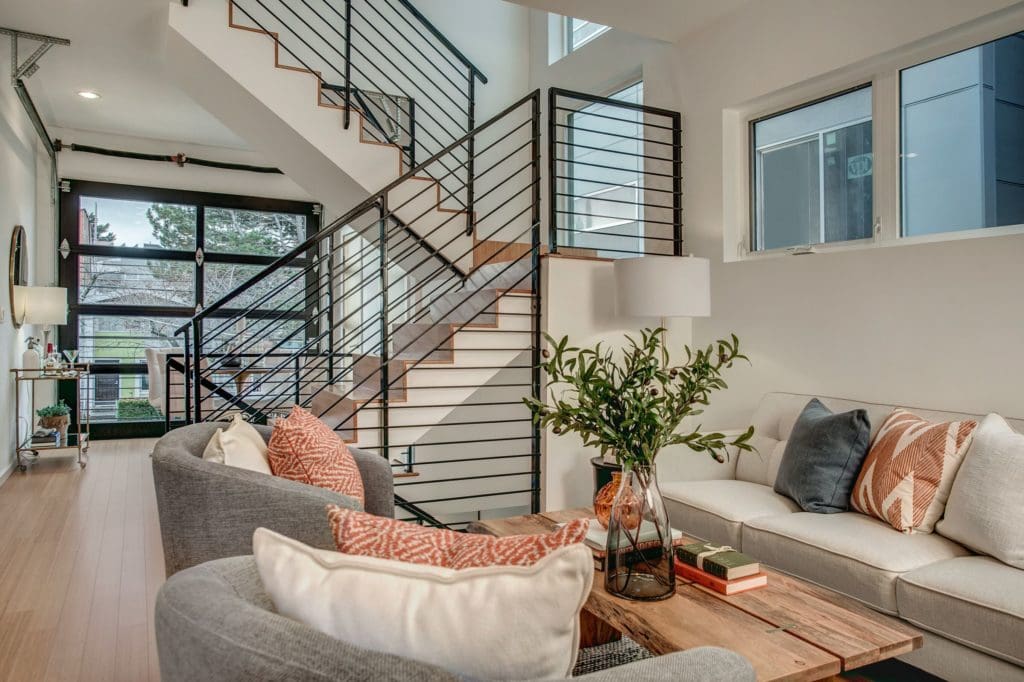 Townhomes are, by nature, vertical affairs, maximizing a small footprint to give the homeowner all the square footage they can afford. Because of height limitations in residential neighborhoods and construction costs, most Seattle townhomes are three floors. In most standard townhomes, the property is designed with a long staircase on one side of the structure.
This Modern Capitol Hill Townhome builder decided to go down a different path. The stairwell in a central, open column that actually adds to the airy, stylish atmosphere (instead of hiding to the side). You can go directly from the foyer at the bottom to the bedrooms at the top without crossing through the living and dining area on the second floor. In addition, the open look of the staircase gives you that architectural element that means you know you are living in a place of style and substance.
Not Just Parking…a Real Garage!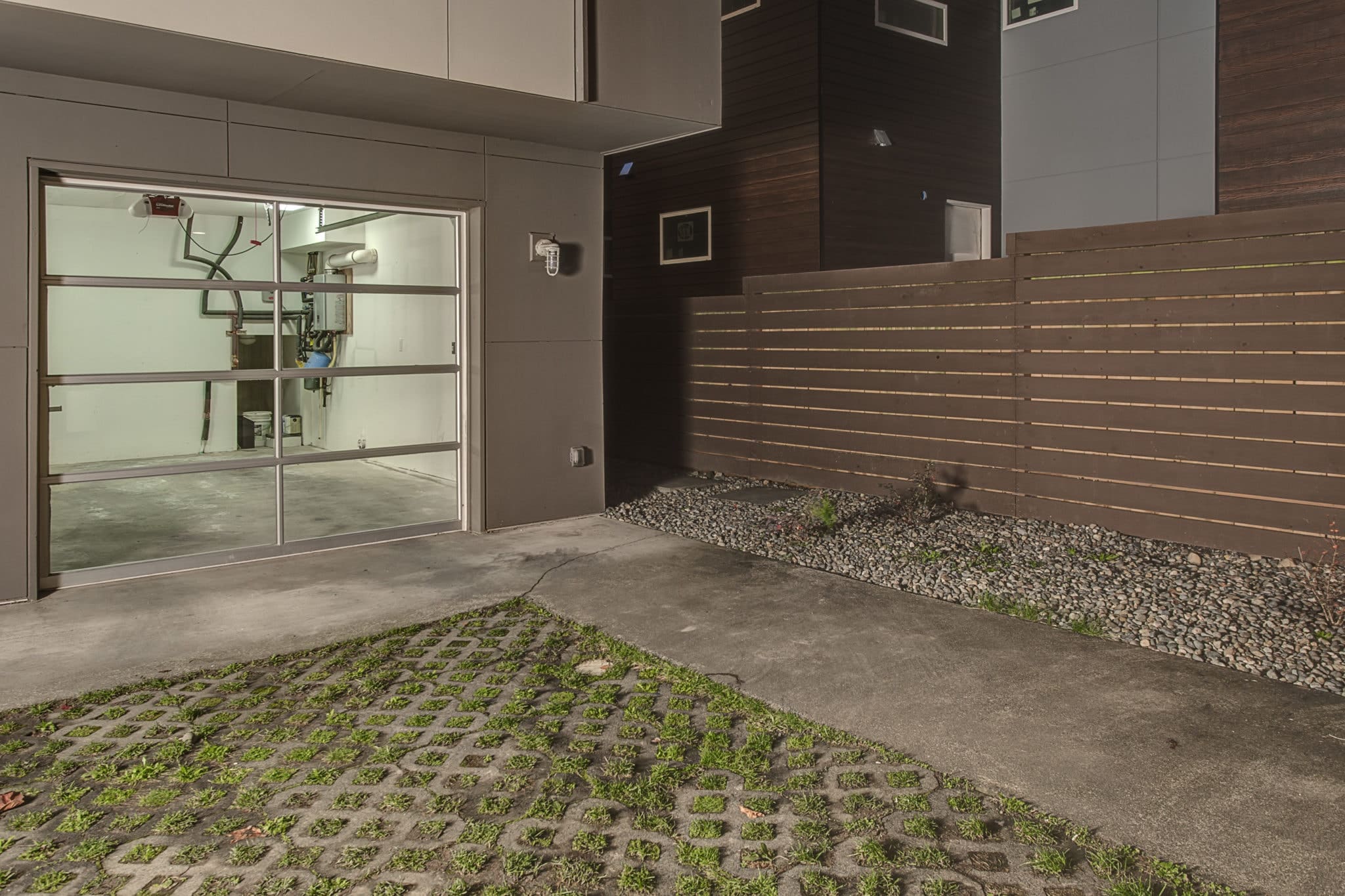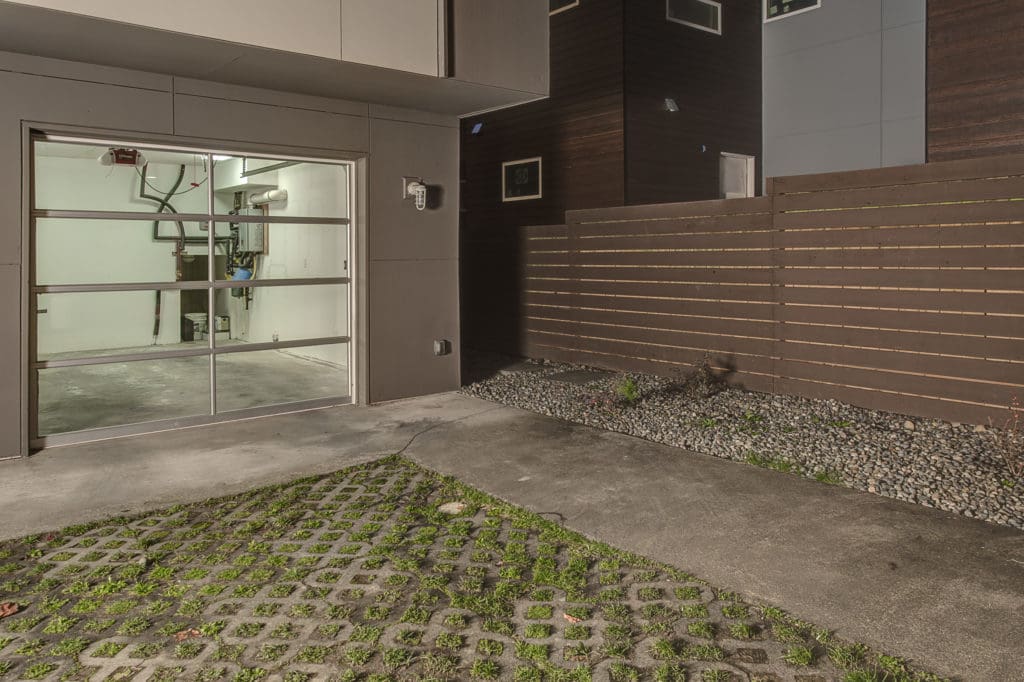 Recently Chavi and Rocky toured all of the new construction on Capitol Hill. The layouts were shrunk (honey I shrunk my house) and you had the feeling like you were sandwiched in on your neighbor. Our biggest pet peeve is that the city has not solved any of our transit issues. AND has decided to allow homes to be constructed without any parking. We believe in rideshares. But hands down we are having an issue with clogged streets and parking.
This Modern Capitol Hill Townhome not only has a parking spot…it has a garage! No scraping the ice off your windshield in the winter, or worrying about leaving valuables in the front seat. You have a secure space for your vehicle, and a workspace, too if you aren't so car-dependent. It connects right into the foyer on the ground floor—which, by the way, has large, sleek storage closets.
A Real Bathroom For Every Bedroom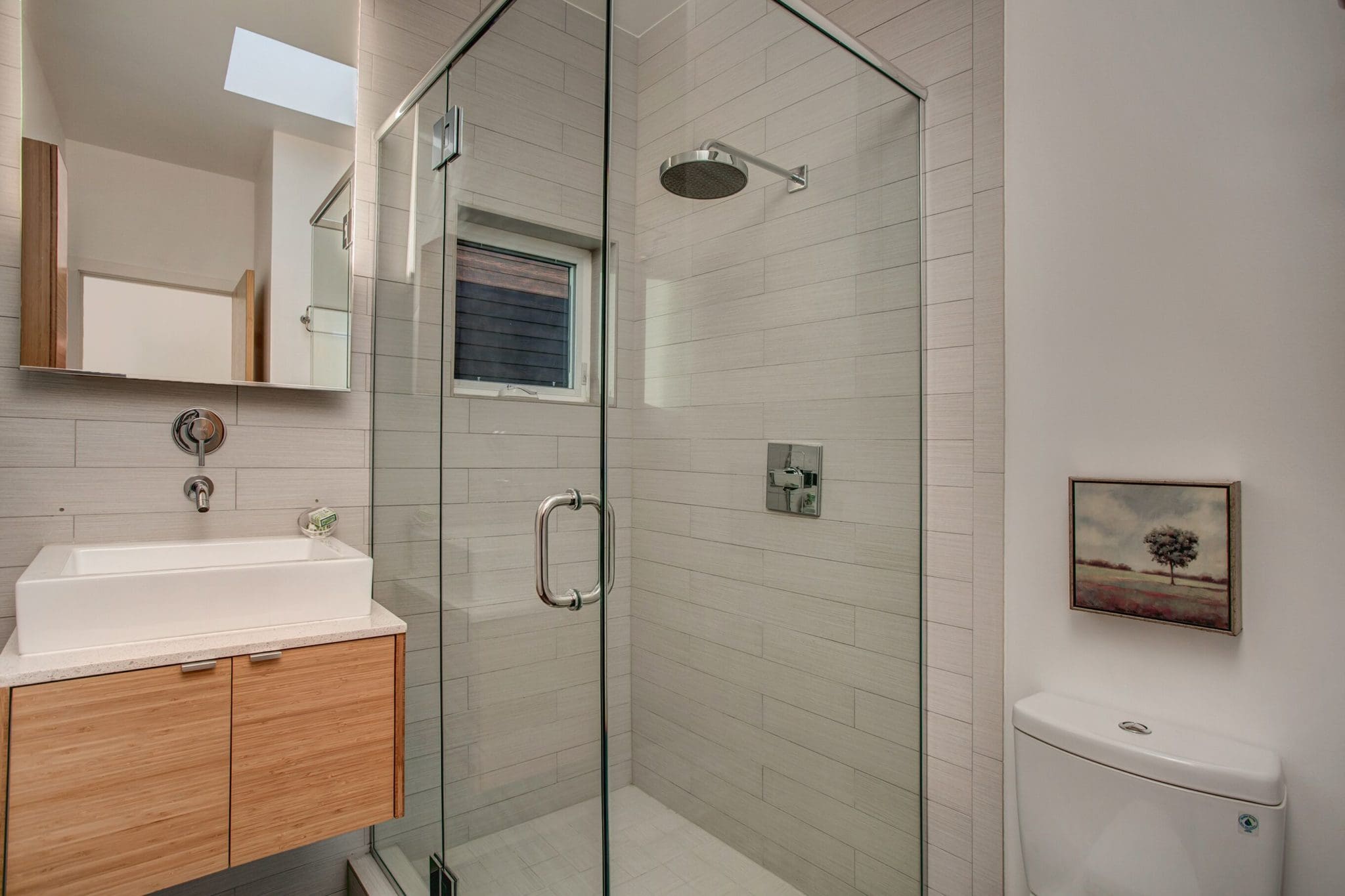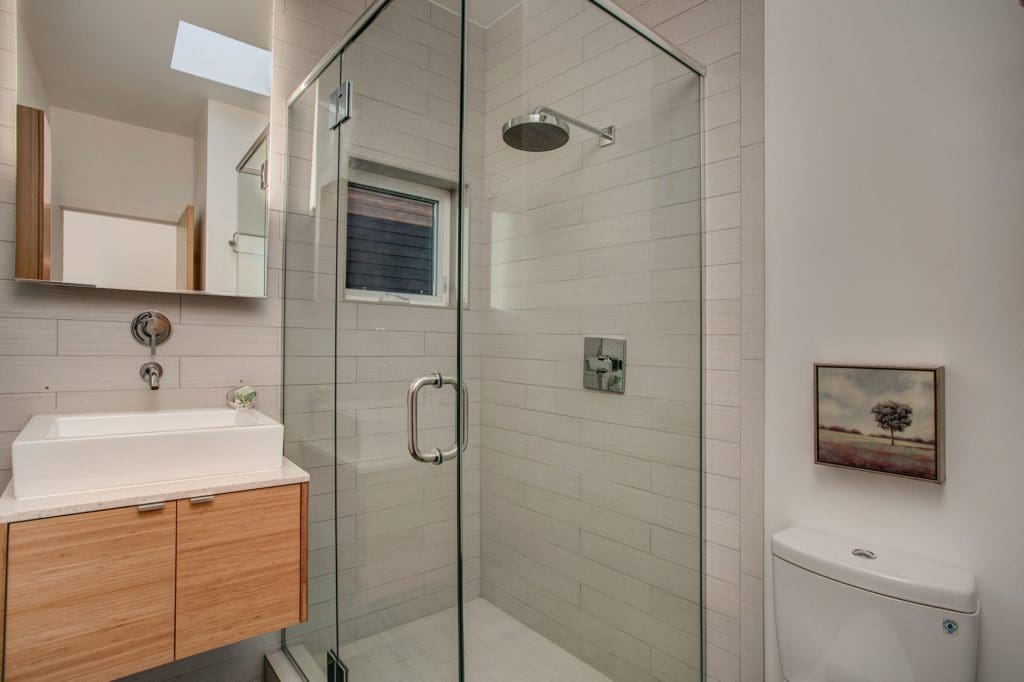 The bathrooms in this Townhome are stunning. The top floor of this Modern Capitol Hill townhome has two beds and two baths. The owner's suite has full bath with a floor to ceiling mirror in the extra tall ceilings. You can spy on your neighbors and they can't peek back.  The guest suite has a beautiful skylight to make those November days seem far away.
PS: The washer dryer stack is also on the same floor as the bedrooms, so you won't be running your bed linens upstairs and down.
Have You Ever Seen a Rooftop Deck in Winter? Yards Are so Much Better!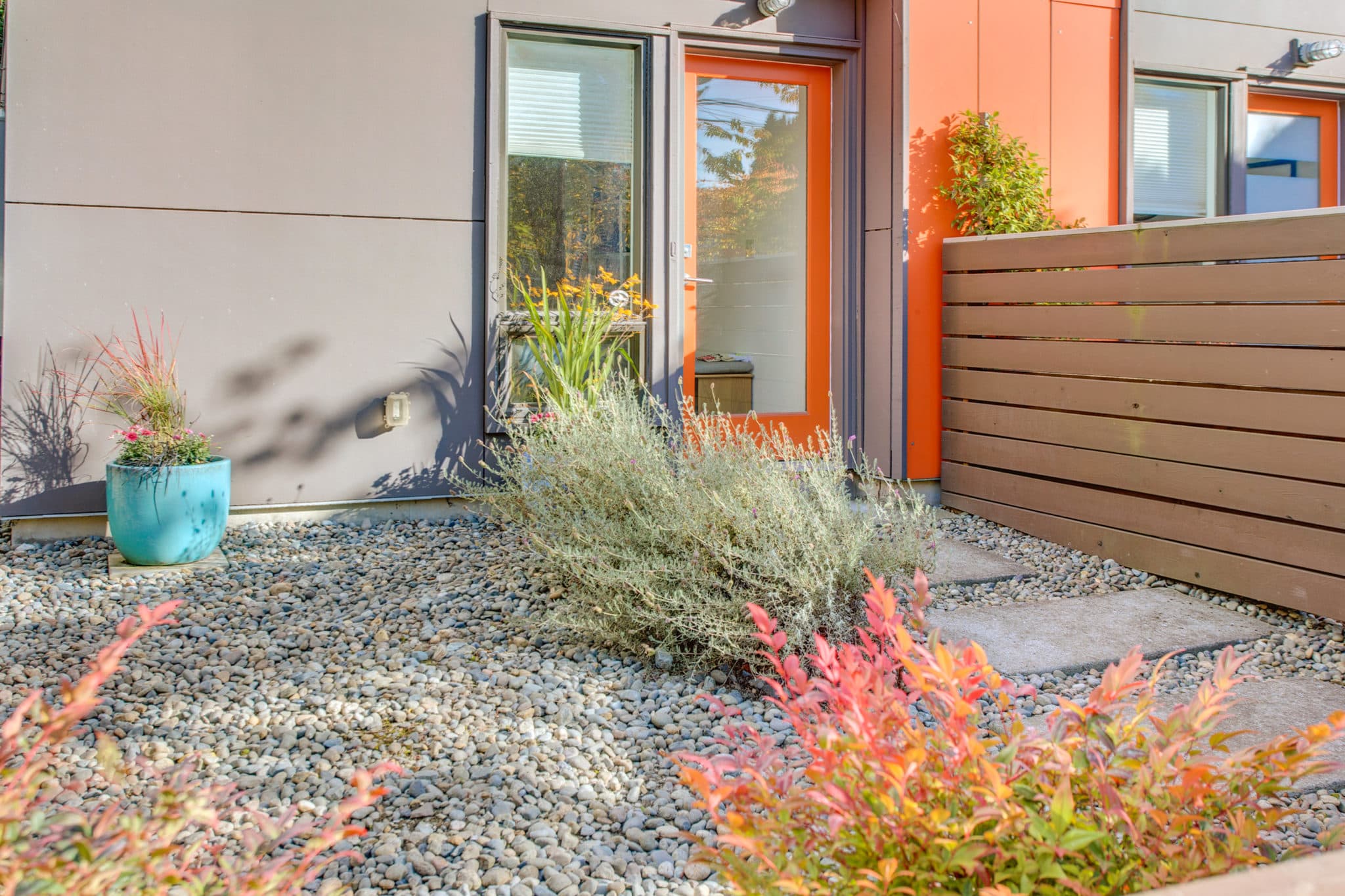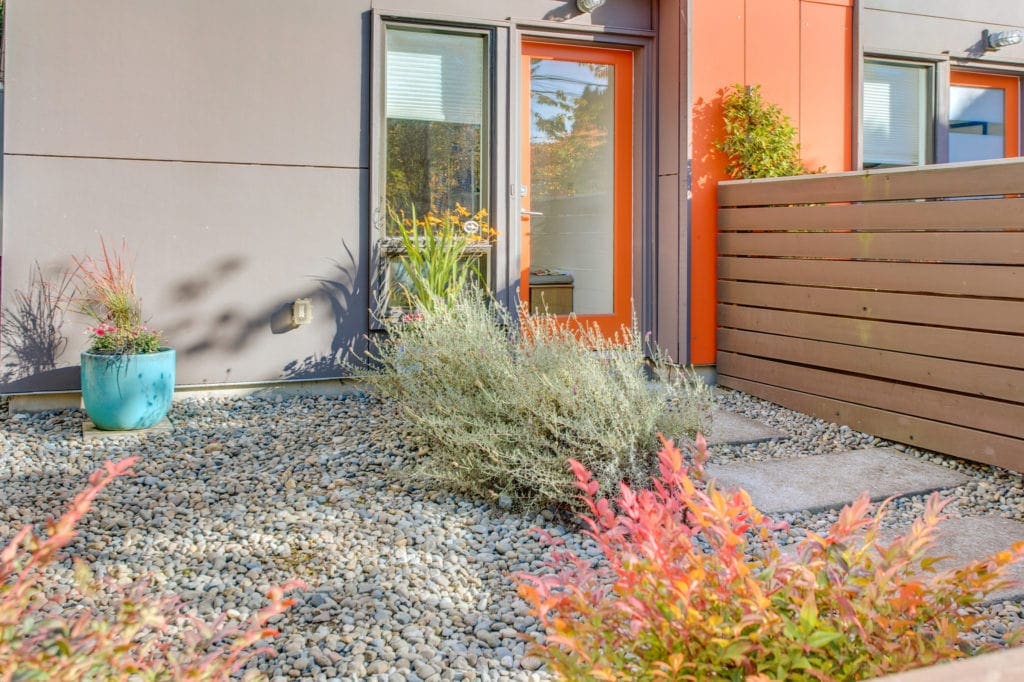 Seattle rains or is drizzly for nine months out of the year. Rooftop decks are pretty much ignored except for a couple of super rooftop deck owners who build out custom shelters to use their space year-round. The nice thing about having a yard is the capacity to see and use green space every part of the year.
The current owners of this Modern Capitol Hill townhome have kept their little yard grass-free (BETTER FOR THE ENVIRONMENT), preferring a no-maintenance gravel bed and some industrial planters for flowers, herbs and maybe a tomato plant. There is plenty of space for a more ambitious gardener to add raised beds, or fill the space with plants. We could envision a delightful little summer patio and a bamboo privacy hedge for summer roasting marshmallows.
The Neighborhood – Oh Did We Mention We Are on Capitol Hill?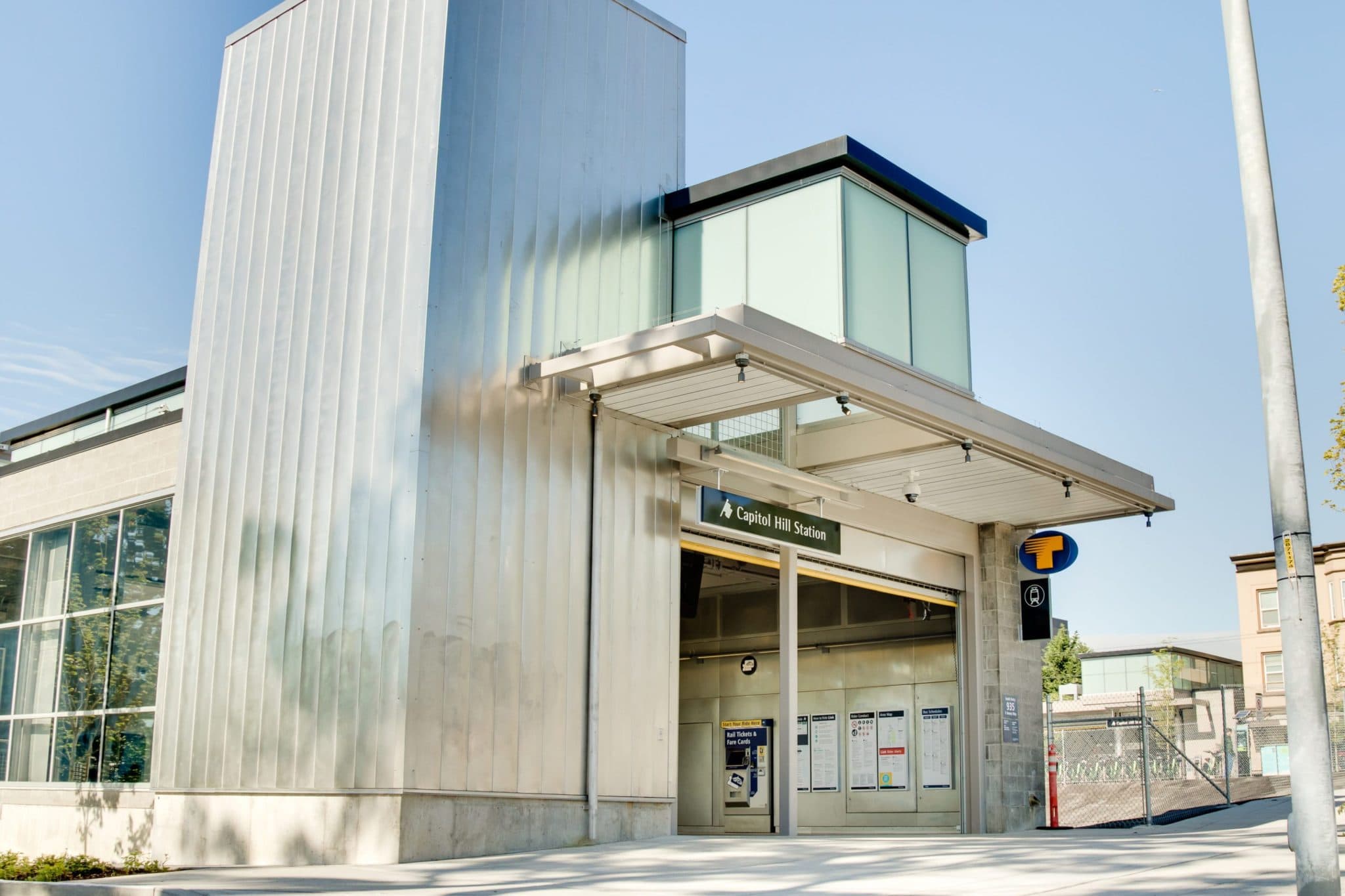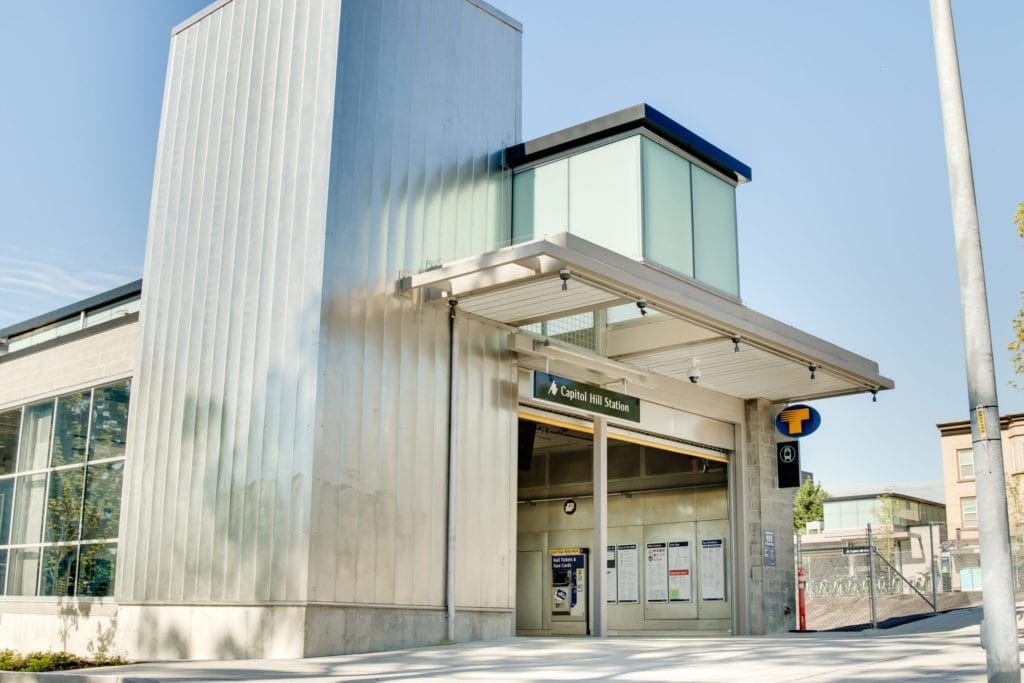 Capitol Hill has long been at the heart of the city's arts and culture. The Light Rail station opening up a couple of years ago has really transformed this neighborhood into an urban hub. This particular home is a bit farther east but super close to the going out spots on Broadway and Pike/Pine. The seller of this home specifically stated that they love "Less than 10-minute walk to businesses on 15th, 19th, and Madison. I especially love Bakery Nouveau, the Wandering Goose, Macrina Bakery, Volunteer Park Cafe, Liberty, Smith, Victrola, and Hello Robin. Check out nearby Madrona for some gems like brunch at the Hi-Spot Cafe."
We have long been residents, business owners on the Hill, and it is still one of our favorite neighborhoods in the area.
We have a ton of information about Capitol Hill on our Neighborhood page. Check it out after the jump…
Thank you for virtually touring this stunning townhome and the fabulous neighborhood it inhabits.
Meanwhile, Want to Know More About Owning a Townhome In Seattle?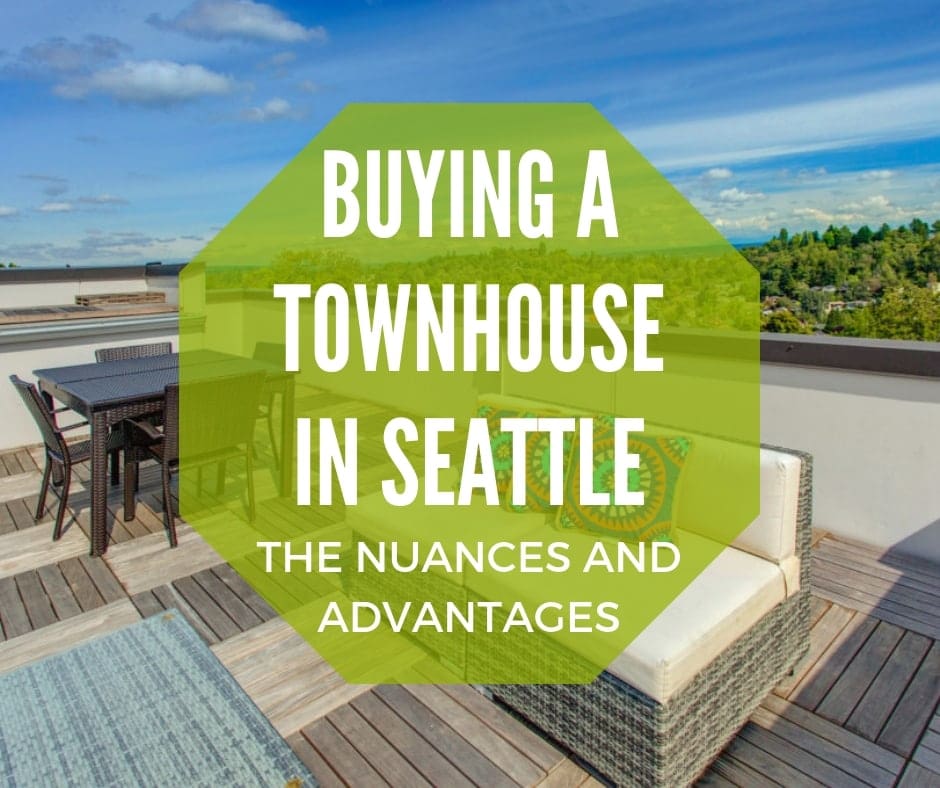 Buying a townhouse from a process standpoint is no different than buying a Single Family Home. Our Seattle Home Buying page will let you dive in and get the details. There are some key differences. Specifically in the joint maintenance documents found in your title report.  In the link after the jump is a comprehensive blog that will get you ready to master the process of being a confident, knowledgeable home buyer.
---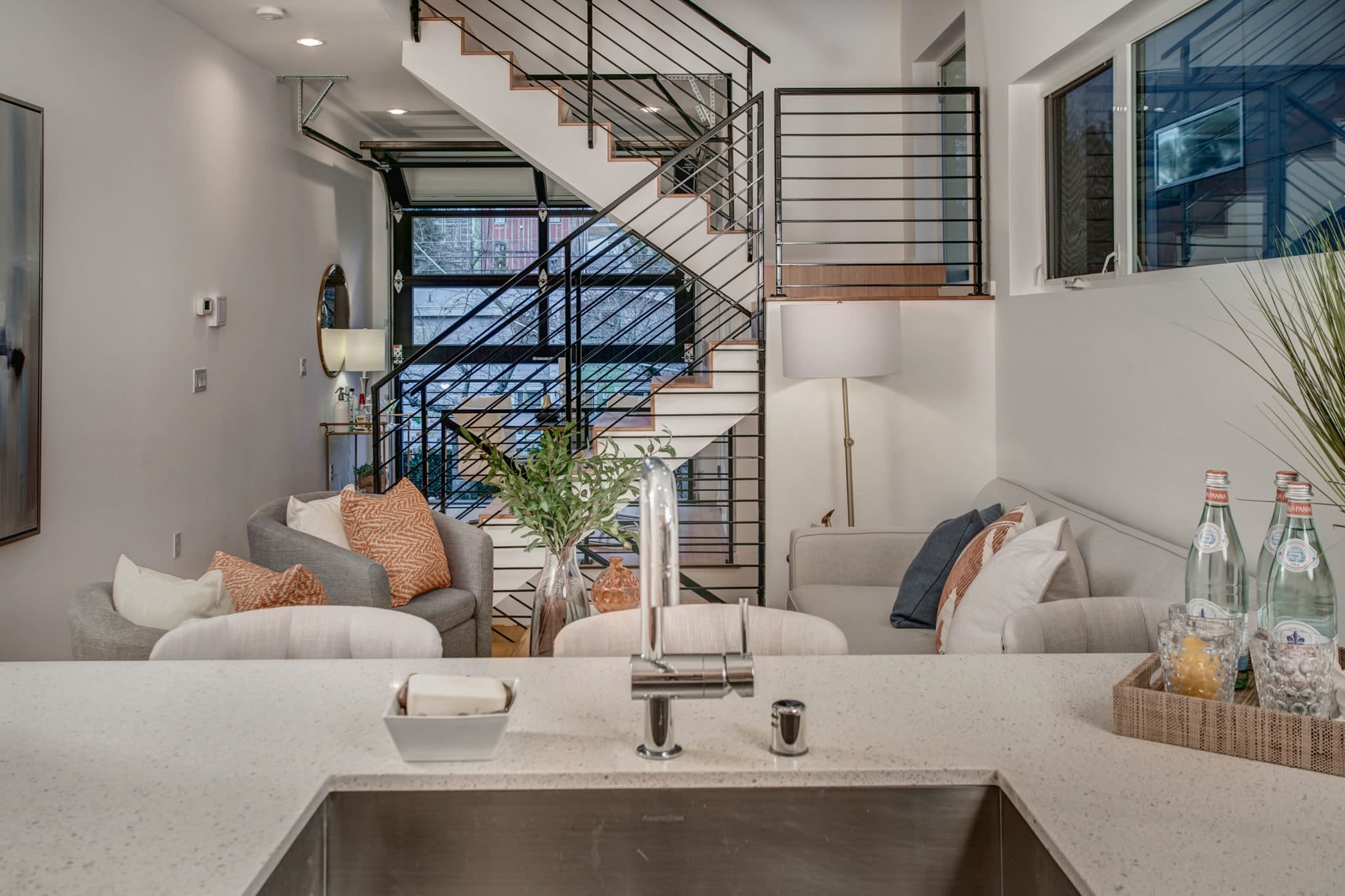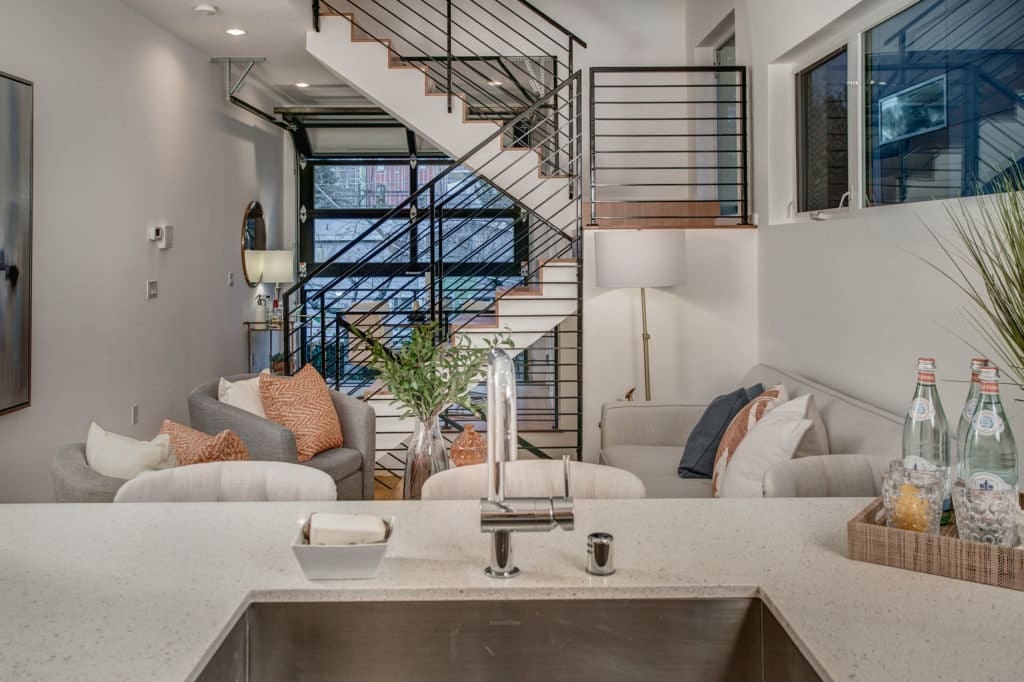 Joins us for a private showing or at one of our open houses to truly enjoy the architectural elements like the garage door rolling window in the dining nook, the sustainable bamboo cabinets and floors, the steel central staircase, a real garage, and the fact there is a real yard for summer fun and BBQs. In addition, we are going to talk about what makes this the location of this Modern Capitol Hill Townhome so special. And give you a little bit of information on what you need to know if you want to buy a Townhome in Seattle.
Home Details 
Address: 146 21st Ave East Unit B, Seattle, WA 98122
Neighborhood: Capitol Hill
Style of Home: Townhouse
Offering Price: $739,950
Listed by: The OG Divas Kim and Chavi
Call or text the Diva Desk Phone at 206-271-0264 and let's get you inside!