We stay busy year-round thanks to all the great parties and cultural events in Seattle. But Pride Month is a real marathon of performance and celebration! Week one had lots of kick-off events. For week two, we're having fun in the sun while supporting good causes, seeing great performances, and drinking with our Divaland fam! We can't wait to see you at our own Team Diva Happy Hour at The Palace Theater and Art Bar.
For quick reference, we're emoji-coding events. See our full list for the month here.
| | | |
| --- | --- | --- |
| ? Team Diva Attending | ?‍?‍?‍? Family Friendly | ? Ages 21 and Up |
| ? RSVP Recommended | ? Free Entry | ?️‍? Official PrideFest Event |
| ? Outdoor Event | ? Late Night Event | ?‍♂️ Dance Party |
| ? Drag Queens | ? Arts and Culture | |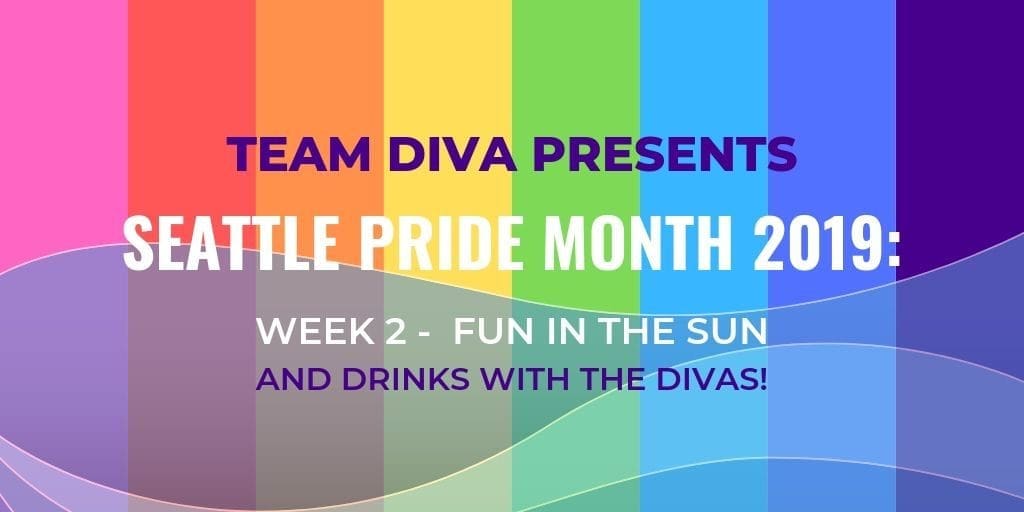 Saturday, June 8
Doors at 7 PM, show from 8 PM to 10 PM
A glamorous night of drag performance, including our own DonnaTella Howe and Kara Sutra.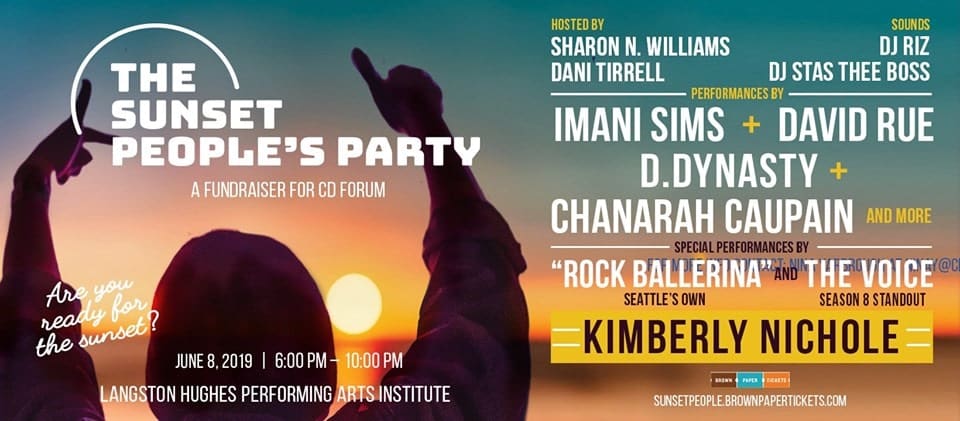 6 PM to 10 PM
This is not an explicitly LGBT event, but it supports a great cause and features two queer icons Dani Tirrell and Riz Rollins. The night is co-hosted by Tirrell and Sharon N. Williams, and Rollins shares the DJ booth with Stas THEE Boss. Like… those facts alone tell you it is gonna be a great party. But it is even more special.
This is the 20th Anniversary celebration of Langston Hughes Performing Arts Center, so people are coming dressed to slay: "full on Wakanda, bling-bling, black-tie, Harlem Renaissance or all of the above!" There will be performances by Imani Sims, David Rue, Kimberly Nichole, the Rock Ballerina and more. There will also be food, of course, from some of the best black chefs in the region.
This is a fundraiser, complete with raffle and the chance to buy "a table" for a larger crew. But it isn't just a table: You buy a "fashion house" to represent your crew. Dress to impress and party for a good cause.
9 PM to 1 AM
The Blue Moon in University District is hosting its first-ever pride event. The $10 cover is a donation to benefit Olympia's Pizza Klatch, an organization dedicated to helping LGBTQ+ youth. The evening features music and performance by Creature Hole, Seaside Tryst, and After Party.
10 PM to 2 AM
For those who didn't follow the drag drama of the year last year: Miss Texas 1988 was briefly crowned Miss Bacon Strip 2018. But then, the scores were recalculated after some lost votes were found and Old Witch prevailed. Oops! Well, Old Witch just recently passed her title to the newly crowned Miss Bacon Strip 2019, One. Now, Miss Texas and One are joining forces to throw a campy, cheeky dance part, "for the crowned and dethroned." KEXP's DJ Abbie spins songs from "venomous POP DIVAS" through the night.
Sunday, June 9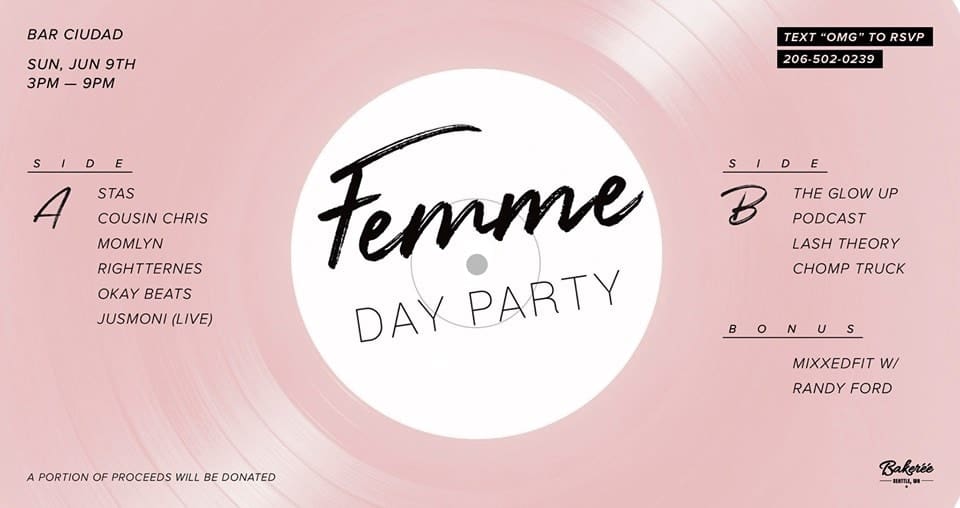 3 PM to 9 PM
'The future is not female. The future is neither he nor she, but they, xie, ey, one, er, ne, ze, and thon. The future, is nonbinary.'
So sayeth the organizers of the summer kick-off Femme Day Party at Ciudad. There will be performances and beats from Stas THEE Boss, Momlyn, JusMoni and more. Partake in the pop-ups from The Glow Up Podcast, Lash Theory, and Chomp food truck. And best of all… MIXXED FIT with our beloved Randy Ford. ICON. 5 percent of the day's proceeds with benefit Gay City. Get tickets online.
Tuesday, June 11
1 PM to 2 PM
From the event: Cookie Couture's Drag Queen Story Time captures the imagination and gender fluidity of childhood and gives kids positive, unabashedly queer (and glamorous) role models. In spaces like this, kids can see people who defy gender restrictions and imagine a world where people can present as they wish. Dress up is real!
Thursday, June 13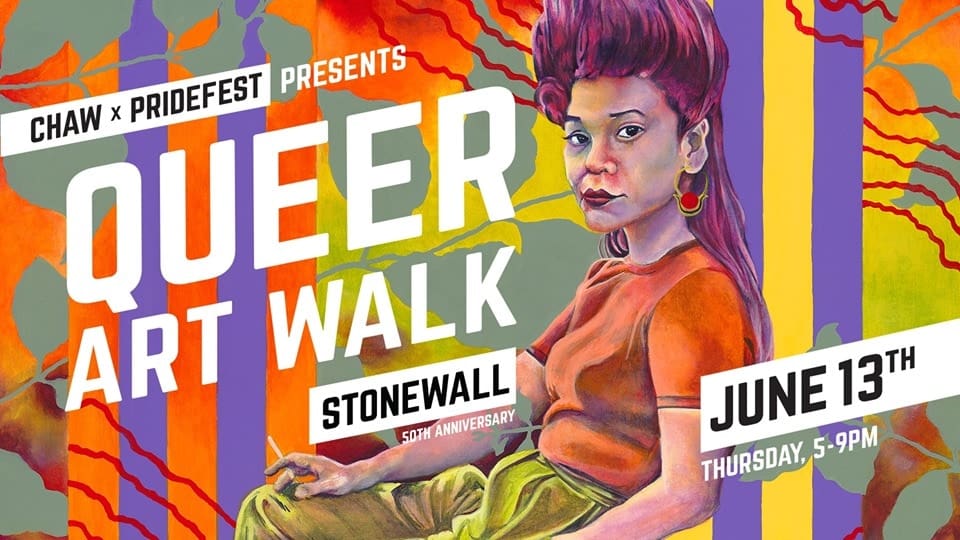 5 PM to 9 PM
This June, PrideFest partners with the crew behind Capitol Hill Art Walk (second Thursdays each month). Check out the official art walk website and its handy dandy map to see the participating venues and what they will be showing. And if you are fans of Jackie Hell and the artsy fam of Kookland, go see them at their farewell party and fundraiser at Fred Wildlife Refuge. (They're all packing up and moving to New Orleans at the end of June. Sad clown face…)
Friday, June 14
5 PM to 8 PM
Come have some drinks on us! As we enter the second half of June and the busiest time of Pride Season, we're gathering at Palace Theater and Art Bar in Georgetown. It's our new favorite watering hole (and the venue for some of our favorite events this month). We've got your first two drinks covered.