It all begins June 1 with Burien Pride, and you can see our full event list to get an idea of how full the calendar is. Here we look at some of the coolest official and unofficial events, Saturday, June 1 through Friday, June 7.
For quick reference, we're emoji-coding events.
| | | |
| --- | --- | --- |
| ? Team Diva Attending | ?‍?‍?‍? Family Friendly | ? Ages 21 and Up |
| ? RSVP Recommended | ? Free Entry | ?️‍? Official PrideFest Event |
| ? Outdoor Event | ? Late Night Event | ?‍♂️ Dance Party |
| ? Drag Queens | ? Arts and Culture | |

June 1
10 AM to 10 PM
Spend the day south of Seattle in Burien for their big Pride Day celebration in the heart of the town. If you've never explored this charming community, now is a perfect time to visit. The crowds will gather at Town Square Park from 10 Am to 10 PM for all-ages entertainment. The main stage bands are all LGBTQ+ acts, including Xolie Morra & The Strange Kind, Whitney Mongé, Jamie Nova SKY, HallowQueen, and the Seattle Premiere Queen Tribute band. There will also be a featured performance by the Dames of Drag (including our own DonnaTella Howe and Kara Sutra)!
Also, we recommend that you stop by The Point for drinks and frivolity (and more appearance by those infamous Dames). They'll be serving drink and food specials, games and music on the outside patio, and a proper Tea-Dance.
Bonus: Come a day early if you want to do Drag Queen Bingo in the park on May 31, hosted by the one and only Aleksa Manila for Burien PRIDE. Deets here. $20 entry and $5 for your cards.

7 PM to 10 PM
We won't stay out too late in Burien, because we'll need to hop a few miles north to Georgetown for Bacon Strip at The Palace Theater and Art Bar. Team Diva is proud to be a sponsor for this one, the first Bacon Strip at the bar since their OFFICIAL opening in May. It will no doubt be a very special one, given the occasion and theme: Pride Pageant.
What does Pride mean to these outrageous queens? Find out for yourself, with dazzling, decadent, and outré acts from hostesses Sylvia O'Stayformore and Honey Bucket and…
One (Current Miss Bacon Strip)
Old Witch
Kerry and James Darling
May Nnaise
Miss Texas 1988
Suga Bear
Tom Orr
From Texas
And More! DJ Tony Burns will serve the tunes as always, while the Bacon Boys Beta and Bolt serve up the meat! Get your tickets now.
June 5
8:30 PM to 11:30 PM
White Center keeps getting gayer and we LOVE it. This year, the community will celebrate it's first independent Pride Celebration June 5-9, and the party really starts with PRIDE SKATE: BEYONCE X LIZZO!
Lizzo? We. Are. THERE. And if you aren't ready to strap on some skates, you can still party with the crew and sing Karaoke in the back bar.
Bonus: If you are just getting warmed up, come back for Youth Pride Skate, a benefit for Lambert House on June 8. Deets here.
June 6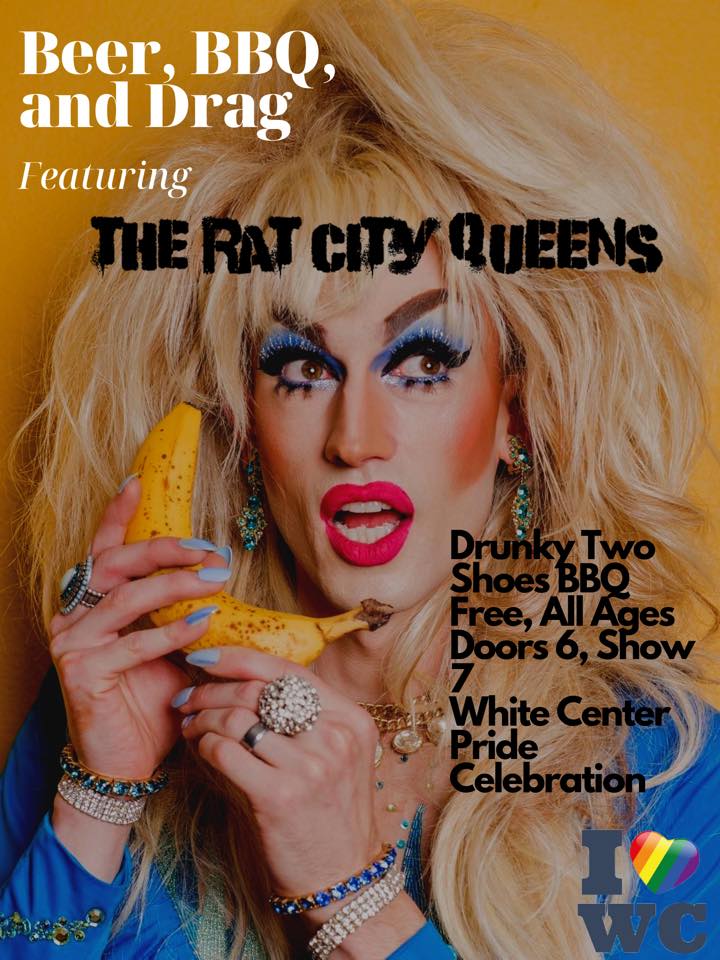 6 PM to 9 PM
It's a very thirsty Thursday in White Center for the community's first full day of Pride Celebrations. The all-ages kick-off party is on the patio co-hosted by Drunky Two Shoes BBQ and Dottie's Double Wide, with hostess (and Diva Dweller!) Cookie Couture. Beer, BBQ, and drag…what more could one want on a Thursday? Free and open to the public.
While you're in that part of town, the 21+ crowd can also check out White Center's new gay, sailor-themed bar, Swallow. Ahoy.
5 PM to 7 PM
W Hotel hosts this free, public event, featuring a panel discussion led by community leader Egan Orion with LGBTQ+ "movers, shakers & boundary breakers." The doors open at 5 PM for a cocktail hour before the panel begins at 5:45. After the Q&A, at 6:45 the party opens back up for more cocktails, chats, and DJ. The panelists include:
Performance artist Candis Cayne
Drag artist and nightlife maven Arson Nicki
Award-winning journalist Sarah Toce
Monserrat Padilla of the Washington Immigrant Solidarity Network
Activist and Radical Faerie Tony Radovich
and former drag queen, current hair stylist Paul Blakes (Kahlua Ice)
Entry is free, but RSVP to guarantee a seat.
June 7
9 PM to 2 AM
If you didn't get your fill of filth from Mizz Honey Bucket at Bacon Strip, get your second helping of the week at GutSlut. Mizz Bucket's monthly celebration of hairy, beefy boys brings the bears to The Lumberyard Bar, and you can bet it will be extra beefy for White Center Pride Weekend. Raunchy rap and danceable beats will abound.
The Recurring Parties
Seattle's gay bars and cabarets turn out hot parties every week, and things get even hotter in June. Check out some of the recurring dance nights around town this month.
Wednesdays: June 5, 12, 19, 26

Hosted by Cookie Couture, this is year two of Seattle's Biggest drag competition, with a $5000 prize at the end for the winning queen. That big finale is during Pride Week, on June 26. Every Wednesday until then, competitors are challenged to create next-level performances and looks. Get ready to gag over these looks. (And with only a $3 cover, you'll have singles to spare to tip those queens.) See the Facebook page for more deets and the contestants.
Fridays: June 7, 14, 21, 28
Mx. is queer/bar's weekly cabaret of dancing queens hosted by La Saveona Hunt, and featuring Stacey Starstruck, Bosco, Andrew Scott, Kitty Glitter, and Solana Solstice. The $10 cover starts at 9 for the 9:30 PM show, and you can reserve seats for the best view. (You can also come early for power hour specials and skip the $10 cover.) Get more deets online.
Sundays: June 2, 9, 16, 23, 30
A weekly gathering on the Pony patio, carrying on the tradition of the late afternoon Tea Dance that originated in New York. (Except most of us don't have to catch a ferry by the time it ends.)
---
BONUS: Drag Queen Story Time in July
In July, our own Kara Sutra will be doing Drag Queen Story Time in Westlake Park every Thursday, from 10 am to noon. Yup, that includes Independence Day, Thursday, July 4. Bring the kiddies to Westlake Park for good times and tales in the Sun, July 4th, 11th, 18th, and 25th.