Belltown is one of the best places in Seattle to have a small home if you love city life. It really ticks all the boxes for having a rich, urban experience. Even if you are away on weekends. Belltown has it all, and it's adjacent to the major offices in downtown, South Lake Union and Westlake.
There were six items that topped our team's checklist for a proper pied-a-terre location.
Easy access to services
Bakeries and cafes for busy mornings
Boutiques for clothing and decor
Pretty parks and trails
Diverse dining and drinking
Cultural activities for nights out
And here are all the ways that Belltown hits every box on that list.
Easy access to services
Let's start with the essentials: You're on the go, and running errands shouldn't take all night. Fortunately, Belltown is surrounded by shops and services for busy urbanites.
Restocking the fridge? If you have a long list, you can hit up the bigger stores like QFC or Whole Foods. (And if you feel particularly antisocial, there is also the flagship, cashier-less Amazon Go shop.) But Belltown has plenty of smaller, compact stores specific to your needs.
Locally owned bodegas like City Foods offer the bare essentials, snacks, and deli food—but, oh how we miss the long-lived Ralph's and its cute signage, now a CVS. Speaking of drugstores, there's also a Walgreens in a former bank building on Denny, in case you left your toothbrush at the chateau.
Craft beer fans are in luck. Within blocks of each other, you'll find Vine Street Market and TeKu Tavern. Both of which are loaded with international and local microbrews. And as for wine and liquor…no worries there! Downtown Spirits has over 1200 wines in its cellar and 1300 specialty spirits. (The beer fans who want a deep dive can also check out their 900 craft beers and 10 growler taps.)
Laundry duty got ya down while on the go? There are plenty of dry cleaners throughout Belltown, but for the regular wash, consider ordering a pickup from Seattle Laundry Service. They will turn your clothes back around, washed and folded in 48 hours. (Bonus: If you drop the clothes off at one of their three locations, it's cheaper and you get a 24-hour turnaround.)
Bakeries and cafes for busy mornings
One has to start the day on the right foot. If for you that requires a good coffee and pastry, you have so many wonderful options in Belltown. La Parisienne Cafe lives up to its name, capturing the flavor and feel of a proper Parisian cafe. Buttery croissants and dark espresso. Très bon!
If a trendy but friendly contemporary spot is more your speed, check out Street Bean Coffee. They were established in collaboration with the adjacent New Horizon Ministries as a 501(c)(3) to provide street-involved youth with job opportunities and training. For a comfy spot to sit down and work, check out Uptown Espresso or Bedlam Coffee. The former is sedate in decor and vibe, while Bedlam is much livelier and fun.
One of the most recent grab-and-go options to open in Belltown is Tempesta Coffee, a fantastic cafe attached to Orfeo. (The decor of Orfeo is inspired by the Renaissance masterpiece, La Tempesta, hence the name.) The coffee is locally roasted and the donuts are small-batch hand-dipped delights. Their chai-spiced blueberry fritter is a combination that we never would have expected, but oh wow is it tasty!
Boutiques for clothing and Decor
The retail core and malls of downtown are within walking distance no matter where you are in Belltown but don't overlook the great shops in the neighborhood itself. Kuhlman offers great styles and expert tailoring for men and women. Sassafras features hand-made clothing from local designers with sustainability in mind. And if you need some sturdy outdoor gear for that weekend trip, the Ex Officio Outlet Store has you covered (literally).
View this post on Instagram
But while you are getting yourself kitted out, you can't neglect the homestead. (Also, maybe you need a quick gift to take wherever you are going next.) You'll find the cutest kitchenware, decor, and toys from Europe at Eurostyle Your Life. (space is shared with Le Petit Gourmet Market and Cafe Suisse, where you can pick up some sweet treats and specialty foods.) And for the finishing touches to your outfit and your home, check out the home accessories and jewelry at Fancy.
Pretty parks and trails
Belltown extends all the way to the waterfront and the adjacent Olympic Sculpture Park, which in turn connects to Myrtle Edwards Park. In short, you are steps away from some of Seattle's most dramatic, sweeping views of Elliott Bay. Myrtle Edwards just keeps going and going, all the way to Magnolia, with well kept running and biking rails along its length, plus other little attractions: pull-up bars, a rose garden, and sandy shoals.
View this post on Instagram
Naturally, there's also Seattle Center, which allows you to take a constitutional beneath the Space Needle, among the trees and art-lined paths beside the museums and performance spaces clustered there. It's heavenly in autumn and winter evenings when they light the walks with strings of softly glowing bulbs, and of course in spring and summer when the International Fountain is sending up its giant jets of water.
Diverse dining and drinking
Seattle is a food town, and there are countless, varied restaurants and bars in Belltown. Lots of Thai, Japanese, Mediterranean, contemporary PNW, French and Italian cuisine—you can find it all. And there's no way we can highlight all our favorites here, but we can give a few recommendations for the weekday diner.
Ordering tapas is a great way to balance healthy and decadent, light and rich in a meal, and Pintxo has some of the best tapas in town. After dinner, step into the owner's adjacent, gorgeous, Appalachian-inspired whiskey bar, Branchwater.
One of Seattle's big, celeb chefs is Ethan Stowell, and his Italian restaurant in Belltown, Tavolata, has been so popular that he recently opened a second location on Capitol Hill. The cuisine beautifully marries local ingredients and sensibilities to classic Italian recipes.
For a really swank night out, the El Gaucho family of restaurants have two locations in Belltown. There's the snazzy, jazzy original El Gaucho, which definitely keeps it old school. But down on the waterfront, right by the Olympic Sculpture Park, there is Aqua. Grab a seat in the lounge for a quick bite and a martini, or reserve a table for a romantic dinner with sweeping views.
Feel like diving into some serious cocktail culture? Seek out the speakeasy Bathtub Gin. At the bar, you'll practically be shoulder to shoulder with other guests, or you can try to get a teeny table for two below. This shady nook is one of our favorite "open secrets" about Belltown.
If you feel like diving into…something more like a dive, you have plenty of options. But personally, we'll take this opportunity to shout out Jupiter Bar, because it's just so fun. Lots of bar games and pinball and walls covered with wild murals from local artists make for a lively evening without getting too raucous.
Cultural activities for nights out
Last but certainly not least…There is sooooo much to see and do around Belltown, we actually have to split this section into a couple of categories.
Film
The big box cinemas downtown have you covered for the major releases, but Cinerama in Belltown is special. It's one of three venues in the world that can still show three-panel Cinerama films. Hence, it is also a rare and beloved venue for its screenings of classic movies and new releases on 70mm film. It's a cinephile's high-definition dream.
And not far from Belltown in Lower Queen Anne, the SIFF Uptown Cinema shows new indie releases and has regular mini-festivals. These series highlight genre gems (such as their Film Noir festival) and the latest from international filmmakers.
Live Music
View this post on Instagram
The legendary Crocodile's open, mid-sized stage and floorplan make it a popular venue for young touring artists and indie darlings. Just a few blocks away, the historic Moore Theatre brings more orchestral acts to its stage, as well as major contemporary dance troupes and comedians. And for jazz, the hottest ticket is at Dimitriou's Jazz Alley, whose intimate design gets you up close to the hottest jazz performers in the world as they tour.
High Culture
Seattle Center on Belltown's northern edge is home to McCaw Hall, the primary venue for Pacific Northwest Ballet and Seattle Opera. There are also three major playhouses: The Cornish Playhouse, Seattle Repertory Theatre, and the Center Theatre, which hosts productions by various theatrical companies, such as Book It and the Seattle Shakespeare Company. For high culture in Seattle, Belltown is basically a front row seat.
---
Belltown Open House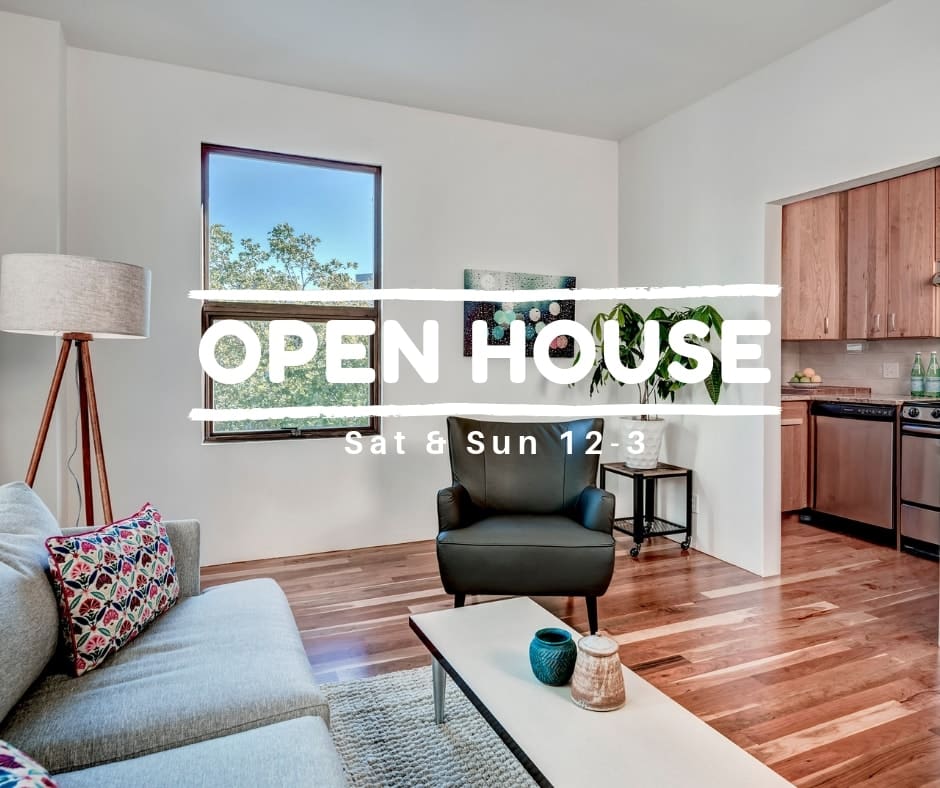 And of course, after enjoying all the delights Belltown has to offer, who would not want to retire to their own cozy pied-a-terre right in the heart of it all. No need for a Lyft to get home, scrambling to find a hotel room, or scrambling to get out of that hotel room after a late eve. So while you're discovering all the joys of Belltown living this Saturday and Sunday, stroll into our Open House at 2700 4th Ave, and tour this sharp one bedroom condo. Its swank brand new kitchen, hardwood floors and amazing location are perfect for the urbanite on the go. And to add a big bright cherry on top of this yummy urban oasis – this home has an up-close, front and center Space Needle view.