I will be totally honest. I have been trying to write this blog post for the last three weeks. But the DivaHQ has been humming with multiple offers won for buyers, multiple offers secured for our sellers, prepping for Agent Reboot, and so much more. Our office messy and I think our friends think we do not love them anymore. You know the market is back when your doctor states "Oh Real Estate. You must be doing really well right now". Whereas my entire career in Real Estate folks have been saying "Ohhhh – that's tough" But hey there is a lot of good news in the market right now and it is about time we saw a market as hot as the one we are experiencing right now.
Now on to the news – PodMents, Hot Markets, Sustained Price Increases, oh and a Drop Off in First Time Home Buyers????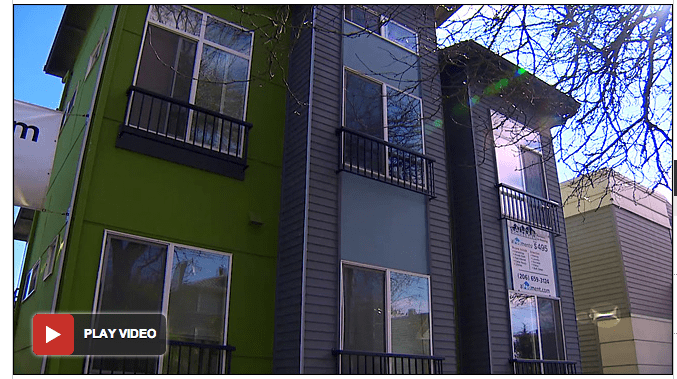 PodMents and Other Micro Housing Is FINALLY Getting Some Attention: Finally someone is taking notice that the Podment style micro-housing. Basically, MicroHousing fills in affordable housing but sacrifices design review and neighborhood impacts. The Pods do not require Multi-Family permits. Only a simple Single Family Home building permit. Hence as a Diva Dweller you have no idea if you are going to be living next to a family or 20+ families squeezed into 250sf. Personally, we feel that there needs to be a mix of affordable housing and proper design review. The current situation is not sustainable for anyone in Capitol Hill!
Below is the rest of the news round up:
 There's A Buyer Rush In The US Housing Market Unlike Anything We've Ever Seen: Oppenheim says real estate agents are "widely citing increased buyer urgency due to the combination of persistent inventory shortages (driving prices higher) and signs of mortgage rates moving higher." Really?
Check out the Hottest Seller's Markets: Prices Are Rising by Double Digits, Competition Is Keen and Houses Sell Fast: Anyone who cares about real estate is probably familiar with the terms "seller's market" and "buyer's market." It's all about who's got the upper hand. Guess where Seattle was in the mix? Right on top!
Home Prices Expected to Rise at least 3.3 Percent Annually through 2017: The housing recovery is expected to grow at an annualized rate of 0.6 percent through the third quarter of this year, then gain momentum and prices are projected to grow 3.7 percent between the third quarters of 2013 and 2014 until settling down to 3.3 percent annual increases over the next three years according to Fiserv, a financial services technology provider using data from the Federal Housing Finance Agency (FHFA).
Drop-off in first-time homebuyers troubling: Though the housing market is rebounding in many local markets, there is one important segment that is not. Personally I found this story interesting. My gut feeling is that there has been so many incentives for first time home buyers to get into the market that we may have front loaded the market for years to come. It will be interesting to see if this has a dampening effect on the market.