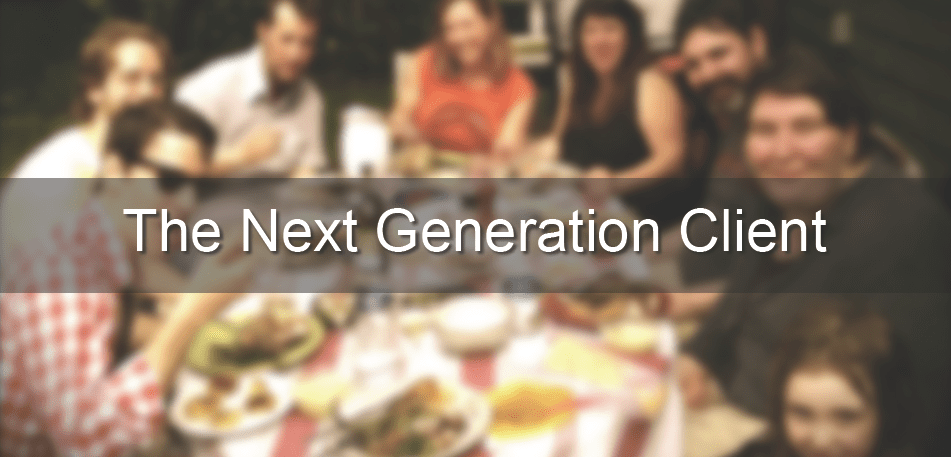 Referrals from their best friend, family, co-workers, these are still very important to the next gen client. They want those referrals but they also want proof you are as awesome as their pals say you are.
We got a great call from lovely folks looking for an agent to help them buy their first house. We got together. It all went very well, we had tea, we chit chatted. When we were ready to go they told us they would be interviewing other agents which was not surprised. But they mentioned one of their referrals was from their best friends. When Chavi and I left and pretty much thought oh well – this going to be really tough beating out a best friend referral. Especially since the person that referred us was a mortgage person that they were also interviewing.
So A week later we got the call from the buyers and they had chosen to work with us. I have to be honest I was a little surprised so I asked the gal why they choose us. She said well everyone we interviewed was great, we really liked them all and it was en extremely hard decision. But when we went to the web to find them they were nowhere on the web and you were every where. And they said We trust the web!
Basically they want to Cyber Stalk and you better be stalkable as a real estate agent.
So where are they going to get this proof?
Online, Videos and the Yelp!, Zillow, Google+ and of course your own Website – but that is another blog post.
Testimonials | Let Your Clients Speak on Your Behalf


This video is from our dear friend Mark Gibson. Originally it was outtakes of conversations with his clients. But think about it one video 30 seconds 5 reviews! Let your clients speak for you. Let them tell the world that – YOU ARE AWESOME!
Yelp! What – Yelp is a Social Network like Facebook and Twitter?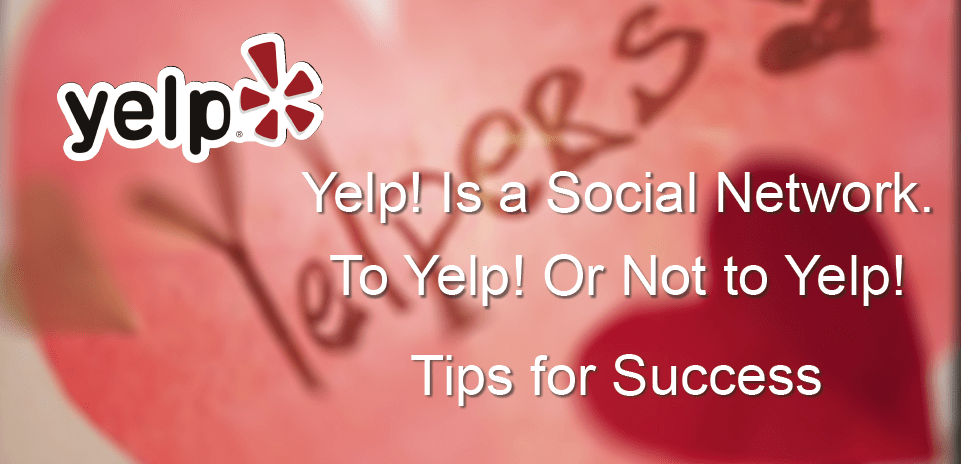 Now most of us don't think if Yelp! this way, but Yelp! is a Social Network like Facebook or LinkedIn. It is an interactive user driven site focused on one thing – rating businesses. In this case, YOU!
Team Diva was really lucky. We had friends who used Yelp and were elite Yelpers (thanks Rassamee). We use it to find everything from gay bars in Waikiki to gift shops in Ballard. For those of us who really want to live and shop local Yelp is our passion. We were one of the first Real Estate professionals on Yelp and within no time we had 5 reviews. From there it just kept on blossoming to the point where we counted 40% of our business coming from Yelp!. Crazy but we love our Yelpers!
Why Yelp Works?
Yelp reviews rank high in web search results if you are searching on an iPad or iPhone.
People trust the reviews they read on Yelp. Why? Basically you cannot fake a review on Yelp.
To Yelp or Not To Yelp!
Because Yelp is user driven it must speak to your demographic to work for you. In other words are you using Yelp? Are the folks who you work with using Yelp?
Your clients and sphere need to be Users not Voyers!
If your sphere is active on Yelp then it could be the perfect place for you.
Do you have friends on Yelp and are you connecting, Yelping and Sharing?
The Best Way to Make Yelp! Work For You
Provide Superstar Quality Service every time to anyone and everyone who contacts you. The joy of being on on Yelp is that active
Yelper want to leave you a review. But they will just as easily shred you as sing your praises if you do not do a great job for them!

Never SEND DIRECT LINKS TO YOUR CLIENT TO WRITE A REVIEW! If the folks at Yelp even think you asked for that review it will be gone! Once a review is hidden that's it. It will still add to your review count and influence your star rating but folks will have to dig for it to read it.
And try to remember that Yelp will hide your best client's review if they are not a Yelper but keep a review of someone who was not represented by you because they did not like the way you handled a situation. Our friend Matt received a very nasty review from a top Yelper that was not his client but was buying his seller's house. Obviously Matt's responsibility was to do the very best job for his seller and provide the duties of full disclosure to the buyer. Well this buyer did not like anyone in the process and left everyone a nasty review. The seller's review was hidden but nasty review was kept.
Zillow | Reviews Where the Buyers and Sellers Go for House Info!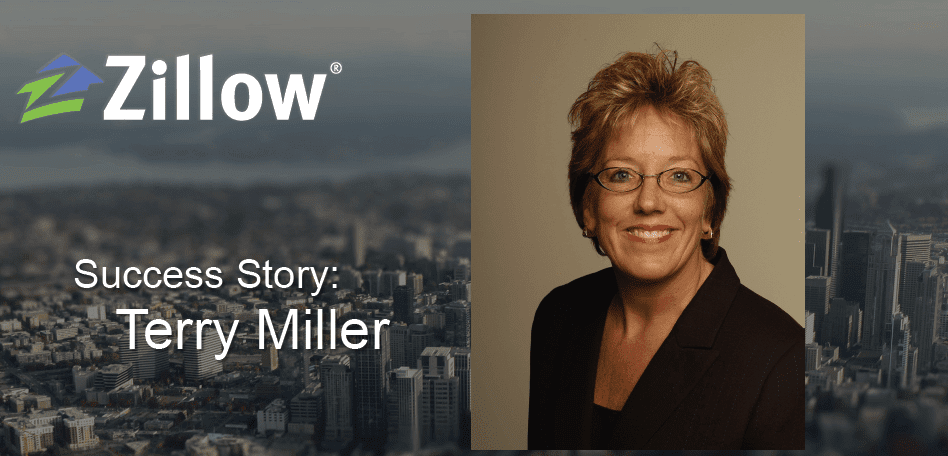 TERRY'S ZILLOW SUCCESS: If the Next Gen Client isn't going to find you on Yelp! they get on Zillow. Thousands of Buyers and sellers are searching Zillow constantly for housing information if you are on there – they will find you.
Terry's Super Success Story On Zillow: Let's talk about Terry Miller from Coldwell Banker Bain. Terry is a Zillow success story. She has 65 reviews and a 5 star rating on Zillow. Terry has been in business for years. She understands that people find her in a variety of different methods. But she also knows that she needs a place for people to find her and leaver her a review. Zillow is part of the overall strategy that she has to maintain contact with her existing clients, create brand ambassadors, and makes sure she is connecting with her next wave of business. It is all part of a plan.
How does Terry get so many excellent reviews? It's simple – She asks for them!!!! Once her clients have received their keys and they closing gift Terry asks them to leave her a review on Zillow if they were happy with her service. Not only can you ask everyone that works with you to leave you a review in Zillow You make it easy and send them the link. So easy! Terry also explains that a positive review is important for her future business. Why? Because reviews matter to the next gen client.
Google+ | The Paul Kaplan Group Rules Palm Springs + Google+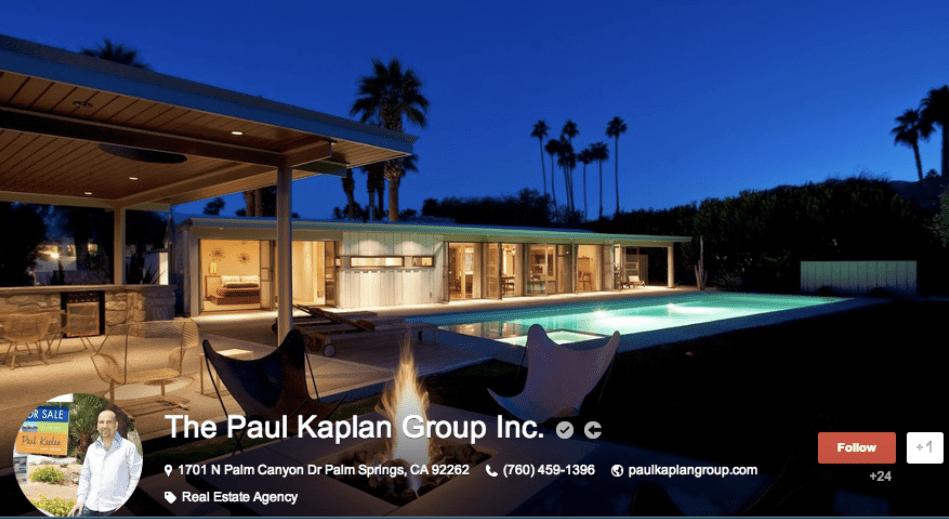 In business there is always the next big thing A New Frontier. That new frontier is Google +. Above is Paul Kaplan's from Palm Springs Google + page. We just had the pleasure of meeting Paul and his team in March. He is kick butt on the web. If you Google Palm Springs Real Estate his site is the first Realtor site you see.  He is employing every tool out there including Google +.
His Google + site is so great. He has 5 reviews (full disclosures I did leave him a review cause he rocks Palm Springs Real Estate)You can establish a site and get these reviews on your page so easily and you can quickly start getting more and more hits to your site.
Let's Recap Now: Getting Review & Testimonials on these sites makes you searchable for the Next Gen Client to find. It builds trust and strengthens your bond with your clients when you ask for reviews & get reviews you are building your fan base. You are creating Brand Ambassadors for your business. The more folks talk about you the more folks want to know you!
Use the Power of Video and Let your Clients Speak for You!
Next Gen Client Trusts the Internet
Yelp! A Key Business Generator if it speaks to your demographic
Zillow Great Addition to your Online Presence and easy way to build a strong reputation through reviews.
Google+ – The Next Frontier Be an early adopter and reap the rewards!
Good luck and get out there to be the next generation real estate pro. Less sales "pitch", fewer fridge magnets and more awesome connections with your peeps or Diva Dwellers as we call them.