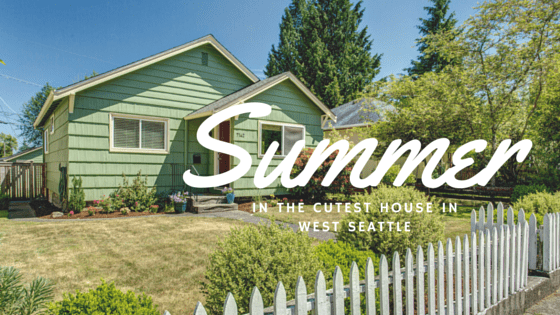 Divas Announce | Delightful West Seattle Bungalow  Seriously, this home is adorable. It may even be the the most adorable two bedroom home you will find listed in West Seattle this month. Maybe even all year. So Diva – what about the price? It is UNDER $350,000! Talk about living a champagne life on a beer budget (ok maybe a Micro Brew budget). Fulfill your homesteading dreams of canning in the summertime, planting Spring bulbs in the Fall, making cookies for your peeps over the Holidays, or frankly just sitting back and soaking up the awesomeness of being a Diva Dweller!
Top Five Reasons You Need to Run to this Adorable Abode
Reason 1: The Location – West Seattle is not just a neighborhood – it is a destination. And this cutie is just a short jaunt to the Morgan Junction, the Vashon Ferry, and so much more. Want to enjoy sunset walks in the park. Here you are just minutes to Lincoln Park, and all the shopping at Westwood Village. Nearby California Ave offers the mutt-friendly beer bar Beveridge Place Pub and West Seattle Cellars for the winos among us. Plus South Seattle College is practically around the corner.
Reason 2: The Yard – Speaking of yards these Diva Dwellers have been cultivating and nurturing this yard for the past few years. Wait until spring rolls around and enjoy all the blooming. Or start a victory garden of your own. Did we mention the patio? BBQ and Rosè ready – just in time for summer.
Reason 3: The Neighbors – Folks stay in this hood for years. In fact, our Diva Dwellers are heart broken about leaving their lovely neighbors. Every July these peeps get together and have a hood BBQ to rival all hood BBQs. Music, food, kegs and kid games. Beer + Bouncy Castle = Good Times!
Reason 4: The Commute – Pop on the C Line and you will be Downtown in no time! Or if you prefer a quintessential Seattle commute take the Alki Water Taxi instead. Then there will be time for Happy Hour at Salty's after work!
Reason 5: The Garage – You live in the city and you have a garage. Not a One car but a TWO car garage. Now you can buy that Porche you always wanted. Or have space to create your own coffee tables and stuff. Or convert it to an artist studio and become a patron of the next up-and-coming Troy Gua. Either way – you have a garage. A huge garage!!
—
The Critical Nuggets About This Home:
Check Out a Few of Our Favorite Photos Below