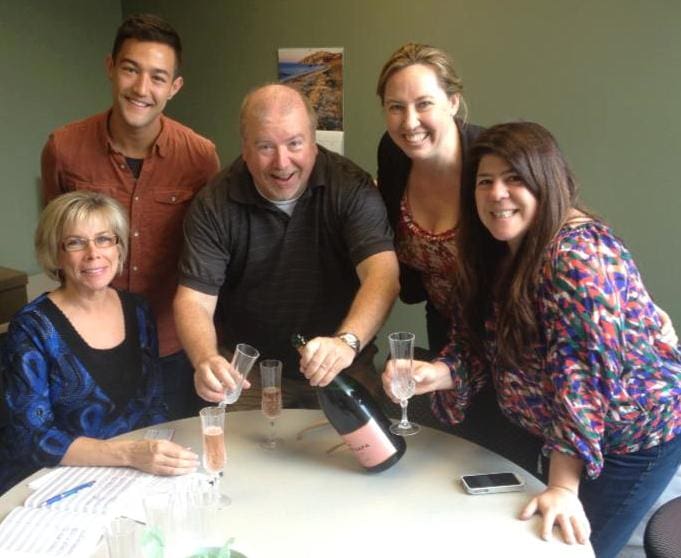 The Divas met Mike years ago through their Diva Pals and Saturgays, Tad + Glenn, and ever since then we have been fast friends. Mike has been one of the most devoted Divotees in the Diva posse since the beginning. He's been to every single Divas Take the Hill event and was even at our very first Diva event at Retail Therapy, where he was front & center as a bevy of underwear models paraded through the store. By that point I think there was no turning back, Mike had joined the "Forever Fans of the Divas" club. Even when we were back at the old HQ, Mike would make it a normal occurrence to stop in to just say "hi" or even to offer us some good wine and good company.
All in all, Mike is one of the best people the Divas could ever meet: sweet, generous, and downright hilarious. It's because of our long history with Mike that we were even more ecstatic when he approached us with the idea of selling his condo. We were so honored to be working with one of our favorite people and finally including him officially as a beloved Diva Dweller. Mike has always been an important fixture in the Diva community, and we Divas sure are thankful for his presence.
Here is Mike's Diva Dweller Story:
Name: Michael Antee
Hood: Capitol Hill
How did you meet the Divas?
Through some great friends of mine.  I was asking them some real estate questions and my friends said 'we know the experts'….and it has been one of my most treasured relationship ever since.
What type of home did you sell?
One bedroom condo with parking and a view on Capitol Hill.
What was your first "OMG" house selling moment?
I was out of town for work and when I received the photos of my unit after the Divas staged it, I was saying 'where is that unit, it doesn't look like mine. It looks too great, organized and spotless.' The Divas did such an outstanding job for me.
After you sold your house did what did you do (buy/rent/vacation)?
Renting but looking elsewhere.  I will be using the Diva's for sure on my next home purchase.
What is in your junk drawer?
A tape measure, condoms and gum — you just don't know when you may need them.
What is your favorite Hood hangout spot?
Cal Anderson Park, Lost Lake Cafe, Diesel, The Cuff, and the Argento Cafe at 12th and Olive.  Yes, I several hangouts.
What is your favorite local organization/non-profit?
Both Gay City Health and LongLife AIDS Alliance are great people serving the community.
What do you love the most about working with your Divas?
Besides their hair?  Honestly, they will tell you like it is and give you awesome advice.  They are on your side and want the best for everyone involved.  I love the DIVAS!!!!