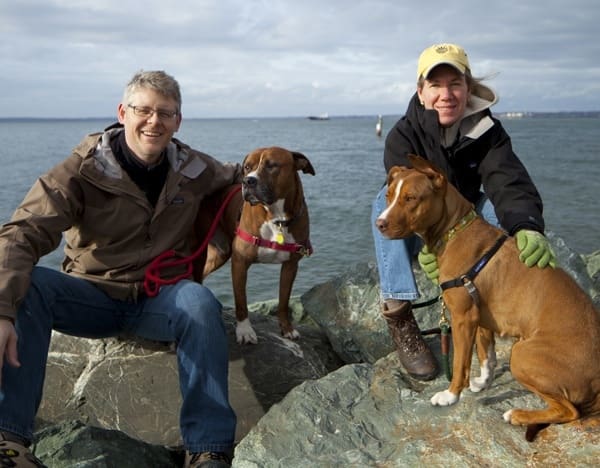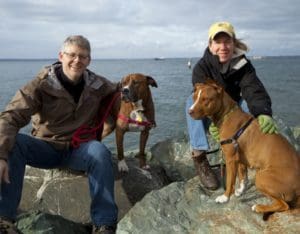 Karin & Michael are some of our favorite Diva Dwellers. Not just because we have been through 3 deals with them but because they are fearless home buyers. I (Diva Kim) loved working with Karin and was amazed when she decided to buy a cutie pie cottage in Rainier Beach that was in grave need need of  love and attention, which Karin gave it with much creativity and ingenuity. A few years later, Karin met Michael and it was time to make the their next move together. I knew these two would not shy away from work so we tackled the process of finding them a perfect but "not too perfect" home in Beacon Hill.
Due to the amazing transformation Karin accomplished in her home and a hustling economy we had no problem selling her sweet cottage. We swiftly found them a lovely Craftsman in Beacon Hill.  But since it was 2007, we were not alone in desiring this fab home. On top of the multiple offers, the Divas were leaving for "The Motherland" (otherwise known as New Jersey) the next day. Let's just say – this was the first and only deal (thus far), Diva Kim has never negotiated over the phone while in an Atlantic City casino. To add to the craziness, Diva Chavi couldn't resist getting a picture of Diva Kim negotiating a deal on her phone in a Casino, which the floor manager at the Tropicana, did not appreciate. I guess a camera at a Black Jack table is a no no. Despite the clanging slot machines and angry floor manager, we were successful in negotiating the home for Karin and Michael and 5 years later they are still living happily in there transformed Beacon Hill home.
Here is Karin + Michael's Story

Their Hood: Beacon Hill
How did you meet the Divas? Probably not like most people… It was a connection through my credit union. I had just started a new job and moved to Seattle. I opened an account at a local credit union and started looking to buy a house right away. The credit union was able to provide the mortgage and recommend a realtor at the same time.
What type of home did you purchase? The first home Karin bought with the Divas was a classic, post colonial cottage in need of some extreme TLC. The second house, which we bought together, is a 1912 craftsman (100 years old this year!).
What was your first "OMG" house moment? When we walked through the front door and saw the light streaming through the windows, hitting the fir floors and and wood moldings. The house has incredible light during the day!
What is your greatest home extravagance? Our 350-bottle wine cellar. Michael built it, using re-purposed futon slats to hold the bottles. The door is an old sauna door we found at Earthwise and the cooling unit is from Second Use. We also bought an old drinking fountain from a church in Columbia City to use as a spit sink, but need to work on the plumbing a bit more before installing.
What is in your junk drawer? A rabbit wine cork puller, various wine stoppers, wine pourers, and scotch tape.
Would you rather:
mow lawn / paint the fence — Since we have so little lawn and a reasonably quiet push mower, we'd much rather mow the lawn!
untangle computer cords / sort socks — Sort socks—MUCH easier!
test the smoke detectors / fix squeaky doors — Fix squeaky doors. Although, with our house, it's more likely to be doors that don't quite close all the way. Michael has fixed more than one of those.
plunge the toilet / clean out the refrigerator — Clean out the fridge. I (Karin) hate seeing moldy food when I open the door!
clean the gutters / take down holiday decorations — Strangely, we've never had to do either. There are no large trees on our property, and we never seem to find the time to put holiday decorations up in the first place!
What is your favorite Hood hangout spot? For great Neapolitan pizza and small plates, Bar Del Corso. If the weather is nice, we like to walk to the 12th Avenue viewpoint overlooking SODO or lawn bowl at Jefferson Park.
What is your favorite local organization/non-profit? We are strong supporters of Global Visionaries, which is housed at El Centro de la Raza near the light rail station. Michael's son, Matthew, went through the program while in high school and was completely transformed through local service projects and also a 2-week working trip to Guatemala, where the students worked on new school construction, reforestation and volunteering in hospitals. It's a terrific program that encourages young adults to become active leaders in their community.
What do you love the most about your house? A lot of the original 1912 charm is still a part of our house, which is what made us immediately fall in love with it. But we also quickly got to know our neighbors and discover the unique qualities of Beacon Hill, which is an added bonus. There is a real community feeling among the people up here, and a lot of positive changes have occurred through community meetings, the neighborhood blog, and the email list serve.