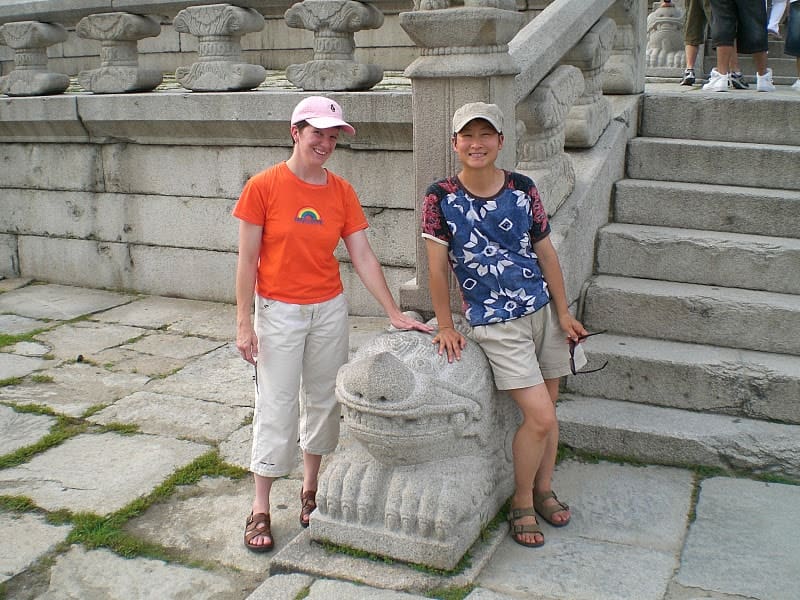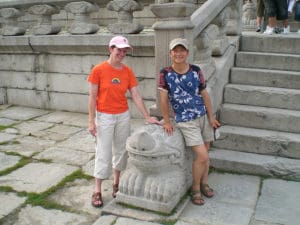 Diva Kim met Emily and Soohee though a fellow graduate cohort of Diva Dwellers Erika and Scott. Emily and Soohee are in the original batch of Diva Dwellers, way back from when Kim drove a blue Honda Civic with political bumper stickers and a headlight that refused to stay in its socket. The moment Emily and Soohee met Kim it was instant deep affection despite the clunky transportation around Seattle.
The first home Emily and Soohee purchased was a charming craftsman fixer in Ballard, even before Ballard was charming. It had a 1950s drop ceilings, an unfinished basement and two small bedrooms. Until this time, Emily and Soohee did not know the in/outs of a tool box much less how to change out a light fixture. They tinkered with the Ballard house and it is now a showcase home on the block.
The Madrona House Adventure
Several years ago Emily and Soohee decided to dip their toes into the fixer upper market. We found them a home in Madrona that was a full-on crack-den foreclosure. Structurally fine but it was beyond yuck! The first time I walked into the home my shoes stuck to the floors. In the basement there was a build up of candle wax from god knows what. Midway through the transaction the stove went missing. Let's just say I was a little skeeved out.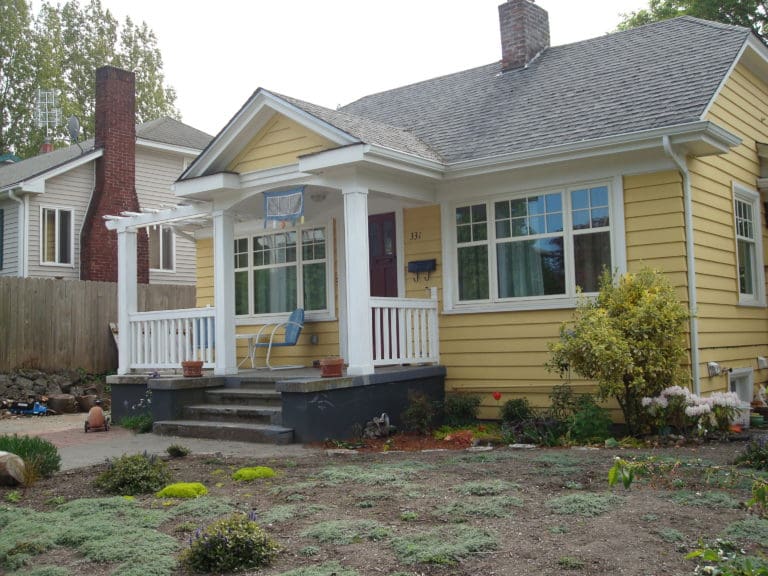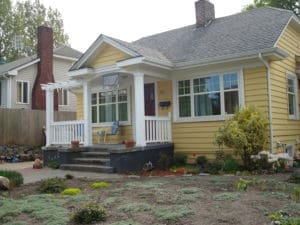 The gals loved the home and did an amazing job transforming it into a one-of-a-kind Madrona Craftsman. Several months into the transformation we drove past the home previewing for another client. We stopped at the end of the block and realized that we had driven right past the house. No idea it was the gal's project. It was a completely new house. The Madrona house went from crack den to best craftsman on the block in six months.
Emily and Soohee's Diva Wall of Fame
Hood: Ballard + Madrona
How did you meet the Divas?
Soohee (S): Through Chieni, ironically, a friend of ours who also keeps a gay male entourage.
Emily (E): On North Aurora.

What type of home did you purchase?
S: Our first home was the best type ~ Craftsman!
E: The second house was a crack den. Well, that's the Madrona house.  The other one was just the ugliest moldy-aluminum clad Craftsman on the block.  Heh, we know how to pick 'em! We're suckers for a Craftsman house!
What was your first "OMG" house moment?
S: When we realized that the "RV parking" space in the alley actually belonged to the house and that we could convert it to our backyard. Now its an amazing garden. Added by Emily – Meaning, build a retaining wall and transfer 18 cubic yards of dirt by hand over that wall to fill it…Â  Soohee likes shoveling dirt, still does (=insanity?).
E: I don't remember the first, per se, but I squealed like a stuck pig peeking through the windows at the newly refinished floors at the Madrona crack den.  And further back, … I almost messed my pants when I came home from a conference and Soohee had started taking off the aluminum siding at the Ballard house!!! — that was more of a holy crap moment, though.
What is your greatest home extravagance?
S: Enclosing the back porch with windows in three walls but keeping the historic nature of the home.
E: Radiant floor heating throughout Madrona (the rental???!?), and the new sun-porch at Home, A.K.A.,  time-to-sell-a-kidney(each)!
S: concurs, on all fronts.  (Too bad we can't sell more body parts.)
E:Â  We are having a garage sale soon…
What is in your junk drawer?
S: Some Swan dollars and matches. I cleaned it very recently (Swan Dollars are from Swanson's Nursery. Emily and Soohee have an amazing garden in both their Ballard and Madrona homes)
E: Various kinds of caulk (half-used, dried up), any screw you could ever want, drill bits, dust masks (un-used), a miter box, some plumber's tape, and three dried-up paint brushes (Purdy 2″ angled) — and a good amount of Beadex chunks & powder. Truthfully, Soohee recently cleaned out her milk-top collection, rubber-band collection and bread-ties collections from the junk drawer. BUT, that said, our j"unk drawer" is a whole room in the basement full of corks, wood scraps, paint, stain & finish, wood fill, caulk, spackle,Beadex, power tools, drill bits, every screw you could dream of… oh, and some furniture-refinishing projects.
Would you rather:
mow lawn / paint the fence:

E:  Oooooo — that's a tough one!  Can I do yours, too?

S:Â Â paint the fence
E:Â  why don't you paint the porch railings for me, then?
S:  Because the question is not 'What is your favorite activity?' but 'Which would you rather…?'

untangle computer cords / sort socks:

E: Â NEITHER!

S:Â  either is fine

test the smoke detectors / fix squeaky doors:

E: The house may burn down with Soohee's next culinary adventure but if that door squeaks one more time, I'm going to strangle someone!

S:Â  I'll do the doors.

E: and she does.

plunge the toilet / clean out the refrigerator:

E: extremely similar tasks when one is busy… I'd rather install your toilet than your refrigerator.

S:Â clean out the fridge

E: I hope you know that doesn't mean eating everything in it.

clean the gutters / take down holiday decorations:

S: I'll clean the gutters.

E:Â  I can always get Soohee to do the dirty, long & tedious and random uninteresting jobs. My little work-horse!

As for me, I have to ask, What are holiday decorations? — Who has time for holidays, much less decorations! We have yet to put winter-holiday lights on the roof line at Ballard! And since I won't clean the gutters (we'll scrape up money to pay someone else to do it, if it is left to me),  I just have to brag that my crowning moment in GCing the Madrona house was either ripping down the old gutters (by myself, in 100-degree sun) OR when I was 15-feet up on a ladder parallel to our contractor guy John, holding up a fascia board in one hand and he swung the nail gun over to me by the cord for me to catch in the other hand to nail up my end of the fascia board.  (Images of Rosie the Riveter in my mind!)
What is your favorite Hood hangout spot?
S:Â  best to eat at home — best kimchee around! Otherwise, Pho Vietnam, right around the corner from home!
E: OMG, the best Pho on earth is at Pho Vietnam on 15th Ave NW at 70th st.  $4.95! For Madrona, the folks at Moonlight Temple (also Vietnamese) think we only own Carhartts, and I can't believe Soohee didn't mention it, since she always insists on such real food when we have ten million things to get done at Madrona and I want to grab Starbucks and get back at it…
S:  Oh, and there's Ezell's (fried chicken, livers and okra) on 23rd, too.  Mmmm (I love food!)
E:  and those are my best guess at what a "hangout" is, other than the backyard/garden (still in progress) at home.
What is your favorite local organization/non-profit?
S: ACRS helps clients attain the highest levels of self-sufficiency in Western society, while maintaining their cultural identity. (Emily and Soohee speak multiple languages and are professors at the University of Washington. They have co-written several Korean language books and host a Korean language forum for the under 5 age group.)
E: All of our babies have been shelter kitties, but seriously, we've GOT to help public education really work — for all!
What do you love the most about your house?
S:  The (E says, "you mean 'my'") enclosed back porch with windows in three walls or back yard converted from an RV-parking lot.
E: Yeah, that's Soohee's favorite hangout, actually.  For Ballard, I'd say… I love the uncovered original wood siding and the awesome paint color on it, and the crazy garden it is settled into… with kitties on the porch.   And this year we are finally growing food, too.  It just keeps getting better!
S: As for Madrona, … that we saved a dying house that could have been (E: probably would have been) bulldozed down, and now it's a wonderful place possibly even for two households! (E concurs.  Biggest, dirtiest, craziest, most fulfilling project ever.)
Below is the video we compiled of Emily and Soohee's adventure at the Madrona house:

The Diva team has learned a lot from watching our gals, Emily and Soohee, work on both of their homes. The Madrona home is now a rental and will be a nice little nest egg down the road. The Ballard house is their home FOREVER. Learn more on how to renovate your home or future Diva Dwelling on the Diva site>