Lifelong's vital programs began during the AIDS crisis, but today they facing serious illness and poverty in our community. Dine Out For Life is a great and easy way to give back that is fun and rewarding. Grab a quick lunch with colleagues. Enjoy a family style dinner with loved ones. Check out a restaurant you've been wanting to try, but never had a specific occasion. On April 27, you have 1,900 reasons!
(In 2016, Lifelong's Chicken Soup Brigade provided over 36,500 bags of groceries and 170,000 nutritious meals to over 1,900 individuals. Clients of Lifelong's services receive healthy food catered to their specific medical conditions.)
Dine Out for Life has been going strong in Seattle for over 20 years, and it's one of Lifelong's most important annual fundraisers. It is one of the reasons why Chicken Soup Brigade and Lifelong's other life-saving programs can continue. It's also a LOT of fun!
We have two recommendations for dining this year, as two of our favorite local entertainers will be playing hostess.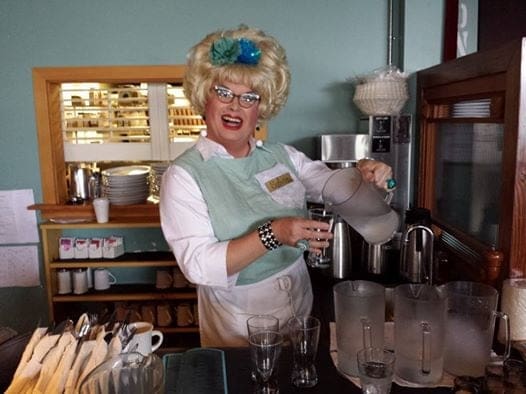 Get Down South with Sylvia O'Stayformore
At Hudson in Georgetown (map here), catch Sylvia O'Stayformore playing hostess and refilling your waters. Hudson's southern, home-style cooking are a perfect match for the charming Miss Sylvia. A full half of proceeds from sales will support Lifelong.
Have a Spicy Meatball with DonnaTella Howe
Pomodoro Ristorante in Eastlake (map here) serves up delicious Italian and Spanish cuisine and wines in a cozy, romantic atmosphere. Our own Team Diva drag royalty DonnaTella Howe will be hostess. Bring a date or someone special. (And yes, they have gluten free options in case either of you need that.)
---
Dine Out for Life comes at a perfect time. April has been a wet slog. We're hitting 100 days of resistance against Trump. As he and the Republican administration seek to cut health services all, starting with the most vulnerable, organizations like Lifelong are so important. Take time to feel good with friends or treat yourself to a good meal and know it goes toward feeding others, too!
Bon apetit, Divaland!