Thank you, Jesse, for going online and leaving the Divas a Yelp Five Star Review. Reviews from amazing people like you created the foundation of Team Diva as we know her now. Back in the early days of Team Diva, we would meet wonderful people like Jesse and his wife at parties our neighbors hosted. Remember there was a time before the use of one's phone to find Real Estate agents. We were so happy working with Jesse and his family in the early days of our business forming. As a result, of the experience, we had with people like Jesse and others we deeply understood the information homebuyers needed to make smart decisions. Hence our long project to launch our Buyer Page last year that garnered us an Innovator Award by Inman. 
Team Diva Wins an Inman 2019 Innovator Award for our Seattle Home Buyer Page
Another Five Star Yelp Review From Diva Dweller Jesse
Read jesse l.'s review of Team Diva Real Estate – Coldwell Banker BAIN on Yelp
I am naturally distrustful of the relationship between a Realtor and client, as it seems like there are ultimately disparate interests, but I didn't feel that way with the Divas.
Kim and Chavi are great! My wife and I had pretty different things we were looking for in a house and the Divas really listened to both of us and kept coming up with great places to show us. We started out thinking we wanted a green built condo and then after seeing some places and talking, we changed gears and decided we wanted a house with a yard. They didn't pressure us, showed us all the neighborhoods, and we eventually found a great place. They are fun to work with and honest, and followed through with everything they said they would do. I would feel confident telling anyone to work with them!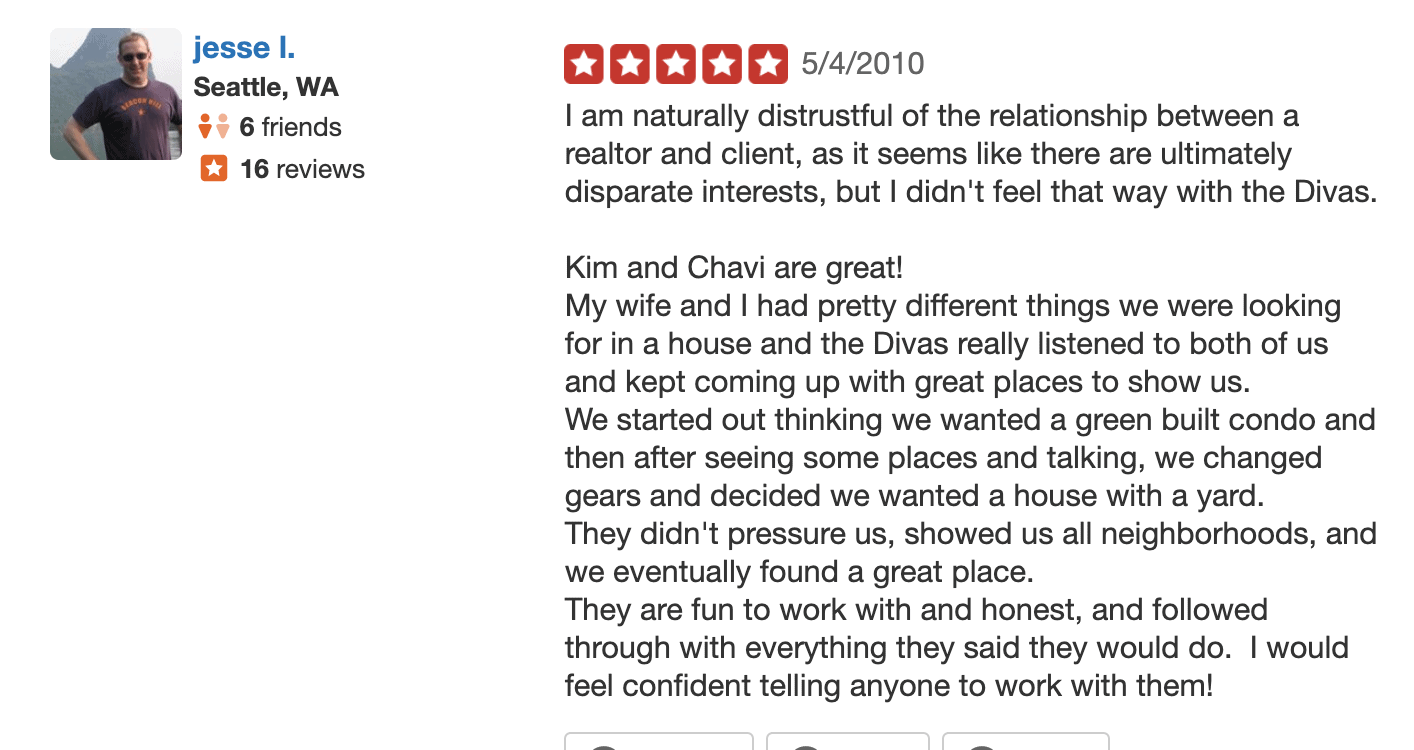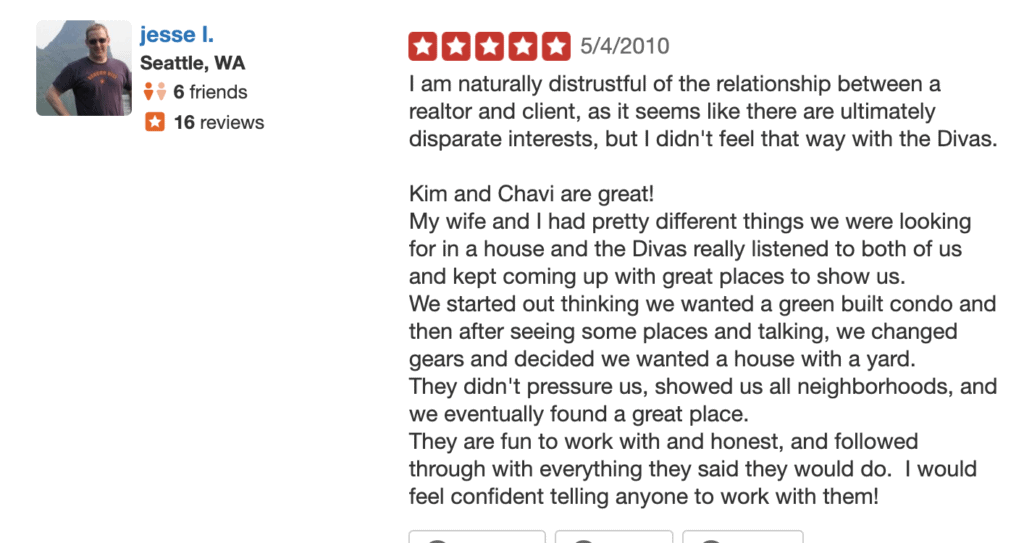 Read Jesse's entire review on Yelp!
---
Foundational Yelp Five Star Reviews From Clients Like Jesse Launched Team Diva to the Inman Stage
Inman News first discovered Team Diva because of their early work on Yelp. Specifically, the fact that real people were going on Yelp and leaving Five Star Reviews for two upstarts in Seattle. At the time only restaurants were really reviewed online. The idea that a real estate agent would expose themselves to an online reviewing service seemed insane. Fast forward many years later and you are crazy for not having a place for people to leave you reviews.
Check out the blog we completed when Inman News First Hosted Us at Agent Reboot
Thank you Jesse for trusting the Divas to the hard work of finding you a home. And big thanks for helping being a founding fan of our Yelp page.