Every day, hundreds of people pass by the entrance to this hip urban condo without really noticing it. They are too intent on getting a coffee or cupcake at the adjacent Cupcake Royale or heading down the street to get some groceries at QFC. Or to spend some time reading at the Elliott Bay Book Company.
Like a lot of great real estate in Seattle, Eleven Eleven East Pike hiding in plain sight. Creating a sense of sanctuary for residents while putting them dead center to shopping, dining, and cultural experiences. The building was designed by local, award-winning architect firm, Olson Kundig, and it deserves mention of its own.
Eleven Eleven East Pike, the Design by Olson Kundig
This was actually the very first condo project designed by architect Tom Kundig in 2008—but don't let that make you think it was amateur. Kundig had already earned international attention and praise for designing high-end residences. He designed this building with versatility in mind for its residents. The six-story building, has 27 units, mostly one-bedroom suites, with open, lofty layouts ranging from 600 to 1,125 square feet, with 9-foot ceilings. Residents enjoy a shared rooftop garden terrace, and two levels of underground parking. (Parking in the center of Capitol Hill?! Shocking, we know.)
One of the most distinctive features that Kundig included was a "puzzle door" that slides along a ceiling track to enclose either the kitchen or the bedroom. Puzzle doors and walls have been used by Olson Kundig to provide versatile arrangements to a number of buildings. Including their remodel of the recently opened Arts at King Street Station between the International District and Pioneer Square.
In 2011, Eleven Eleven East Pike won a National Housing Award from the American Institute of Architects. Its elegant integration of mixed-use commercial and residential property really is spectacular. And the design notes from Kundig's process show how even the colors of the exterior were selected to nod to Capitol Hill's historical roots as "Auto Row." The original buyers could select the outside paneling of their units from a palette of classic car colors from the 1950s. Which gives the building its distinctive, modern-retro vibe.
The Chic Neighbors at Chophouse Row
Behind Eleven Eleven East Pike you'll find Chophouse Row. Designed by another Seattle-based architectural powerhouse, SKL Architects, in collaboration with Graham Baba Architects. It's another mixed-used building, but with a larger footprint. All of the commercial buildings here are nested and connected through pedestrian passages and mezzanines. At the center of it all is a courtyard that comes alive with music and little vendor tents for Night Markets in the warmer months.

Chophouse Row is full of chic boutiques and eateries. Developer Liz Dunn had this in the mind from the start when she launched a decade long master plan to encourage "incremental urbanism" in the Pike/Pine corridor on Capitol Hill. Chophouse Row was the crowning piece (and is crowned with both a residence for Dunn herself and The Cloud Room. An ultra-hip shared workspace and social club.
Business tenants at Chophouse Row include local cheesemongers Kurtwood Farms and two eateries by the chefs behind legendary French dining destination, Le Gourmand. Their cafe and bakery, Amandine, has an easy to miss mezzanine level that is great for camping out and working with a plate of scrumptious Macarons. And next door, Marmite serves up an ever-evolving menu whose soul is the rich broths and stocks cooked up in the eponymous 40-gallon marmite pot.
More Culture and Design Within a Block
Eleven Eleven East Pike is right at the heart of the Capitol Hill Arts and Culture District. First, there is Ghost Gallery, whose entrance is tucked at the back of Cupcake Royale next door to the condo's entrance. You can also get to Ghost Gallery by taking the stairs from the aforementioned Chophouse Row courtyard! Inside, you'll find curated shows of new artwork, fabulous jewels and accessories, and even a selection of wines. Chosen with care by owner Laurie Kearney. Laurie is so helpful and kind, and talented. (She also curates the art on the walls of Cupcake Royale and is a co-organizer of the Capitol Hill Art Walk, every second Thursday.)
You'll find more art nearby at Vermillion on 11th. This eclectic space shows works from a huge range of artists, alongside pinball and arcade machines and a back bar with almost nightly entertainment.
Audiophiles can indulge their obsession with two classic record shops within a block on Pike St. Zions Gate, across the street at 1100 Pike St, and Wall of Sound, on the corner of 12th and Pike. And cinephiles will not want to miss the international and independent selections year-round at Northwest Film Forum, also just around the corner on 12th.
If you want to snazz up your interior, check out Retrofit Modern on 11th and Pike. Steps away from the entrance to Eleven Eleven. If you love attainable contemporary design, you'll love perusing its big array of accessories, furnishings, and gifts. Then, you can pop next door to Cafe Pettirosso, one of our favorite places to eat, drink, meet and relax in Seattle. And we cannot also fail to mention one of our favorite places to shop EVER, Retail Therapy, just two blocks west toward downtown.
That block also includes Neumos for music shows and BAIT Shop, a mecca for super hip streetwear. And speaking of streetwear, last but not least on this list is Likelihood, the sneaker boutique around the block from Eleven Eleven. Likelihood is Shangri-La for those who want the coolest, latest kicks.
In short, if you are in the market to buy a condo in Seattle and you want a home that sets you up to lead the coolest, sophisticated urban experience you can, look no further than lucky number Eleven Eleven.
---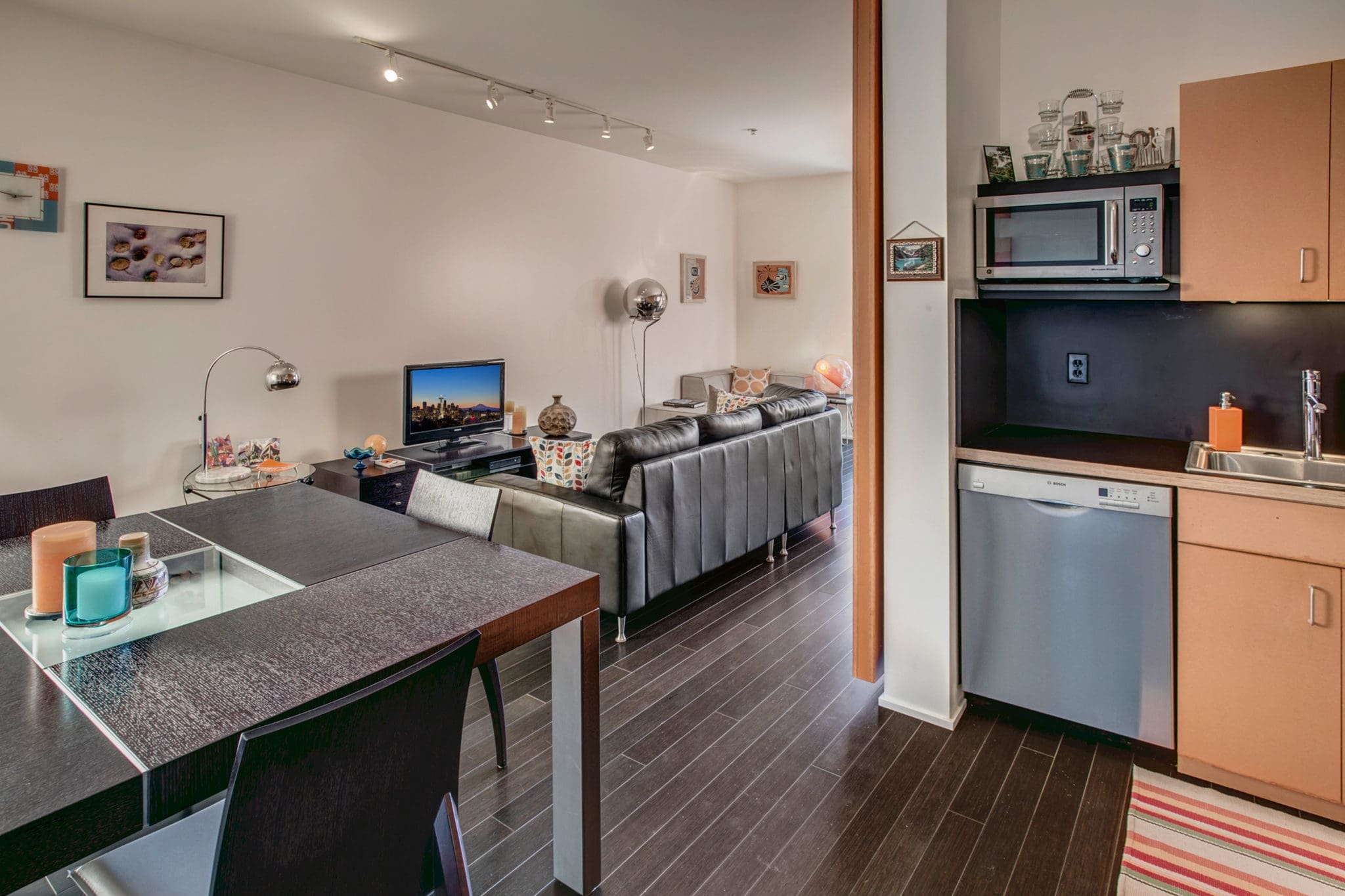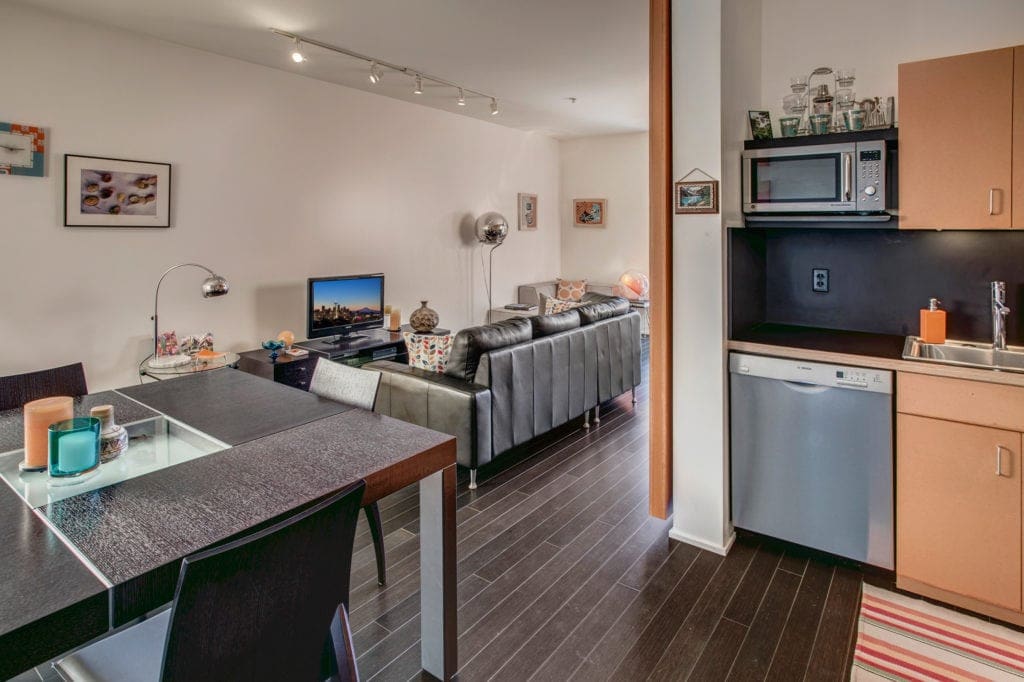 Home Details:
Address: 1111 E Pike St #404
Price: $479,000
Bedrooms: 1
Bathrooms: 1