What do you need to know about getting a home inspection in Seattle? Well, almost everything! Home inspections are the most important parts of buying a home in Seattle. We have a very diverse housing stock and I do not know if you have noticed but we also have a lot of hills. Oh and water. It rains a lot here. Water damage is an issue. In this blog, we are going to go through every step of what is involved in getting a home inspection in Seattle.
A Comprehensive Guide to Getting a Home Inspection in Seattle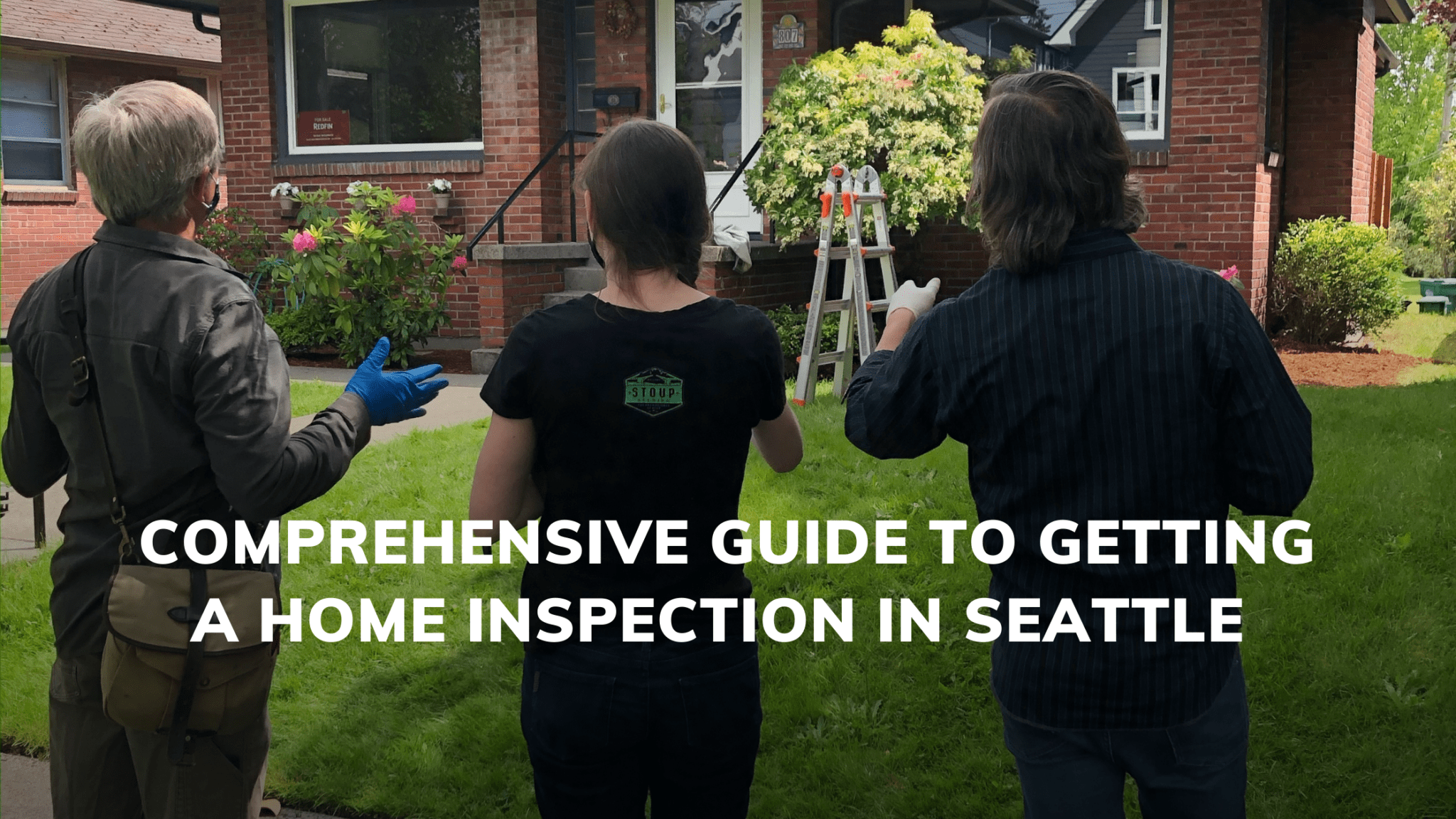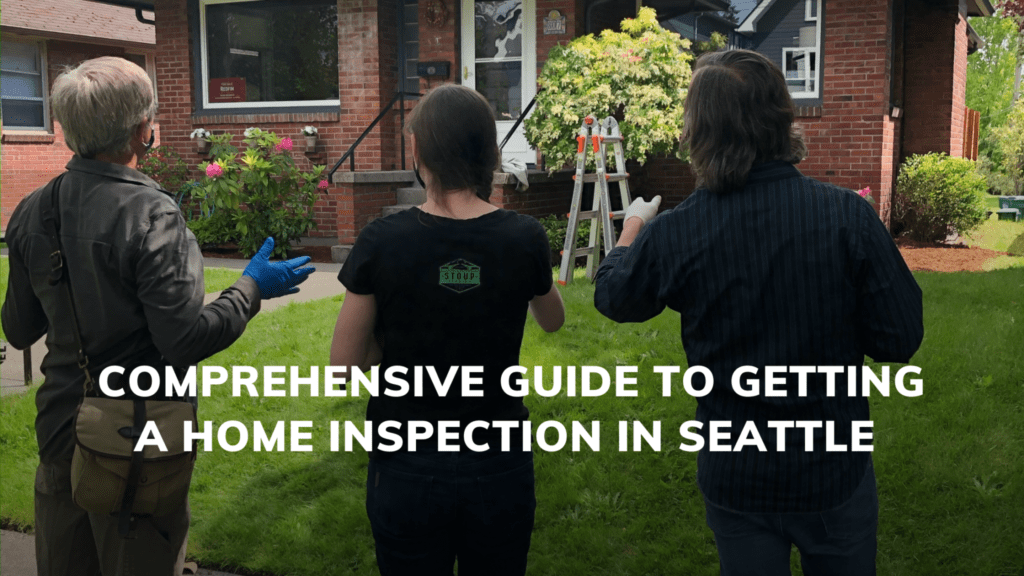 Here are the steps to getting a home inspection in Seattle. For in-depth details on each step, keep reading!
---
A Comprehensive Guide to Getting a Home Inspection in Seattle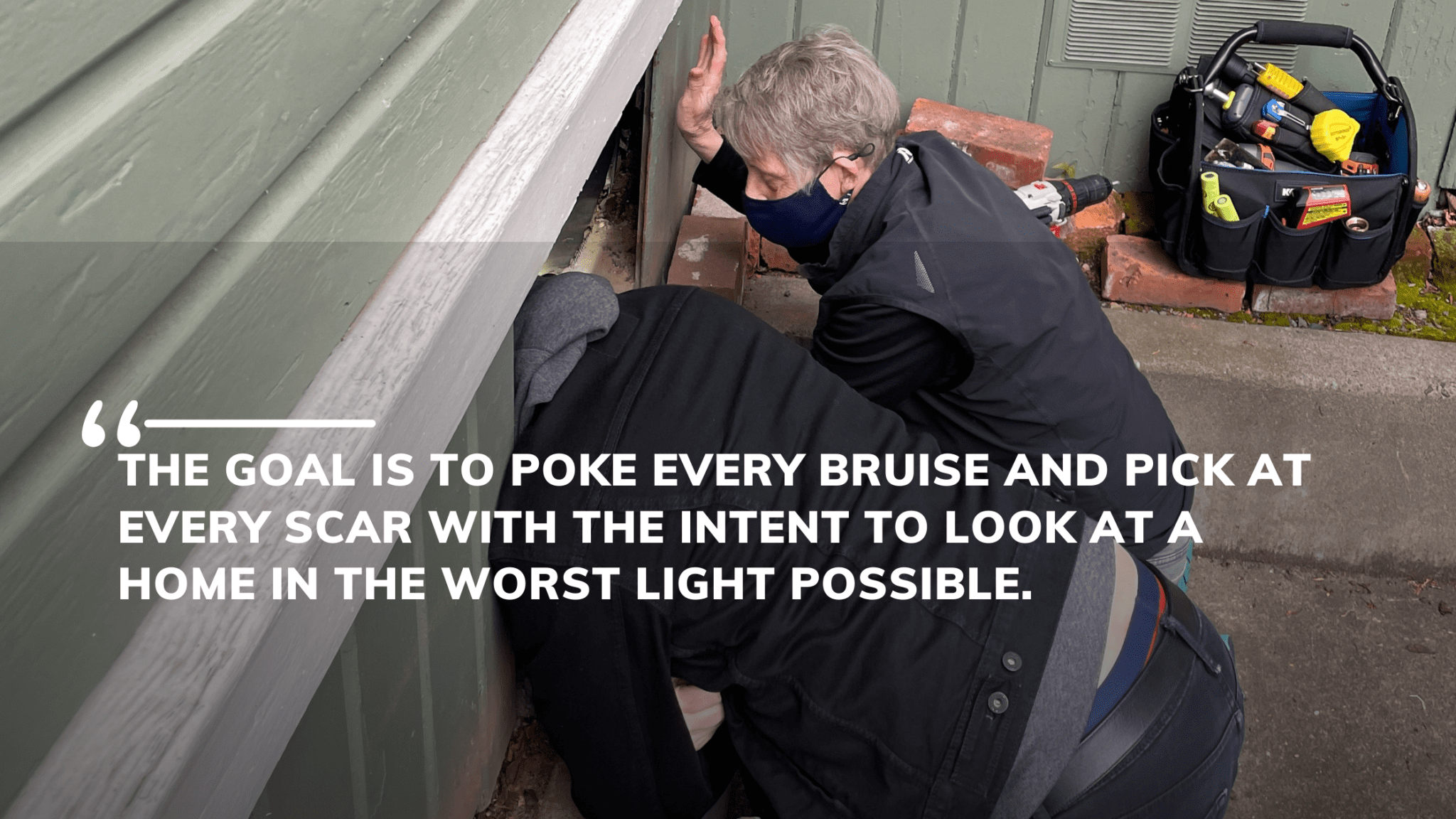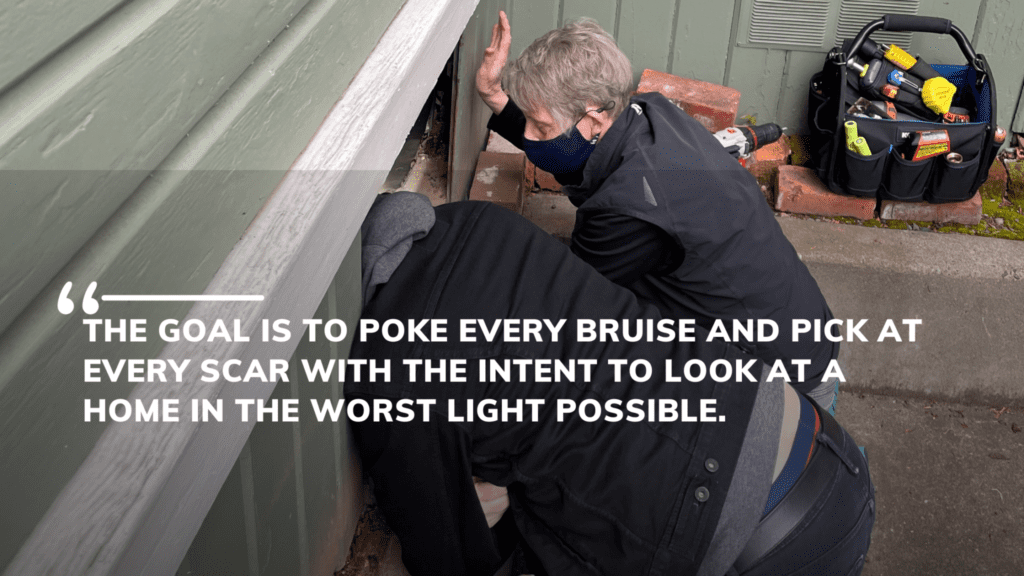 Congratutionals you have either gotten into a contract on a home and have an inspection contingency. Or you are found a home and have to do a pre-inspection since it is a multiple offer. Luckily, we have helped our buyers and sellers successfully navigate countless home inspections. Each situation is a bit different. But this guide will help you gain an understanding of the process.
How Much Time Do Buyers Have to Inspect a Home?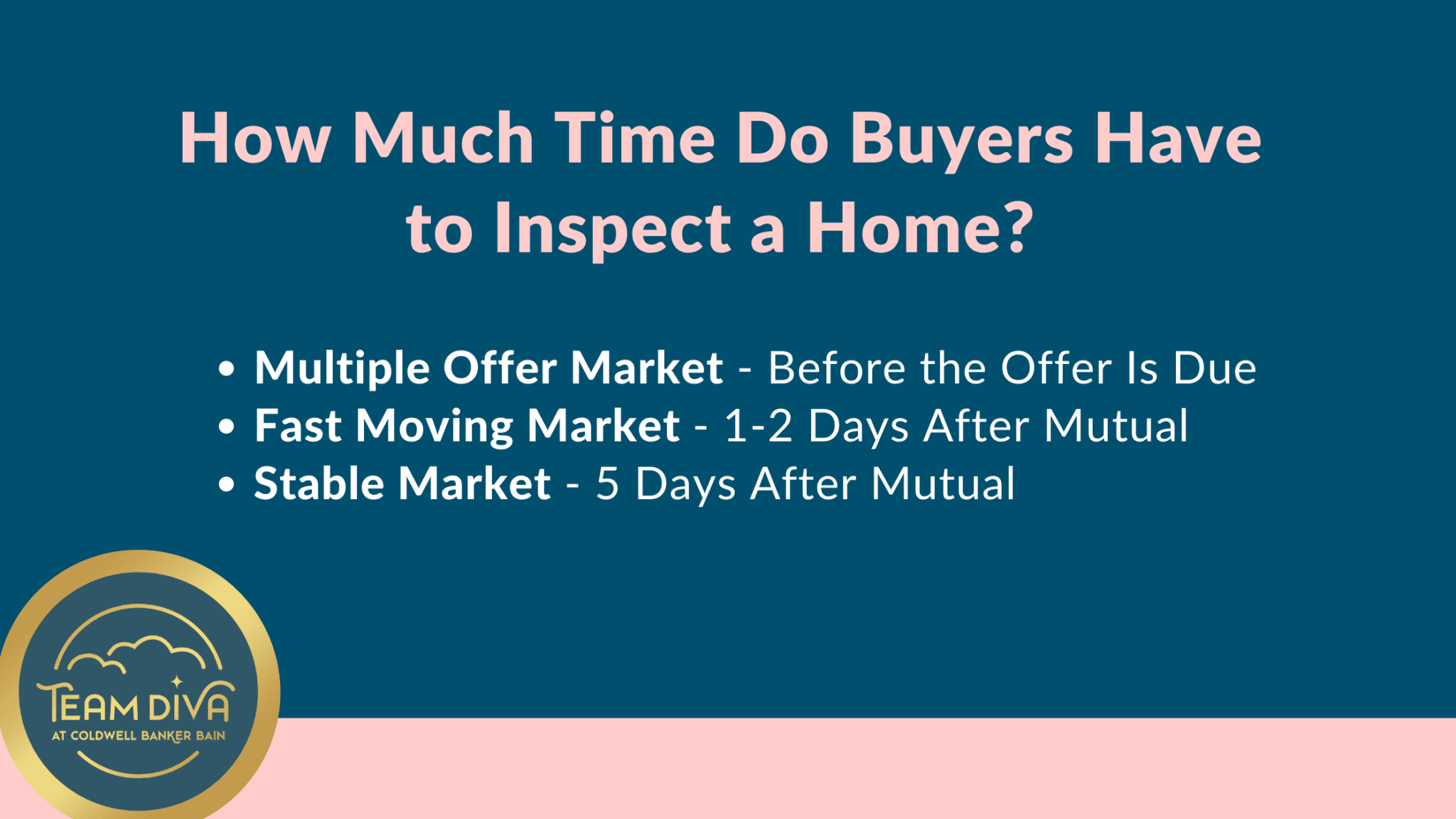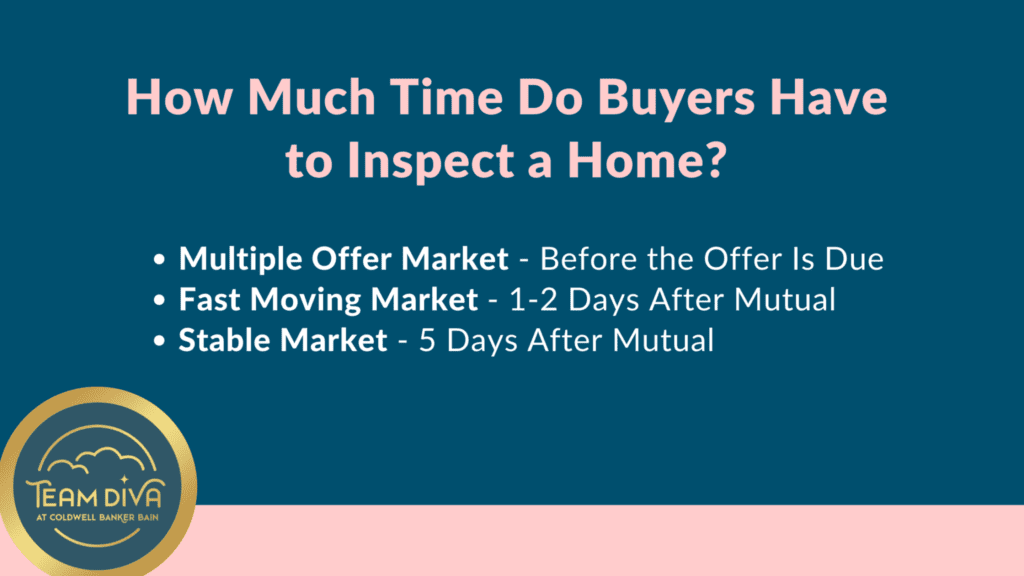 Depends! Are you in a multiple offer and have to do a pre-inspection? Or were you able to buy a home with an inspection contingency?
Timeline to Inspect a Home In a Multiple Offer AKA Pre-Inspection
You basically only have up to the point the offer is due to do a pre-inspection. You are doing a pre-inspection as a way to make sure your offer is free from any and all contingencies that would make the seller wary of taking your offer.
Pro-Tip: Many sellers are going to provide you with a seller-procured inspection report. We caution our buyers to use that inspection report as a reference point but to go out and get their own inspection.
Timeline to Inspect a Home AFTER You Are In Contract For a Home
The default on the contract is ten days from mutual acceptance. But let's get real. You will never sign a contract in Seattle with a ten-day inspection timeline. Here are the typical inspection timelines for Seattle's highly competitive real estate market.
Fast-Moving Market: In a fast-moving, competitive real estate market, buyers will typically have 1-2 days to do an initial home inspection from mutual acceptance.
Slow Moving Market: In less competitive markets, 5-7 days to do this is more common from mutual acceptance.
Ultimately, when getting a home inspection in Seattle, how much time buyers have to inspect a home depends on the people involved. It boils down to the quality of communication between the buyers, sellers, and their real estate agents, and how the contract was negotiated.
Team Diva prides itself on making sure our buyers always get a quality home inspection for their home.
Timeline for Additional Inspections
Every once in awhile, you have a home that needs additional inspections (roofs, sewers, foundations, etc…). If any unique issues arise during the home inspection, buyers may have 1-5 days for further investigations. More on this below.
How to Find A Professional Home Inspector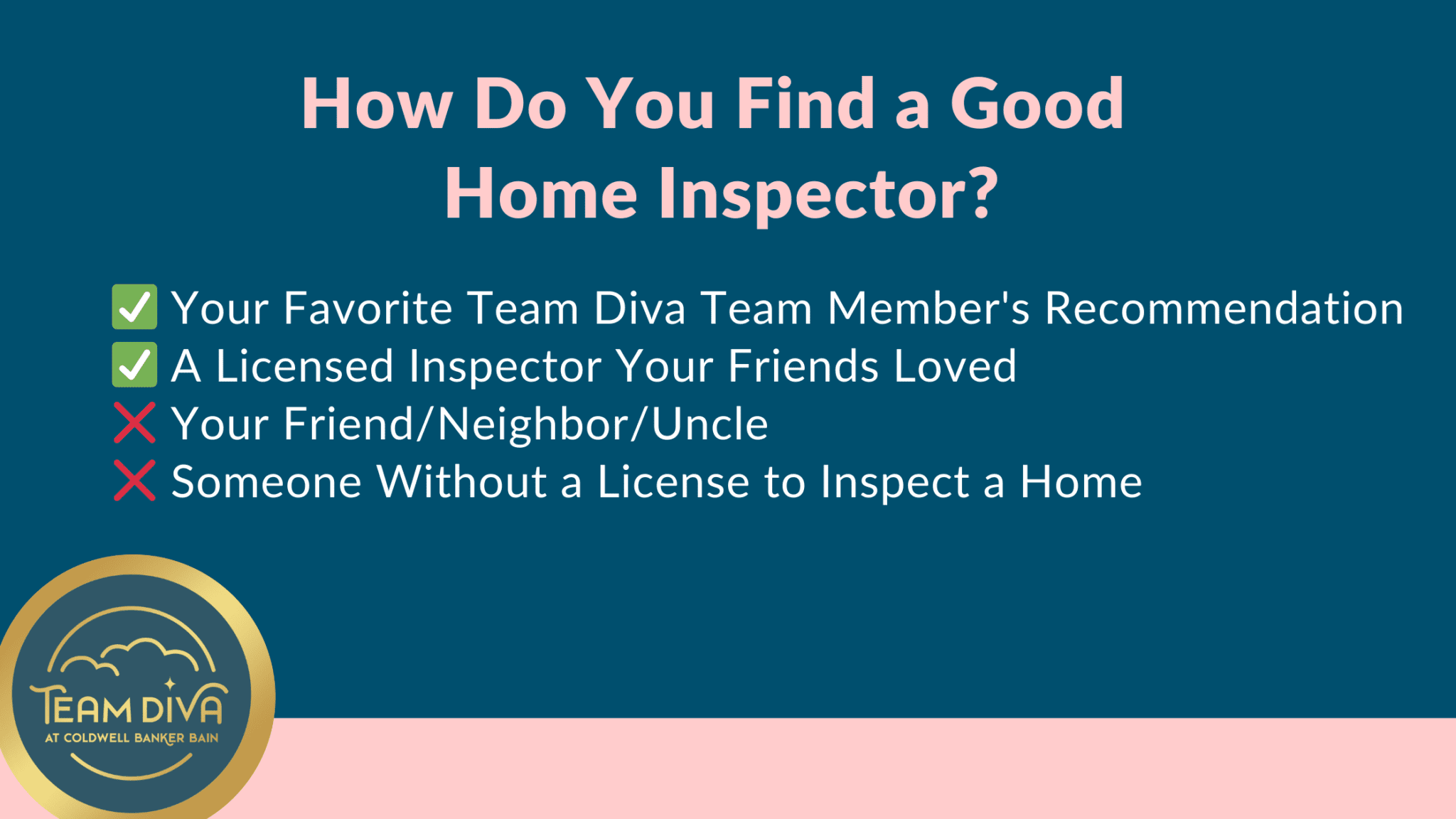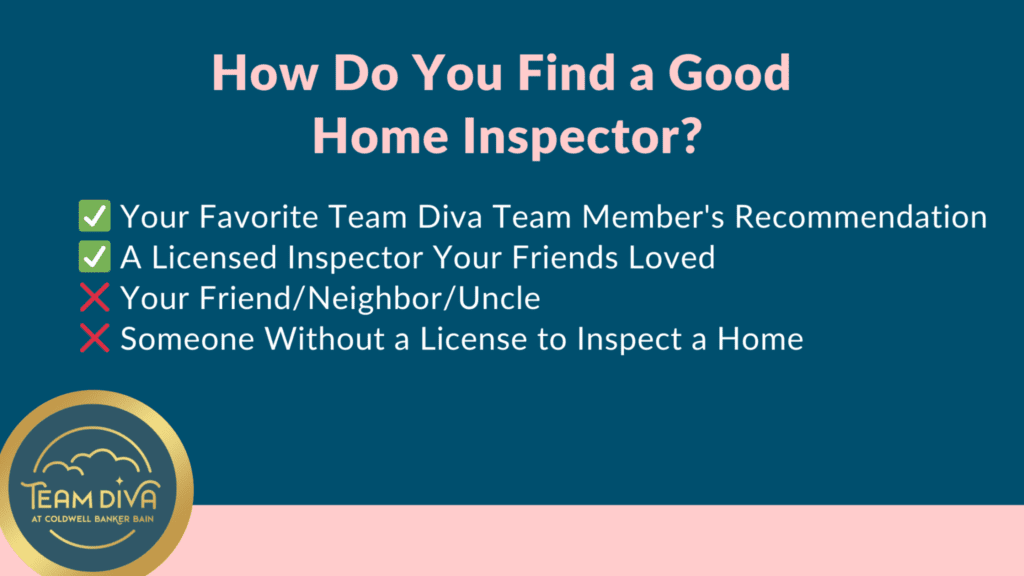 There are plenty of capable people who can spot issues in a home. But knowing your way around power tools and being competent at tackling a few home repair tasks is not enough. If your best friend/neighbor/cousin wants to help you out by inspecting your home for you but they're not licensed and bonded, you need to pass!
Luckily, you aren't all on your own when it comes to finding a home inspector. We have a list of trusted, top-tier inspectors who we recommend to our clients. But regardless of whether or not you work with Team Diva, you must find a professional home inspector. We cannot emphasize this enough!
Where Do I Find a Top Home Inspector in Seattle?
Finding a top home inspector in Seattle is one of those things that requires some insider knowledge. Getting your inspector license is super easy and you do not need to have any experience actually building a home. Our team has a curated list of top-notch inspectors for our home buyers.
How Much Does a Home Inspection Cost?
As the buyer, you may spend $450 to $1,000 per inspection, but this money is well worth it. The price of a home inspection varies based on the size and age of the home. Cost also varies by each inspector based on their experience levels.
Don't Forgot About Hiring A Sewer Inspector!
Yep! You also need to have a sewer inspection to investigate the condition of the sewer from your home to the city line. It will cost about $300 as long as the line can be seen in its entirety.
What Is Covered in a Home Inspection?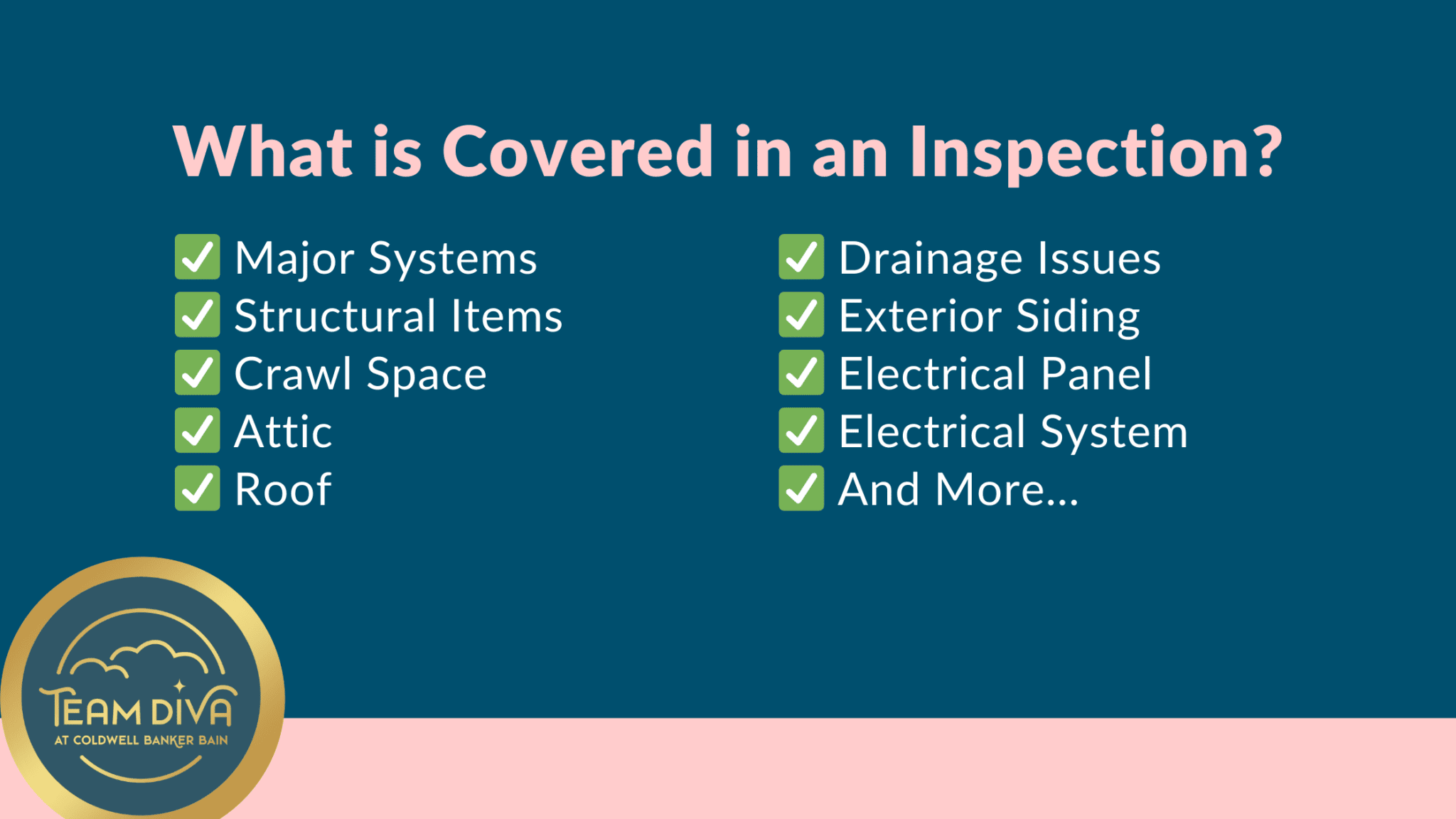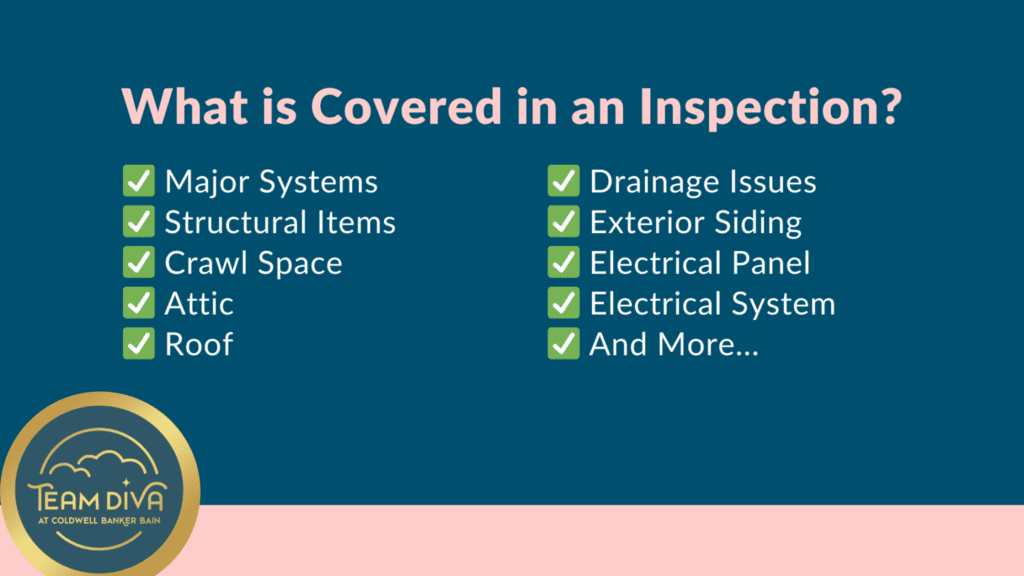 There is generally a myth out there that the home inspector is going to find whatever is hidden in the house. But the truth of the matter you are getting a feel for the home at one point in its existence. Six months later you might get a huge rainstorm and no one could have predicted that the roof could not withstand those issues. Or there is a sneaky leak in the walls of the home and you only find out about it later.
General List of What is Reviewed in a Home Inspection
When you are getting a home inspection in Seattle, what will your home inspector be looking at?
Major systems. This includes plumbing and electrical.
Structural items. This includes foundations, walls, siding, and the impact of renovations and additions on the home.
Crawl space and attic. The inspector will be looking for evidence of vermin, discarded trash, leaks, exposed wires, etc.
Roof. You need to have the overall condition and life expectancy of a rood in its current condition assessed.
Drainage issues. The entirety of the home needs to be evaluated.
Exterior Siding. Is it in good shape?
Electrical panel and some of the electrical system. Is there a knob and tube wiring? Did Grampa do the wiring? Was the remodel permitted?
And more!!!!
Remember Your Sewer!!!!
Especially if you are buying an older home, the home inspection needs to include a sewer inspection. Those who specialize in inspecting sewer systems will look for breaks, cracks, blockages, tree roots, and other things that might be stressing the connection to the city sewer. Pipes can collapse, and repairing this can be incredibly expensive and unpleasant. We highly recommend getting an independent sewer inspector who is unaffiliated with any plumbing company.
What You Need to Research Before and During the Inspection
Here is a quick list of what you need to do during the inspection timeline of the contract on your home.
Highest and Best Use of the Property
Neighborhood
Permits on the Home
Disclosures From the Form 17 aka Seller Disclosure Form
How Much Is This Going to Cost to Fix?
Do You Need Additional Experts?
What Can You Not Investigate During an Inspection?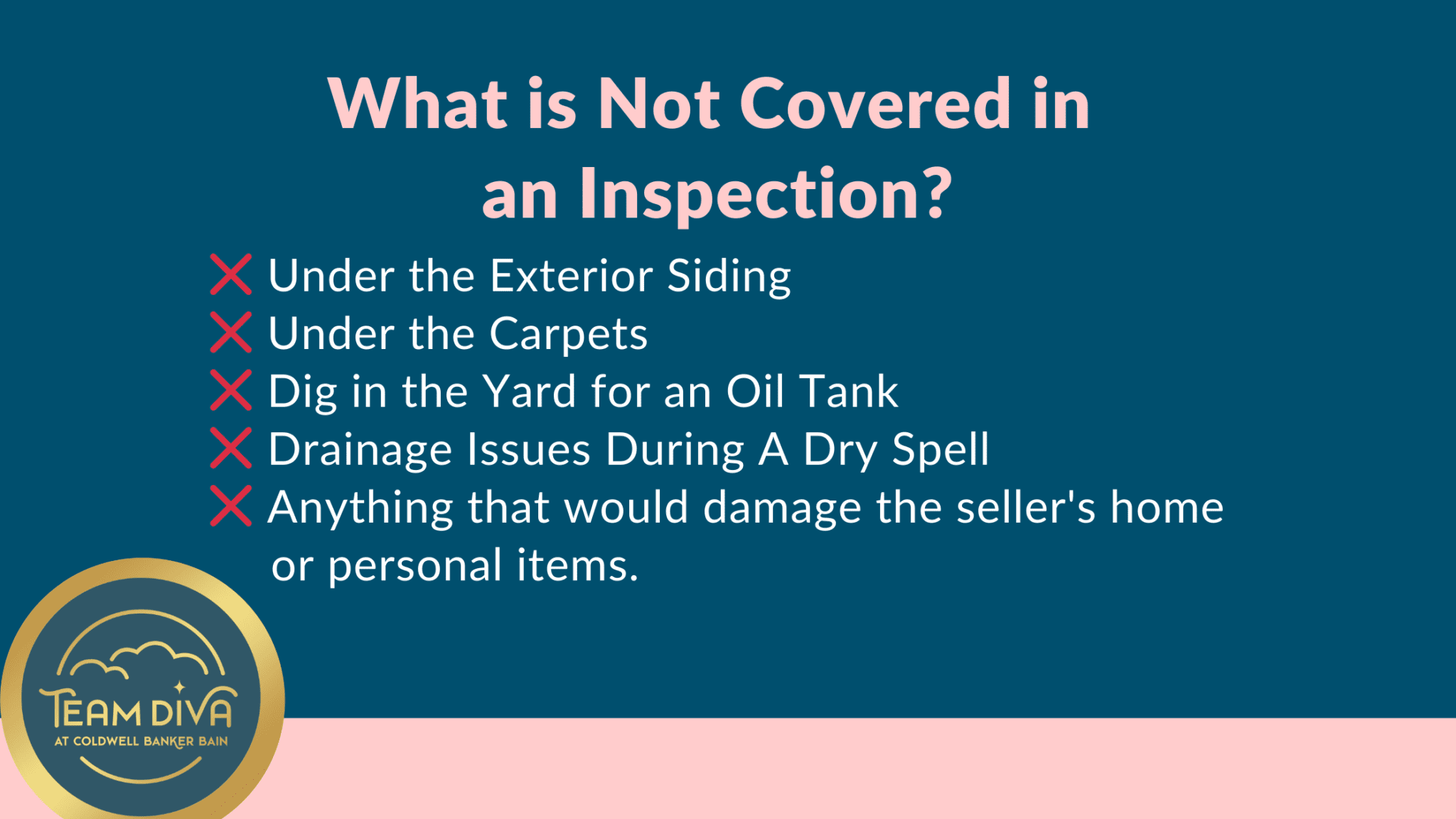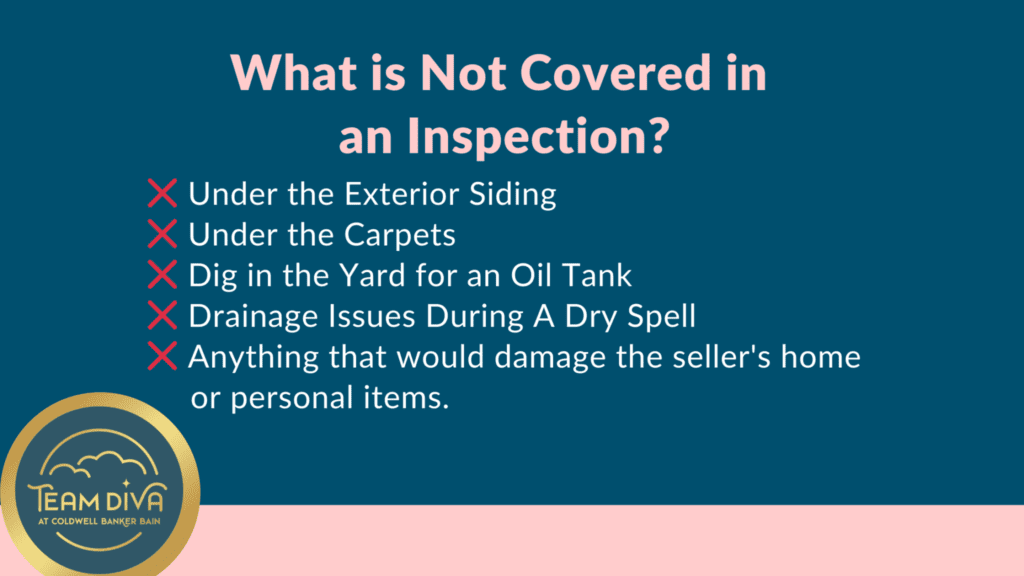 Most people are under the delusion that a home inspection will find all of the things. That is not the case. In fact, buyers are actually not allowed to damage the home in any way to do an inspection. Also, the time of year you are inspecting a home can vary the results drastically. For instance, in the middle of an extra dry summer, you might not see drainage issues that would come up during a heavy rainstorm.
Here is a quick list of what is not covered in an inspection:
Poking holes into the siding to see if there is a failure.
You cannot open up the sheetrock.
You cannot tear up carpets.
You cannot dig up the yard to look for an oil tank.
You cannot pull cabinets to see what the plumbing looks like.
And in a condo, you can only investigate the walls of your unit.
Access may be limited by debris or the condition of the home.
Common Issues Called By Inspectors When Getting a Home Inspection in Seattle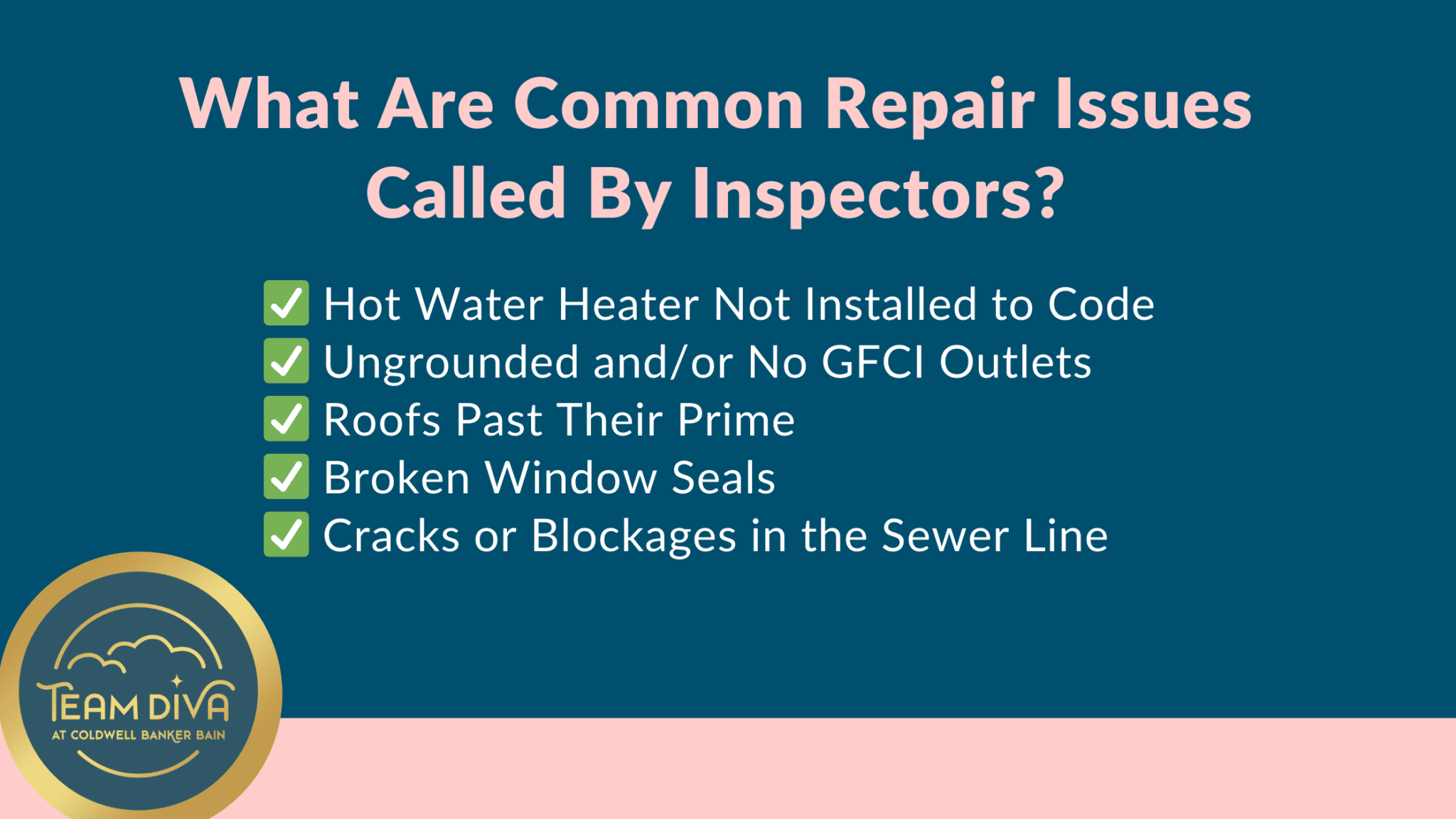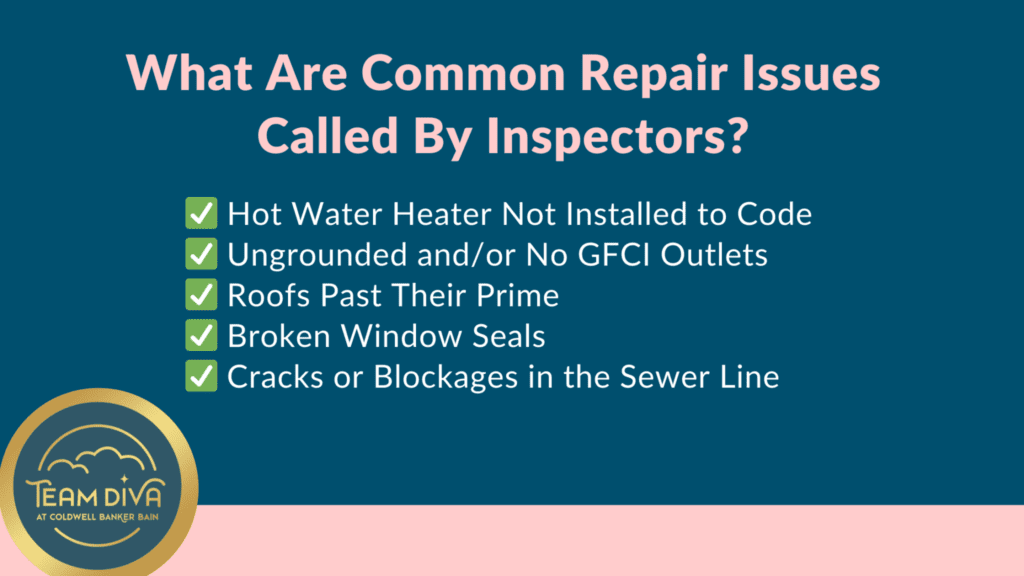 Here is a short list of things that are commonly called out in an inspection in Seattle:
Hot Water Heaters Not Installed to Code: We see this all the time! The hot water heater needs to be installed with earthquake brackets. There needs to be an expansion tank, a pipe that goes from the top to the floor, and it should be placed on a pan.
Ungrounded and GFCI Outlets: Seattle City code requires that outlets in kitchens, bathrooms, and near water-using appliances need to be GFCI outlets. This is commonly neglected in older homes.
Roofs Past Their Prime: Homes in the Northwest are prone to grow moss. Finding moss on a roof does not automatically mean that a roof is done for, but some inspectors will call it out. Play it safe and call Mr. Moss to have the roof cleared in advance.
Broken Window Seals: Fortunately, fixing this is super easy! Broken window seals aren't hard to spot in double-paned windows that have clouded over. Just call a window specialist. They will come and replace it with a pane of glass and the window seal.
Cracks or Blockages in the Sewer Lines: Small cracks in a sewer line can happen. No big deal. But when you have a full collapse, a belly, or a seriously wonky situation, it is a huge deal and even a potential deal killer. This is why we strongly encourage pre-inspection before putting older homes on the market. As a seller, it is best to know this information in advance.
What Is In the Inspection Report?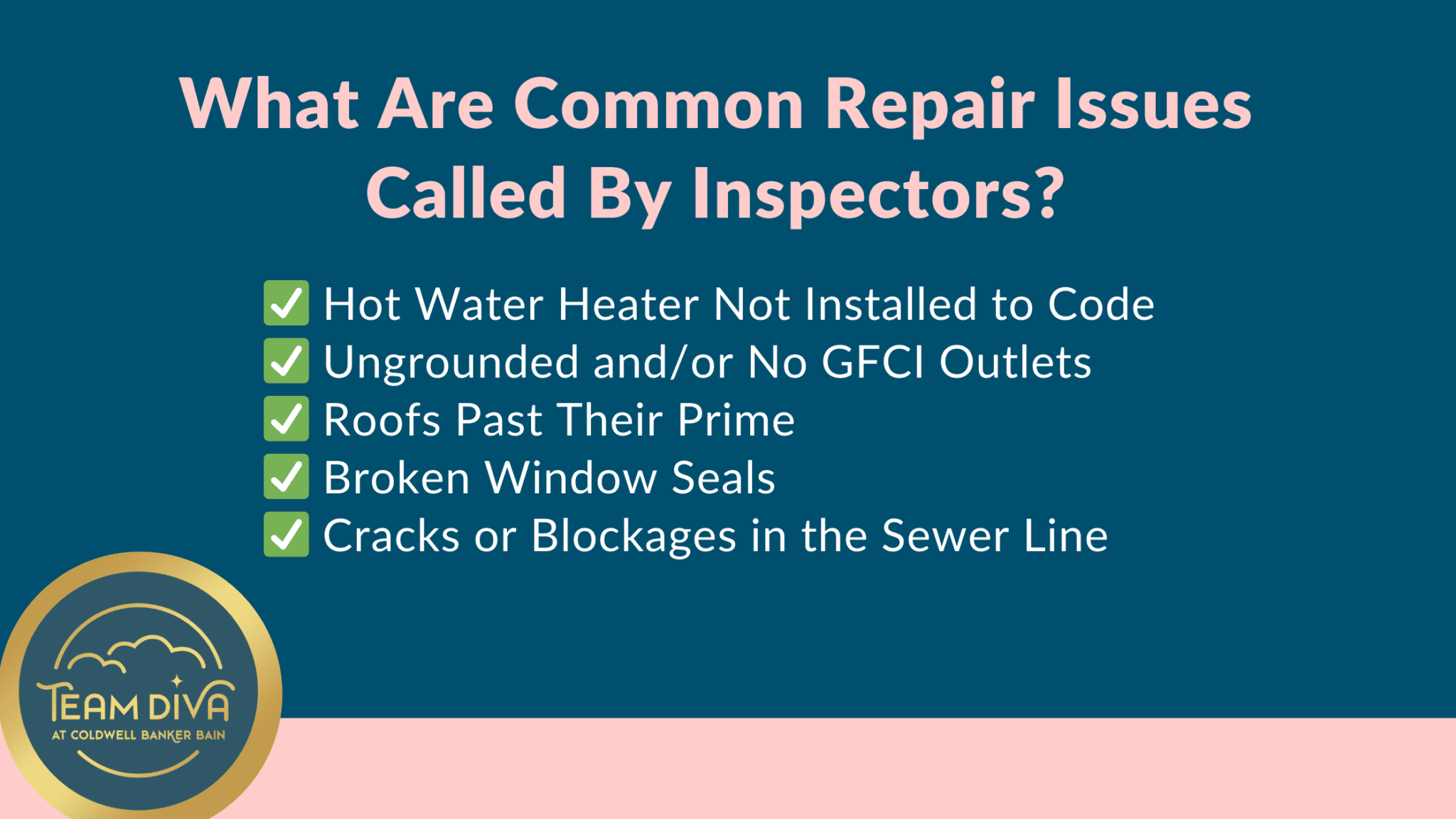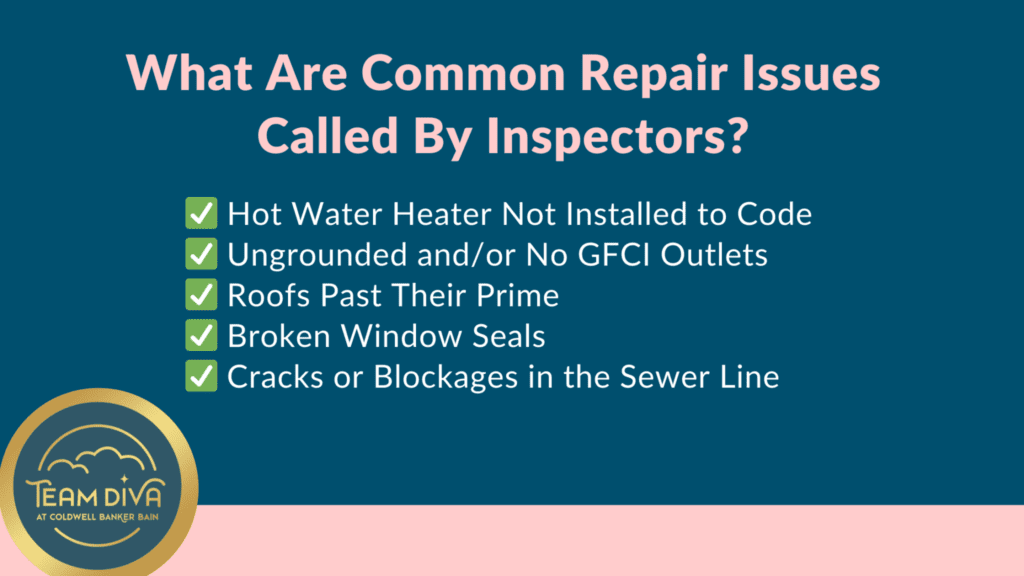 The home inspection report is what is produced by the home inspector when you do a full inspection. However, when you do a pre-inspection most inspectors will not produce a report in order to save you time and money (yes you might go through five or more pre-inspections during a multiple offer situation).
Prepare yourself for a pre-inspection >
What is the goal of the home inspection?
The goal is to poke every bruise and pick at every scar with the intent to look at a home in the worst light possible. Yes, it can be terrifying. But one of the ethos of being a Team Diva home buyer is that you are making the smartest choice possible. Every home has issues including new construction homes. The goal of the home inspection is to come up with a plan of what you need to do to maintain and enhance a home over the next ten years.
What Is In the Home Inspection Report?
Every inspector is going to have their own system on how to present the items discovered in the home. The majority of inspectors create a report. Overall the bulk of the report has the following items.
Summary With Red Light and Green Light
Major Issues
Mechanicals
Exterior
Interior
Heating/Cooling System
And more…
What Do You Learn In the Inspection Report?
You will really learn the anatomy of the home in question once you receive the full home inspection report. Ideally, there won't be any major repairs required, and your transaction can continue whether or not this is the case, though, getting a home inspection is the perfect time to ask questions and get a more detailed knowledge of the home.
When Do You Need to Ask For Additional Inspections or Specialists?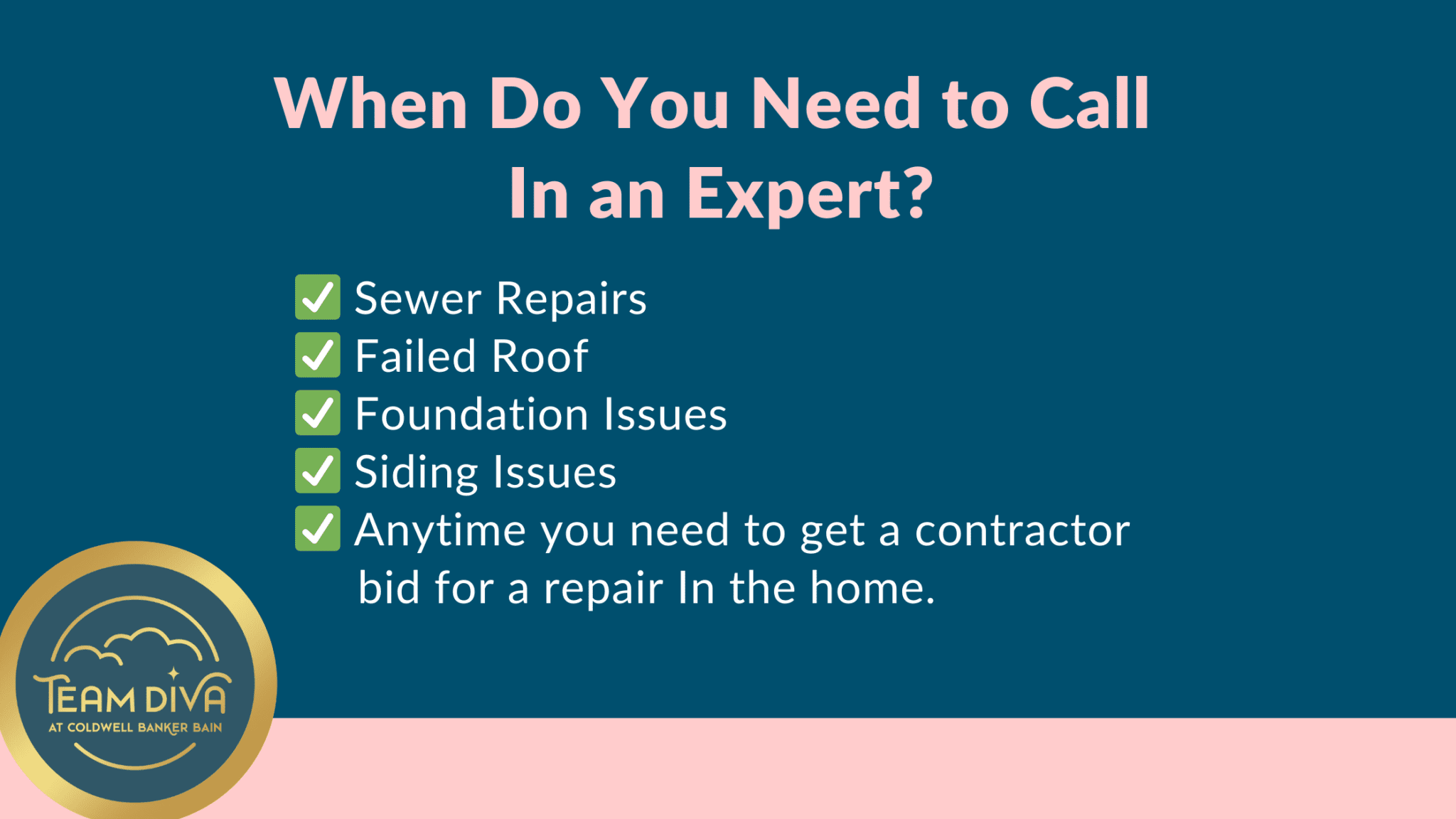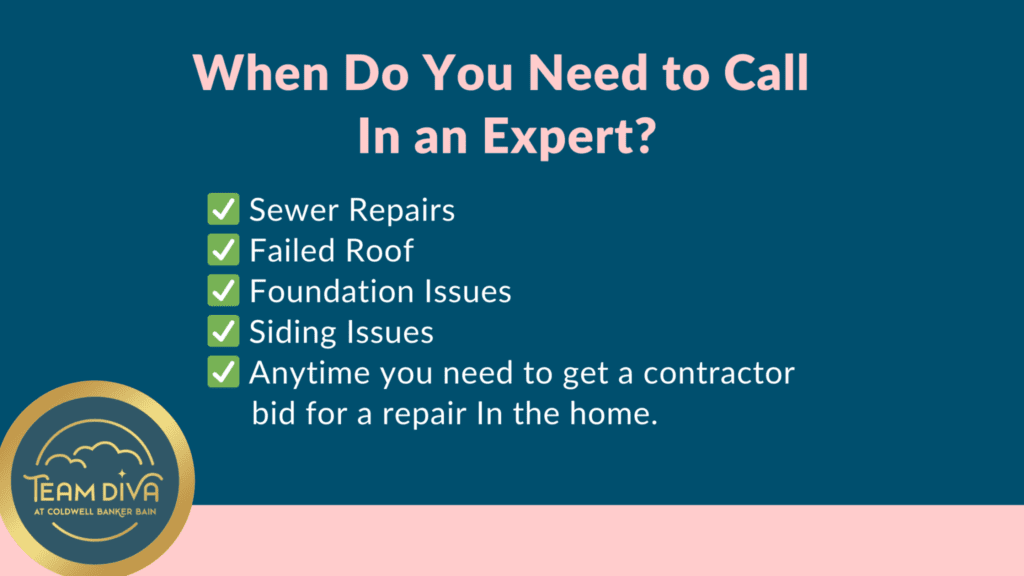 There are times we all need to ask for additional inspections. The inspector can only call out what they see. But they cannot investigate it further or tell you how much it is going to cost. It is not unusual in an inspection for the inspector to let you know that additional inspections are needed.
Here is a quick list of what is typically called for additional inspections:
Blockage or break in the sewer.
Failed roof and you need to get a bid.
Foundation issues.
Siding issues.
Any repairs that need a bid by a contractor.
The Buyer's Options to Respond to the Seller After They Have Finished Their Inspection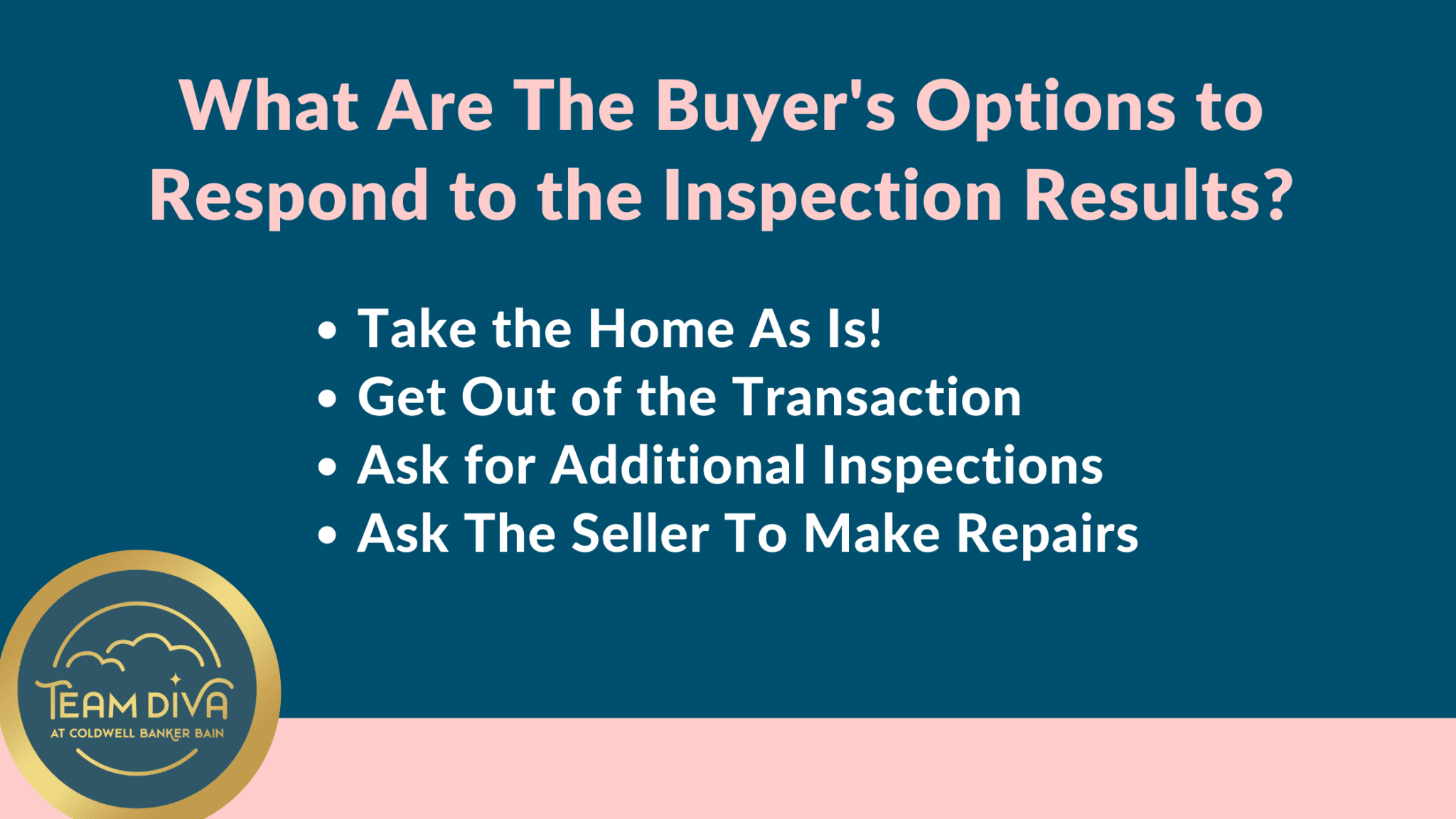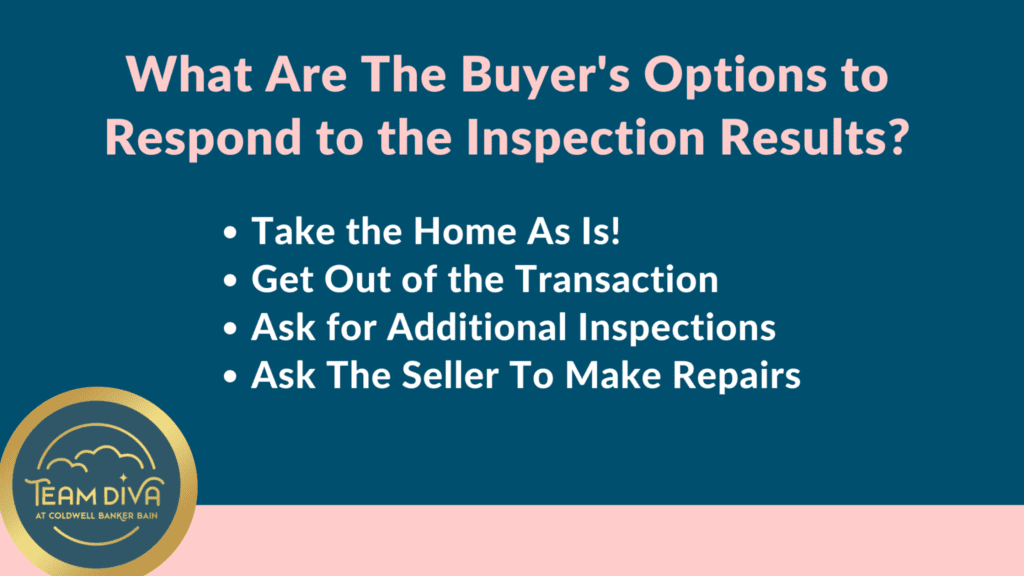 After the initial inspection is complete, the buyer has 4 options:
Take the home as is. This is the outcome we want!
Get out of the transaction. As long as the buyer responds within the timeline of the contract, the buyer will have their earnest money returned to them.
Ask for additional inspections and invoke those extra few days to do so. With this option, the buyer must provide information regarding the issue(s) and the inspections they want to conduct.
Ask the home sellers to make repairs and or cover repair costs via closing costs. This is a common response, and buyers can do this in one of two ways: #1: They can ask for money back from the sellers for closing costs. This money will cover repairs. Or #2: Buyers can ask the sellers to make the repairs themselves before closing. At this point, when we are the listing agents, we would want to get as much detail about the issues as possible and get our own bids for work that needs to be done.
How Much Time Does the Seller Have to Respond to the Buyer's Home Inspection Response?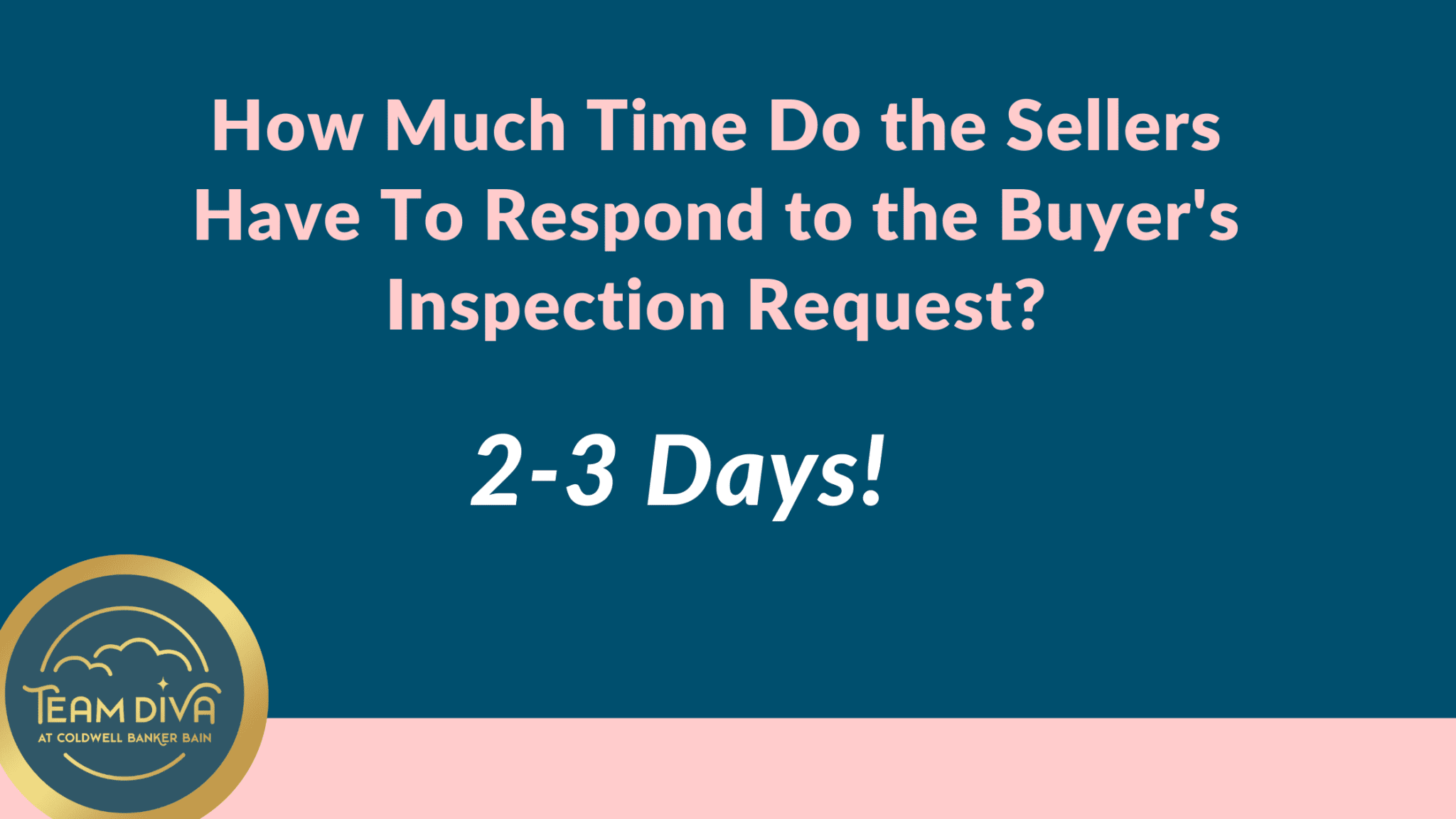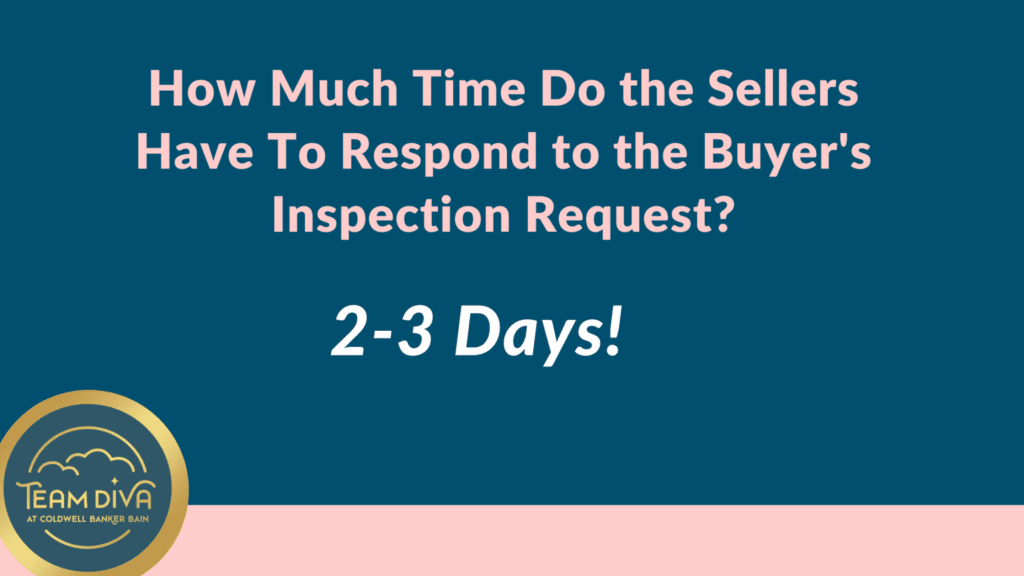 Sellers typically have 2-3 days to respond. Things move fast in Seattle real estate, so it's always important to educate yourself and to have an experienced real estate agent on your side who is managing the timelines. Basically, if the seller doesn't respond to the inspection timeline you might end up having to buy the home as-is.
Typical Seller Responses to Inspection Asks in Seattle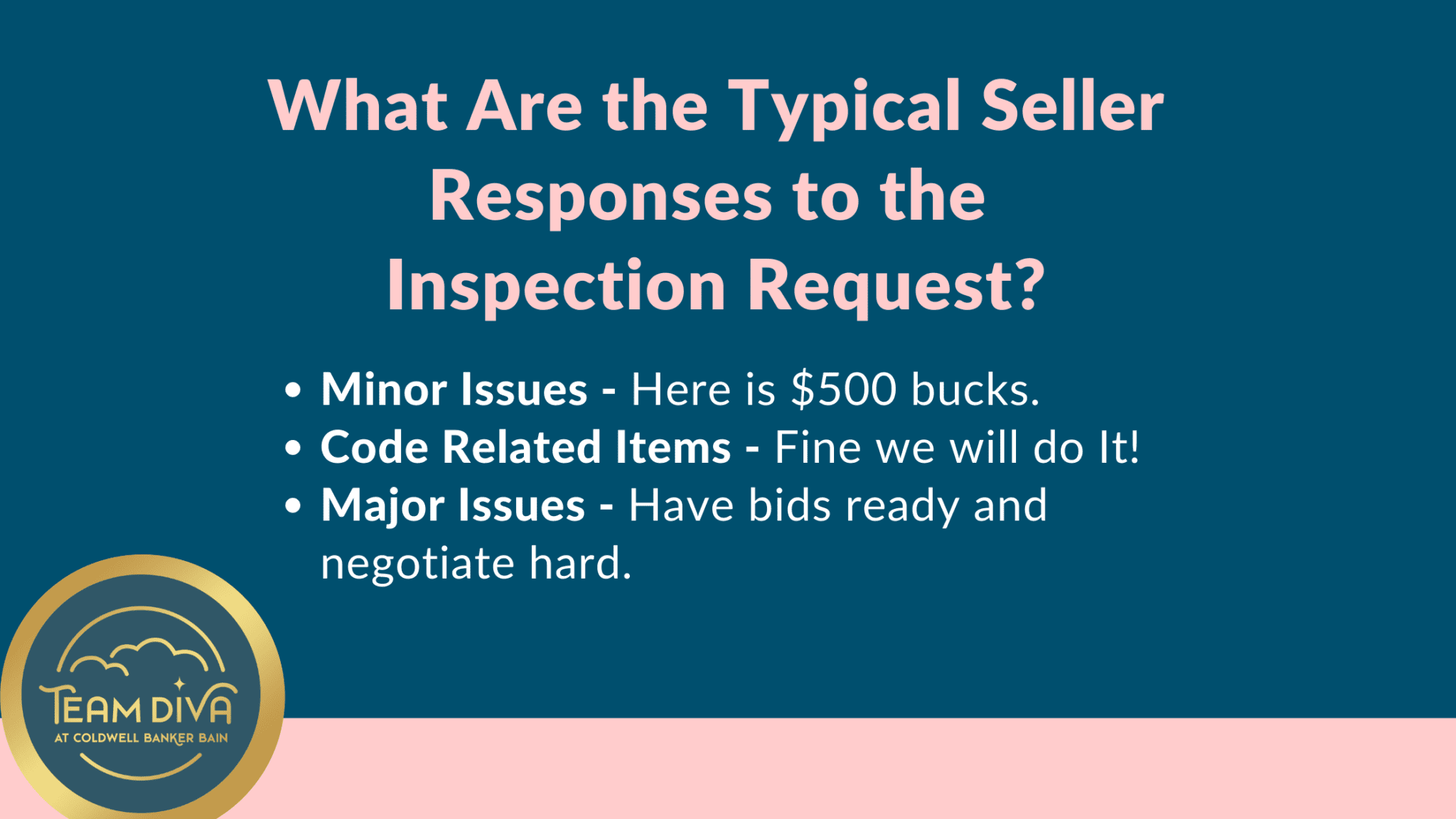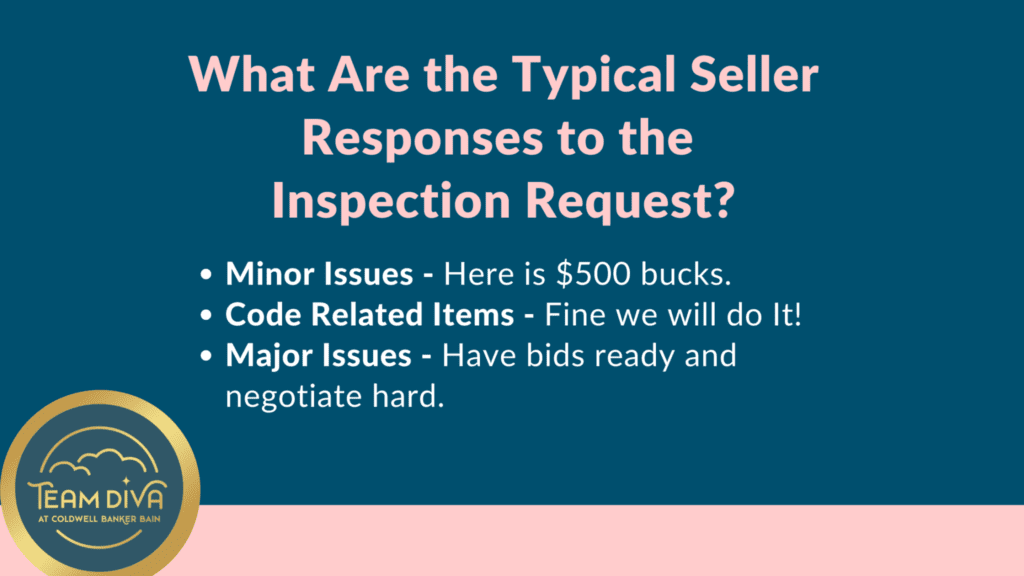 Having been in business for over 15 years most sellers do not want to do any work. This is where having a really good negotiating buyers' broker is going to really come in handy. A good buyer's broker will know how to work with the seller's representatives to craft a strategy and a response that will allow the seller to come to the table and reasonably negotiate on inspection items.
Here are a few typical responses from a seller on inspection findings:
Minor Issues (paint dents or hot water heater straps): In my long experience I have found that most sellers will not respond to an inspection response this is essentially a punch list of repairs that the buyer wants to be made to a home. They might give you $500 towards closing costs.
Code Related Items: Typical items that are missing in a home that are required by code are the hot water heater straps and C02 Detectors. The majority of sellers will take care of these items.
Major Issues (roofs and sewers): Your buyer's broker's approach to getting this resolved is so important. Making sure you have bids and the work scheduled is going to go a long way to pushing the seller to do this work.
Pro-Tip: Talk to your lender and escrow about having the work paid out of escrow by the seller's proceeds of the sale. A lot of sellers do not have cash on hand but they have a lot of equity in their home.
Do You Have to Buy the Home if The Seller's Response to the Inspection Response Suck?
Absolutely not! Some sellers just suck and think that you have to buy a home regardless. As long as you are still in your contract timeline on a home you can tell a seller to suck it and get out of the deal. Some sellers just do not want to do sewer work or replace their roof. Know what your no-go versus go criteria is and communicated this to your buyer's broker.
Final Walkthrough Before Closing to Confirm That the Work Was Completed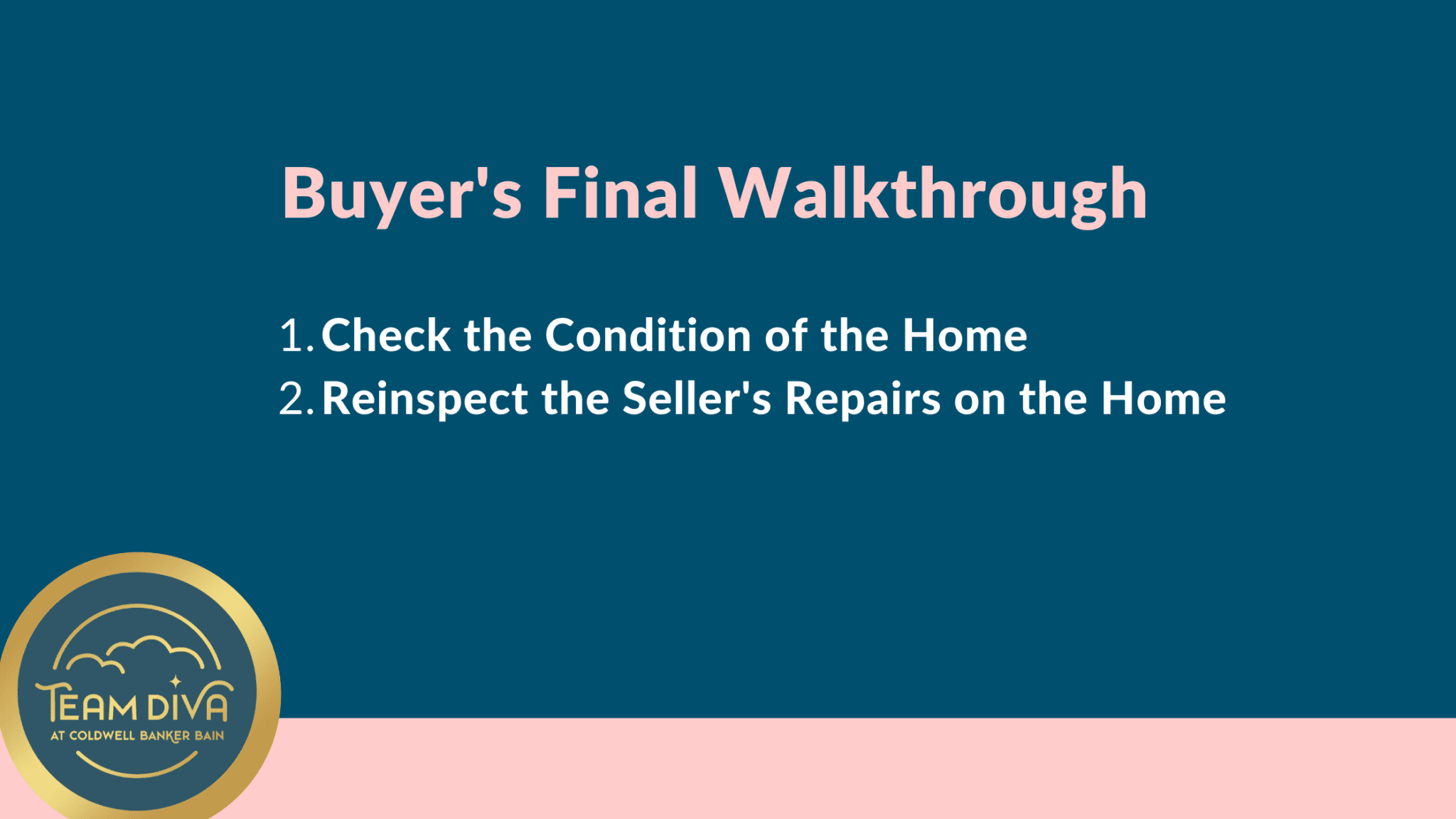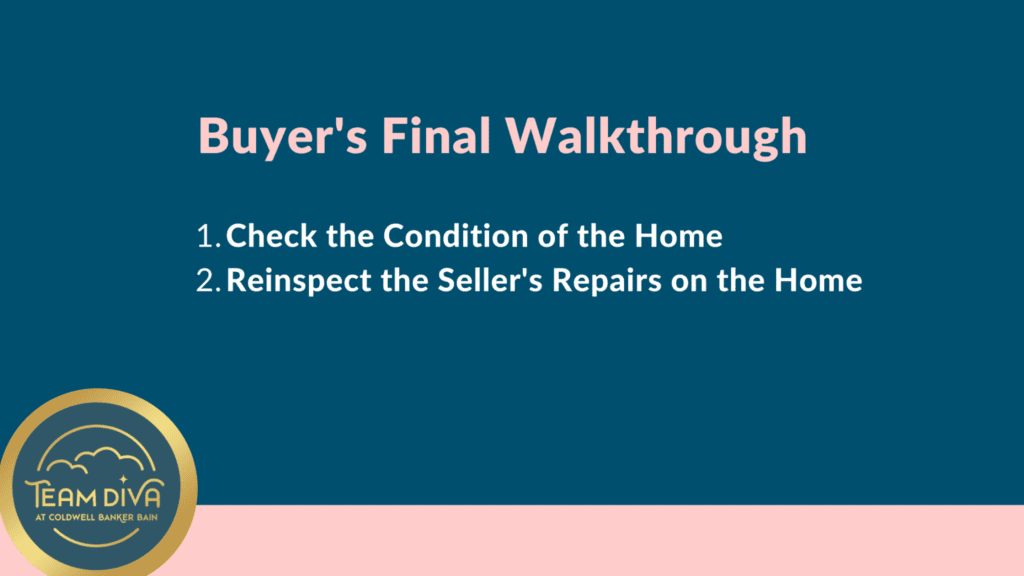 You made it! It is almost time to close. One last step you need to do before closing. You, your buyer's broker, and potentially your inspector need to go back to the house and do two things.
1 – Make Sure the Home is in The Same Condition As When You Did the Inspection
The home walkthrough is so important. In my many years of doing walkthroughs with buyers, I have found hot water heaters that were leaking and weird water intrusion in the bathroom. And on the seller side I have walked in on a house where our seller's sewer backed up into the home. Yikes!
The seller is required to make sure the home is in the same condition as when you found it in the inspection or when you got into the contract on the home.
2 – The Work Was Completed Per the Contract That Was Agreed Upon
Now I cannot stress this enough. You need an excellent buyer's broker to write an inspection response that ensures that the work is needed is clearly detailed for the seller and their representatives. You need this document when you are re-investigating the work prior to closing. Basically, if you have a poorly written inspection response you will get a poor result on the work.
Things that I have found at closing is when the seller did a fix on a "sewer" but did not ensure that the line was clean and clear of all issues. The seller had to go back and fix the entire sewer! Don't mess with a Diva!
Pro-Tip: Advice on How to Navigate the Whole Inspection Process
When getting a home inspection in Seattle, the smart approach to all of this is to keep the lines of communication open. Counter any bids they might have for repairs with bids of your own. As savvy listing brokers, Team Diva works closely with sellers in this phase to keep the deal moving forward.
---
Thank You For Reading Our Comprehensive Guide to Getting a Home Inspection in Seattle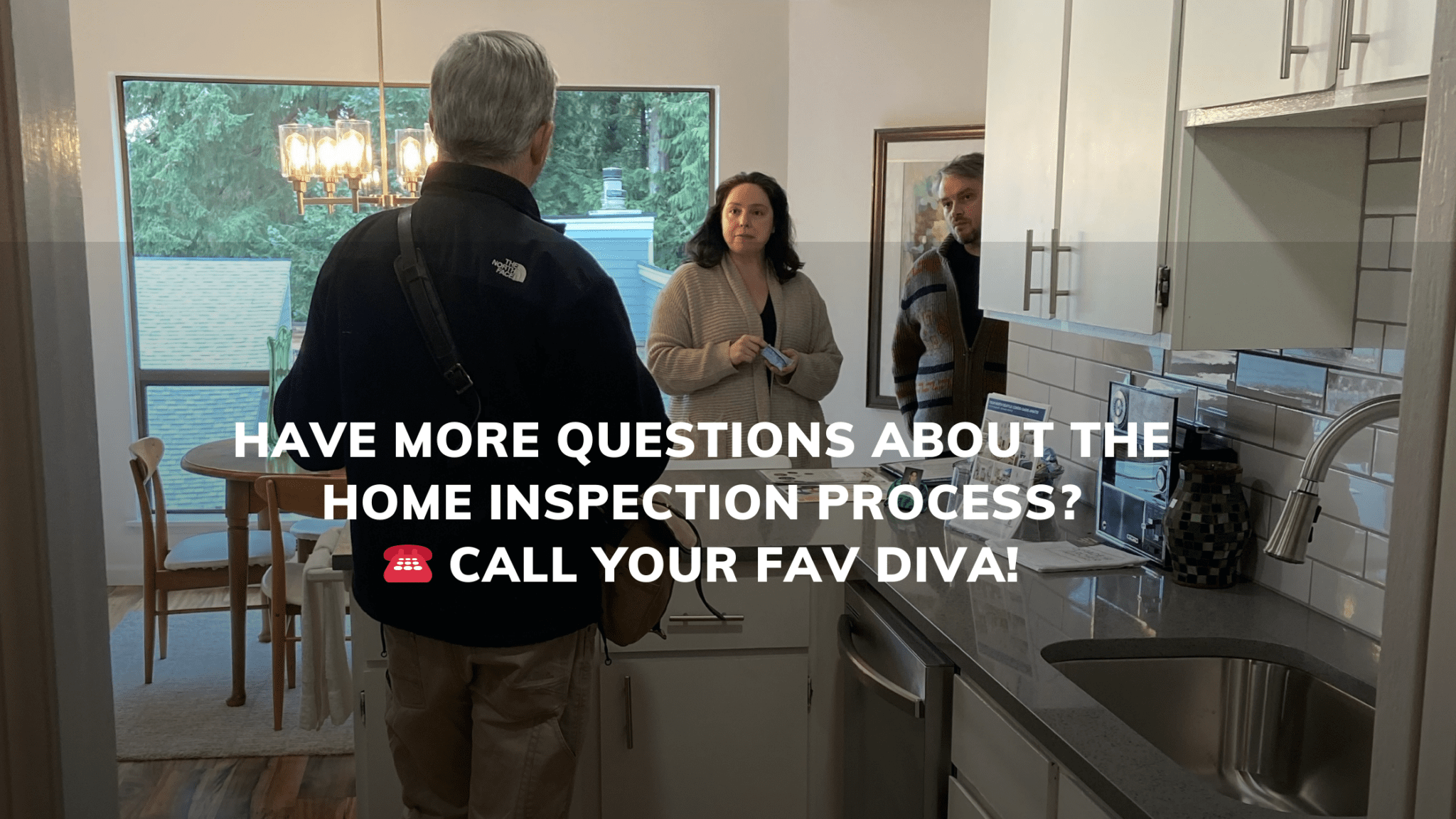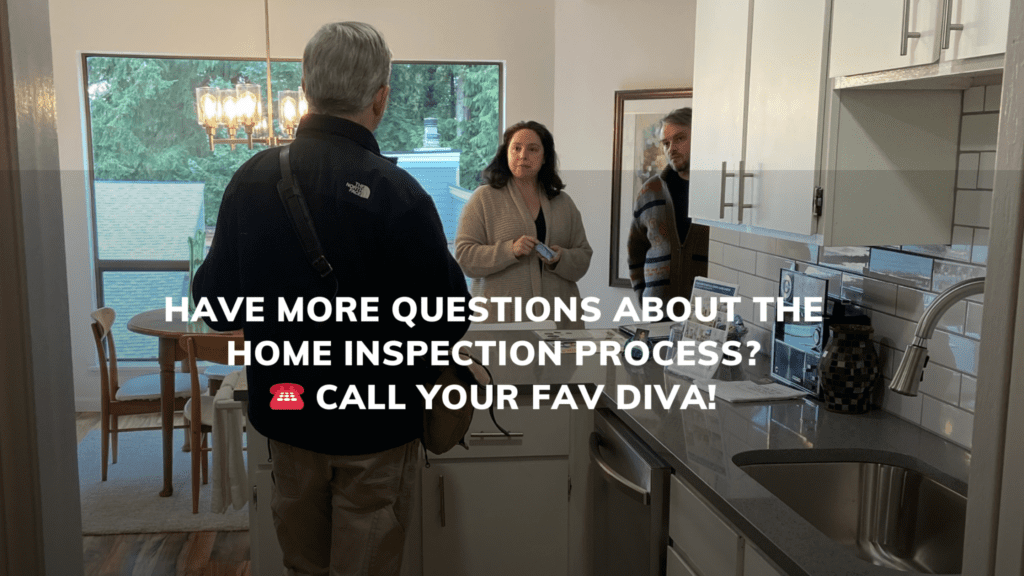 What do you need to know about getting a home inspection in Seattle? After the initial negotiation process, it's time to get a home inspection. You will need to find a professional home inspector. Take time to learn about the information that is included in a home inspection, and know how to read the home inspection report. There are common issues that arise in Seattle, and after you receive your report, you will have a better sense as to what to do next. After this process, there is a timeline of events that need to take place.
Want to know more about the entire process of buying home? Check out this comprehensive guide >
Learn More About Getting a Home Inspection in Seattle
The Team Diva blog is filled with information about home buying and selling, and this includes comprehensive information about home inspections. Check out a few of our other blog posts about home inspections here:
We are here to help. Our team understands that this process can take a year or two. And we are more than willing to give you a personalized plan to get the ball rolling. Feel free to contact us directly at thediva@teamedivarealestate.com or call/text 206-271-0264.