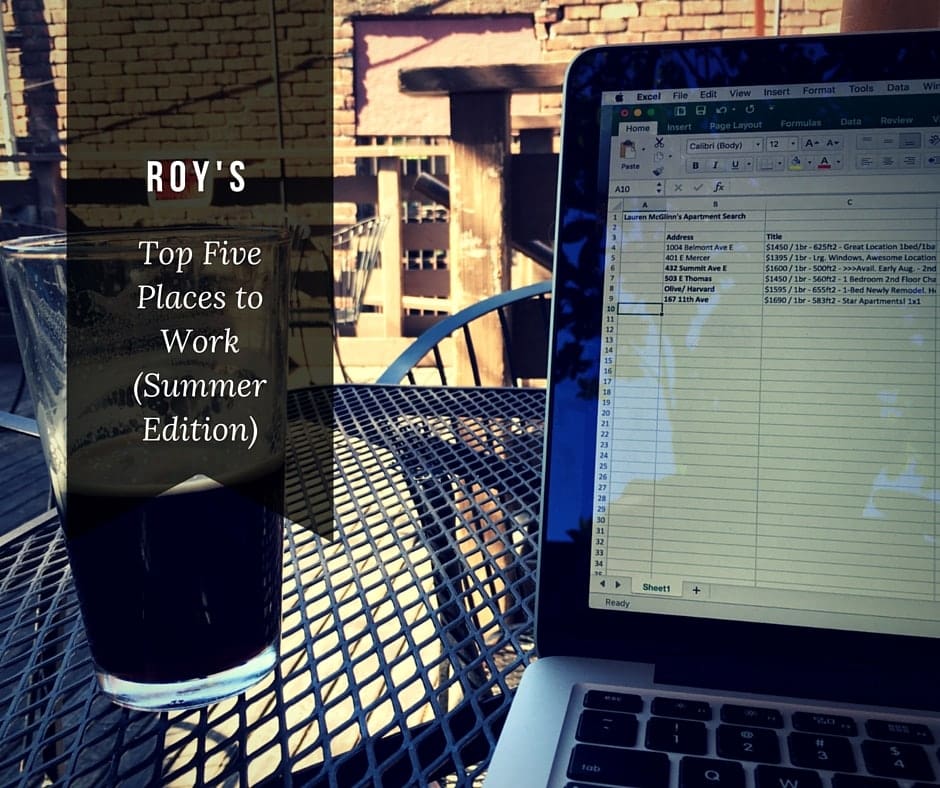 What are my top five places for working on Capitol Hill this summer? I'll tell you in a moment. 🙂
Being a real estate broker is pretty great. I get to meet a lot of amazing people. I get paid to look in people's homes. I also get to work from just about anywhere. As long as I have a cell phone and a laptop, I can get most of my work done. It's summer in Seattle now, so why would I sit in a stuffy office all day? Being the Capitol Hill Diva Dude, I'd be doing myself a disservice to not be out enjoying the neighborhood. Here are some places I love to get work done.
Cafe Solstice: 10th and Thomas. I love this place. The tables are huge. The wifi is fast. Currently, they are playing Andrew Bird. I may not be outside, but the eastern light is pouring in. It's a little chilly out this morning so I'm happy to be in here. Cafe Solstice has great coffee and their snacks are pretty rad. If I stay late enough, they have beer on tap.
Captain Blacks: Boylston and Olive. You may have seen that I posted a photo from here the other day. Some days are super stressful and you need a little motivation to get your work done. Why not post up on the patio and have a pint of porter while you're searching for apartments? The beer is always cold. The clientele is always cool. And they have tasty food. Chicken. And. Waffles. Go!
Joe Bar: Roy and Broadway E. This cafe is more of a cozy wintertime spot for getting serious work done. That being said, sitting outside and perusing the newspaper while watching the sunset and drinking a beer is one of my favorite ways to slip into a Seattle summertime evening. Like the rest, the snacks are on point. You never know what topics of conversation you'll overhear. If you're lucky you'll even make a few new dog friends while they take their owners on a walk.
Terra Plata: Melrose and Pike. I don't get to go here as often as I would like. This, for a long time, was the Team Diva meeting spot on Monday evenings. The rooftop deck is superb. The food is outstanding. The drinks are dangerously delicious. I would feel a little weird about whipping out a laptop at this fancy palace to locally sourced cuisine, so I save this spot for socializing and celebrating clients. That still counts as work, right?!
Volunteer Park: 15th and Prospect. Work from a park? YES! Why not?! If your job is internet based, like mine, tether to your phone or better yet, get yourself a mobile wifi hotspot. You know, you can borrow them from the library, right? You can! I like to find a spot on the grass in the shade and get some good people watching in while I read about rental issues and write blogs.
So there you have it. My top five. What are some of your favorites? Hit me up, let's find a place to meet up and get some work done.