What would it be like to live next to a beach in Seattle? Imagine spectacular sunsets, city views, fabulous eateries, and romantic walks every evening. Alki has all of this and so much more, and I can't wait to show off my latest Diva Dwelling! 
Get ready to see exactly why this gem is nicknamed the "Little Big House," take a look at the fabulous open floor plan and see all of its smart features. And of course, I'm excited to show off the gorgeous grounds this home is nestled on, plus the popular Alki neighborhood this Diva Dwelling is situated in. 
Let's Tour This Alki Beach House 
I'm Rocky Flowers with Team Diva at Coldwell Banker Bain, and thanks for joining me! In this video, I'm giving a tour of this Alki Beach House, my latest Diva Dwelling. I can't wait to show off this unique home that offers the very best in Alki living—yes, you really can feel like you're on vacation every day! 
Join me as I show off my very favorite things about this Alki Beach House. I'm sharing why my Diva Dwellers have nicknamed this home the "Little Big House," and I'm also showing off the wonderful open layout. This home also went through a studs-out remodel, so everything is practically brand new and that means worry-free for you! I'm also sharing the gorgeous grounds this home is situated on. And of course, join me for this video tour to see West Seattle's Alki neighborhood. 
---
Top 5 Features of This Alki Beach House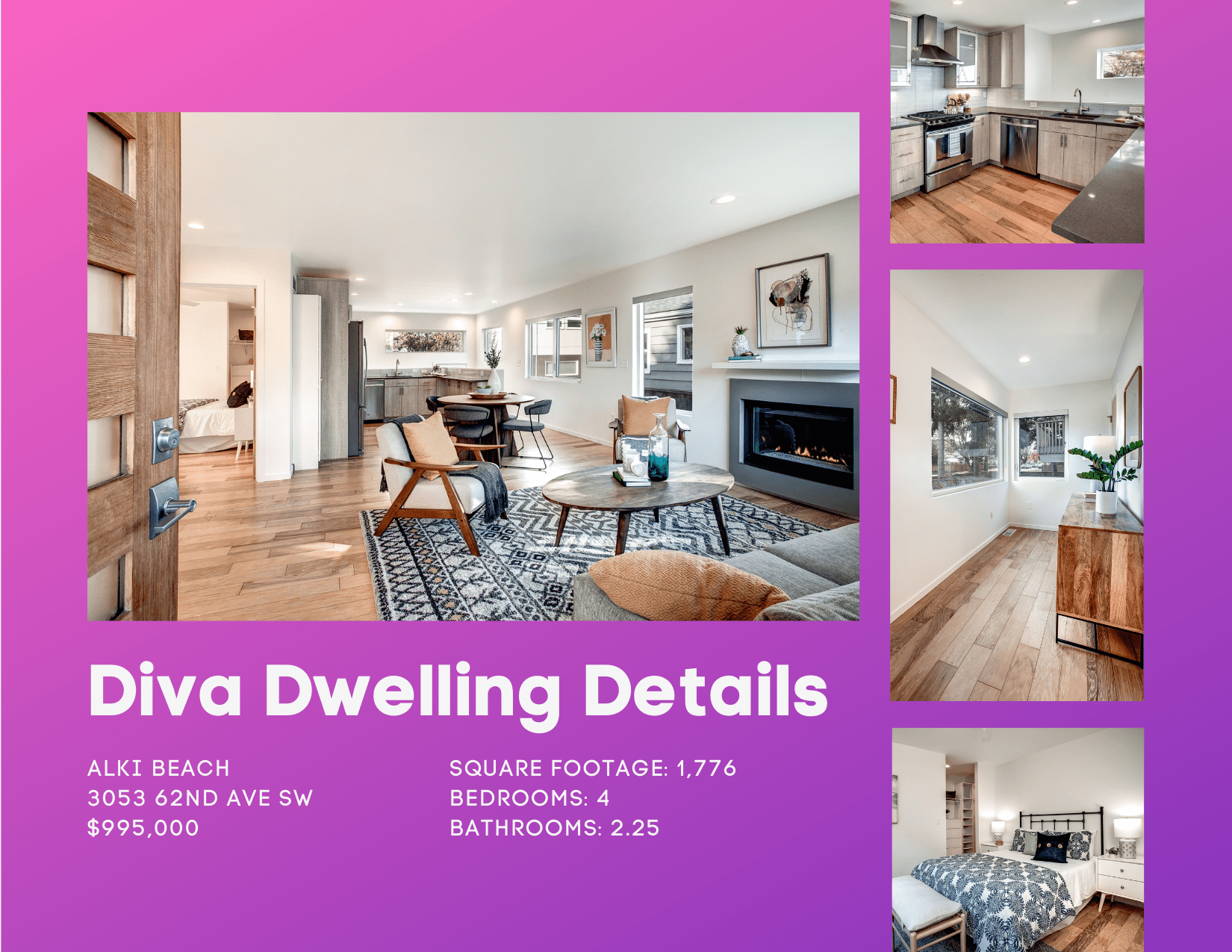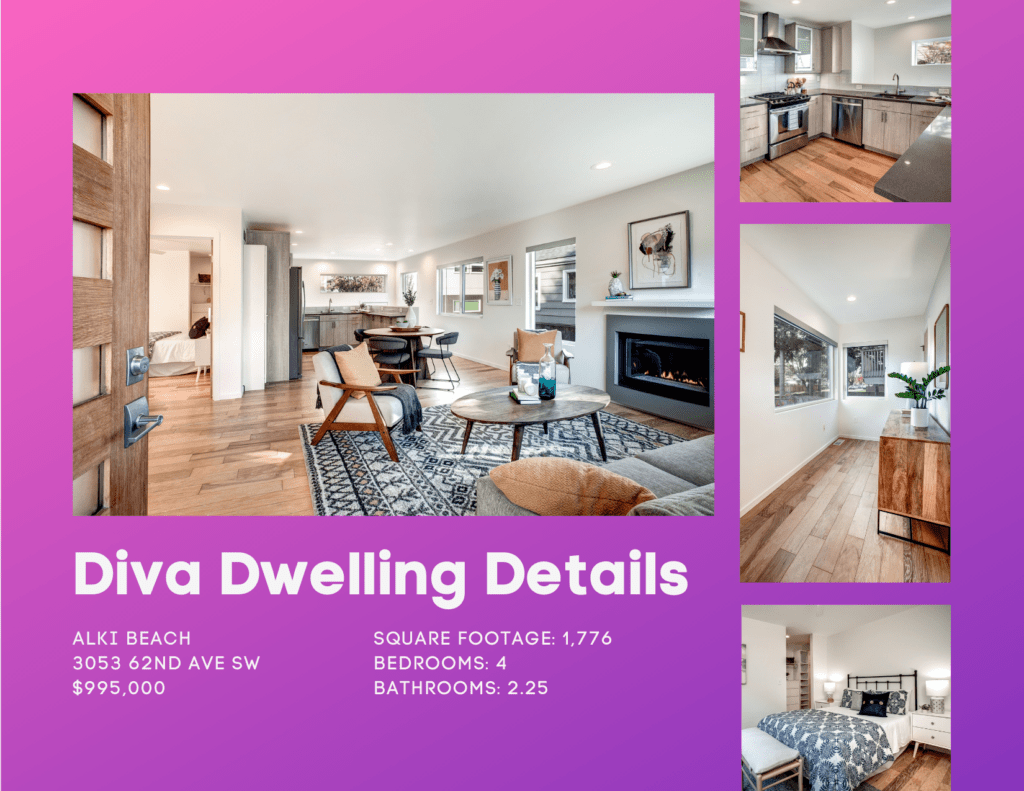 Thank you for joining me on a tour of this Alki Beach House. Keep scrolling to see my top 5 favorite features about this Diva Dwelling.
Welcome to the "Little Big House"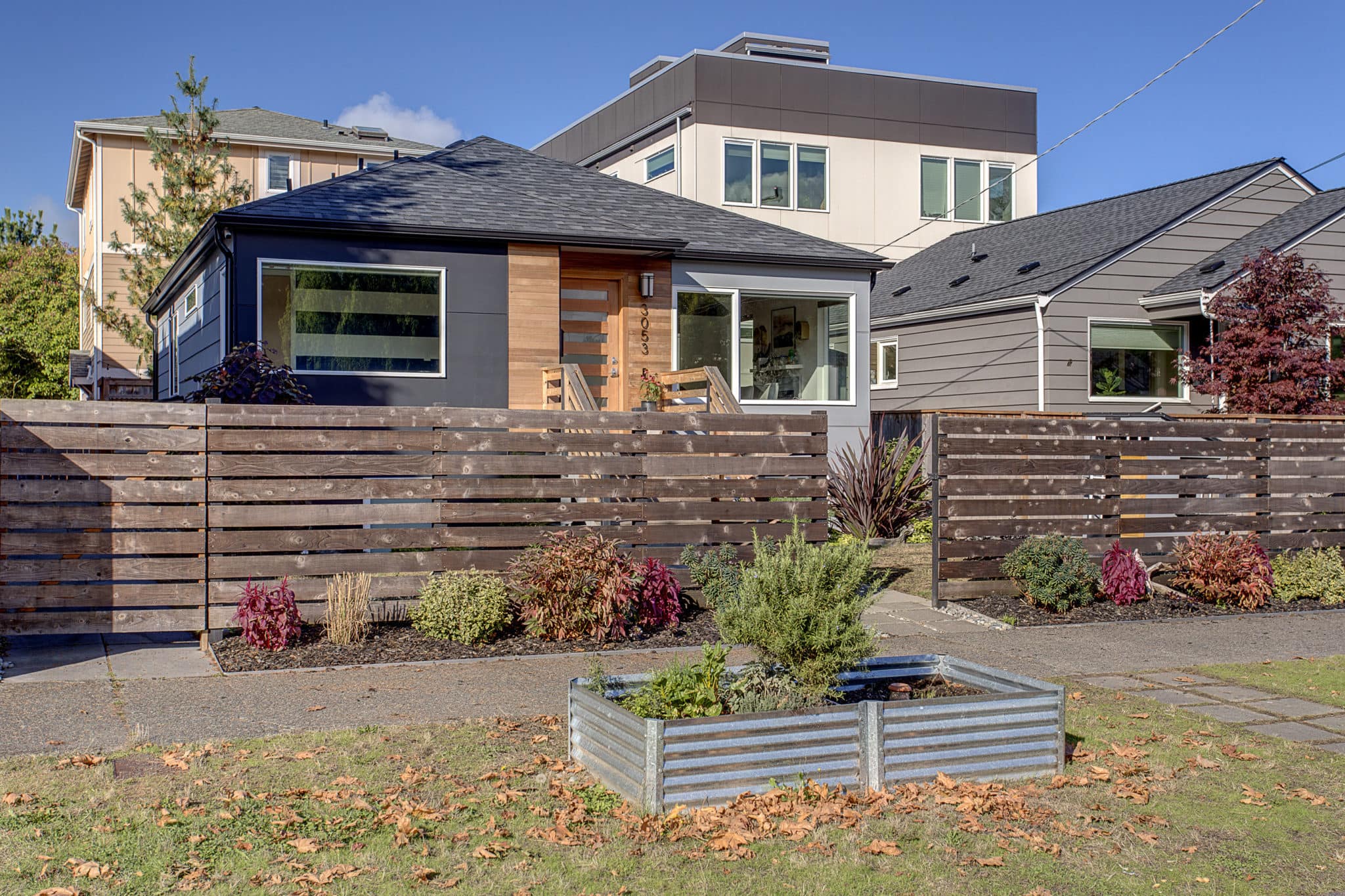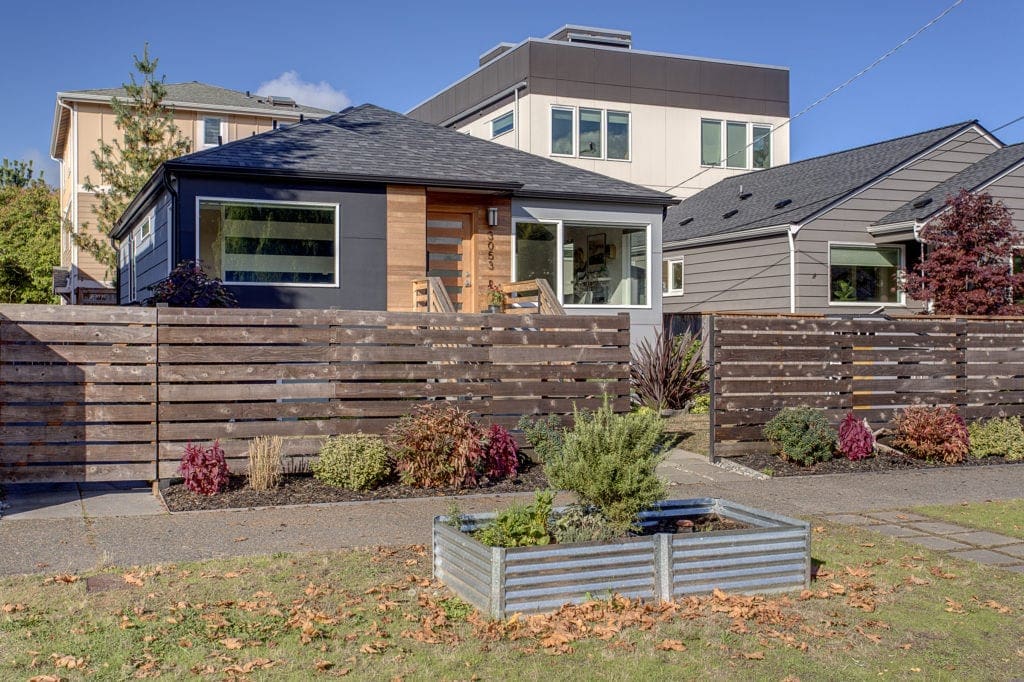 My amazing Diva Dwellers (aka the current owners) nicknamed this home their "Little Big House." The Little Big House got her name because based on how this cutie looks from the sidewalk, you would not guess how big this beauty is inside! The Little Big House includes a spacious living area, kitchen, a luxurious primary suite, three other bedrooms, and a bonus den/media room, and more. There is really room here to suit all your needs. 
Let's take a moment to talk about that primary suite. Not only is it spacious, but it has a walk-in closet and a double sink vanity with quartz countertops. The walk-in shower is even fixed up with two showerheads for a luxurious spa shower experience. 
One of my favorite things about this house is the nook at the entryway. It's such a versatile space that can be used as an office space, mudroom, or inspiring art space. It's up to you. 
Downstairs you will find three bedrooms for guests and home offices. Personally, I am a big fan of giving my house guests their own space. Also, many of us are still working from home at least part-time. So it is really wonderful to have a work-from-home space separate from our living space. The layout of the Little Big House works perfectly for how many of us are still living these days! 
Open Floor Plan = Ease & Efficiency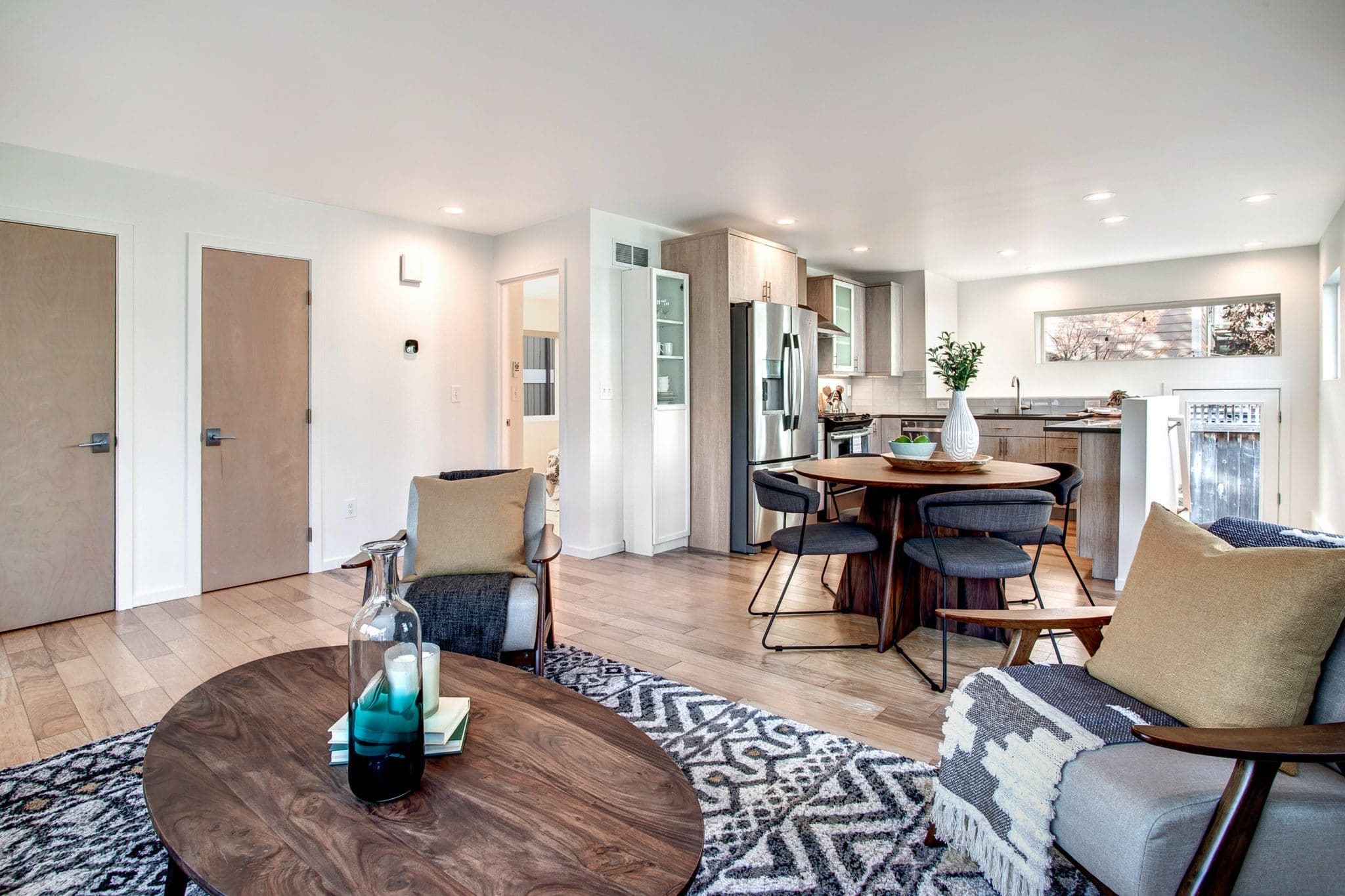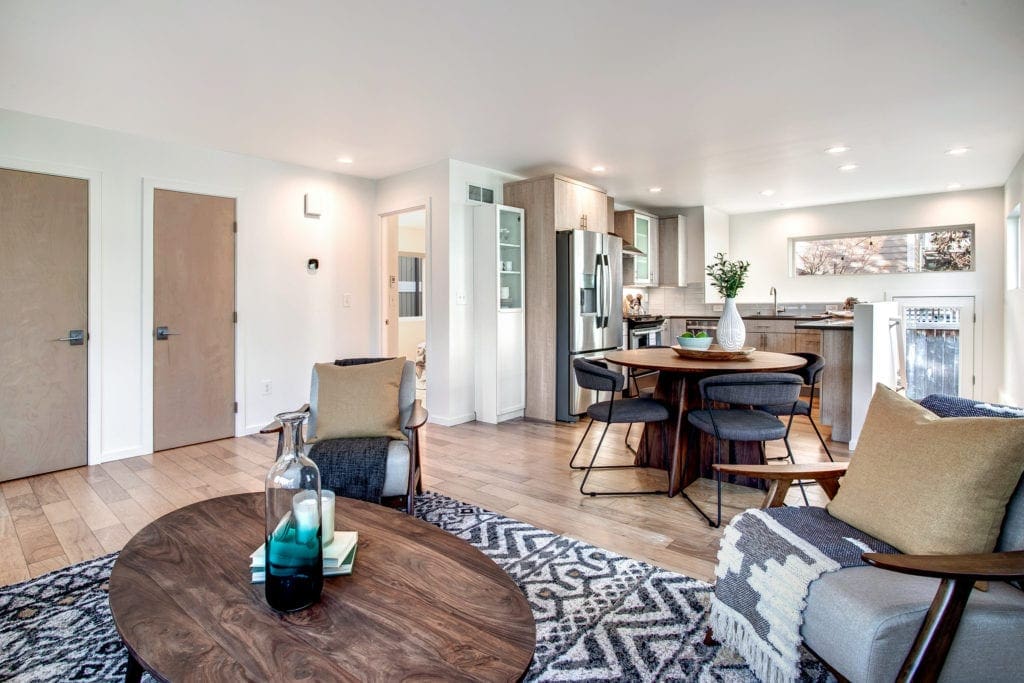 Open floor plans are an easy and efficient way of living. The layouts bring the household together in a very natural way. The large windows here let in lots of natural sunlight which balances beautifully with the bleached hickory floors. The living room area is generous in size,  which allows you to have a dining room table to merge the kitchen and living areas. In any home, the kitchen eventually winds up being where everyone congregates during a party. And speaking of kitchens, I love this space. The stainless steel appliances and quartz counters are a chef's dream so it's understandable why this is where I would hang out if this was my home.
Gorgeous Grounds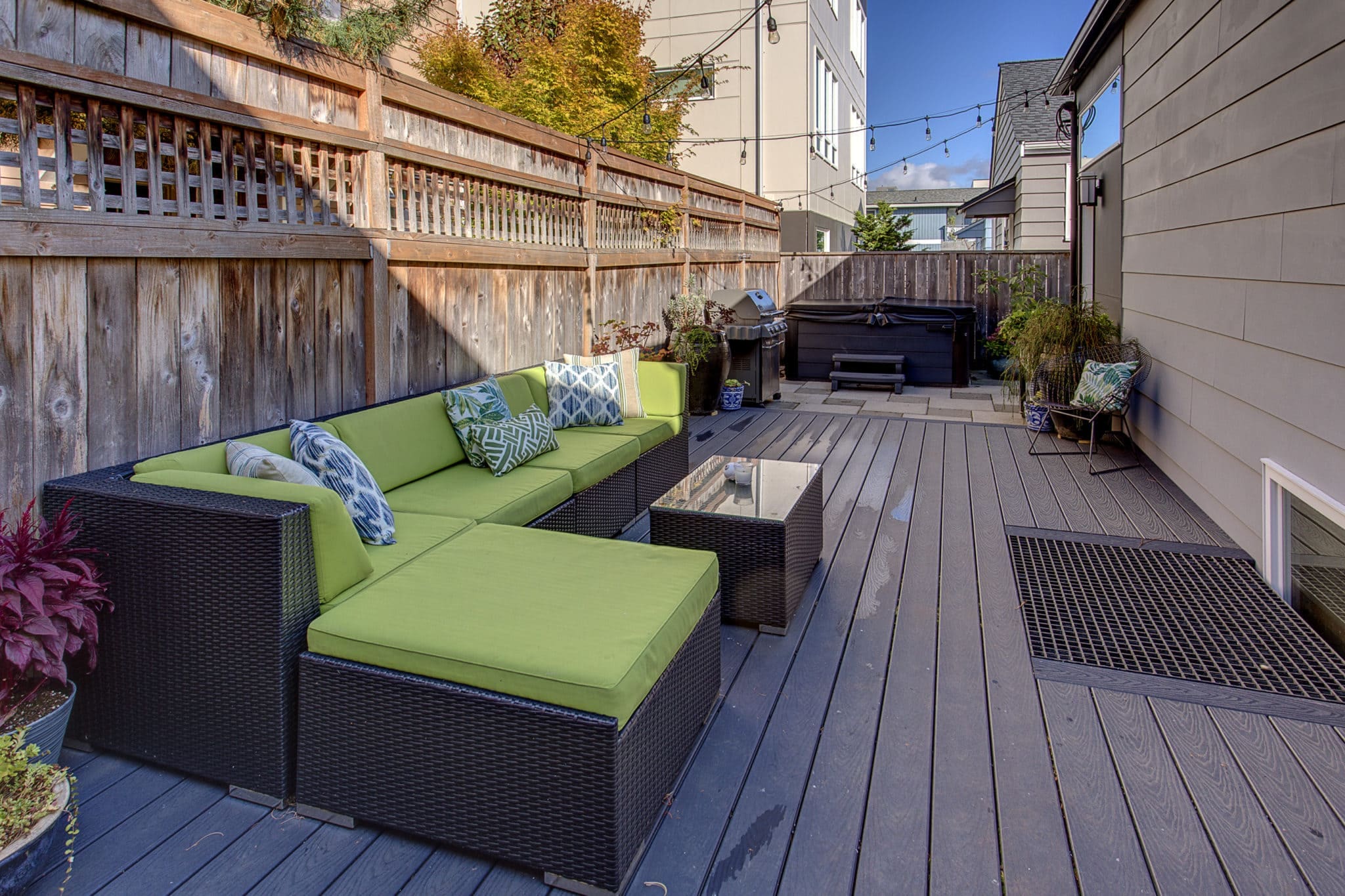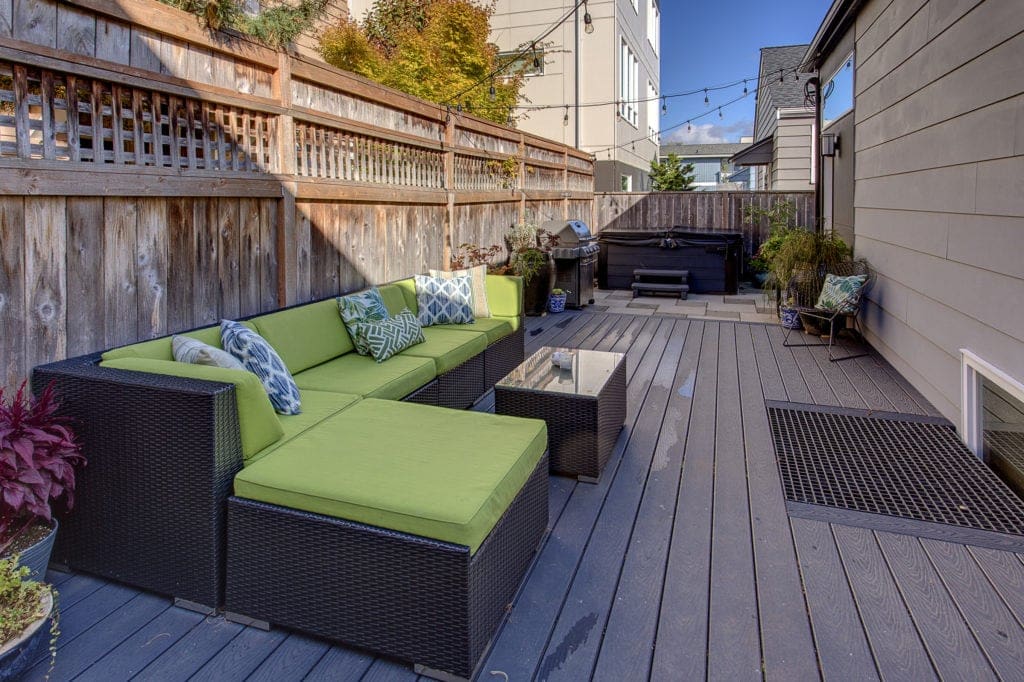 In Seattle, it can be difficult to come across a piece of land like this. Especially in such a prime location! Not only does it have a beautiful home situated on it, but it also has a gorgeous yard. What I love is that the front yard is so versatile. It already showcases well-manicured, native plant life, but you can easily transform this yard and turn it into a gardener's dream. 
If you need playspace, this yard is also the perfect size for kids and pets to let them frolic around carefree. And being fully fenced, you don't have to worry about either pet or child wandering out into the street. For the big kids, there is something for you, too. The beautiful patio area in the back of the home is spacious and perfectly stunning to entertain a host of guests. For me, the crowning glory of this patio is the hot tub. It is the perfect place to relax and drift away all year round. 
Ohhhhh and one more thing! There is dedicated off-street parking. And in this area of Alki, parking is a premium. 
Down-to-the-Studs Remodel = Worry-Free Future For You!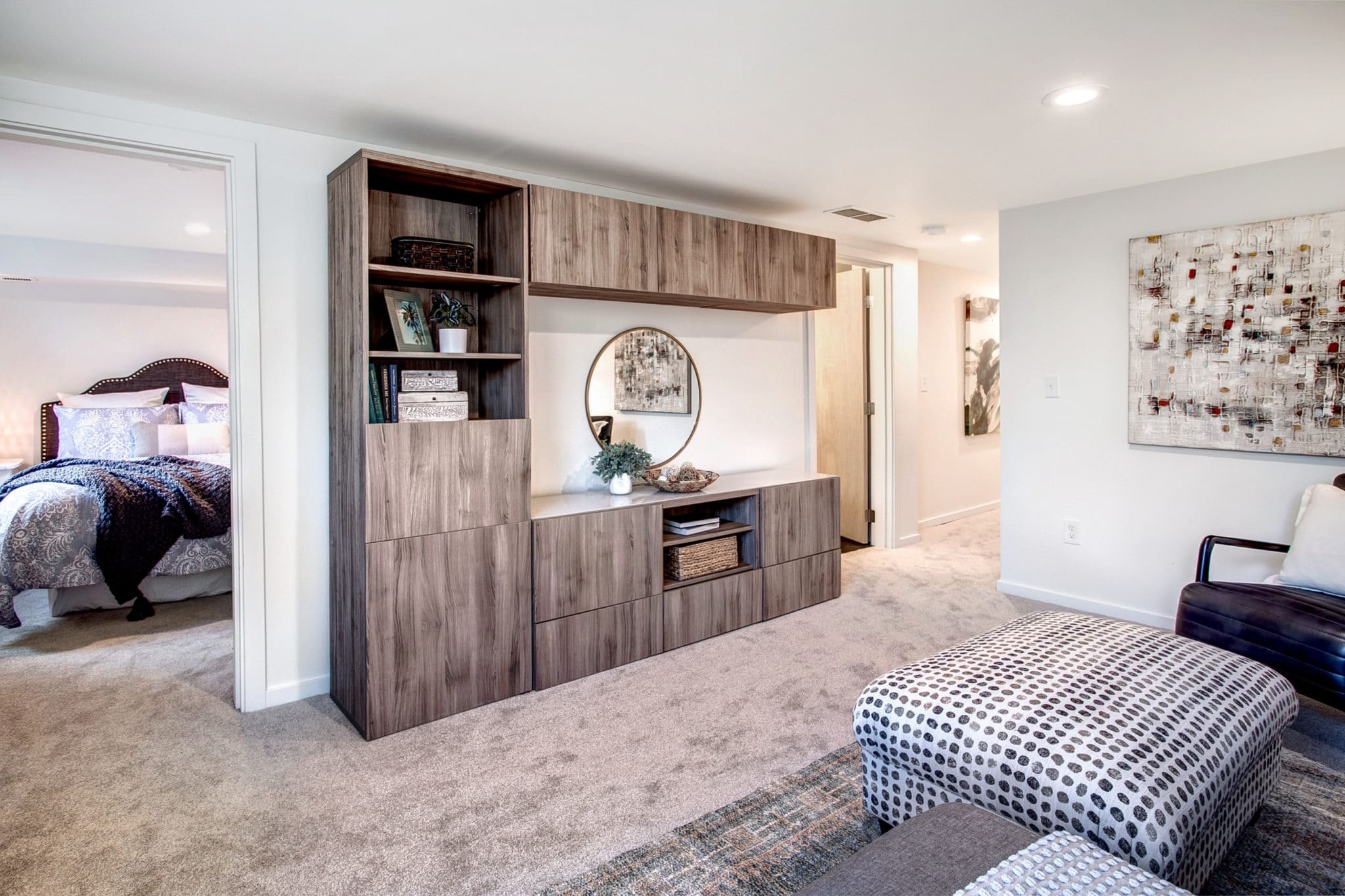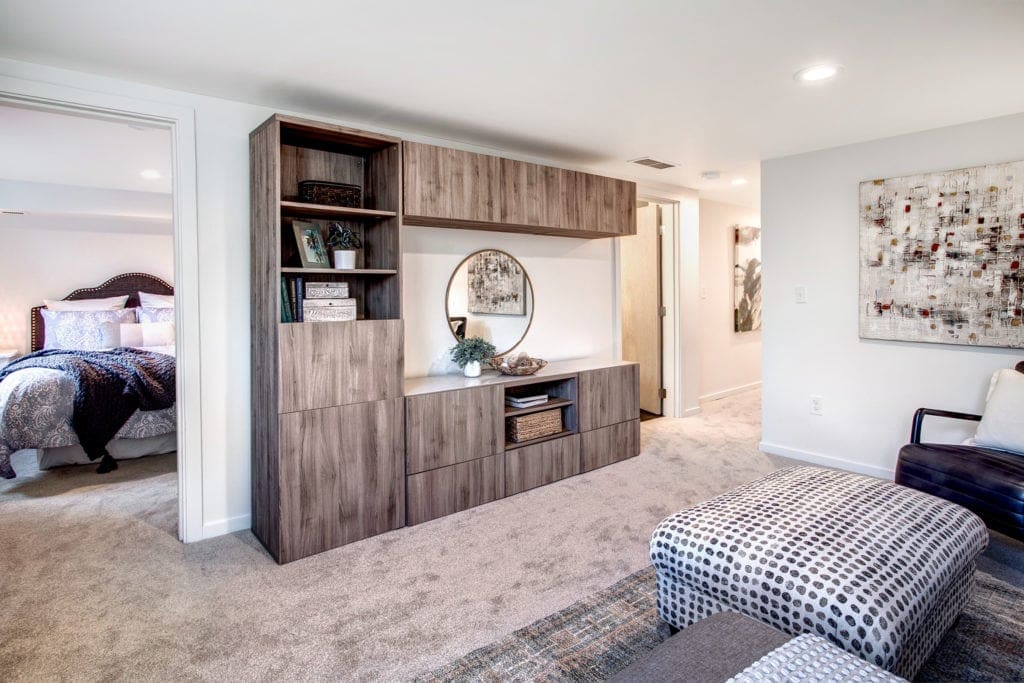 Right now, it is really hard to renovate an existing home. Contractors and supplies of all kinds are in high demand. Lucky for you, this home was taken down to the studs and completely rebuilt. This home is pretty much worry-free. It has a brand new roof, updated plumbing and electrical, a new sewer line, and double-paned windows. The contractors who re-did the home even made some luxury upgrades such as cat 5 wiring, solid core doors, and a super fun LED-lighted gas fireplace. All you need to do is bring your furniture and your love, everything else has been taken care of. 
Let's Take a 3D Tour, Too, So You Can Immerse Yourself in this Alki Beach House
Team Diva takes every precaution, and then some, to make sure all of our homes are listed following all COVID precautions. This pandemic is not over yet! It is our duty to ensure everyone's safety as you enter one of our listings. Feel free to take a virtual tour from the comfort of your couch!
Curious to learn more about our latest safety precautions? Read "Team Diva's COVID Safety Protocols for the Delta Variant" here!
Vacation-Ready Location a Block to Alki Beach in West Seattle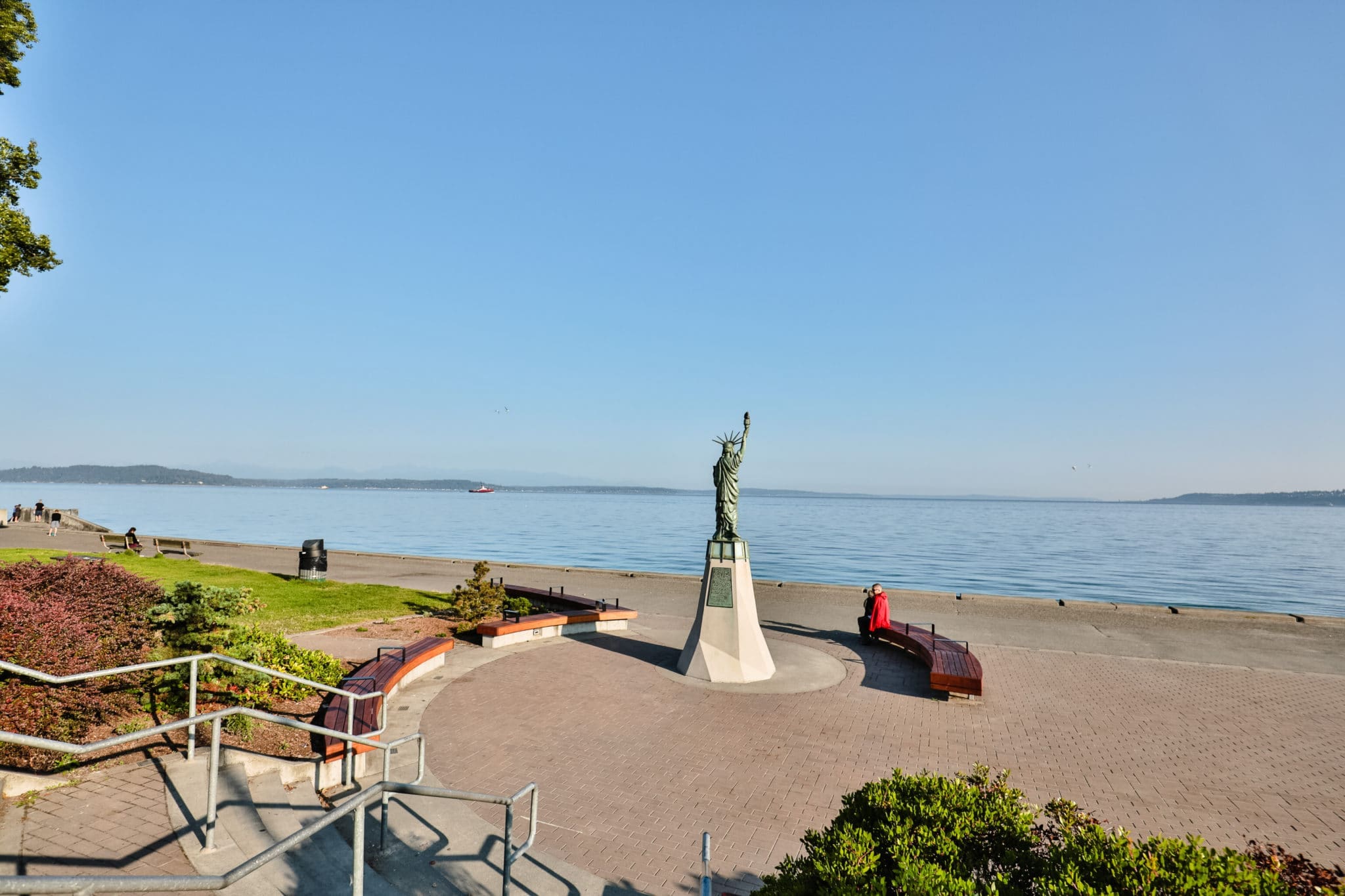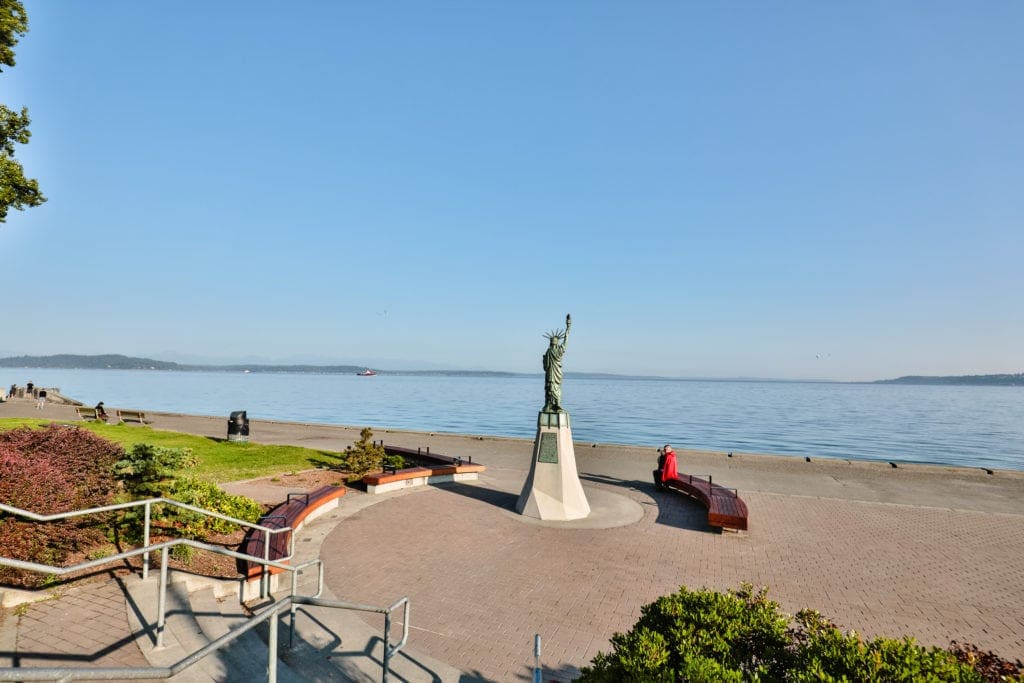 You are living at the beach. Period. Need I say more? Haha. There's so much to say about this I don't even know if I have the time. Alki is, in my opinion, the best beach spot in the city. In the summertime, this is THE place to be. But this is also a spectacular place to live year-round. Spend the day on the sand and watch as the Puget Sound tide rolls in. Alki is also home to beautiful sunsets and panoramic city views. Meet up with friends and challenge another group to a friendly game of volleyball. The beach is also the perfect place to launch your kayaks and paddle around the Sound. Walking, biking, and rollerblading the Alki trail is one of the best ways to get in your exercise or just take in the day. 
You will also find some of the best food in the city here. Fish and chips at Spuds and Sunfish, Pegasus gourmet pizza, and Pepperdocks burgers are longtime favorites on the beach. But there are also some more recent sensations such as Harry's Beach House and Marination Station that are making waves, too. 
As if being just one block to Alki, Seattle's most famous beach was not enough to keep you busy, there is so much more to enjoy in the surrounding neighborhood. Playgrounds and ballfields are part of the community. Not to mention, we are also in close proximity to Schmitz Preserve Park, which is home to over 50 acres of forest filled with diverse wildlife, old-growth trees, and hiking trails. It's a little bit of Pacific Northwest life right in your backyard.
There is also express bus service for commuting. And my favorite is taking the convenient water taxi which will take you straight into Downtown Seattle.
---
How to Buy a Home in Seattle: The Entire Process in Brief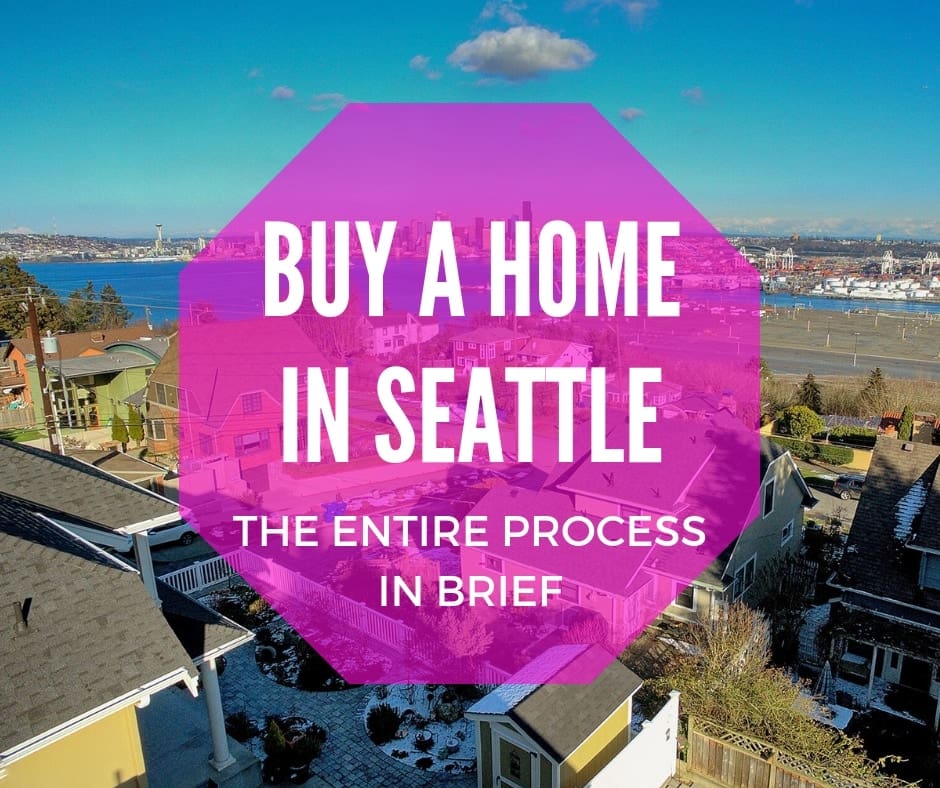 Let's get down and dirty. Owning a home in Seattle is an amazing experience and it can be fun. Do not listen to all of those cranky folks who think Seattle is not what it used to be and a middle-income owner cannot afford to buy a home in Seattle. Strap in, get yourself some strong Seattle coffee and learn how to be a smart and savvy home buyer in Seattle.
Steps For Buying a Home in Seattle
Find Your Guide: Find an agent that is super savvy and will be your ultimate navigator.
Choose Your Priorities: Size, Condition, Or Location?
Home Buyer Intake Process: Schedule a sit-down meeting with you and your real estate team to dive into what you want in a home.
Financing: Get your financial house in order.
Big Search: The big home search in Seattle
Making an Offer: Know what you need and how to prepare yourself to make an offer.
You Are In Contract: You've signed on the dotted line. Now… the hard work really starts.
Inspecting Your Home: What to look for, how to hire an inspector, and how to respond to the inspection.
Reviewing The Title Report: The title report is often the most overlooked portion of the buyer's review.
Reviewing the HOA/Resale Certificate (for Condos): …Also an overlooked portion of the buyer's review process.
Appraisal Process: Most homes are purchased with a home loan. The appraisal determines the final value by your lender for your home.
Final Loan Approval: All kinds of things can come up during the final loan approval process, so be prepared.
Final Two Weeks of the Process: Walkthrough, inspection resolution, and (for god's sake) do not make a huge purchase on a credit card.
Signing Your Final Homeowner Documents: You made it!
Closing Day: You get the keys and access to your home.
This is just a starting point, and we have so much more to share about the home buying process. Browse our Home Buyer page for a comprehensive home buying education.
---
Thank You For Touring Our Alki Beach House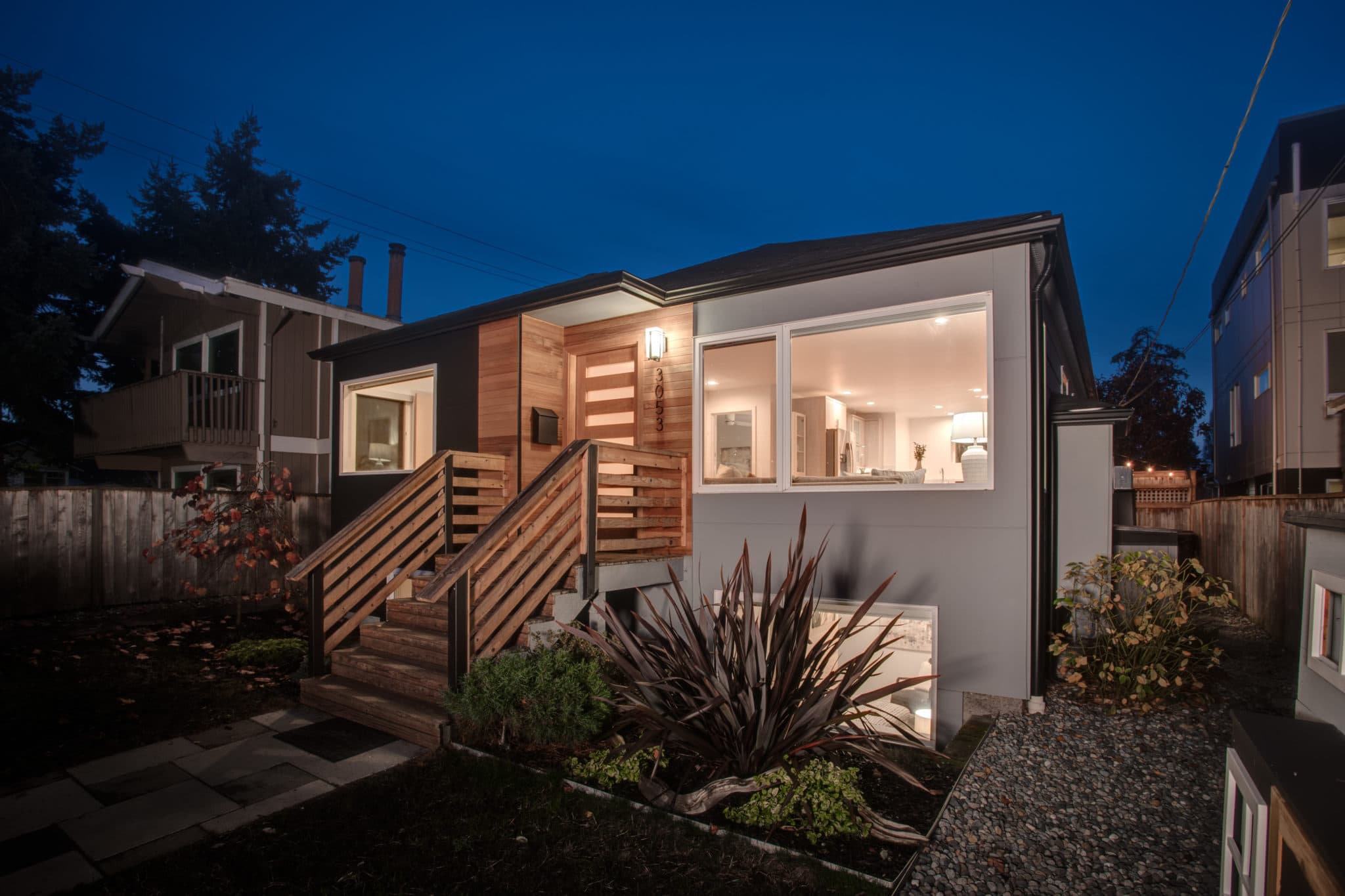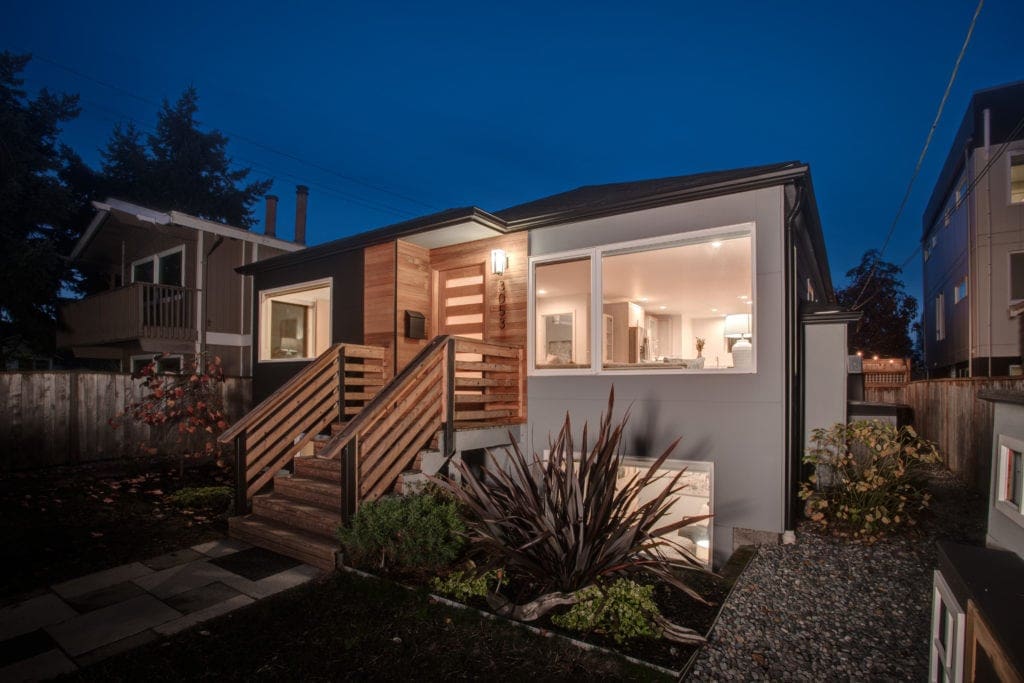 Thank you for joining me on a tour of this Alki Beach House! I love how my Diva Dwellers nicknamed this home "Little Big House"; it's so much bigger inside than it looks from the sidewalk! I also adore the wonderful open layout, and I'm loving the studs-out remodel and how worry-free this home is. This Alki Beach House is also nestled on gorgeous grounds in Alki, just a block from the beach. 
All the Good Details
Address: 3053 62nd Ave SW
MLS#  1860711
Square Footage:  1,776
Bedrooms:  4
Bathrooms:  2.25
Offering Price: $995,000
Ready to tour this Alki Beach House in person? Contact us today so I can show you this Diva Dwelling's incredible spaciousness, the open layout, the studs-out remodel, the gorgeous grounds, and it's fabulous Alki neighborhood.