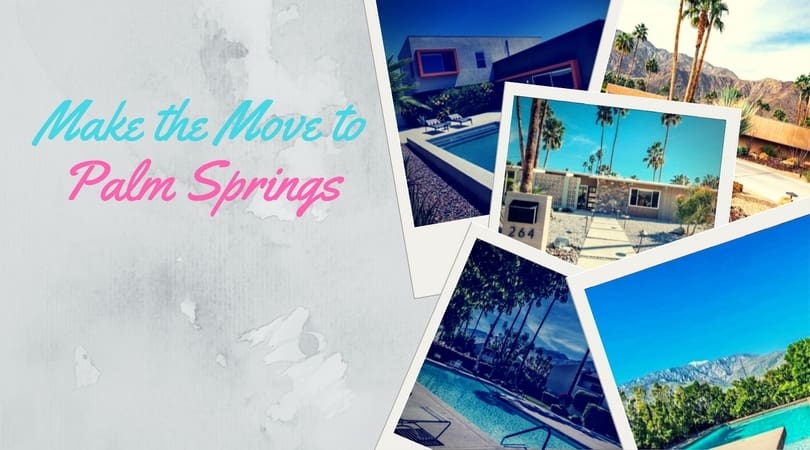 1. The Climate
Let's start with the obvious: You will not want for sun in the desert. If your fashion sense requires layers and an accessory umbrella, Palm Springs may not be right for you. If you don't mind dressing light and trading your bumbershoot for a jaunty parasol, keep reading.
There's good reason that palm Springs has over 1,000 swimming pools. From November through April, average highs range in the 70s and 80s. In summer, you'll become more of a night owl, as hot days call for regular siestas until things cool (slightly) in the evening.
Fortunately, Palm Springs is a good town for cocktailing al fresco. There's that old saying: "It's 5 o' clock somewhere." Well, the general vibe in Palm Springs is that it's always happy hour somewhere. Many bars and restaurants offer outdoor seating, shaded in the day and airy at night.
2. The Activity
There is so much to see and do in and around Palm Springs. Only boring people get bored, even during the summer's peak heat and the town gets a little sleepy.
The people watching is is great on Thursday nights on Palm Canyon Drive. The road is closed to traffic and becomes a street fair featuring food, music, arts and community groups.
There's a lot happening culturally (and we have more of that below), but film is a big part of it. It isn't just the old Hollywood history that one finds throughout the city. The Palm Springs International Film Society hosts two annual film fests: the annual Palm Springs International Film Festival (aka PSIFF) in January and the Palm Springs International Festival of Short Films (aka ShortFest) in June.
Add to that Cinema Diverse in September, the Arthur Lyons Film Noir Festival in May and the Festival of Native Film & Culture, presented by the Agua Caliente Cultural Museum.
3. The Architecture
Palm Springs is on the National Trust for Historic Preservation's list of distinctive destinations for architectural tourism for good reason. Midcentury modern residences and commercial buildings abound. The sharp lines of that era's slickest architecture is ideal for the desert, and remain beloved by residents.
The Palm Springs Visitors Center sells maps that guide midcentury modern devotees to 70+ architectural gems. The center itself is a marvel, originally a Tramway Gas Station in 1965. It was renovated years ago, along with its fabulous saddle roof. Meanwhile, architectural historian Robert Imber of PS Modern Tours gives guided tours year-round.
4. The Total Aesthetics
The midcentury mania does not end with the architecture. It's everywhere in the design and fashion you find in Palm Springs. The Uptown Design District features many hip boutiques, offering sleek home furnishings and gorgeous vintage clothing.
There's even a whole week (actually 11 days) in February devoted to celebrating modern aesthetics. Modernism Week includes lectures, double-decker bus tours, film screenings and of course fantastic cocktail parties in incredible locations around town.
5. The Luxuriation
It isn't just the look of that midcentury modern era that persists in Palm Springs. The glamor and ease associated with that time is still a huge part of the Palm Springs lifestyle.
Spas and natural mineral baths welcome weary winter travelers and residents. In pursuit of the ultimate chill (and greater health and well-being), services range from the traditional to the…uh…arcane. Wants a colonic in the afternoon and Pina Coladas in the evening? No problem. Want to pass on the Pina Colada and stick with a juice cleanse. There's no shortage of those in the desert either. At Hacienda Hot Springs the spa treatments put a focus on native plants and herbs from its own garden.
Speaking of natural…if you yourself want to go au naturel, you have many options. The Sea Mountain Nude Lifestyle Resort Spa, Living Waters and the Terra Cotta Inn Clothing Optional Resort and Spa. There are also clothing optional resorts, notably the all-male Triangle Inn Palm Springs. Sun's out, buns out, boys!
6. The Nature
Getting back to nature is easy and rewarding in Palm Springs. There are dozens of day trips to take. One of the most famous destinations if of course Joshua Tree National Park to the northeast. The 800,000 acres of wilderness has drawn and inspired countless sightseers, rock climbers, hikers, birders, stargazers and all around explorers for over 75 years.
The Indian Canyons feature more than 100 miles of hiking and horse trails. Along the way, one wanders through ancient palm groves, along arroyos and seasonal water elements, including a 60-foot waterfall. Further out, try camping on the shores of the Salton Sea. That surreal lake of bones was planned to be the center of another resort town…before botulism began causing massive die offs in the imported tilapia population. Salton Sea is the ghostly neighbor of Palm Springs, where the best laid plans didn't quite square with nature's unpredictable powers.
If you want an easier time of seeing the great outdoors, but still want a sweeping view, take the Palm Springs Aerial Tramway. It's the world's largest rotating tramcar, and it gets you to a higher elevation (and cooler temperatures).
7. The Art
Surrounded by so much natural beauty, it's not surprising to find a robust local arts scene in Palm Springs. A lot of the contemporary work responds to the desert landscape.
If you want something a little more conceptual, there is still plenty fo artwork to see, from the Annenberg Retreat at Sunnylands in nearby Rancho Mirage to the Palm Springs Art Museum, whose permanent collection includes of one of Louise Bourgeois' famous giant spider sculptures. (Consider yourself warned, arachnophobes.)
Last but not least, the newly minted Palm Springs Fine Art Fair, happens in February, and brings national and international artists to the desert. Naturally, it also brings plenty of swanky parties with collectors and cognoscenti.
Speaking of pretty things you want to take home…and NO not the guests at the parties. (Well, maybe…)
8. Shopping
We already mentioned the ample shopping for fans of retro and retro-inspired design. But there is much more than that, from local desert crafts to luxury brands.
It's a drive out of town, but if you want to shop brands and save a little, head to the sprawling Cabazon Outlet Malls and the even larger Desert Hills Premium Outlets next door. The latter holds 130 discount emporiums, including Gucci, Balenciaga, Alexander McQueen, L'Occitane and Prada to name a few.
9. Friends Will Come to You
For all the reasons that it's worth retiring in Palm Springs, it's also worth visiting. When your friends are languishing in blizzards and under our grey rain driven skies, you can beckon them south. They will answer the call.
Even better, there are so many cool places to stay in Palm Springs, they may opt to stay at a hotel rather than on your air mattress. The city has dozens of boutique hotels and inns. Many are that classic mid-century modern style, such as the The Hideaway and The Orbit In. Others go for Spanish Moorish or Wild Western looks. Meanwhile, The Rendezvous has delightful themed bedrooms, including the "Pretty in Pink" suite, where Marilyn Monroe once stayed. (Regarding celebrity accommodations, if your guests have $10K to spare, they can rent Frank Sinatra's old home and host you!)
Side note: If you want a staycation once settled in Palm Springs, check out the rustic Moroccan villa Korakia Pensione (Korakia Pensione). The distraction-free environment in the foothills (no phone or TV) is a perfect place to unwind and de-stress.
10. Palm Springs Embraces Your Eclecticism
Palm Springs is unapologetic about itself: its retro cool, its extreme heat, its whole existence as an artificial oasis. So not surprisingly, it has attracted residents who are also unapologetic about their own eccentricities.
It manifests in cultural quirks throughout the region.
Exhibit A: The kitschy date gardens south of town. Notably, visitors to Shield's Date Garden will see a movie explaining the sex life of dates. (There's a pun here, but we're too busy thinking about those yummy date shakes you can buy.)
Exhibit B: An annual vintage trailer show, that turns the lawn of the Riviera into a glittering swarm of stainless steel. Enthusiasts bring in their travel trailers tricked out in unbelievable ways, from the functional to the pornographic.
Palm Springs is a little of everything.