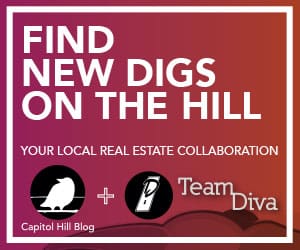 Capitol Hill has always been a Diva favorite. The Hill is our home, our workplace, and our playground. It's both one of our favorite places to do business and our favorite locale to hang with our Diva Dwellers and Divotees. One of the most vibrant neighborhoods in our fabulous city, there is always something exciting and new happening here.
With all that is going on in our hood, you can imagine it's hard to stay in the loop sometimes. Luckily, we here on the Hill have our friends and local experts at the Capitol Hill Seattle Blog to keep us on the up and up with all of the news, nibbles, and new happenings that this place has to offer. Thanks to Capitol Hill Blog, we always know what is in and what is out.
Because of all of the great work that the Capitol Hill Seattle Blog peeps are doing, we are super jazzed to announce that Team Diva and Capitol Hill Blog are launching a real estate collaboration extraordinaire! Team Diva Real Estate will now be the resident real estate experts for all things Capitol Hill Blog. The real estate section of the blog will link directly to the new Team Diva Capitol Hill webpage, which will in turn be consistently updated with the ups-and-downs and ins-and-outs of what it is like to buy, sell, and live in this hip hood. You can keep up to date on current Capitol Hill market trends, best things to do, favorite Diva hood hangouts, and LGBTQ real estate news. We are super excited to see where this new exclusive partnership will take all of us, especially as we get to focus a little more attention one of our favorite hood!
Keep up with all of the action through Capitol Hill Blog and Team Diva!