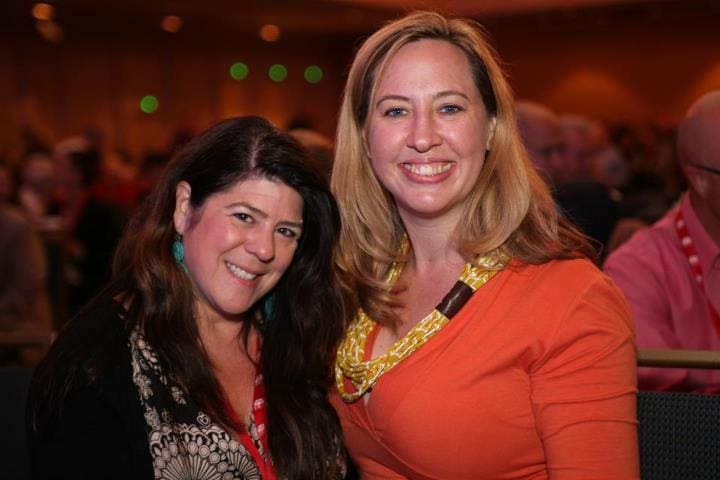 Divas are back at the DivaHQ and are jazzed from our first Real Estate Connect in San Francisco. Inman News produces the Real Estate Connect conferences and Agent Reboots. The Divas made their first showing at Agent Reboot-Seattle as part of their Anatomy of an Agent this last spring. At Agent Reboot-Seattle we met Katie Lance and Chris Smith. They are the Diva and the Divo of technology and Real Estate marketing tools. Let's us just say that I think it is time we need to send these two a Diva metal of honor – or maybe a tiara! 
Real Estate Connect was AWESOME! We are inspired, engaged and ready to continue to shake up the way the masses interact with real estate professionals. Oh and yes – we are "connected." There were so many fantastic conversations and panel discussion that the Divas brains were on information overload for days. Plus, I now have acquired a repetitive strain injury from over zealous tweeting! Since there is just no way to cover it all, here are out top three  – Power Gals, Brand Management and CRM Tools.
The Power Gal Row – Day one at the conference we connected with other CB Bain diva gals, Anne Jones from our Tacoma office and the lovely Linda Aaron who is the Diva of Operations at the Coldwell Banker Bain HQ. The gals introduced us to the very funny and super smart "the Bossy Marketing Pants" Heather Ostrom from Roseville, CA. It was heavenly being surrounded by such smart woman who are taking real estate to the next level. Together we spent most of the conference learning, laughing, having fabulous meals and so much more. Amazing as the conference was, we definitely noticed early on that there were a surprising lack of women on many of the panels.  The sessions that did have a power gal represented were hands down the most interactive and informative. So why are there not more power gals of real estate being represented? A brief chat with Kelly Mitchell of Agent Caffeine was quite insightful as to why there may be lack of Power Gals on the big stage. Kelly mentioned that men often ask to be on her show whereas woman wait to be invited. The majority of the people in the Real Estate industry are woman but very few of them are in leadership and management roles in many of our companies. Challenge to all of our fellow Divas – time to start asking, insisting and taking charge. No one can change this but us sisters!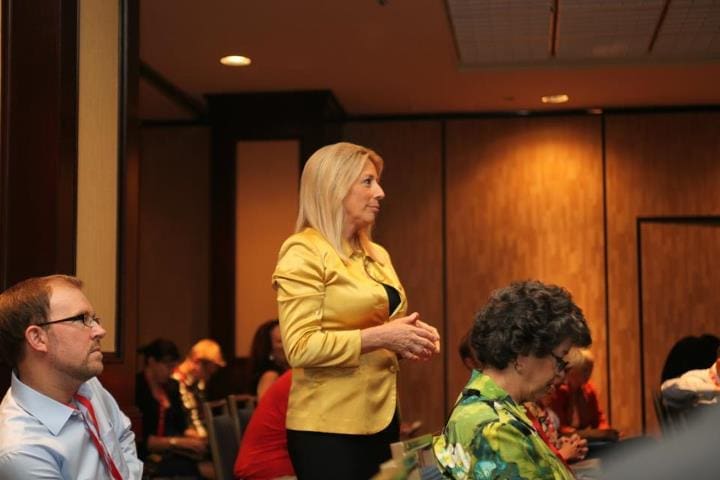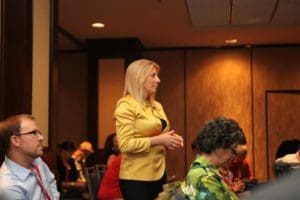 Brand Management Track – Kelly Mitchell was an amazing moderator an this track. Not only did she connect the audience with the speakers but did a great job creating a dynamic environment for new ideas to be explored. The very first discussion regarding "The Experience Counts: Delivering on Your Brand Promise" definitely got the crowd going.  Great dialogue between agents, brokers and the panelist regarding branding on the "Company" level compared to individual agent branding. This discussion really revealed how disconnected the higher "corporate" brand image is in many instances from the local franchises and their agents. Whether it is in making sure the "brand" is being projected by all their agents or whether the company is delivering to the agents on their brand promise. Locally what is the brand expectation of all of us who work under the Coldwell Banker umbrella? Great questions! Some of the solutions edged up in some of the later sessions in the same Brand track. In one session, Debra Trappen, talked about developing individual ambassadors within each of our organizations whose sole purpose is to foster the next generation of agents to be tech savvy and highly ethical in their practices. Looking forward to working through many of these ideas here locally in Seattle with our Power Gal Row.
CRM Tools – Dear developers. We have needs and we could not find you anywhere at the conference. The Divas, The Ostroms, and a bunch of us really need a good robust CRM tool that compliments a high functioning real estate individual/team. Here is what we need. A tool that tracks our clients life phases, source of how we met them (a client is not a lead they are a PERSON!), when they closed, anniversary date, birth date, track our plan to results, and integrate with our Emma e-marketing system (which is not a drip marketing system). The system should show us who is a priority which week. It should be mobile, cloud based and Mac friendly. And it needs to cost $25 a month! Unfortunately, the systems we found were either to cumbersome, cost to much or they were going to be a one stop shop for all of our social media needs. But for those of us getting results from social media we all know that you need to access different points directly to get the best results. #StillLooking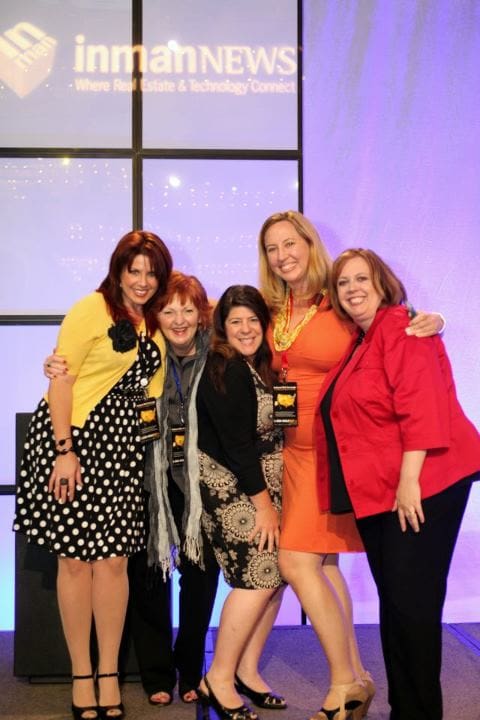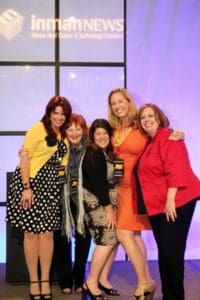 Honorary Divas to Follow
Debra Trappen – Our very own Seattle Diva is getting ready to launch her new power gal company. Debra has been critical to our success. Her encouragement, insight and perspective has directly resulted in the Divas showing the world that there is an ROI in being active on Social Media. @Debra11
Kelly Mitchell – We met Kelly in Hawaii this past March. Her Agent Caffeine show is insightful and informative. Kelly was also the moderator for the Brand Track that really blew some hats off in the room. She had an a great way getting the best from her speakers and engaging her audience. One of her key words that is still stuck with us gals is "collaboration". We just need more of it in Real Estate. It is dumb to think one agent can be expert at contracts, marketing, therapist, etc. Time for more of us to work together in a team environment. @KellyMitchell

Katie Lance – Diva of Inman. She is a rock star and we just love her to pieces. One she is a mom of two very young boys. She travels all over the nation teaching Divas like Kim how to use twitter. Katie also put together probably one of the best presentations on how to curate content for your online presence that I have ever seen. We immediately sent it out to our team and integrated it into our marketing plan. LOVE! @KatieLance

The Geeky Girls – You think the Divas are Sassy? Meet the Geeky Girls. These gals are down to earth and are really working hard to change the technology landscape for real estate agents. And to top it off they do more business than us gals. And we know that has got to be tough. Amazing! @TheGeekyGirls
Tina Mak – Probably the most honest and funniest people to have ever graced the stage. This girl is so sassy, stylish and is a down right hard working Vancouver, BC agent. She knows her business and does it probably better than anyone else does in her market! @tinamak

Chris Smith– I spend a good afternoon in Chris Smith's track on technology tools. The thing that I really appreciate about Chris is that he has the ability to overwhelm me with his knowledge of the intricacies of different media tools, apps and so much more geeky tech related items. I often feel like the expert in our own office so to have someone inspire at a new level is always refreshing. @Chris_Smth