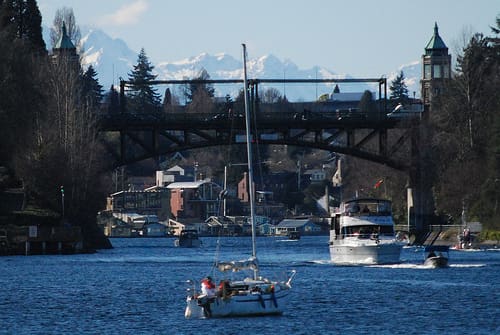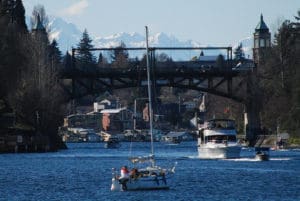 Montlake is undoubtedly one of the most magical hoods in the Seattle area, at least in the Diva book. Being bordered by numerous parks, lakes, and waterways, whichever way you head, you are bound to run into the natural beauty that makes Seattle special. The neighborhood is packed full of architecturally significant and stately homes, ranging from Craftsmans to Tudors, and even a few modern homes thrown in the mix. Add the fact that it is perfectly located next to WA-520 for quick access for the Microsofties and right over the cut for UW flockers. Check out some of the Diva's favorite things to do and see in this absolutely adorable hood.
Diva Montlake Favorites:
1. Arboretum – One of the most stunning sights in Montlake, and in Seattle as a whole, is the University of Washington Botanic Gardens, better known as the Arboretum. This swath of 230 acres are on the shores of Lake Washington and are home to over 10,000 species of plants found nowhere else. Besides just taking a walk through the park, the Arboretum also hosts a number of classes and events to engage the entire Seattle community.
2. Fuel Coffee – As most of you all know, we are self-proclaimed coffee connoisseurs and rely on some of that black gold to fuel us everyday at Diva HQ. One of our favorite places in Seattle is Fuel Coffee over in Montlake. It's super trendy and always has plenty of smiling faces to welcome you. In addition, they serve up Caffe Vita coffee and nibbles from High 5 Pie, so you can't ever pass up this perfect combination.
3. Mr. Johnson's Antiques – This antique store is hands down one of our favorites in the area. Super adorable and creative (just check out their website for a taste), this shop has everything from aged works of art to fancy old furniture. Even if you aren't in the antique-buying business, just a quick browse though this quirky shop will make everyone feel more cultured.
4. Montlake Bike Shop – Bikes certainly one of the most popular alternative forms of transportation in Seattle. The Montlake Bike Shop has been here almost the whole time, serving the Seattle biking community for 30 years now. Whether you need a tune-up or just a new bike (or even just a rental), not only will this shop help you out with all your bike needs, but they will do it with the personal flare that has made them the hood staple that they are.
5. Interlaken Park – This beautifully wooded park is nestled on the Southern-most end of Montlake and it is a perfect area to take out that new bike that you purchased or rented from Montlake Bike Shop. The park offers a number of paths and trails that wind through the woods, creating an area for bikers, runners, and adventurers to escape the concrete jungle for a bit.
6. Cafe Lago – This restaurant smack dab in the middle of Montlake is one that every Seattleite must make a stop at sometime during their lives. Specializing in incredible Italian nibbles, this place has received outstanding reviews. Love Italian food like the Divas do? Go check out Cafe Lago.
7. Montlake Public Library – The Montlake Public Library has a long history dating back to when the community center and the Seattle Public Library teamed up to open a tiny library. But now, after many year, Montlake has a full-fledged library to offer the Montlake community. Opened in 2006, the building, like many others in the area, is one of architectural significance. It's a beautiful building, complete with a vertical glass entrance and constructed with a brick and cedar-clad branch appearance. Stop by, take a gander, and read a book here for the full experience.
8. Montlake Cut – On the North-most end of Montlake is the Montlake cut, a canal built to join Lake Union with Lake Washington in 1916. Built to accommodate the passage of large ships to and from the Lake Washington Ship Canal, it is now mostly frequented by smaller watercrafts. Wandering down to the Cut to watch the rowers (namely the famous UW rowing team) race through on a late afternoon is always a treat.
9. St. Demetrios Greek Orthodox Church – Home to Seattle's oldest Greek Orthodox congregation, St. Demetrios Church has long been spreading knowledge of Greek culture throughout Seattle. Each year they host a ton of awesome and super interesting events, most notably of which is the Seattle Greek Festival held in September. In addition to these bazaars (which offer a ton of delicious traditional dishes), the church building itself is one to be marveled at, so take a tour!
10. Meander through Montlake – Honestly, Montlake is such a stunning hood that a simple jaunt through it on a sunny day would make swoon and fall in love with it. With all of the natural beauty paired with the man-made ingenuity of the architecture, Montlake is an area where Man vs. Nature perfectly melds into one. So what are you waiting for? Go talk a walk through this lovely hood – and when you get close to the Arboretum, keep an eye out for the large population of owls that like to hang out there.