Belltown has changed so much in the last decade. It transformed almost overnight during an earlier building boom, going from bohemian enclave to nightlife epicenter. It wasn't unexpected, given the absolutely prime location in terms of scenery and transit. The nightlife is still very active on weekends in Belltown along 1st and 2nd Avenues, but there is SO MUCH more to this neighborhood than weekend warriors.
This is a prime weekend to check out this Seattle hot spot. The biggest crowds will be on Capitol Hill for the Capitol Hill Block Party. Those who want to escape that throng but still have a great time out close to downtown need only head toward the Puget Sound. Here are some of the sultriest, spiciest ways to enjoy Belltown and some of its many amazing restaurants and bars.
Family Fun Al Fresco in The Olympic Sculpture Park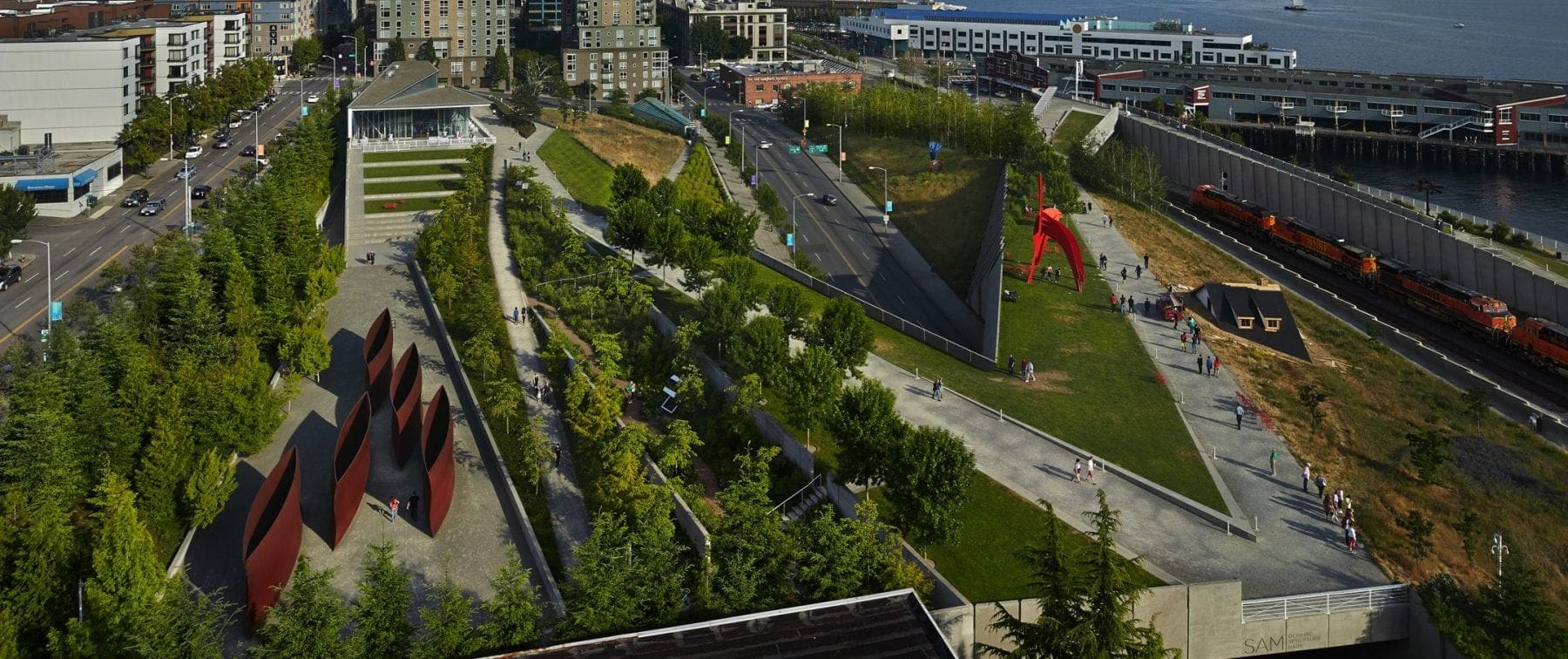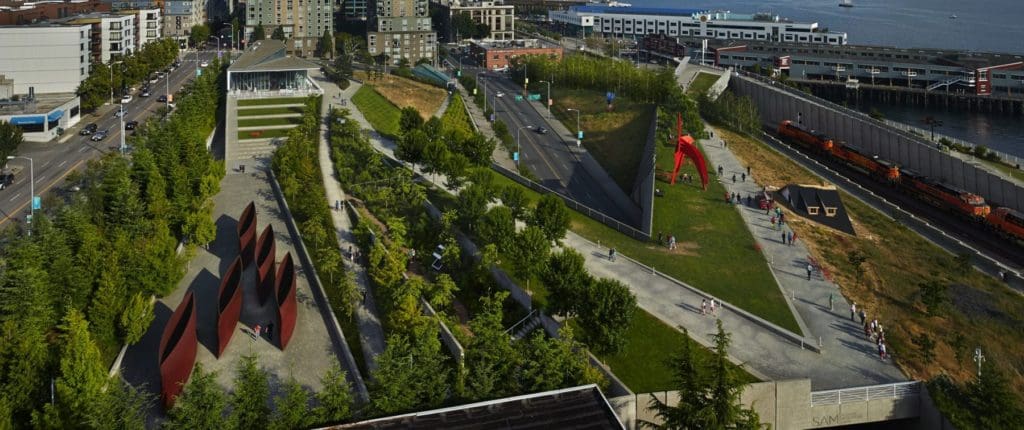 Seattle Art Museum's waterfront sculpture park is an eclectic mix of landscaping and art. Enormous waving steel forms by Richard Serra; the abstract "Eagle" of Alexander Calder; the monumental, elongated head of Echo by Jaume Plensa; and the Neukom Vivarium, a living installation by Mark Dion that sustains many forms of life on a nurse log. And all of that is just the start. The park sits near the tide pools and shoals of Myrtle Edwards Park, which connects to Queen Anne, Interbay and Magnolia.
Take in these beautiful sights across the water, and—if you'll have kids with you—join in the museum's Family Field Day, Saturday, July 21. Read more about the full day of activities, including morning yoga and Zumba Kids at noon.
Restaurant Recommendation: After an afternoon in the sun, hop over to the Edgewater Hotel for perfect waterfront views, great bar bites, and cocktails in the lounge at Six Seven Restaurant. You can even order from the bar and take it into the lodge-style setting of the lobby next door. (This cozy spot is even better in winter, whereas the sleek lounge is perfect for a summer evening.)
A Boisterous Waterfront Walk and a Ride on the Great Wheel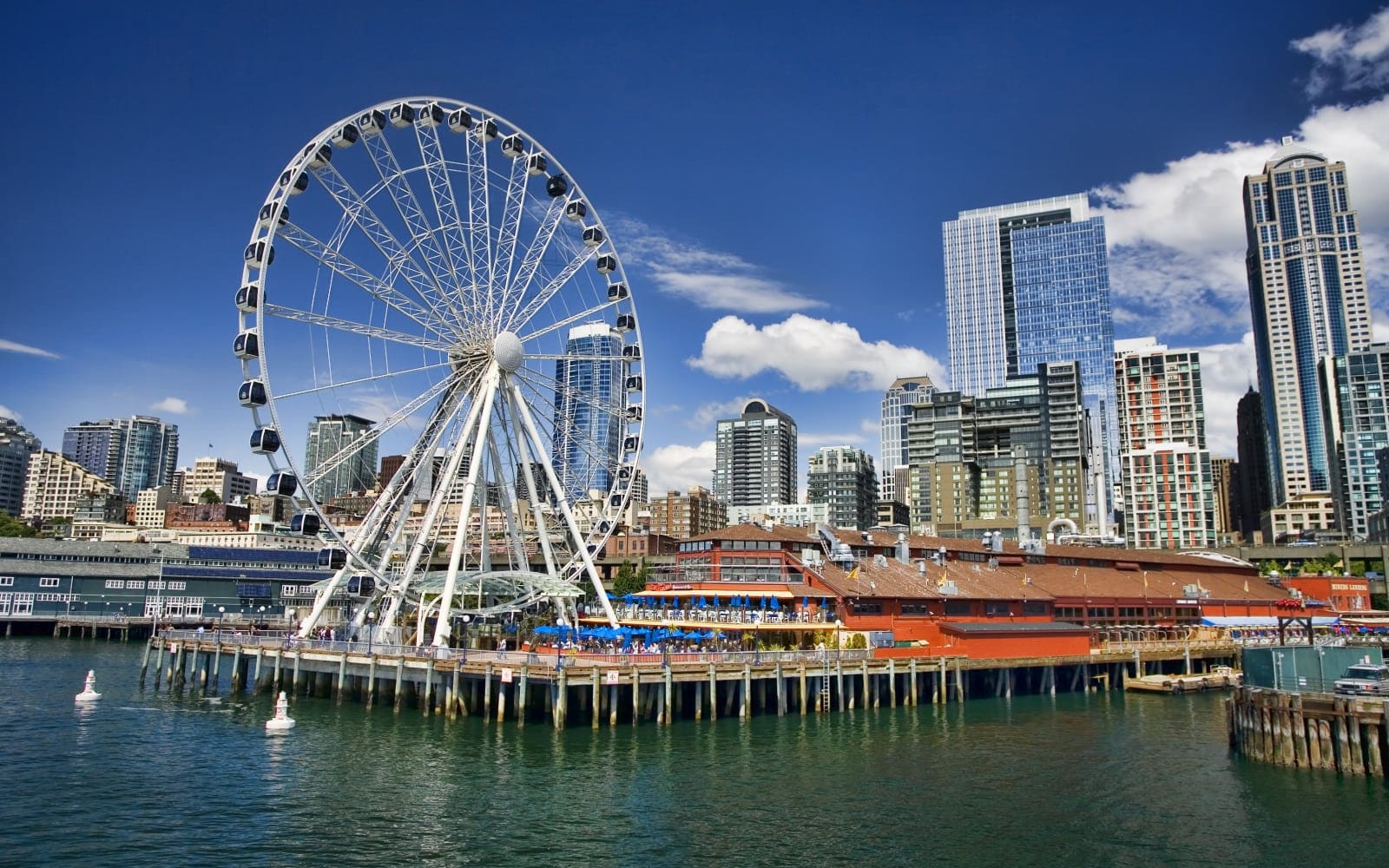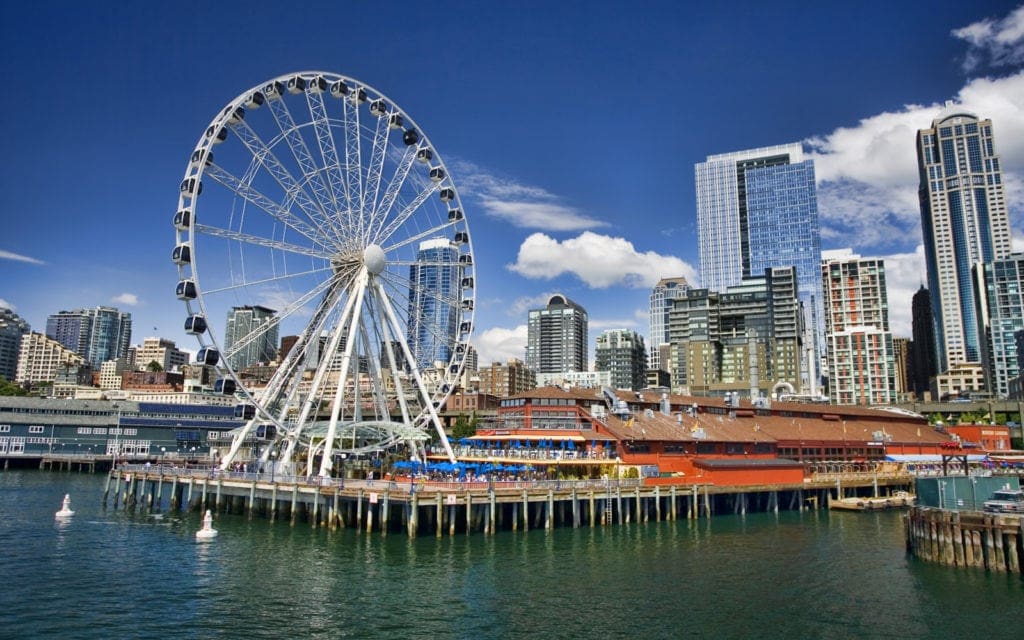 Like many municipal projects, the transformation of the waterfront and new seawall projects seem never-ending. There are big, permanent art installations planned and lots of potential green space…although the changing plans are hard to follow. We recommend taking some time to walk around the waterfront and seeing the project unfold for yourself.
Naturally, there are still plenty of cute shops for tourists, but the main scenic attraction is The Great Wheel, of course. Get a real eyeful of Puget Sound from 175′ up! The activity on the waterfront is always fascinating to watch (ferries, tankers, fishing vessels, sailboats and more), and the wheel gives a unique view of it.
Restaurant Recommendation: After making a loop on the waterfront, hop up to 3rd Avenue for awesome oysters and pasta. After the hustle and bustle by the sea, Orfeo's chic and romantic interior is a great place to unwind. (The decor is largely inspired by the mysterious painting "La Tempesta" by Giorgione. You'll see detailed views of this masterpiece in the private booths and airy lounge area.)
New Flavors, Then New Dance at Seattle Center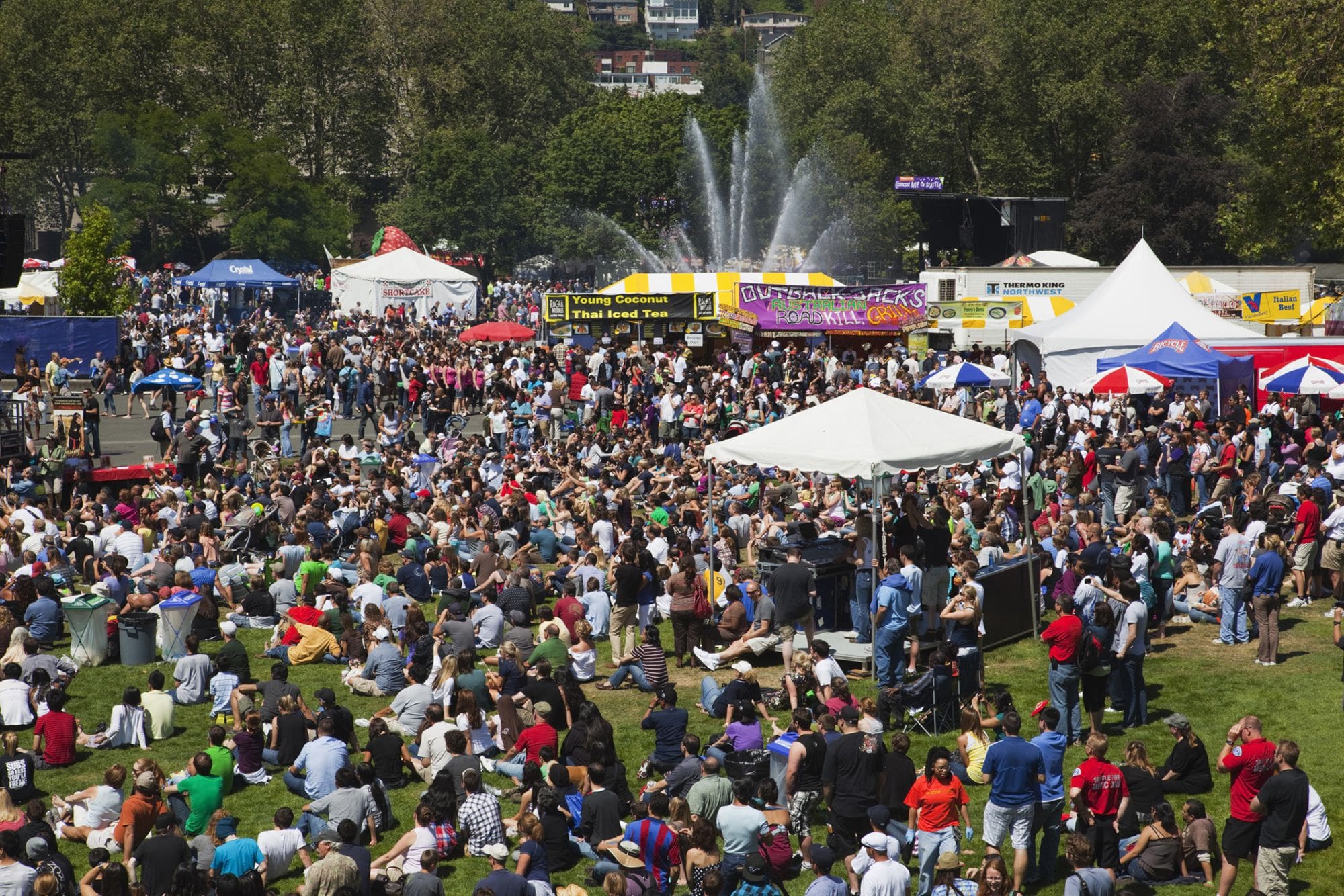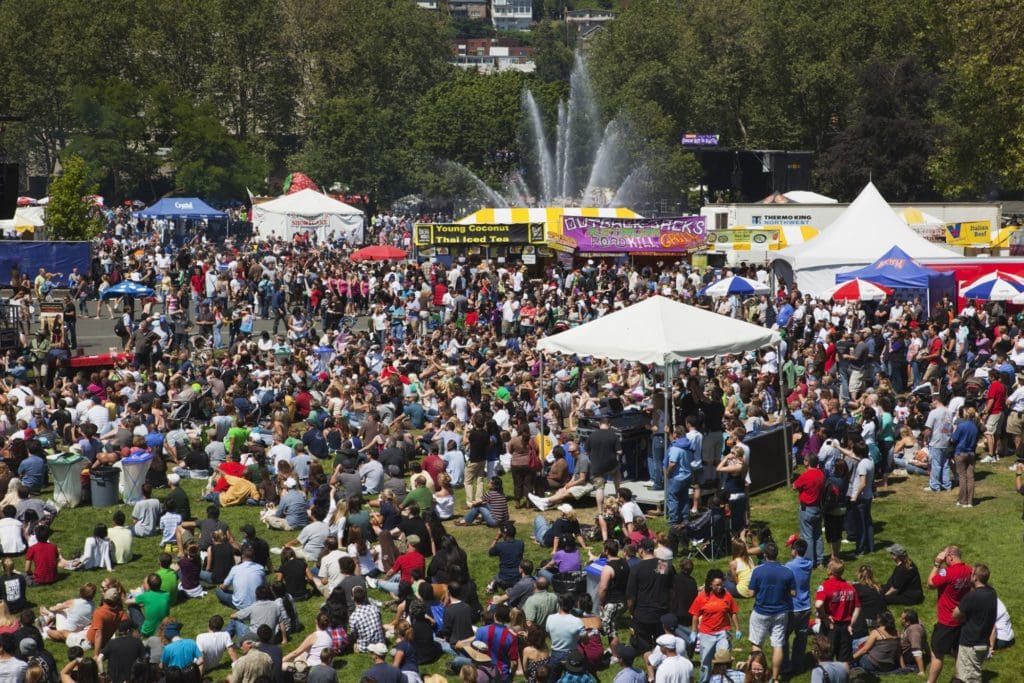 If you live in Belltown, you're in one of the best places to appreciate Seattle Center, which begins on Belltown's north end. You can walk to it without being RIGHT in the middle of all the traffic snarls during rush hour or major events. This weekend, the BFD at Seattle Center is the annual Bite of Seattle food festival. Admission is free, but to get the delish, mini-portions from the 60 participating restaurants you'll need to buy voucher packets. There are also cooking demos, a beer and spirits garden, and live entertainment at Seattle Center. (Friday, July 20 is the least crowded day to go if you can make it.)
But wait, there's more. ARC Dance presents 5 world premiere performances on Thursday, July 19, which continue through July 28 at the Leo Kreielsheimer Theatre. The annual summer showcase blends modern dance and ballet from international choreographers and performers. This year's choreography comes from Bruce McCormick, Wen Wei Wang, Jason Ohlberg, Marika Brussel and Paul Destrooper.
Restaurant Recommendation: Branchwater is the place to be after a full day of eating and dance. This spot was briefly known as Commonwealth but was changed to reflect 1) co-owner Amanda Chigbrow's Kentucky roots 2) the emphasis on Kentucky bourbon at the bar. It's super cool, casual, and visually gorgeous. Plus, if you get peckish, you may still have time to grab a little tapas from the acclaimed main restaurant, Pintxo.
Caffeine, Asian Cuisine, and Fresh Fashions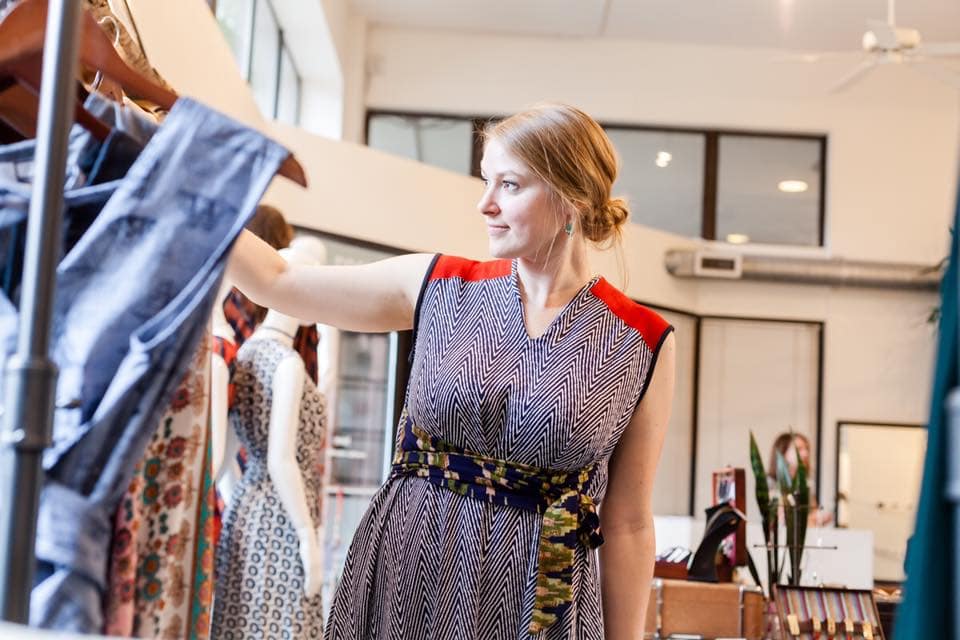 For those who want a more relaxed, loose schedule, just hit the cafes, shops, and eateries in Belltown. If you get an early start, get your caffeine fix at Bedlam Coffee. They have an eclectic mix of flavor options, yummy pie and toast, and plenty of seating. (Also, they are gay owned and were targeted by super Trumpy, racist and anti-gay bullies last year, so we're just really glad they are still around!)
Bedlam is right on Bell Street, which has become a pedestrian-friendly one-way road lined with seating. It passes by the Belltown Dog Park on 3rd Avenue, for those which furry friends. Across the street is Korean Bamboo, which serves up generous bulgogi lunch platters with great, complimentary banchan before the meal.
Just last year, we had a lot more great and stylish boutiques in Belltown, but many have moved further south downtown. We're so glad that Sassafras hasn't moved, because their storefront is too cute. They offer sustainable, handmade fashion from eight in-house designers. Meanwhile, Kuhlman is just a little further down First Avenue. This is one of the best boutiques for men and women, thanks to an awesome, edited selection of established and emerging brands and owner Scott Kuhlman's expert tailoring.
Restaurant Recommendation: There is so much great sushi in Seattle, in part because of the influence of master sushi chef Shiro Kashiba. His namesake restaurant, Shiro's, carries on his legacy of excellence in Edomae sushi. (The elder Shiro himself runs a pared-down operation in Pike Place Market for his own passion.) The rest of this itinerary may be unscheduled, but be sure to get a reservation for this one.
Love the Nightlife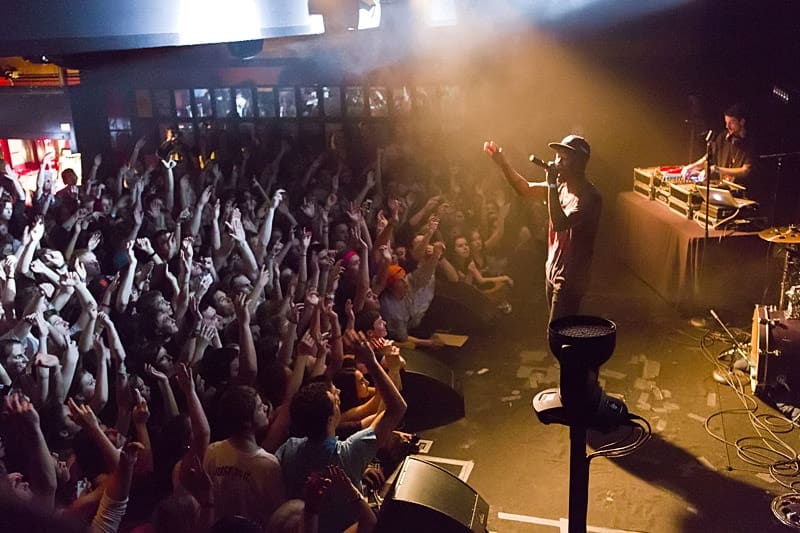 The sun is setting and you're itching for a night out after all. There are the right ways to do it, and wrong ways.
Wrong would be trying to cram into one of the dirtbag magnets like Amber, Tia Lou's or Sarajevo Lounge. (We want to be optimistic about the upcoming Vue lounge, which is going for an upscale LA and Vegas vibe…but we'll have to wait and see.)
RIGHT: If you want something boisterous, stick to the edgier and fun bars like pinball paradise Jupiter Bar, or catch some live music at The Crocodile. We're also fond of a classy night of jazz, and for that, you have two wonderful options: Tula's and Dimitriou's Jazz Alley. Tula's is smaller, more intimate as a crowd. Dimitriou's still keeps you up close and personal with touring performers, who are among the best in the world.
If you want something more low-key but fun, we have a few recommendations. For one of the best cocktail experiences in town, hit Bathtub Gin & Co. For a fantastic patio (that remains surprisingly hidden), great Caribbean bites and drinks, check out The Jerk Shack (formerly The Innkeeper). If you want a movie and a drink with luxurious seating (and no kids), see The Big Picture. That one is located beneath the swanky Seattle staple, El Gaucho steakhouse, another fine spot with a real dress code.
---
Tour our Belltown condo at 2700 4th Ave #301 and see just how amazing living here can be. Offering access to all of these itineraries and more. A gorgeous space with large windows surrounded by trees with city views. A special part of Seattle that holds so much charm and the home itself stands out with amazing features for living and entertaining.