Trulia recently released a great article analyzing the national real estate market to see if we are in a Bubble (circa 2005) or are we in a rebound. Their analysis states that we are in a Rebound, Not a Bubble: Home Prices Still Undervalued. The way Trulia answered the question was as follows>
We assess whether home prices are overvalued or undervalued relative to their fundamental value by comparing prices today with historical prices, incomes, and rents. Incomes determine how much people can pay for housing, and price increases aren't sustainable if they push prices too high relative to incomes. Rents reflect how much people value housing even if they won't benefit from price appreciation (as renters don't, but owners do); the price-to-rent ratio is like the price-earnings (P/E) ratio for stocks. Using data from multiple sources (see footnote), we create several measures of fundamental value and combine them in order to calculate how overvalued or undervalued home prices are relative to fundamentals.
The key item that I really appreciated about the way Trulia approached the question was looking at the Price-To-Rent ratio and analyzing local incomes. Basically can someone buy a home for less money than they are currently renting? Are people buying higher than their income can rationalize? Well let's take these two questions to see if Seattle is in a Rebound or a Bubble.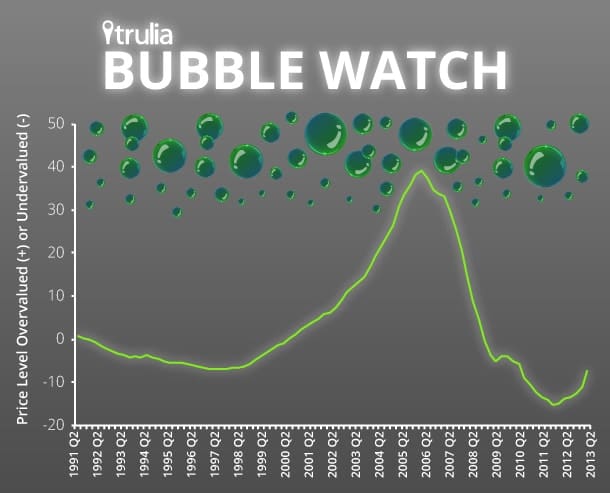 Overall you can buy a single family home for way less than you could back in 2007/2008 during the height. You are getting a screaming deal. So sorry if you are in non stop multiple offers. It is worth the buy right now.
One area I believe we are in a Bubble is Capitol Hill condos. The rental market on Capitol Hill is super tight due to the proximity of the neighborhood to Amazon's HQ. Amazon has been on a hiring frenzy. All of those newbies to Seattle want to live close to Amazon HQ. As a result it is putting pressure on rental inventory in the surrounding neighborhoods. The pressure has seen a huge increase in rental prices on Capitol Hill and other neighborhoods. Those folks who have been renting on the Hill forever are suddenly inspired to make the jump to  home ownership. Individual investors are seeing awesome return on investments on condos as well. So the result has been about about a 11% increase in square footage prices for condos on Capitol Hill from February, 2012. The largest increase of prices have been found in the one bedroom market.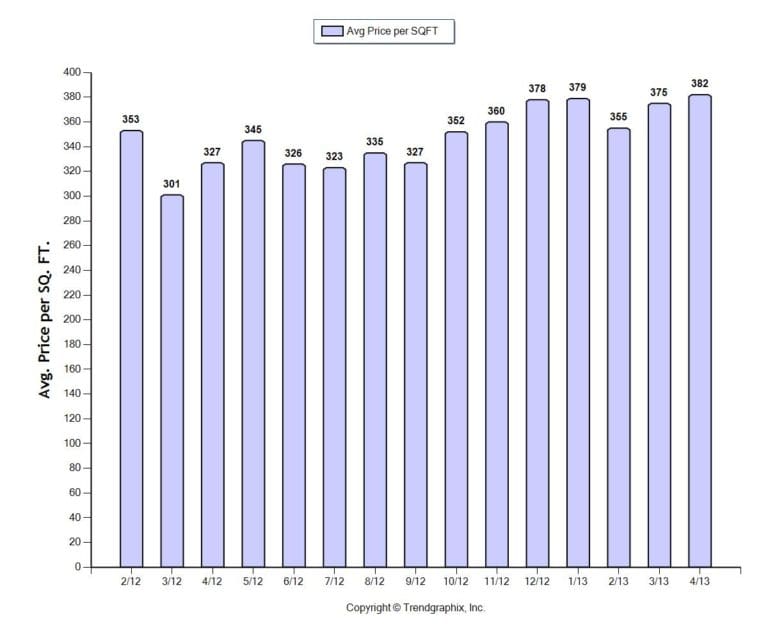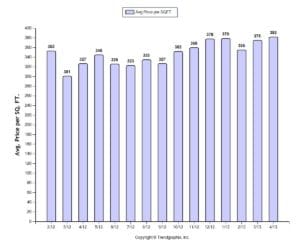 Now let's ask the question if Capitol Hill is in a rebound or a Bubble? The reason I think it is a bubble is the huge number of building cranes seen throughout the neighborhood. Basically back to the Price to Rent ratio. The new buildings coming online who dampen the buying frenzy we are currently seeing on Capitol Hill. Those newbies at Amazon will be discretely housed in one of the numerous brand new cheap ass apartment buildings seen from every corner of the Hill right now. Removing that rental price pressure will remove a lot of buyers from the market. *** Note to sellers of condos on Capitol Hill -> NOW IS THE TIME TO SELL***
Other areas in the city should expect to see more of a Rebound. There simply is not the same number of new construction homes coming available in other areas in the city. Also – we do not have the same flexibility of construction loans for the first time home buyer as we did back in 2005. So many buyers cannot easily pic up a "fixer" the way they were during the height. Final words – Rebound in the surrounding neighborhoods and a bubble for Capitol Hill condos.