What are the Seattle public transit updates you need to know about right now? ST3 includes many updates to the Link light rail (also referred to as a train or subway), bus lines, parking options, and more. In 2023, Judkins Park Station opens, which will connect Seattle to Bellevue, Redmond, and other Eastside locations via light rail. Stride Bus Rapid Transit will also be developed, providing quick bus rides with fewer stops between major commuter and transit hubs. Luckily, until these expansions are realized, Seattle has many public transit options to take advantage of in the meantime.
---
Seattle Public Transit 2022 Update
Compared to other major cities, Seattle has been a bit behind on investing in public transit. Luckily, this is all changing with ST3, and we are so glad to see the expansion of the Link light rail, rapid bus routes, and more. Investing in transit can help with our traffic, provide great car-free options for commuters, and make it much easier to live a truly urban lifestyle. Here are a few common questions we've heard lately regarding Seattle public transit, as well as the answers:
When Does the Judkins Park Station with Link Light Rail Service Open?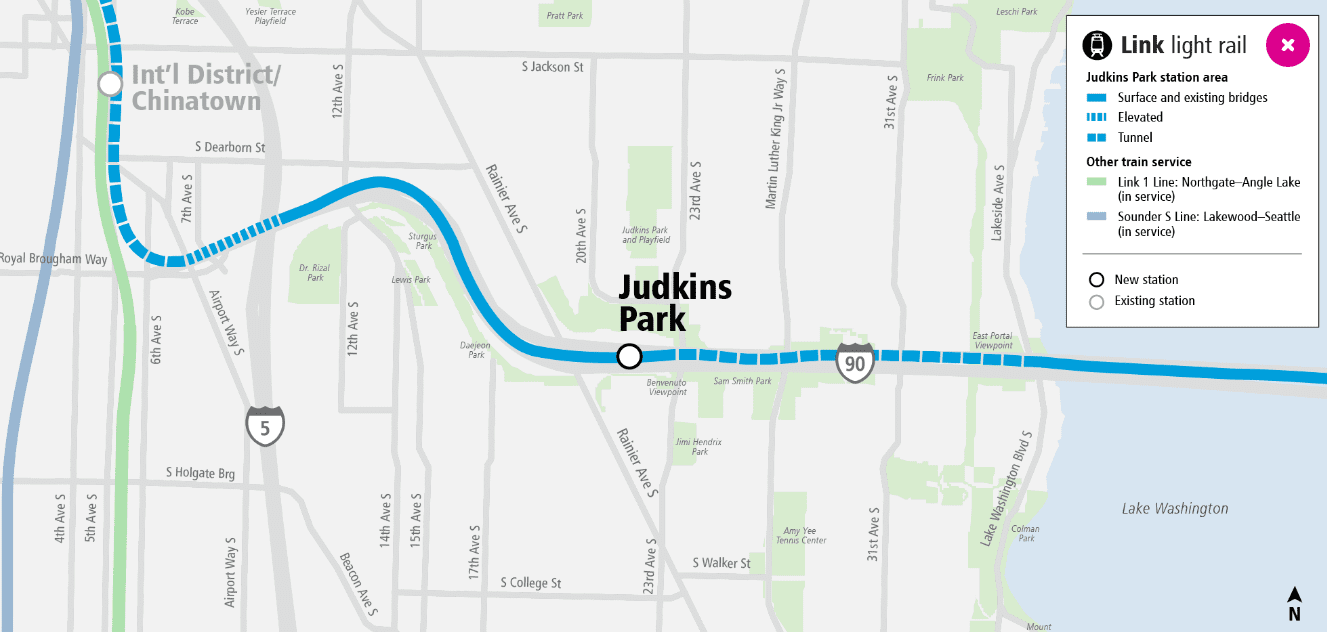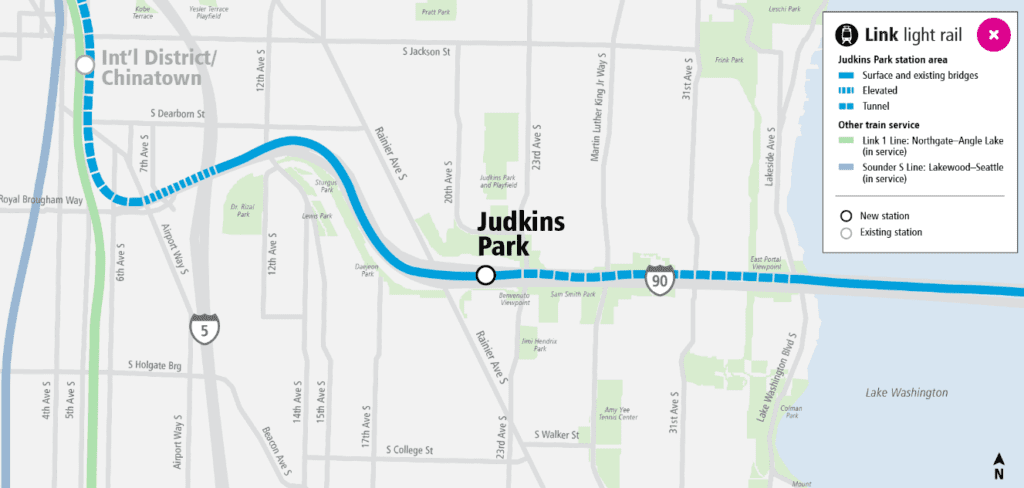 The Judkins Park Station opens in 2023, and it will literally transform this region. This is not an overstatement and you will see why in a moment! Right now, Seattle's Link light rail runs south and north, from Angle Lake (which is one stop away from SeaTac International Airport) all the way north to Northgate. The Link light rail will continue to expand north and south, but this is where things are at the moment.
Now, here is why the Judkins Park Station is such a big deal: This station connects Seattle to the Eastside. Once Judkins Park Station opens, you will be able to transfer to the International District/Chinatown Link light rail station and head east. From Judkins Park Station, you can travel all the way through Bellevue and finally to Redmond, all car-free and traffic-free on the Link light rail. Yes, you will be able to easily connect to major employers in Downtown Bellevue and enjoy a commute on the light rail to Microsoft, for example. 
We are especially excited for Rocky Flowers' latest Diva Dwelling, which is this Stunning Leschi Townhome that is only 0.9 miles from the Judkins Park Station opening in 2023. The neighborhoods that surround Judkins Park Station will only continue to become more and more desirable in the years to come, as people realize the immense convenience and value of living here. We have been advising our Diva Dwellers for years now to invest in areas where there are future Link light rail stations planned. Read "Investing In Seattle: Team Diva's Tips for the First-Time Real Estate Investor" for more info on what makes a great investment. Hint: Transit matters! 
Where Are King County's Stride Bus Rapid Transit Bus Routes Expanding To?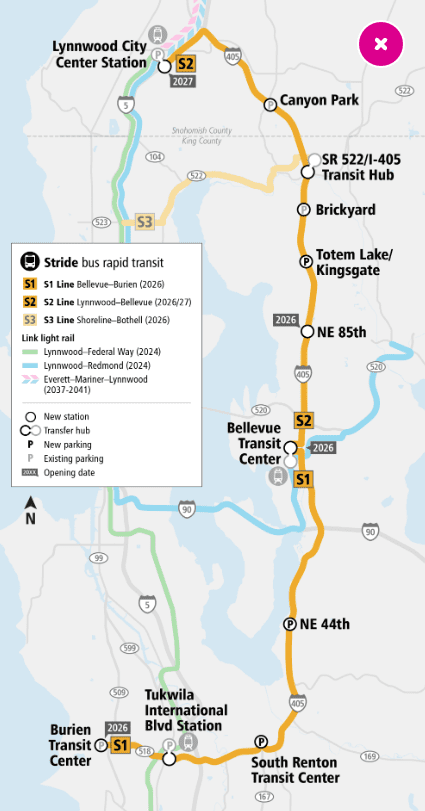 One of the biggest concerns for home buyers has to be commuting and what types of public transit are available. Luckily, Seattle has a ton of bus lines, and another excellent public transit option is Stride Bus Rapid Transit. Stride begins service in 2026, and this bus service is similar to RapidRide. Whereas a typical bus has several stops on each route, the Stride Bus Rapid Transit has much fewer stops to allow for a quick ride from point A to point B. The expansion includes 3 routes: S1 Line runs from Bellevue to Burien, S2 runs from Lynnwood to Bellevue, and S3 runs from Shoreline to Bothell. 
Lindsy Russell-Mitchell's Perfectly Updated Kenmore Home listing is only about 1.2 miles from a future Stride Bus Rapid Transit stop. Being located along the S3 makes it easy to quickly connect to Downtown Bellevue or head to Shoreline where there's a future Link light rail station planned. Enjoy all of the perks of living in a suburban area—generous layout, garage, backyard, etc.—while still being close enough to major city amenities. 
BONUS: A Seattle Neighborhood With Amazing Transit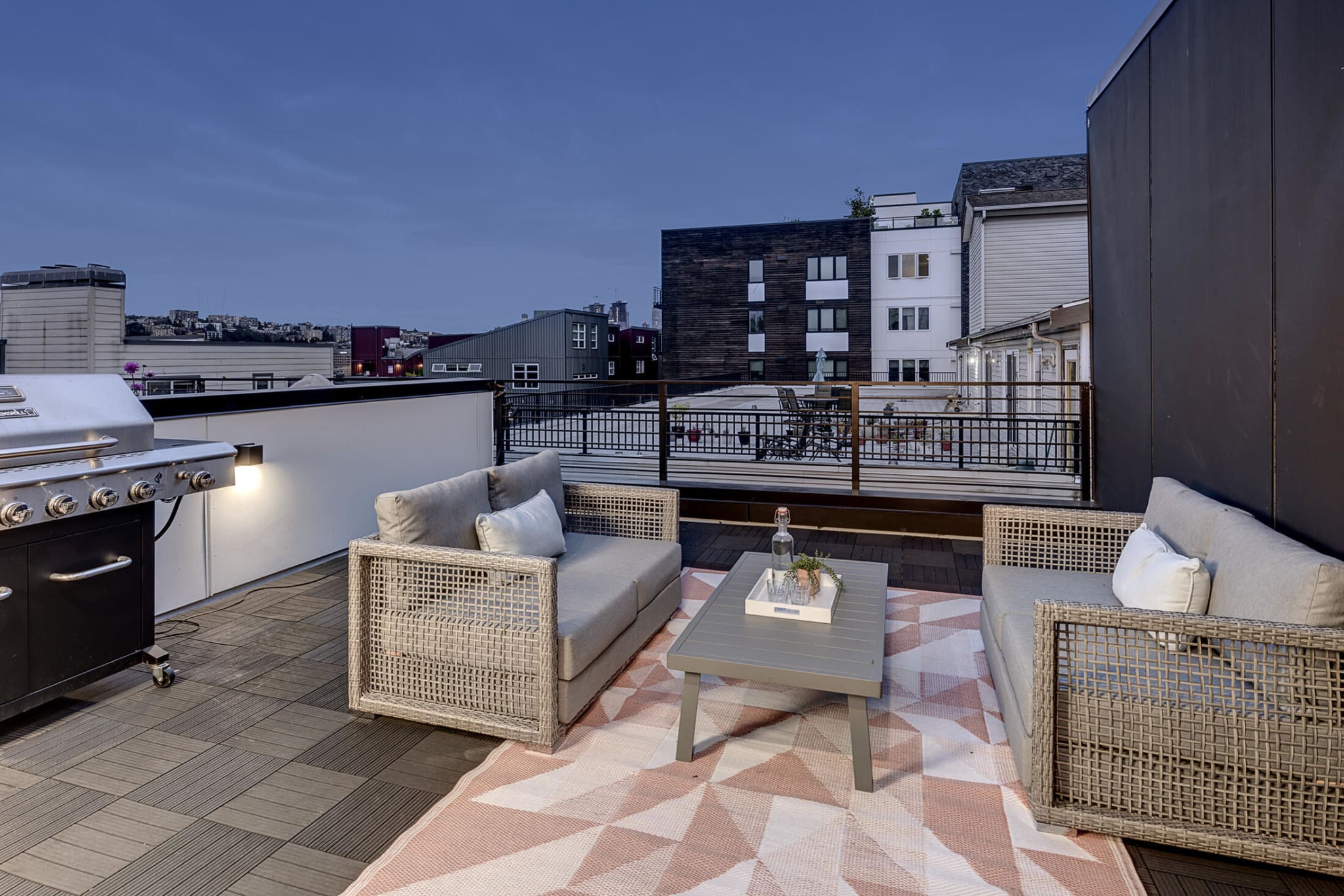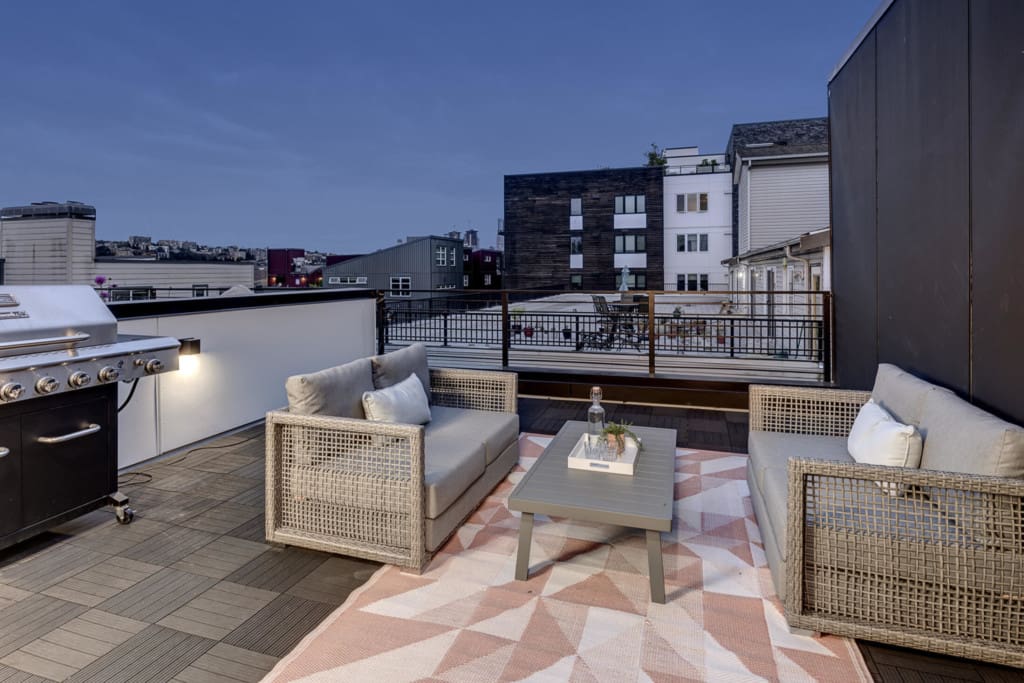 Seattle also has a ton of other excellent transit options. Of course, there are buses, and now you know about the Link link right and Stride. But there are also streetcars, the Monorail, the Sounder, Amtrak, water taxis, ferries…. and more. Kim Colaprete and Roy Powell's Ultra Modern Luxury Westlake Townhome listing has easy access to several of these options with its convenient Westlake location that's also close to Queen Anne and South Lake Union. In fact, this location is especially ideal for those who work in South Lake Union.
Bus lines that surround this townhome include the 62, 40, 5, 16, and 28. These lines are all merely blocks from home, giving you several options no matter when you need to head out. This townhome is also just blocks from the RapidRide C Line and RapidRide E Line. The first segment of the Seattle Streetcar (known as the South Lake Union line) is just 0.6 miles away, offering another easy way to get around. And if you want to mix things up, you could even hop on the historic (but fully functioning!) Monorail from the Seattle Center (just about 1 mile from home) and head into Downtown with great views. 
---
Thank You For Taking a Moment to Read Our Seattle Public Transit 2022 Update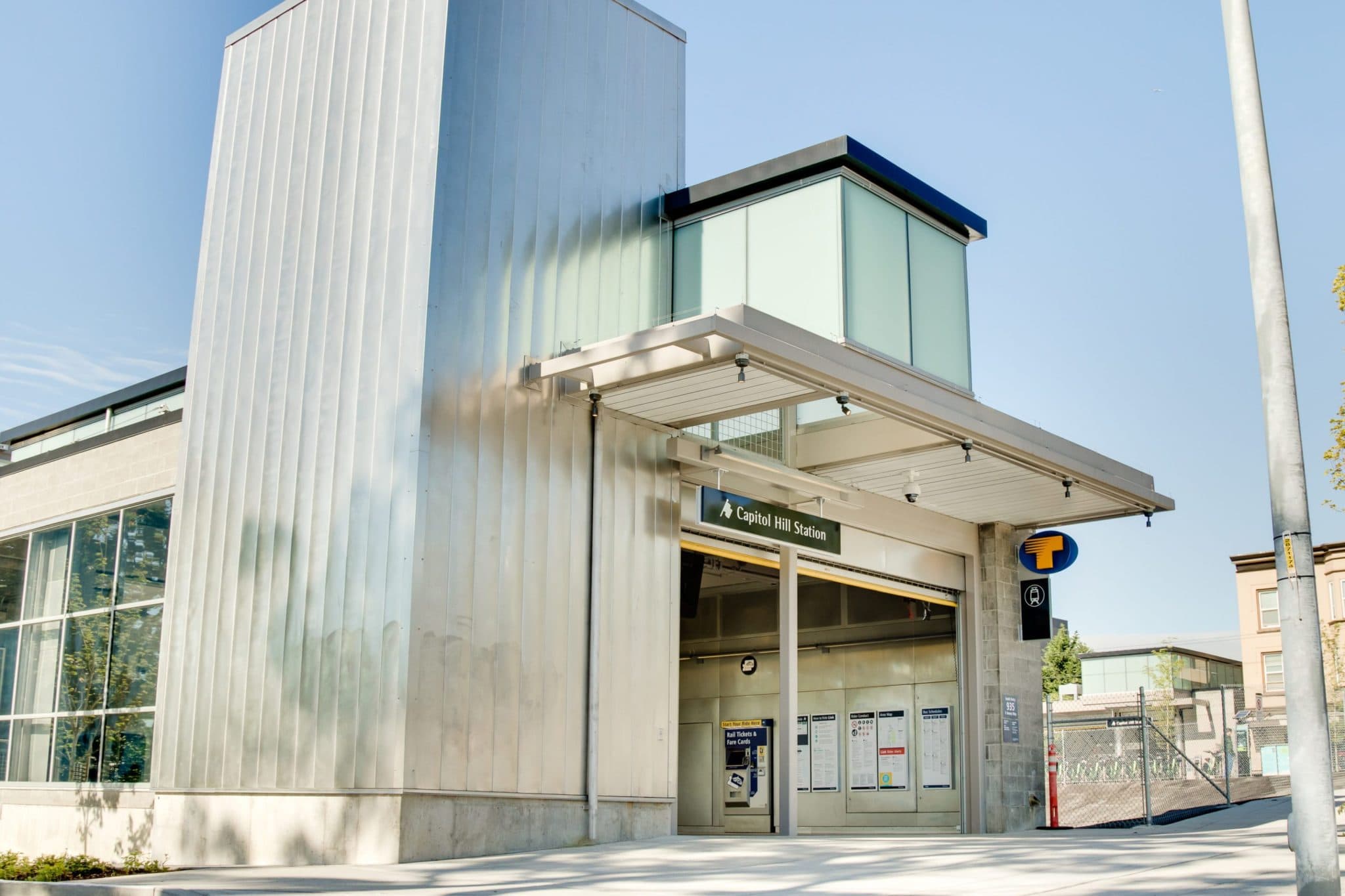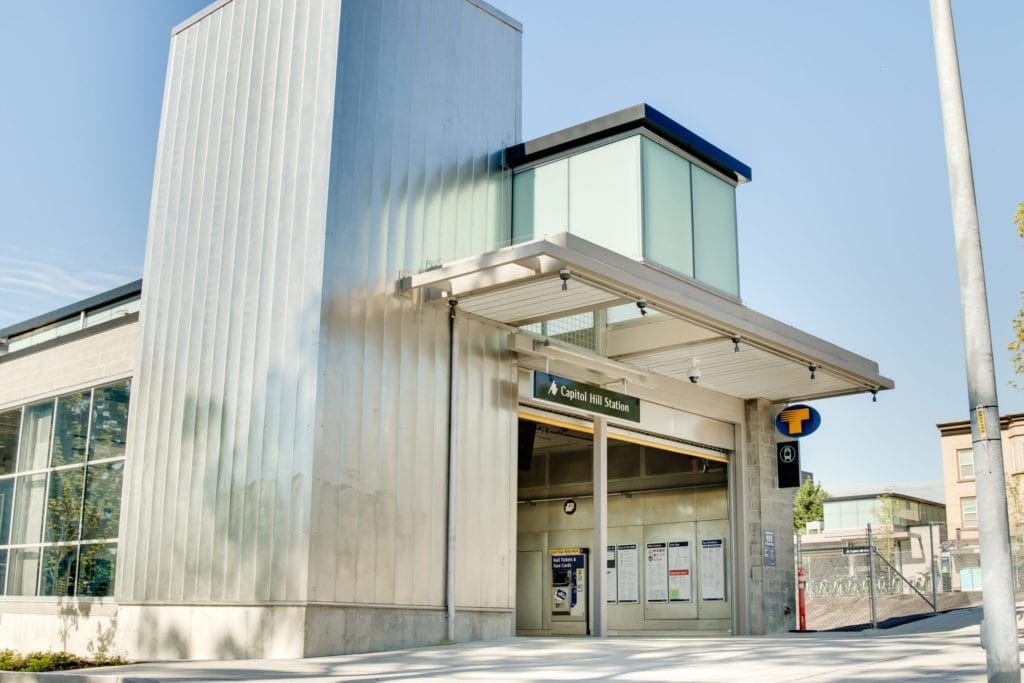 What are the Seattle public transit updates you need to know about right now? The Link light rail is being expanded, bus line options are becoming more plentiful, and there will be more parking options for commuters and more. One big update we are especially excited about is the opening of the Judkins Park Station in 2023. This new station will connect Seattle to the Eastside (which includes major employer hubs like Bellevue and Redmond). Stride Bus Rapid Transit is being developed as well, which provides quicker bus rides between fewer stops. And, in the meantime, Seattleites are lucky to have a myriad of public transit options, including bus lines, streetcars, the Sounder, Amtrak, the monorail… and more. 
Learn more about each of our featured Diva Dwellings with excellent transit options here:
We are here to help. Our team understands that this process can take a year or two. And we are more than willing to give you a personalized plan to get the ball rolling. Feel free to contact us directly at thediva@teamedivarealestate.com or call/text 206-271-0264.