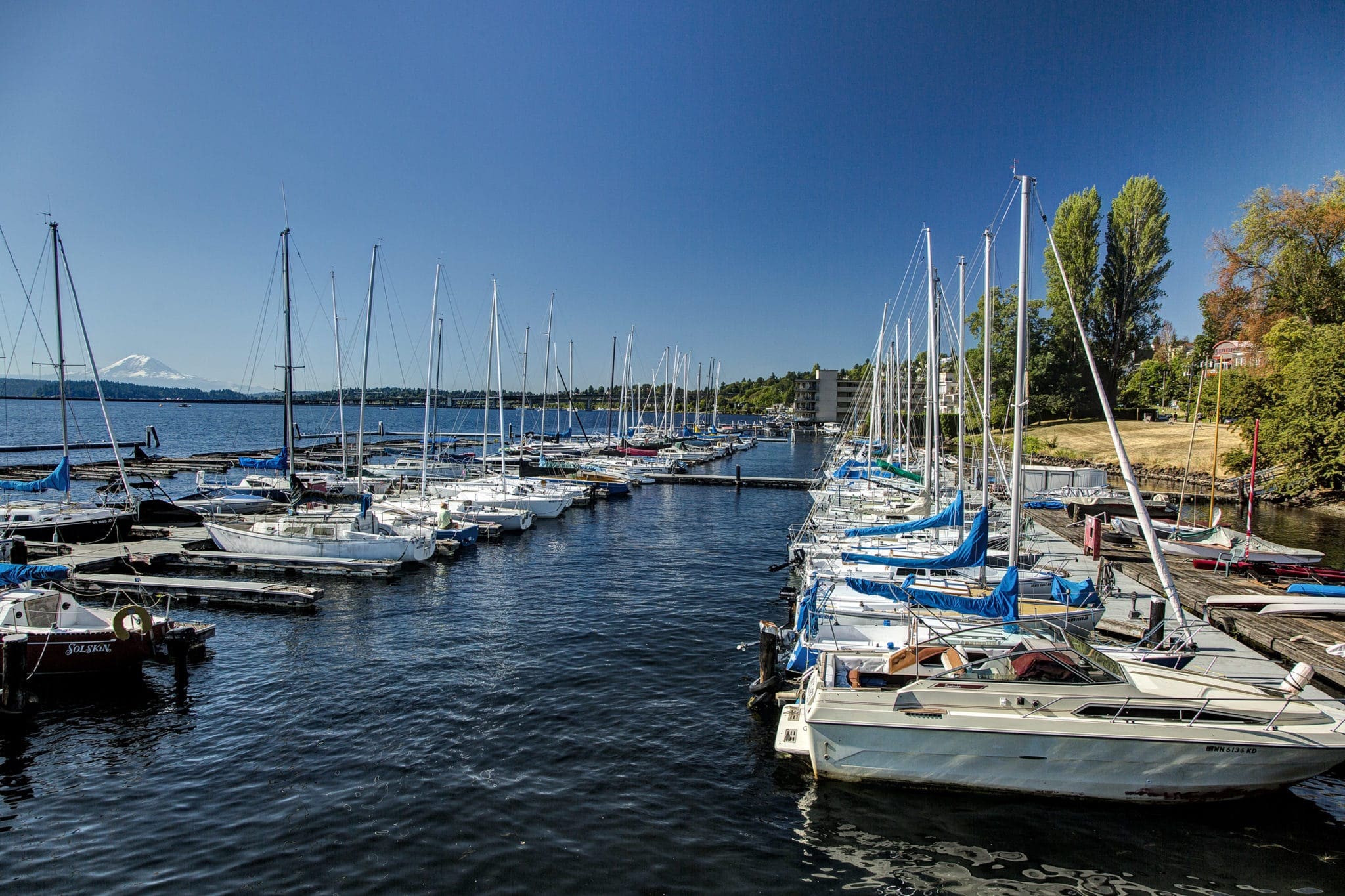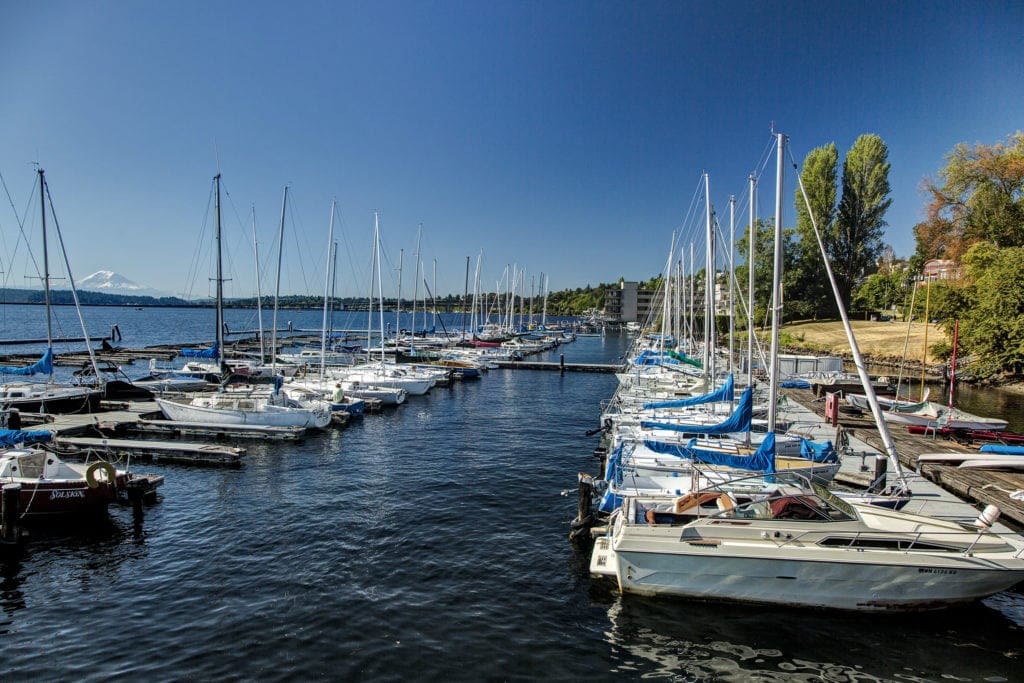 Seattle is surrounded by water, and in summer the lakes and Puget Sound are bustling with boaters out soaking in the sun and spray. That can work up an appetite, and some waterfront restaurants are accommodating to those who want to sail in for a bite. Competition for slips can be stiff and requires more than a little luck if you have a larger boat, so it isn't always practical for boaters, but there is something fun and romantic about going to dinner directly from the water…or just seeing the boats come and go if you are a landlubber.
Here are some restaurants with dock options in and near Seattle.
Lake Union
Lake Union is lined with marinas, houseboats and parks. It joins Lake Washington and the Puget Sound via ship canal and Ballard Locks. Seaplanes fly out of it, kayakers and paddleboarders circle it, the Duck Tours noisily putter trhough it, and on Tuesday evenings it is filled with sailboats for the weekly Duck Dodge. It is a busy spot, and the docks surrounding are no exception. Getting moorage for large boats is next to impossible, so if you have a dinghy, it might be better to anchor somewhere quieter then motor in.
Westward made waves nationally when it opened last year near Gasworks Park. A small slip nearby allows boaters to moor and walk up to enjoy raw oysters and ample outdoor seating looking out toward downtown over the water. On the opposite end of the lake, in the Chandler's Cove retail and marina complex by South Lake Union Park, there are more moorage opportunities and traditional dining with Daniel's Broiler and Chandler's Crabhouse, which both have large windows offering a sweeping view of the lake down toward Gasworks and the Aurora Bridge.
Elliott Bay
Elliott Bay is of course much larger than Lake Union, and the ship canal and the choppier saltwater makes it a more adventurous outing for boaters—all the more reason to reward yourself with a good meal. Palisade on the south end of Magnolia adjoins Elliot Bay Marina. Small to mid-sized boats can slide into a few slips for three hours for just $5. (Bigger boats have a few options, but taking the dinghy in seems the best bet.) The elegant, spacious interior is a perfect place to relax and enjoy Northwest cuisine in the middle of a long outing on the water.
The same can be said for Anthony's on Pier 66, directly connected to downtown. The Port of Seattle runs the adjacent Bell Harbor Marina, which has ample slips (though it is first come, first served, and by late afternoon, many will be taken by those wanting overnight moorage).
A less busy public dock is just across the bay on Bainbridge Island. The 200-foot City Dock is available to vessels up to 70 feet in length for cheap ($0.10 per foot for 0 to 3 hours, $0.50 per foot for 24 hours) and allows you to walk easily to the Marina District, which has several dining options, including Doc's Marina Grill, serving surf and turf options. Have a larger boat? There are plenty of nearby anchorages which put you within dinghy-distance of the marina.
Lake Washington
Lake Washington is the quietest option for a day of sailing, in part because it has far fewer moorages (especially public moorages) along its primarily residential shores. It doesn't allow for much permanent anchorage, and it isn't a federal waterway. There are thus also fewer options for dining on the water, but a few stand out.
On the western shore of the lake in the Leschi neighborhood, a historic marina allows for easy to access to Blu Water Bistro and Daniel's Broiler. The main dining room in the converted boathouse of Daniel's offers panoramic views of the Cascades and Mt Rainier over the water. No wonder it has been a destination for diners and romantic dates since 1980. Blu Water Bistro has a more casual vibe, with TVs (often playing sports) and a menu of comfort food served late.
Across the lake and to the north, Kirkland's Carillon Point waterfront has several dining options. The Beach Cafe has a spacious interior with high windows looking out onto its large patio, all overlooking the lake. The kitchen is open early for breakfast and brunch, then lunch and dinner into the evening. bin on the lake offers Mediterranean-influenced cuisine and a wine list with 40 options by the glass.
If you plan to moor your boat here, contact the marina in advance to arrange a guest slip on the 400-foot day-use dock. Smaller, 34-foot slips may have a wait list (especially for busy weekends), while slips up to 60-feet may be more available. Anything larger than that…plan to dinghy in, but still contact them to know the best options and make your trip in stress-free for everyone. Get more information on the website.
Happy sails and cheers to summer in Seattle!