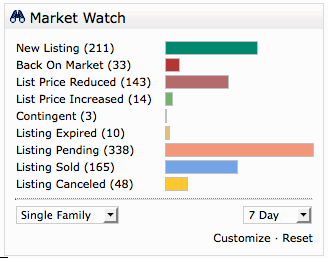 Diva Kim attend one of her first Management meetings last week at the Coldwell Banker Bain HQ. One of the points that came out of the meeting is that right now in all of King county there is only two months of inventory. In the surrounding counties we are still at an all time low of three to four months of housing inventory. Bottom line, this is the lowest inventory has been in Seattle in a very very long time. So what does this mean for the Diva peeps on Capitol Hill or some of our other favorite hoods?
Shadow Inventory – What Inventory? We have been working through this market with some really frustrated home buyers who cannot find a house or have been outbid in a multiple offer situation. They often ask us "What about all of those foreclosures?" or as we call it in the Real Estate world "Hidden/Shadow Inventory". Well believe it or not the 206/Seattle area has a very low foreclosure rate. Do not expect a magic bullet to fix the inventory problem any time soon. The Wall Street Journal had a great article on this issue that we think is well worth the read. The part that resonated with us smarty pants gals was the following excerpt: "There are several reasons why the shadow inventory isn't as scary as it sounds: It's concentrated in a handful of markets—it isn't inherently a national phenomenon. It is being offset by improved demand, particularly from investors. And the housing vacancy rate is low, a product of very little new home construction over the past few years that could counterbalance continued high inventories of foreclosed homes." Read the whole article at the Wall Street Journal Blog>
Rising Rents – Rents skyrocketed 10% from July 2011 to July via our friends at Trulia. Every day we get a call from someone who is moving to Seattle and cannot find a place in many of our urban neighborhoods. At the same time we have gotten calls from our friends who are renting on Capitol Hill telling us that their rent was just increased from $1,200 to $1,500 for a two bedroom apartment. We tell them to sign a 48 month lease and count themselves lucky! Right now you would be lucky to find a decent two bedroom for under $2,000 on Capitol Hill.
Seattle's Population Grows by 2% in One Year – Many of these peeps are moving to Seattle's core central neighborhoods and adding pressure to the rental market. As the rents rise more and more folks are making the decision to go from Renting to Buying which is also contributing to the super low inventory for good homes in Seattle. Great little article with some hard numbers which of course gets the nerd in us going>
Expect Multiple Offers in Seattle's Core Neighborhoods – One of my super adorable Diva Dweller's was recounting the experience one of her friends have been going through trying to find a home in Seattle. Now mind you the friend was not in the Diva Dweller club. And as many of you know – we Diva like to win and know how to be successful in any market. Basically, the friend was one of FIFTEEN offers on a home in Ballard. They offered 20% over asking and still did not get the house. The NWMLS just released a press release once again siting low inventory and awesome mortgage rates as a factor for the hot cha cha market >
According to Ms. Barb Hindle, the Diva of our Capitol Hill CB Bain office, we will  more than likely not see an increase in inventory until there is about a 4-10% increase in prices. Ok Diva Dwellers and Divotees – do not get discouraged. If you are in the market to buy a home in Seattle right now trust that the right house will shows up at the right time. Plus, the Divas will be ready to jump for the goal and score you that big win when it's time! Sellers – trust that the bleak days of long market times and brutal concessions are coming to an end. Soon you will be able to make the move you've been waiting for since 2008!