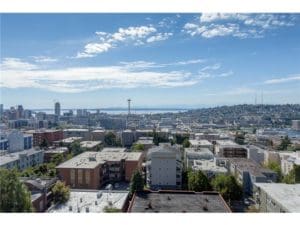 Lead me to the Lamplighter is right this week. It has a pool! With the fantastic warm weather we have been having lately that should mean "nuff said" write me an offer. This week's Listing of the Week is Unit 1001 in the Lamplighter located at 505 Belmont Ave E. One of only a hand-full of high-rise condo buildings on Capitol Hill this mid-century wonder is one of the most coveted buildings on the hill. 
As an end unit on the 10th floor it offers panoramic views stretching from North Seattle, capturing all of Lake Union and Queen Anne, sweeping all the way through to Downtown. The Olympics provide a majestic backdrop to the Space Needle which is beautifully framed by South Lake Union and big blue sky. I often rave about western views at various condos on both Melrose and Bellevue Avenues. There are some fantastic buildings on those streets. The one downside to those locations can be their proximity to the freeway and the noise that usually accompanies them. The Lamplighter is nestled deep enough on Capitol hill that it does not receive all of that noise pollution, so the outdoor lanai can be enjoyed in blissful peace and quiet.
Of course most people don't buy condos just for the view. The living space is usually the most important factor in the buying decision. This unit has two good size bedrooms and a spacious and comfortable living and dining area. The owners have taken excellent care of the space and left a clean blank slate for the next owner to turn this into something breathtakingly fabulous and out of this world. Hardwood floors, a little kitchen and bath upgrade would make this a truly luxurious oasis in the sky.
Spectacular views, spacious living areas, in-unit laundry, a garage parking spot, available guest parking, all yours starting at $399,900. Oh, and did I mention there is a pool? What a fabulous listing brought on exclusively by Shane L Ristine at Windermere Real Estate Co. and Steve Foss at Windermere R.E.N.W Eastlake.
I know this wonderful unit will fly off the market fast, so if you are looking for an amazing place on the hill this is it. Everything you could want is here waiting for you. Cheers!
Rocky Flowers
Team Diva Real Estate
Coldwell Banker Bain
Teamdivarealestate.com
Photos by
Gordon Wang Photography http://gordonwang.com