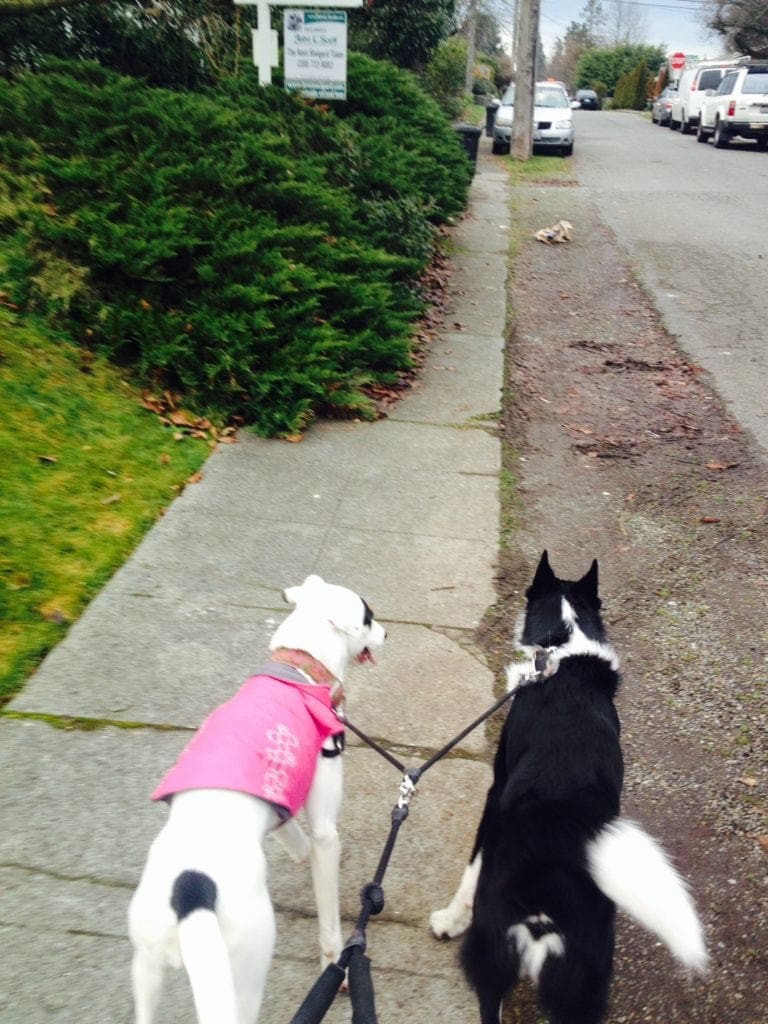 As many of you know we recently adopted a second dog named Daisy to join our insanely busy household. Daisy joined the one-year-old Hollis and the two old cats as part of our critter loving Chez Diva. Originally, we thought that Daisy would have a calming effect on Hollis being the older more mature dog. But no! Every morning we wake up to Daisy and Hollis snuggling up and playing on top of us. So to remedy this crazy situation we have taken up walking the neighborhood every day. Sometimes three times a day if the dogs are especially crazy. I am sure it is not a cute sight as two dogs get bound up with Kim, their leashes, a dog on the other side of the fence and me. Nope not pretty at all. Not cute. But boy do the dogs need the walks.
Most folks are working at traditional jobs when we are out and about. Cause who is home at 10 in the morning? Instead of meeting neighbors we meet houses. And the occasional dog on the other side of the fence. This morning was typical. Dogs running crazy and finally after a couple of blocks calming down. I passed a bunch of houses that had all of recently sold and are in the process of being fixed up. It feels like there is a construction dumpster in everyone's driveway. It is not surprising considering Seattle's comeback. But for our neighborhood it is an intensely gratifying and humbling experience to see this much optimism after what felt like an endless time of real estate wasteland.
During the Real Estate War (as we like to call the recession) our neighborhood was hit hard. South Seward Park is a strange area where million dollar estates are two blocks from Rainier's run down apartment buildings. Our hood saw a lot of predatory lending practices during the height of the market for many immigrant families. Their homes were one of the first to become foreclosures. Following the first wave of distressed homes we started to see many gentrifying homesteaders short sale their homes to move their families to less crime-ridden neighborhoods with better schools. And you know the story. Distressed homes became a virus that spread throughout our neighborhood. As a professional in the business, it was intense and horrifying to see what was happening to our neighbors and friends. It was hard to not take the whole situation so personally. After all I am one of those people in my industry that loves home ownership. I love everything about owning a home. The projects. The garden. Remodeling. Or the occasional not so nice thing like one's roof failing and water pouring into the home on a cold November. I take it all and wouldn't trade it for anything.
Obviously watching so many people lose that sense of house love by choice or by circumstance was horrifying.  Well guess what happened in five years time? New neighbors bought those distressed houses. Down at the end of the block we finally have a new neighbor gal who is so nice and watches out for us gals. Behind our house we have a new couple that just moved in who wave as we come and go. And the last remnant from the war finally closed about a month ago. At the end of our alley a young women bought the house that has been empty for almost three years. First it was abandoned. Then it was a short sale. Then some hooligans used the front window as target practice. And finally it became a foreclosure. And my favorite is the young woman we met on a dog walk who was moving into her first house. It took close to four months for the short sale to close. But the house was all hers and you would have thought she won the lottery!!