Earlier this week, at our Coldwell Banker Bain Capitol Hill Monday morning meeting, we had a guest speaker who was here to sell his system of awesomeness to desperate struggling real estate agents.  But wait – we are not desperate. Nor was his system awesome! In fact it was just smoke & mirrors! In fact it was actually was offensive to those of us who put in a good amount of time to elevate our clients' real estate experience through all means of engagement – including social media. Ok – Before I go off the deep end, let's start at the very beginning.
Our friend in the black suit and gold tie (rule #1 know how to dress for your audience!) came to our office to talk to us about the benefits of hiring his company to help us with our "branding." Throughout his entire presentation he talked about social media and how we real estate agents should "get on board." And the best way to do that is by paying his company $700 for their seminar where we will find out how we can spend another $10,000 on coaching and branding. His rationale? That $10,000 will just pay for itself. At the end of the conversation I asked him specifically what his twitter handle was. The response: "Well – I have my GIRLS do that for me". Seriously. No offense but how can you tout social media if you 1.) Don't even know your own Twitter handle and 2.) Don't do ANY of your own tweeting!  Are you telling me that I can spend a ton of money only to learn how to NOT engage with my peeps? And on top of it how freaking sexist can you be!
I was so mad that I decided to share with my cohorts the "Secrets" of making better connections with your peeps and doing a better job at creating community. And I am going to do it with my current favorite song Let's Have a Kiki by the Scissor Sisters playing in the background ala Diva Pal Sean Carpenter (he has the best real estate lists to songs and his blog is a must read for any of us in Real Estate).

Dive, Turn Work,  – Honey | Here are the real secrets for being awesome at Real Estate!
Step 1: "Dive" Into Social | Just Get Over Your Bad Self and Do It! Many people may not know this but Facebook saved my career in Real Estate. I dived into real estate in 2008 while the market was crashing. My very first open house no one came. Not a soul! And while I was picking up my signs a guy on a bike rode by and said to me "well – looks like it is all over". Ahhhhh – I had just quit my good job at Starbucks to make a go at this real estate thing with Kim. So, I started using Facebook to invite my friends to my open houses. I created events. I talked about what I was doing and I dove into social media!
Our Diva cohort Roger is in his 50s and decided last year that he was going to re-do his brand and created the cutest concept ever: "Mr. Roger's Neighborhood." He is like every other hard working agent out there. Working his list and working with USAA clients. But he wanted a better connection with his people. Roger took Debra Trappen and Linda Aaron's Designing Your Digital Plan and freaking transformed his business. He went from being a good agent to a Top 5 agent in our office in one year! The way he did it is by getting him self a blog, developing content and communicating that content through his Facebook, Twitter, G+ and other social channels. It is slow going but he is keeping at it and the work is paying off!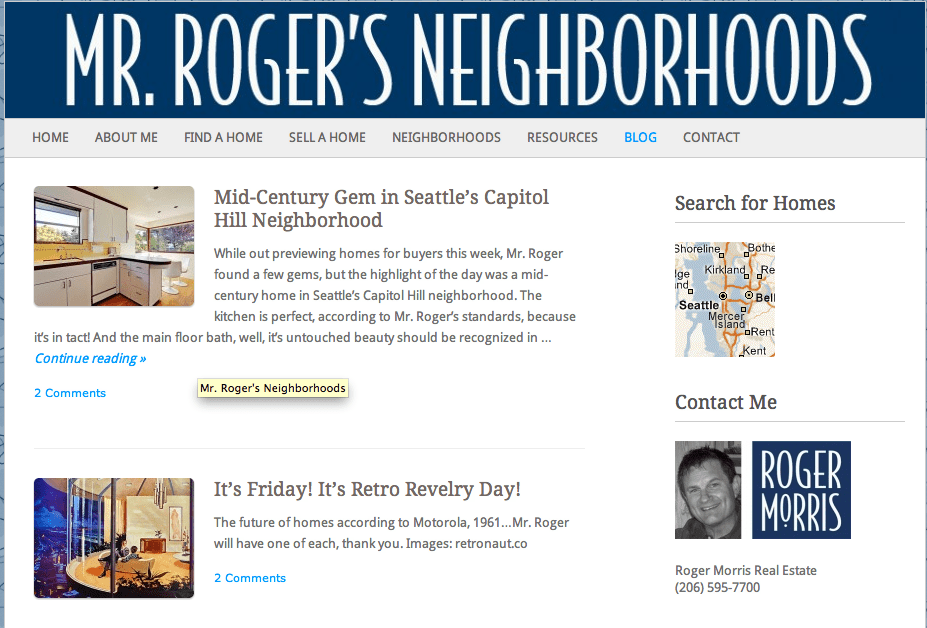 Step 2: "Turn" This Boat Around And Start Doing Business for the New Market! Seriously, just because the market is coming back does not mean that today's buyers and sellers do not expect you to have turned yourself around. Folks now expect you to be connected and accessible. They want a juicy look in how you present your houses in real life and on the interwebs. They want to connect with you. They want to review you. Think about it as Match.com. Home Buyers and Sellers these days want to check you out online before they can commit and trust that you are the right person.
Here is a sampling of everything we Divas do to provide our sellers with additional opportunities to promote their homes, buyers with extra information on inspections, newbies on how to find us, and existing Diva Dwellers on how to make their homes fabulous. We want to be engaged with our peeps!
Where is the DivaHQ?  On The Interwebs! We totally love our website that Craig Labenz designed based on the brand guidelines that Noel Gaudette developed for us. Now we work closely with our Design guru Ricardo from Studio 5 Design to create campaigns and implement the Diva vision. If you look back at the earlier versions of our website you'll get hints of the Diva Design now but it was not as refined as it is now. But – so what. We "Team Diva" are constantly progressing. Diva Kim did an awesome job back when she was 'Ms. Real Estate Diva' of developing her brand, creating a following and community non-profit partnerships and generally just being awesome. Together we took all of that and created the Team Diva Real Estate website and blog. Even today we are not sitting back resting, we have Diva Web 4.0 in the works. Branding is a continual process of development and exploration. It's not about the destination – it's about the journey! Always keep innovating, creating and presenting great work visually. Your clients deserve the best!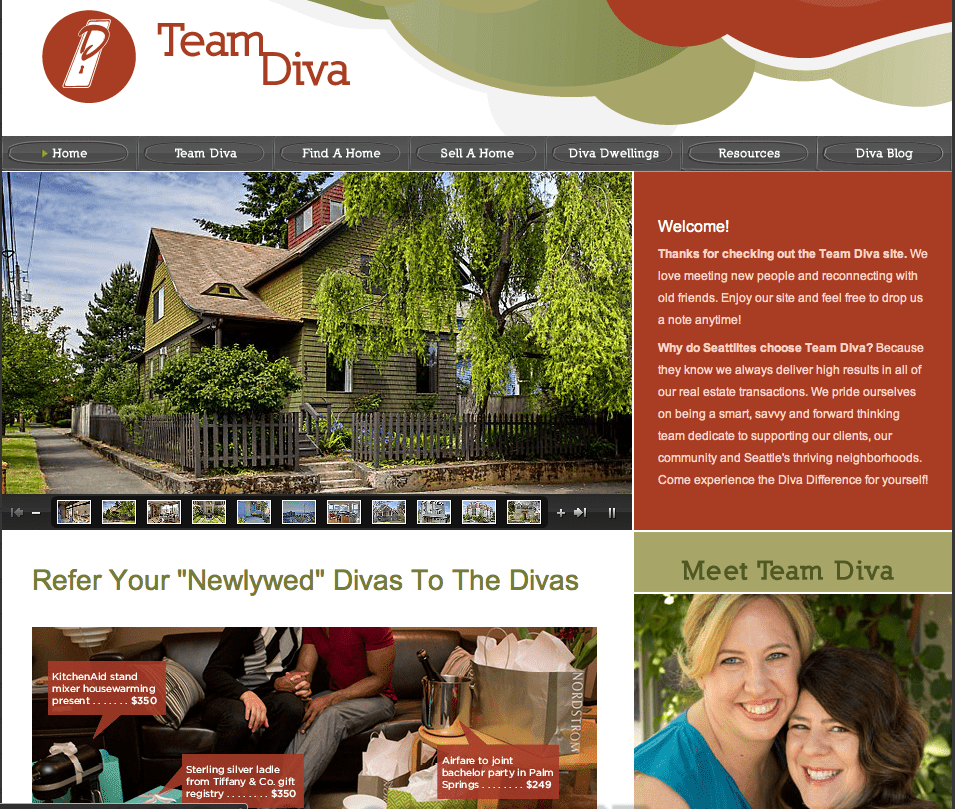 How Do Folks Find Us? Reviews Of Course! Get your face on Yelp!, Zillow, Trulia and Google+ and have your core 'I love you forever' clients give you a review. Those who love you want other people to know how awesome you are. Once again, engage with the people that love you and not the guy in the gold tie who wants to charge you $10,000.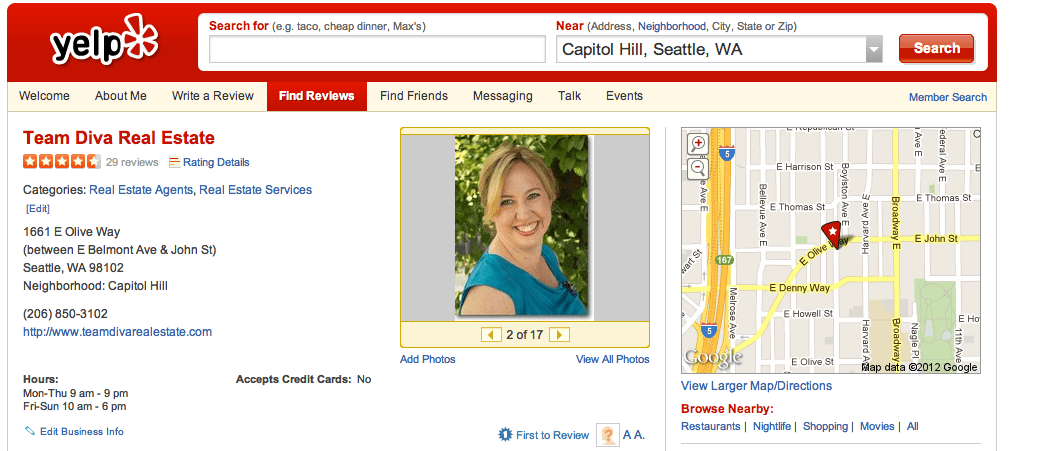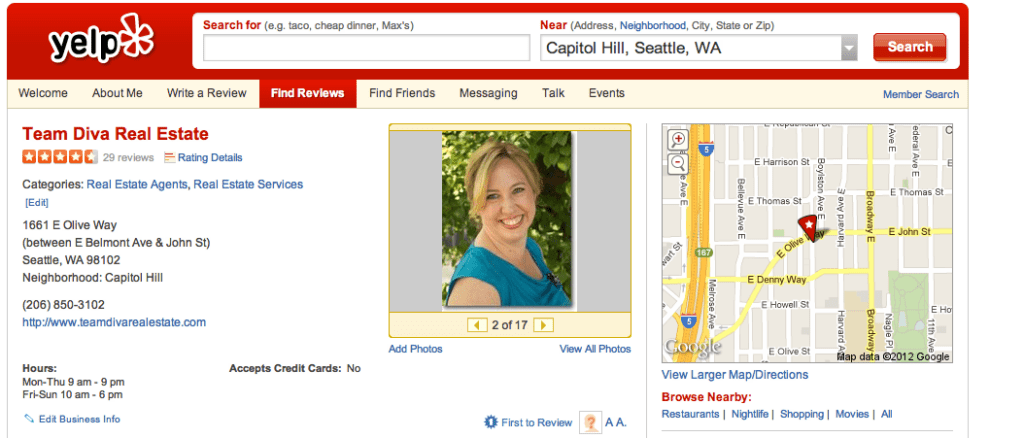 How Do we Stay In Touch With Folks? Our fabulous Diva Dweller e-Newsletter Of Course! Driving back from my parents house in Oregon, Kim and I stopped into this cutie shop called Office in Portland. We signed up for their newsletter and fell in love with it. Then we fell in love with the cute little Emma Email character and found out that it only cost $25 a month with a $250 start up cost. Well – my freaking open house that no one came to cost me $250 to send out a post card to the hood that ended up in recycling bins all over the city. Our very first newsletter went out to our friends, family, my former co-workers, and anyone else who would give us their email. Four years later it is awesome and we love Emma. They are amazing partners and create live and engaging ways for folks to stay connected to the Diva Family.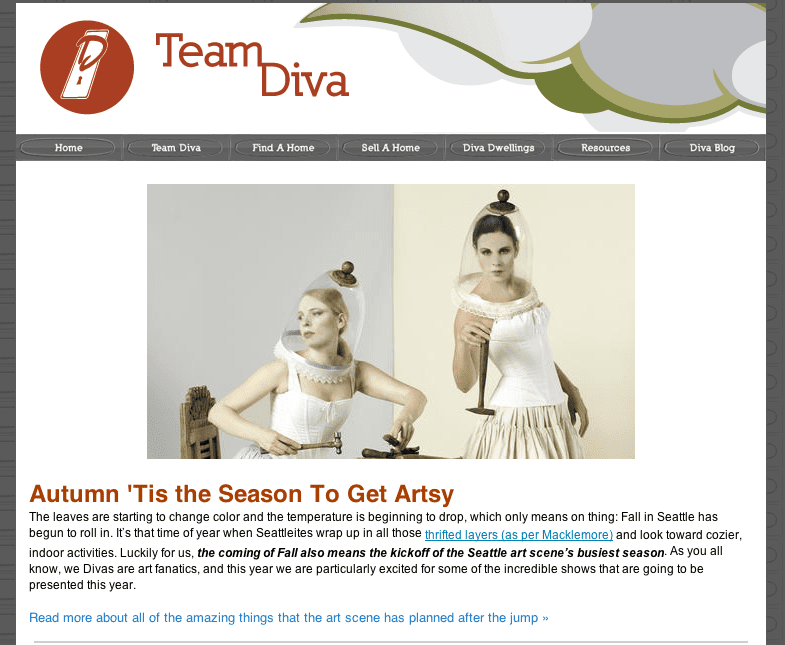 There is a lot more we do. But these are the basics. We are closely integrated with many nonprofits in the area and believe strongly in our small business pals. Hence we do campaigns to support their work. A stronger Seattle makes for a stronger Team Diva! Do not get overwhelmed! It has taken us years to get this off the ground and running. Just choose one thing for a month and make it work. Then do the next thing. But YOU HAVE TO TURN THIS BOAT AROUND!
Step 3: "Work" Sorry There Are No Short Cuts In Life! Just like any good drag queen will tell you, "You betta work!" The agents I see who do good business come in every day, know their market, stay in contact with their people, and treat this job like a business. We love our peeps. We want the best for them and will do whatever it takes to make any market work for them. Sure – you can take the easy way out and pay $10,000 of your hard earned money to the guy in the gold tie – boom – have a brand. Or you can take this seriously, do ethical work, stay educated, take advantage of the benefits your company provides you for free and get it done! Team Diva believes strongly in the value of detailed business planning, and – we have no problem paying for talented design and web professionals to help with our branding. But – in the end you have to be authentic and do the work! Write the blog posts, tour homes, and understand market metrics. No shortcuts!
The bottom line is that you have to go out and do your very best every day for your clients. You have to create opportunities to make your community a better place to live. And you just have to "Dive, Turn, Work, H-H-Honey!"