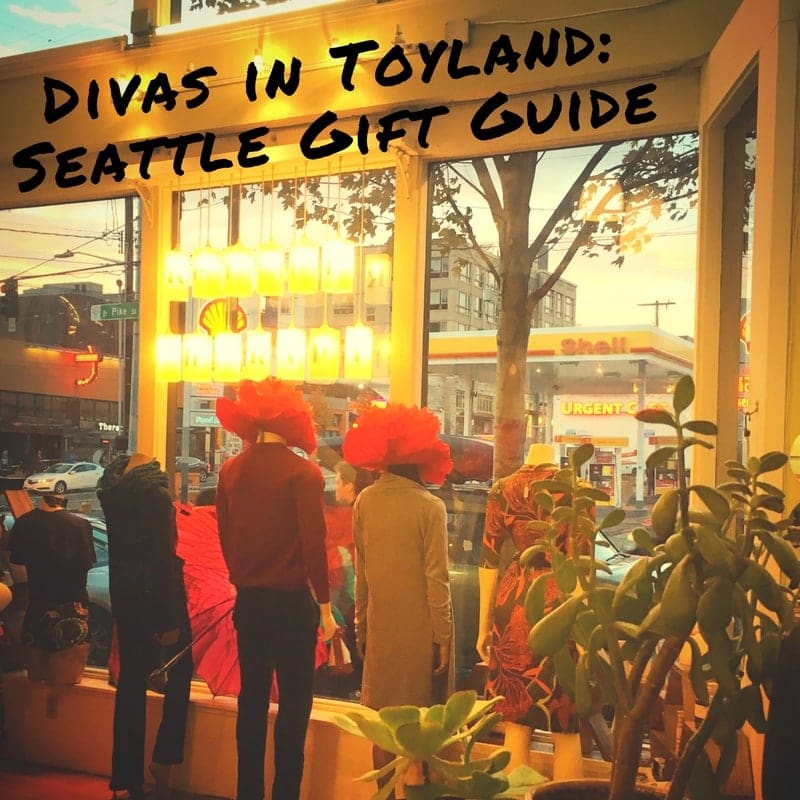 We have asked each member of Team Diva to suggest a few spots around town that they love. In many cases, it's not just about what the shop sells, but who is selling it. These business owners are passionate about what they are selling, especially when the goods are coming from local designers and artists.That makes the shopping experience more engaging and it can make the gift even more special.
If you know our team, you know we are each have a different style, so this guide appeals to a broad range of tastes. We do all have a few things in common: We value a sense of humor, good craftsmanship and creativity. So…
Start at Retail Therapy
The team unanimously picked Capitol Hill's Retail Therapy. Team Diva has a personal connection to it, as it was the site of our first Divas Take the Hill party and other events to follow, but it's also just one of the best places to shop for gifts year round. The selection of clothing (including cute undies for the guys), gorgeous locally designed jewelry and accessories, fragrances, novelties and sassy stationery make it a one stop shop for many occasions. Owner Wazhma Samizay is a fixture of the community and always warm and helpful. If you haven't checked Retail therapy out before, now is a perfect time.
Rocky's Picks
Our fashionable Diva Dude Rocky suggests Loft63. This downtown decor shop is the perfect place to go hunting for gifts for fans of mid-century modern design. You'll find both new and vintage furnishings, beautifully displayed alongside contemporary art and home accessories.
Roy's Picks
Our resident visual artist, Roy, knows where to look for the bohemian, creative urbanites. E. Smith Mercantile in Pioneer Square has loads of PNW-lifestyle wares (plus a great back bar and jars of yummy candy by the register). Wall of Sound is a Capitol Hill institution and a great place to discover new music from local and international acts. Over in Ballard, Prism is an airy, beautiful boutique packed with high design items for home and wardrobes. Also in Ballard, The Palm Room is a green oasis of houseplants (and stylish containers for them).
Michael's Picks
Our resident performing artist, Michael, loves the nightlife and entertaining. He also has the gift of gab, so here we'll include his ode to Pike Place Market, his all time favorite place to shop for gifts.
Having worked there I saw a lot of the market life and got to know the producers and creators of many of the goods. Sotto Voce has delicious olive oils, a nice balsamic and some vinegars that I love to cook with—and they pack for shipping! The wonders of Sur la Table never cease to be a fun exploration of gadgetry.
The market is a labyrinth but is perfect for holiday shopping, especially when maybe you're not sure what to get someone or are looking for truly unique, fun, useful items that scream Seattle and are locally made. Grab a coffee and take a reusable tote bag or two. You can do your weekly grocery shopping while you walk the main street level. I guarantee something will catch your eye and will be perfect for that special someone you're shopping for!
If the market is too busy for your tastes, he also recommends
Sugar Pill
and
Retrofit Home
on Capitol Hill. Sugar Pill is brimming with medicinal herbs, great bitters for cocktails, deluxe chocolates and so much more. Retrofit Home is not just a great place to shop for gifts, but also to get inspired for home projects for the new year.
Dorcas' Picks
The newest member of Team Diva, Dorcas, loves making a cozy hearth and home with personality. In addition to offering lots of goodies for home and office, Fireworks in Pioneer Square has all you need to give your own home some serious holiday flair. Over in West Seattle, Click! Design that Fits meshes modern furnishings and stylish accessories in one space. Twilight Gallery also offers lots of jewelry from some of Seattle's most acclaimed local designers. It's ideal shopping for someone who loves a good statement piece.
The Divas' Picks
We love it all—entertaining guests, decking out the home, glamming up our own looks, eating good food. (I guess what we're saying is, we're easy to shop for.) But this isn't about us! Our own picks run the gamut.
Hitchcock Madrona – Not just a boutique, but also a design studio featuring gorgeous accessories by the proprietors.
Sell Your Sole Consignment – A super chic consignment shop in the heart of Belltown where you can find designer items at a fraction of the retail price
Silver Platters – The legendary Silver Platters (now in SoDo) has a massive collection of records and CDs that you could spend hours exploring
Card Kingdom – Our favorite place to shop (and play) table-top and board games. (It's a fun Ballard hangout, too, not just a shop.)
Easy Street Records – Another spot that doubles as a hangout, known for its iconic marquis, murals, window designs and, of course, a killer selection of music
Retroactive Kids – We can't forget the kids! We love this shop's

vintage-style kids' books, clothes, games, and toys.

Vino Verite – Our go-to wine shop, thanks to its reasonable prices, carefully edited selection and very knowledgeable and friendly owners
MOMO Seattle – This may be one of the cutest shops in Seattle (and definitely in the International District). It carries gobs of hip, PNW-designed gifts, as well as high-style clothing brands from around the world.
We wish you happy hunting for great gifts. May it be a joyful experience from the moment you walk in the door of the shop to the moment your friends and loved ones unwrap it. Happy holidays to you all from Divaland!