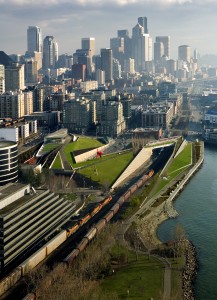 There's nothing that we Divas love more than a night out, full of entertainment, nibbles, and a cocktail or two. Especially with the fall coming, we are starting to look back into many of our favorite indoor hangouts. Belltown is one of those hoods that offers just that – some cozy hangouts with hot comfort foods and a little bit of liquid warmth to accompany it.
Originally a low-rent, semi-industrial arts district, Belltown has since transformed into one of the most high-priced hoods in the city. Due to its history, it still retains much of its "bohemian" identity, a home to trendy restaurants, boutiques, art galleries, and nightclubs. The vast majority of Belltown locals are young, up-and-coming professionals or older retirees – all of which tend to be apartment/condo dwellers due to the virtual nonexistence of free-standing homes. In fact, in 2007, CNNMoney named Belltown the best place to retire in the Seattle area due to its location, variety of stores, and walkability – it has a walk score of 97!
But as we all know, a walkable hood is nothing without things to walk to. That's why we love Belltown – it has everything you could ever want or need within the radius of a few blocks. We particularly enjoy the eats that speckle the area sprawling North of Downtown without the Downtown bustle. Voted the best breakfast in Seattle a couple years back, Lola, a Tom Douglas restaurant, leaves nothing to be desired – especially if you order the fresh-baked doughnuts from its sister bakery, Dahlia Bakery. For more late-night (or midday) nibbles, we have been hearing a lot about List. Rumor has it that this place has the best happy hour in all of Seattle – not only are there $2.95 beers on tap, $3.75 wine, and 50% off ALL food items, but on Sunday and Monday, Happy Hour is ALL DAY LONG. Definitely worth checking out.
Want something to do between breakfast and happy hour? Well luckily nobody has to leave Belltown – it has plenty of unique little boutiques so you can shop 'til you drop and pick an outfit for the perfect night out. We can always rely on Endless Knot to supply out closets with some beautiful new dresses or finding unique new consignment pieces at Sell Your Sole Consignment Boutique. Need a makeover? Head on over to Milagros SalonSpa to pamper yourself – you can even request Diva Pals and personal Diva stylists, Oliver Villafuerte and Dru Osler, for a facial and a new hairdo. After finding your new outfit, head on down to the Olympic Sculpture Park, a free outdoor sculpture park with both permanent and visiting installations. A perfect spot to enjoy an lovely fall afternoon!
As the day wears on and the night rolls in, Belltown fills up and we look to its thriving nightlife. Now remember – Belltown is hip (not to be confused with hipster). That means slap on a face, do up your do, put on you heels (and maybe even fire up the smoke machine, Kiki style!) because it's time to turn heads, see and be seen. One of our favorite places is the Amber Lounge. Complete with a happy, healthy amber glow lighting up the room, this place serves up creative cocktails and dancing all night long to keep everyone going. Like things a bit more relaxed and chill? Maybe head on over to the super secret, speakeasy style bar, Bathtub Gin & Co. An absolutely tiny hidden gem, this cute little place holds probably no more than two dozen peeps, so if you want in, don't show up with a huge entourage – just take it as an opportunity to actually meet new people in a bar setting where you can talk, not yell.
Overall, Belltown just really is the perfect location for a self-indulgence day. Have a day off? Have people visiting from out of town? Just have some cash burning a hole in your pocket? Just head down to Belltown for a quick fix for all.