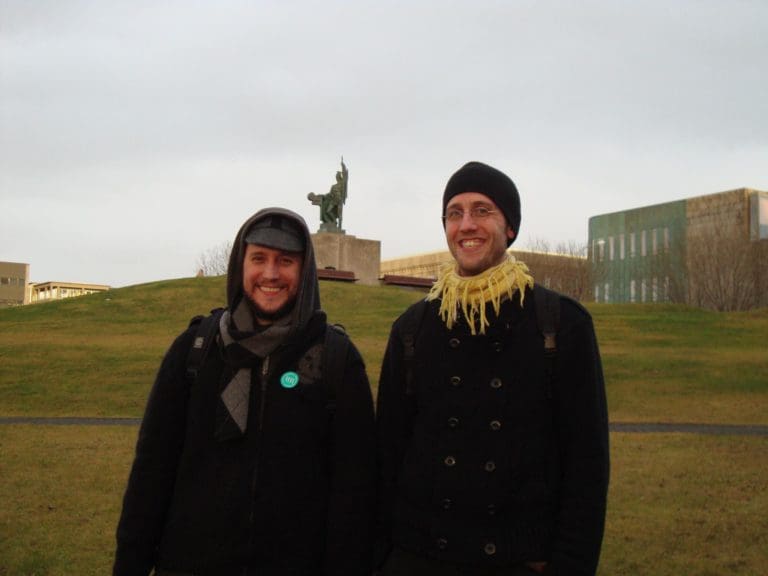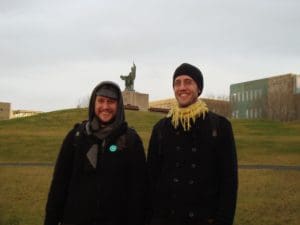 Justin and Adam just finished up being one of our incredible sponsors at this year's Divas Take the Hill event where we raised $2,500 for Washington United for Marriage. Although Justin and Adam supported the event, in many ways our event was actually inspired by them as well. Early on in the creation stages of their Cellar Door Mercantile project, they started donating funds to Washington United For Marriage. The space where they are creating these amazing tongue in cheek posters, t-shirts and cards is tiny and their profit margins are small, but despite the facts, still managed to donate a percentage of their profits to Washington United for Marriage to protect marriage equality in Washington State. The way they have utilized every square inch of their home for creativity and philanthropy is an inspiration. Here is their Diva Dweller story:
Diva Dwellers Justin and Adam
Hood: First Hill
How did you meet the Divas? We met the Divas via fellow Diva Dwellers, the Allred family.
What type of home did you purchase? We purchased a "garden-level" studio condo in the Old Colony, a classic brick apartment building constructed in 1909. The apartment is three-quarters below ground, with windows facing Boren Ave. Just like in Rhoda, we can watch the feet of people as they pass by.
What was your first "OMG" house moment? Justin bought at the height of the market and the options in his price point were limited. He looked at a handful of apartments that just weren't quite right. As soon as he walked in the Old Colony, he knew he wanted to live here – a classy, century-old building with fantastic curb appeal. When Adam moved in a couple of years later, we wondered how we — and three cats — were going to fit. All our friends thought we were nuts, but five years later, things couldn't be better.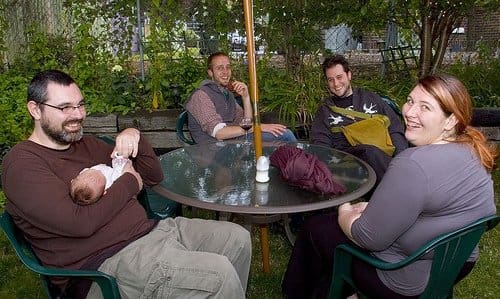 What is your greatest home extravagance? Despite being in the very heart of the city and on a major road, our home feels like a secluded, quiet oasis. With creative lighting and layout, Adam has really created a versatile space that can be a functional art studio, an inviting party pad, or a warm and relaxing retreat.
What is in your junk drawer? Art supplies, sewing and knitting supplies, more art supplies, screen printing supplies, even more art supplies, and nail clippers.
Would you rather:
Mow Lawn / Paint the Fence: Hmmmm – mow a lawn if we had one!
Untangle Computer Cords / Sort Socks: Adam – cords and Justin – socks.
Test the Smoke Detectors / Fix Squeaky Doors: hire a handy man!
Plunge the Toilet / Clean Out the Refrigerator: Clean out the refrigerator.
Clean the Gutters / Take Down Holiday Decorations: Take down Holiday decorations.
What is your favorite local organization/non-profit? Justin works in the non-profit sector; there are so many great non-profits doing such great work. Its hard to support just one! Justin has worked at 826 Seattle, a writing and tutoring center for seven years and believes strongly in its mission. He also supports Bike Works, a non-profit teaching kids about bike repair and promoting this sustainable sport. Adam adores Alleycat Acres, an urban farming collective aiming to reconnect people to healthy, fresh food.
What do you love the most about your house?  Our home may be small, but it is very versatile and unique. Not only do we and our cats fit quite comfortably, we also use our space as an art and screen printing studio and operate our home-based business. It is a crucible of creativity; the ample wall space is covered with inspiration.
Justin and Adam are some of the most creative people we know. Their art hangs on our walls at Chez Diva. Their studio makes you feel like you live in a real grown up city. And more importantly they make vegan food that is down right scrumptious. Thanks for being our Diva Dweller Hall of Famers for June!