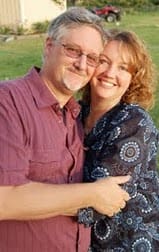 Team Diva met Deb and Dean through Divotee friend Hara. We met on a Saturday afternoon in Columbia City at Empire Espresso. They were first-time home buyers who never thought they could own a home of their own. That same day we took them out and showed them exactly three homes. The second home that we showed, Dean stopped in the middle of the living room and said "You can show me other homes if you want – but this is the one. You will bury me in this house." Wow!
When Diva Kim mentioned that our Community Partner Organization, FIUTS, was looking for host families for international UW college students last summer, Deb & Dean eagerly signed up.  Deb was waiting for her Swedish student Oskar, at the airport when she recognized our Divotee Tad also waiting for a student. They quickly found out that both their students were from Sweden and from the same school. From that moment on, a group of FIUTS hosts and Diva Pals quickly bonded together. They were going out to dinner, going to performances of Dean's band, and having brunch. Now they are all fast friends and strong FIUTS supporters. Much of this is thanks to the community minded duo of Deb and Dean.
Deb and Dean's Diva Wall of Fame Story
Hood: Seward Park
How did you meet the Divas? We met Kim and Chavi through a mutual friend and coworker of Deb's. We were soon involved with FIUTS, hosting foreign students, and were subsequently swept into the maelstrom of fabulousness that is Divadom. Our circle of friends expanded exponentially, and we've been never been busier or happier.
What type of home did you purchase? We bought a wonderful 1910 Craftsman-esque 3 bedroom/2 bathroom single-story house   with a completely finished basement. Each of us has a small room of our own, and we still have plenty of space for visitors. The front yard is a jungle of flowering plants that we love to watch bloom—it's like a super-slo-mo-4th of July out there!
What was your first "OMG" house moment? We were both amazed at how the house reminded us of our beloved previous residence in Los Angeles, only with a Northwest feel. We instantly loved how the interior walls were painted with bright, open colors that somehow match. Deb particularly digs the bold choice of painting the kitchen a blood red — something she would never have the guts to do herself. Kim and Chavi were "OMG" at the fact that we bought the second house they showed us.
What is your greatest home extravagance? It's too soon to tell yet. Now that we're homeowners, we don't have any money for extravagances! That evil catch-22.
What is in your junk drawer? That's pretty funny. This old house doesn't even have a drawer for our silverware!
Would you rather:
mow lawn / paint the fence: Hmm. One doesn't have to paint the fence but once every ten years or so, right? Sounds good to us. Besides, our neighbor mows our tiny little lawn for us just 'cause he likes us. Such a deal!
untangle computer cords / sort socks: Deb ~ Sort socks. Dean ~Untangle computer cords. In fact, this is exactly how we divide up our household chores. How'd ya guess?
test the smoke detectors / fix squeaky doors: Break out the WD40, baby!
plunge the toilet / clean out the refrigerator: Dean ~ Both activities require dealing with smelly substances, so I'd have to go with six of one, half dozen of the other. Deb's particular toward the fridge for some reason.
clean the gutters / take down holiday decorations: Judging by our neighbors, they'd rather clean the gutters. I suppose we're inclined to do the same—since we never actually put up decorations.
What is your favorite Hood hangout spot? Dean: We're both pretty keen on Seward Park, only about a 20 minute walk from our front door. I'm liking the Caffé Vita across from the PCC Market and the Columbia City Theater for music. I already miss the Columbia City Cinema! I hope whoever takes over the space keeps the films a-runnin'. Deb's "in like" with the Verve Wine Bar and "in love" with the Columbia City Farmer's Market.
What is your favorite local organization/non-profit? FIUTS of course. Its really amazing to host students from all over the world and connect with our other Saturday Night Gang of hosting families.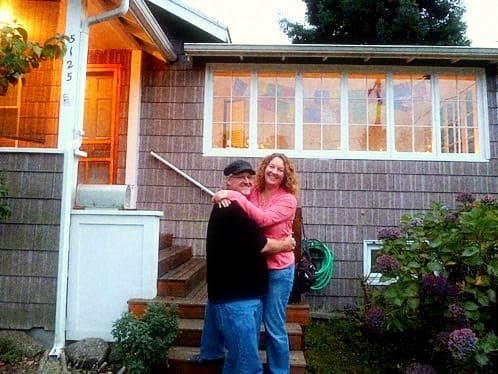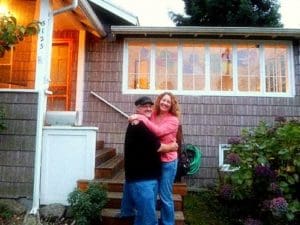 What do you love the most about your house? Love coming home and having a peaceful place to be. The neighborhood can be a tad raucous, but our house is a respite from all that. I love being so close to the Othello Light Rail station. I love that it's practically soundproofed throughout–from my room downstairs I can blast my LPs until 3 a.m. and nary a sound can be heard upstairs. All of our neighbors are terrific. There's no tension among all the different cultures that live here. It feels like we won some weird kind of neighbor lottery. I love how there's still tons of potential to the place, but it's still completely livable as is.