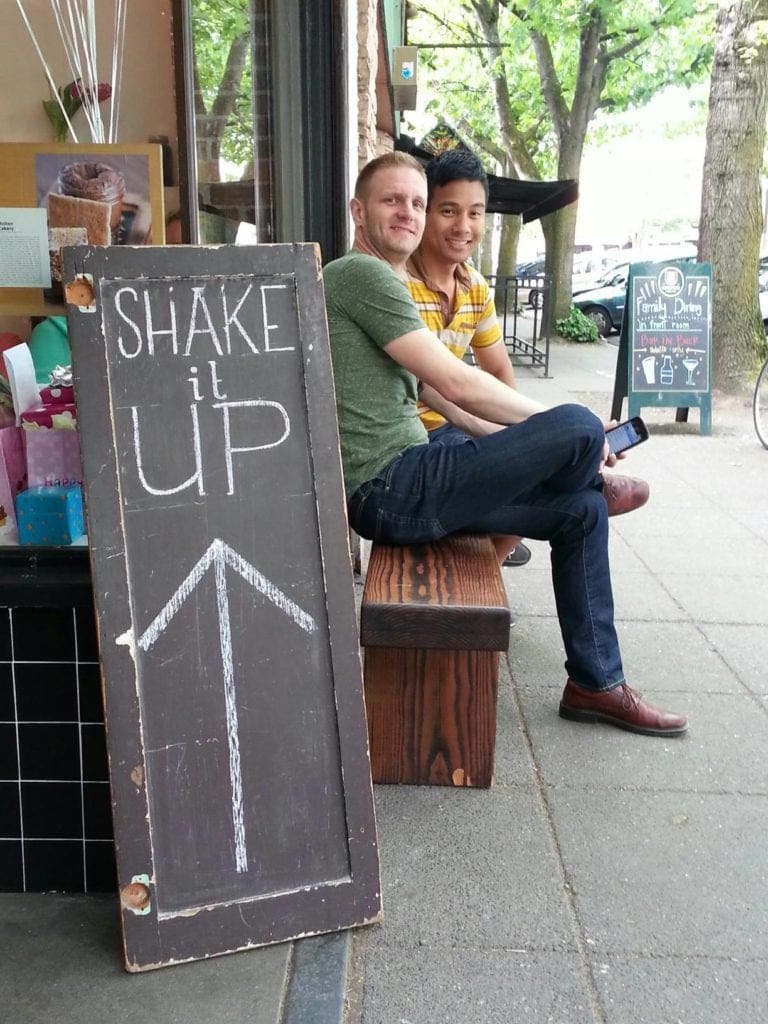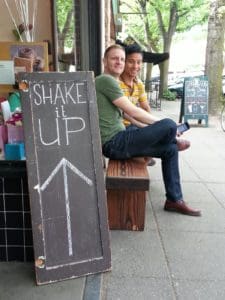 Our Diva Dweller for June is Cameron. As soon as we told him that he was Mr. June you would have thought he had hit the lottery. Cameron is an all around awesome guy and totally captures the Diva Dweller spirit. He is deeply passionate about his neighborhood and very involved with Capitol Hill non-profit PSKS (more below), the organization that is also this year's Diva's Take The Hill beneficiary.
The best part about working with Cameron was his approach to finding his Diva Dwelling. Cameron brought me a digital map of the area he was willing to live in which basically meant about 12 or so blocks on Capitol Hill. He was very focused on finding an awesome home that made sense for him from a community standpoint. It is always so much fun to look out from the Diva HQ to see Cameron and friends going to Vino Verite or to his friend's place at the Plaza Del Sol.
Here is Diva Dweller Cameron's Story….
Name: Cameron
Hood: Capitol Hill
How did you meet the Divas? I did a search for Capitol Hill Real Estate and Yelp made the choice pretty clear.  We set up a time to chat and the rest is history.
What type of home did you purchase? A fabulous condo in the heart of Capitol Hill.  Got a nice view of the Space Needle, the Sound, and the Olympic Mountains to remind me that I'm living in the beautiful Pacific Northwest.
What was your first "OMG" house moment? OMG HOA dues are expensive!  How it is possible that they don't come with complementary massage and an open bar?!
What is your greatest home extravagance? I'm a bit of a nerd, so I installed some home automation toys.  I can control my door lock, lights, temperature, etc. all remotely from my phone.  Necessary?  No.  Nifty? Yep.
What is in your junk drawer? Well unfortunately we'd be talking about my junk closet. I've got just about everything in there that doesn't fit elsewhere.  Wine storage, file storage, camping gear, sailing gear, printer, modem, router, home control, blankets, grilling utensils, extra stemware and serving dishes, vacuum, seldom used liquors (what?!), a box of potentially unnecessary cables, and a couple of boxes of random crap. Of course, this is all fabulously organized with Alfa Closeting from the Container Store.
Would you rather:
mow lawn / paint the fence: No lawn, no fence, no problem!
untangle computer cords / sort socks: Cords.  A new organization task is always more fun than ongoing maintenance.
test the smoke detectors / fix squeaky doors: Smoke detectors.  Ongoing maintenance over repairs, thanks.
plunge the toilet / clean out the refrigerator: Well, one seems a little more urgent than the other, but if I was really offered the choice – the refrigerator for sure.
clean the gutters / take down holiday decorations: HOA takes care of the former; I don't really do the later.  Simple.  Easy.
What is your favorite Hood hangout spot?  On Thursdays after work, I like to stop in at Vino Verit (Olive & Boylston) for their weekly wine tasting.  Big improvement on the standard dry cleaning pick-up errand. Panevino, just up the street from me on Broadway, is great.  The food is delicious, the atmosphere is relaxed but classy, and the service is where they really stand out.  It really makes you feel like you're part of your neighborhood when you're greeted by name by someone who knows your cocktail of choice.
I could totally go to Crumble and Flake for an early morning pasty, Sun Liquor for a relaxed weeknight cocktail, Terra Plata for artisanal (but not stuffy) dining, and the Broadway Market (for everything from a carton of milk to duct tape).
What is your favorite local organization/non-profit? None other than the spotlight charity for this year's Divas Take the Hill Pride Kick-Off Party:  Peace for the Streets by Kids from the Streets (PSKS)!  When I first moved to Seattle, I found this place when I was looking for volunteer opportunities. Now I'm a volunteer, a board member, a donor, and a cheerleader for them.
They serve homeless and at-risk youth and young adults on Capitol Hill just a few blocks from my place.  Totally Capitol Hill in their style: small, scrappy, rough around the edges, grass roots, quirky, totally effective. PSKS uses a participatory governance model and tailors services to fit each participant's needs. They take the time to get to know the kids and get them involved in the organization and the broader community.  That involvement turns into investment in their community, and as a result, in themselves.  They have something for just about everyone: drop-in hours, basic needs stuff, case management, tutoring, internships and job training, housing placement, outreach, aftercare, leadership opportunities, etc.
What do you love the most about your house? Location, location, location.  I was really happy to find a relatively new, reasonably spacious condo, in great shape with a great view.  What I love the most is that I didn't have to expand my search outside of my target neighborhood; we were able to find what I was looking for right where I wanted it.  It's nice to feel so closely connected to everything.  I can grab a bus, a cab, a haircut, a coffee, my dry cleaning, stop by a friend's house all within steps.  I've got great access to restaurants, groceries, convenience stores, and shopping.  Love it!