One of the best things about shopping from holiday markets is the chance to meet independent vendors and designers. You can truly shop local at a good holiday market. The five we recommend this holiday season are an eclectic mix, that range from big events to small community affairs.
Urban Craft Uprising at Seattle Center and Westlake
The biggest, most central holiday markets in Seattle offer something new every weekend. Urban Craft Uprising brings together hundreds of vendors and artisans each year for five weeks of festive shopping. UCU's main winter event this weekend, December 2nd and 3rd. The Seattle Center's Exhibition Hall (301 Mercer St.) will be packed with countless booths by local vendors.
Meanwhile, in Westlake Plaza UCU has 16 tents with new vendors popping in each week. The event started last week and continues Friday, Saturday and Sunday each weekend until Christmas. That last weekend, it will be open Thursday through Saturday—because everyone will be done shopping by Christmas Eve Sunday, right? Right!
The sixteen vendors this week include ElementFe (for the master chef in your life), Glint Candles (check out their Zodiac line), Imperfect Produce (down with food waste!), Mandu Dog Designs (cause Spot needs a sassy new raincoat) and NW Beard Co. Learn more and see the full vendor lists for each week on the official site.
Native Art Mart at Daybreak Star Center, December 9
As if Discovery Park weren't already amazing enough for its scenery, it is also home to Daybreak Star Center. The historical and cultural center helps preserve the story of the indigenous peoples of the Pacific Northwest. On December 9, you can see for yourself and enjoy a festive afternoon of shopping, tradition, and celebration at the Native Art Mart. You can also purchase a traditional salmon lunch and "Indian Tacos." Proceeds support the center's elders and nutrition program.
The Holiday Mahouto Market at Nagomi Teahouse, December 9 and 10
Kawaiiiiii yo! If you love Asian and Japanese pop culture, don't miss the two-day Mahouto Holiday Market. Check out the wares of Seattle and PNW artists inspired by Japan and Asia, and the "wears" of other guests. (Costumes and Cosplay are encouraged, but not required.) It's an ideal place to shop for kids who love anime, and the International District as a whole is a great place to find unique, beautiful, and unexpected gifts. If you haven't checked out Momo and Kobo at Higo, this a perfect weekend to do it.
Handmade Arcade at Tractor Tavern, December 10 and 17
This is a decidedly more adult affair. If booze appeals to you more than boba tea, head to Ballard for the Tractor Tavern's HandMade Arcade. It coincides with the weekly Ballard Farmer's Market, so expect a crowd. There will be live music all day (and the bar will be serving) so you can groove and sip while you shop.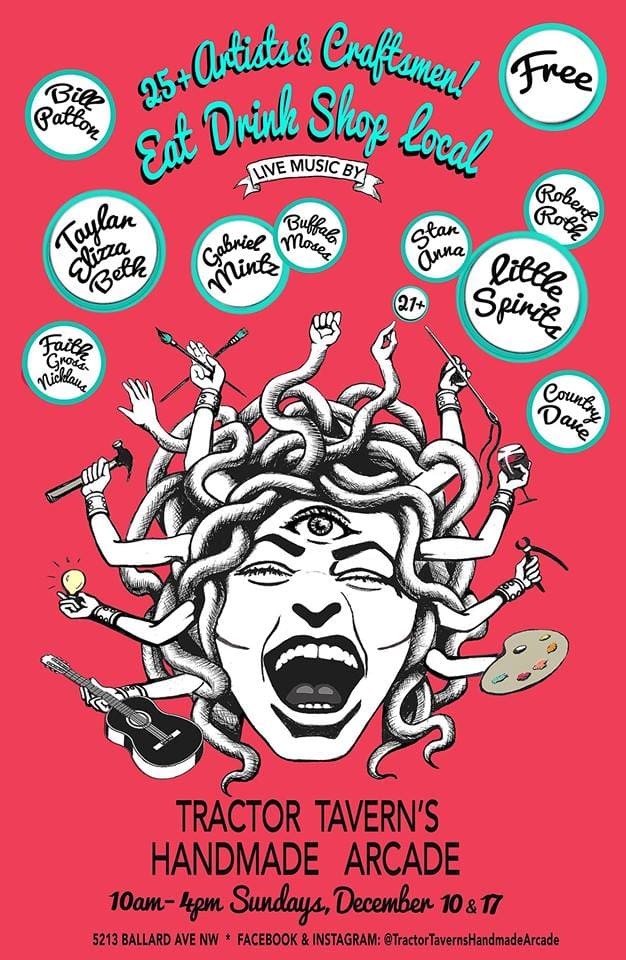 The Punk Rock Flea Market at Promenade Red Apple, December 9-10
We love a good surprise and…well, the location of this year's Punk Rock Flea Market is TBA, but we still recommend it. Last year, it took place in Capitol Hill's old Kelly-Springfield Motor Truck Company building, FKA V2, FKA Value Village, FKA REI. Since that was demolished just last week, chances are preeeeetty high that it won't be happening there. Wherever it ends up being, expect a PARTY!
Yay! Update from PRFM! The location has been confirmed and the market will be at the former Promenade Red Apple Grocery Store in the Central District (2301 S. Jackson St., Seattle, WA 98144). The times are Saturday, Dec. 9th, 12p-10p and Sunday Dec. 10th, 12p-5p. (This building will soon be demolished, so you can also pay your respects to what was a fixture of the Central District community for many years.)
This is one of the most queer-friendly, energetic, funny and wild holiday markets you'll ever find. For the friend who has everything and/or gives absolutely zero f*cks, this is the place to shop.