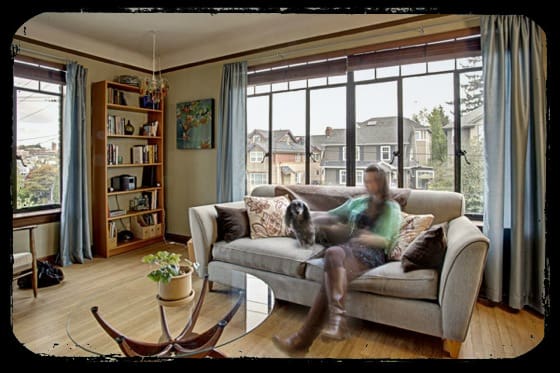 When I came home from working over seas, I had a really good chunk of change saved up. With that, I decided to rent a beautiful and peaceful, 1000 square foot, one bedroom apartment on Alki Beach, costing me at the end of the month (with utilities/rent/cable/etc.) roughly $1300. After a year, I had blown all of my savings, and had to move out of the favorite place I had ever lived. I now am in a 225 square foot studio apartment on 14th and John in Seattle's bustling Capitol Hill neighborhood (or, the "Manhattan of Seattle", as I like to call it). I pay $735/month for a glorified (but adorable!) dorm room, where I can hear everyone and everything around me. I'm close to my friends and social scene, and living in the best part of the city for a 20-something chick is invaluable…right?
Until I started working at Team Diva Real Estate, and starting seeing listings for condos and apartments around the city, and realizing something: Right now, it seriously IS cheaper to buy than to rent. I know, I know, buying is a huge commitment, and being young you want to have your options open, and we can't afford to buy anything, which is why we rent, right? If I had come home from Hong Kong with the money I had saved and bought an apartment instead of renting it, I would still be living in it, and as the ever adventurer that I am, I could rent it out while I go live in a far away country again (whenever that may be), giving me MORE income while away, and then having a for sure place to live when I get home that is all mine.It seems to me (and confirmed by the brokers and real estate agents I work with here) you need about $5000 saved up for your down payment (if you moved to Capitol Hill, you could sell your car, which is what I want to do to get that money), and make enough for having your rent (including utilities) be about $900/month.
How doable is that! Your living costs for rent are supposed to be 1/3 of what you make a month. After a 3.5% down payment, factor in insurance and home owner's dues (most even include utilities!) and a mortgage at 4% APR, you are looking at owning a new home with monthly dues of $900-$1200. If you make $32,000/year (and yes have a little saved up), you could seriously be living in a place you OWN right now. Not wondering if you can paint that wall an accent color, not worrying if you're being too loud after 10 p.m., not wondering if you can get that dog you saw online or not, and not wondering when your new dog pees on the carpet if you're going to have money deducted from a deposit.
You can hang shelves to your heart's desire, have a pet or two or maybe even three, throw parties, paint it and decorate it and refurbish it as much as you want-BECAUSE YOU OWN IT! I had ZERO idea how feasible it is for a single twenty-something (or thirty-something) to own her own place, and have it be so much more rewarding than renting, on so many levels.
For example, for those of us make about $42,000/year, check out this adorable studio that lives as a one bedroom condo in Portage Bay. I fell in LOVE with this place, with it's Carrie Bradshaw style closet, gorgeous views that surround the entire condo through huge windows, amazing location, original built ins and pane glass, rustically old fashioned kitchen, hard wood floors and romantic layout. I could totally see myself living there, hosting parties, having guests over, waking up from the sun rising in my windows and walking sleepily to my amazing kitchen and drinking coffee from like a percolator or something. I want it.
But for the more realistic 20-something, a yearly income of roughly $32,000 can still buy you a fantastic studio that is cheaper to buy than rent in popular Seattle neighborhoods.  I'm transitioning from remedial jobs to support my artistic endeavors and going back to school, but I mean come on-I know most of you make more than $32,000 a year. That is so doable. College degree or not, corporate life or hipster barista, you're going to make that if you're working full time.
Dudes. You could be living in a place more amazing than where you're renting at the same price and OWNING it. It won't tie you down, because it's just an investment that you can live-in or not-live-in-and-rent-to-your-content. Instead of the dream of owning my own place, it's a goal. A goal that can be easily achieved by all of us well before the age of 30.
Call/text/email the Divas here at Team Diva Real Estate if you, too, want to start your new life in your very own home.