Looking for an investment home in Seattle and don't know how to find a good one? I myself am always on the hunt for a good investment property. Like many people, I am interested in passive income in an area that has an appreciation in their home values. And despite the recent slowdown in the market prices in Seattle have remained stable. In this blog, I am sharing with you the model I follow to judge if a home is a good real estate investment. This is the model we train our team on and use with our clients. Ok, actually I also have a super nerdy spreadsheet. But you can always call and if you are a nice person I will share the spreadsheet.
There are 5 key features I look for in a home to measure whether it will make a good investment home in Seattle:
A Great Location
Close to Transit
Ability to Improve the Home
Rental Potential aka Passive Income
Has Potential for Future Development
Start Here – Kim's Take On if Buying Real Estate is a Good Investment
Since I love a little show and tell, in this post I am going to use our newly listed Judkins Park Duplex to demonstrate each of these points. Basically, this home is almost a perfect example of what makes a home a great real estate investment.
---
Our Top Tips On What Makes a Home a Great Investment in Seattle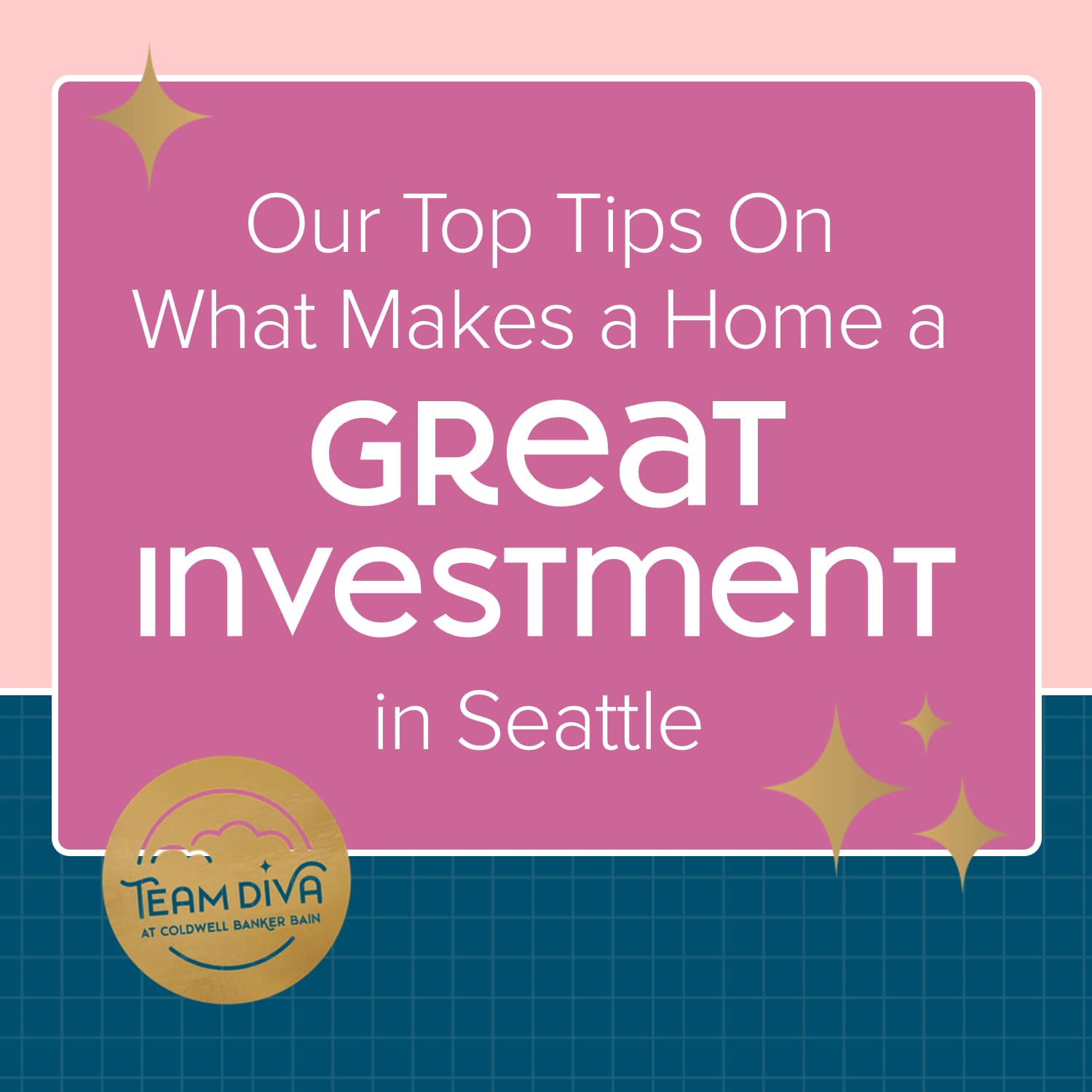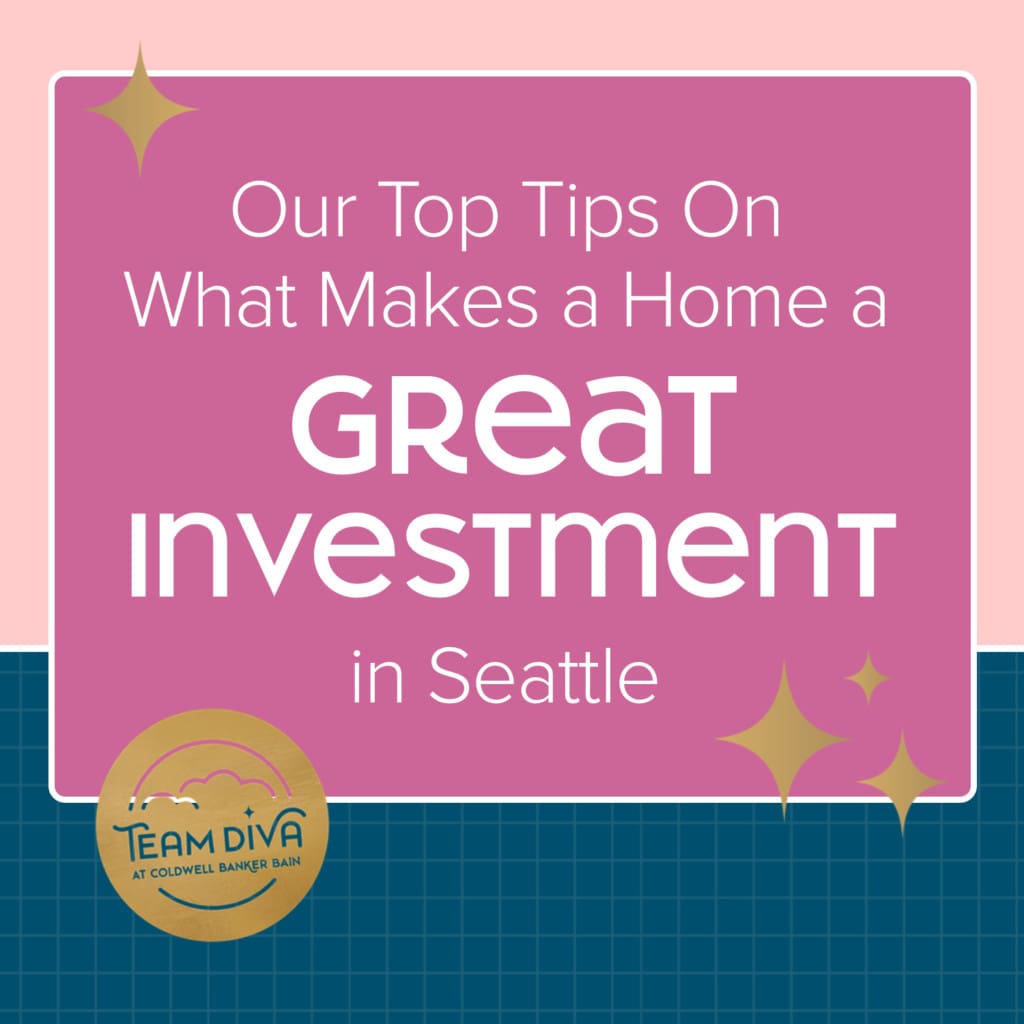 Overall in Seattle, a great investment is a home that will basically cover the mortgage and maintenance, and generate a little bit of income. Seattle is a place you invest if you want an assurance of appreciation in the overall home values. It is not a place if you want a Cap Rate of 5% or higher like all of those passive income blogs and podcasts talk about. Also, can we talk about the fact that most of those people bought in the Great Recession? Anyhoo, I do have some awesome brokers who work in cities and have properties that pencil. Let's dive in on what makes a great investment home in Seattle.
1. A Great Location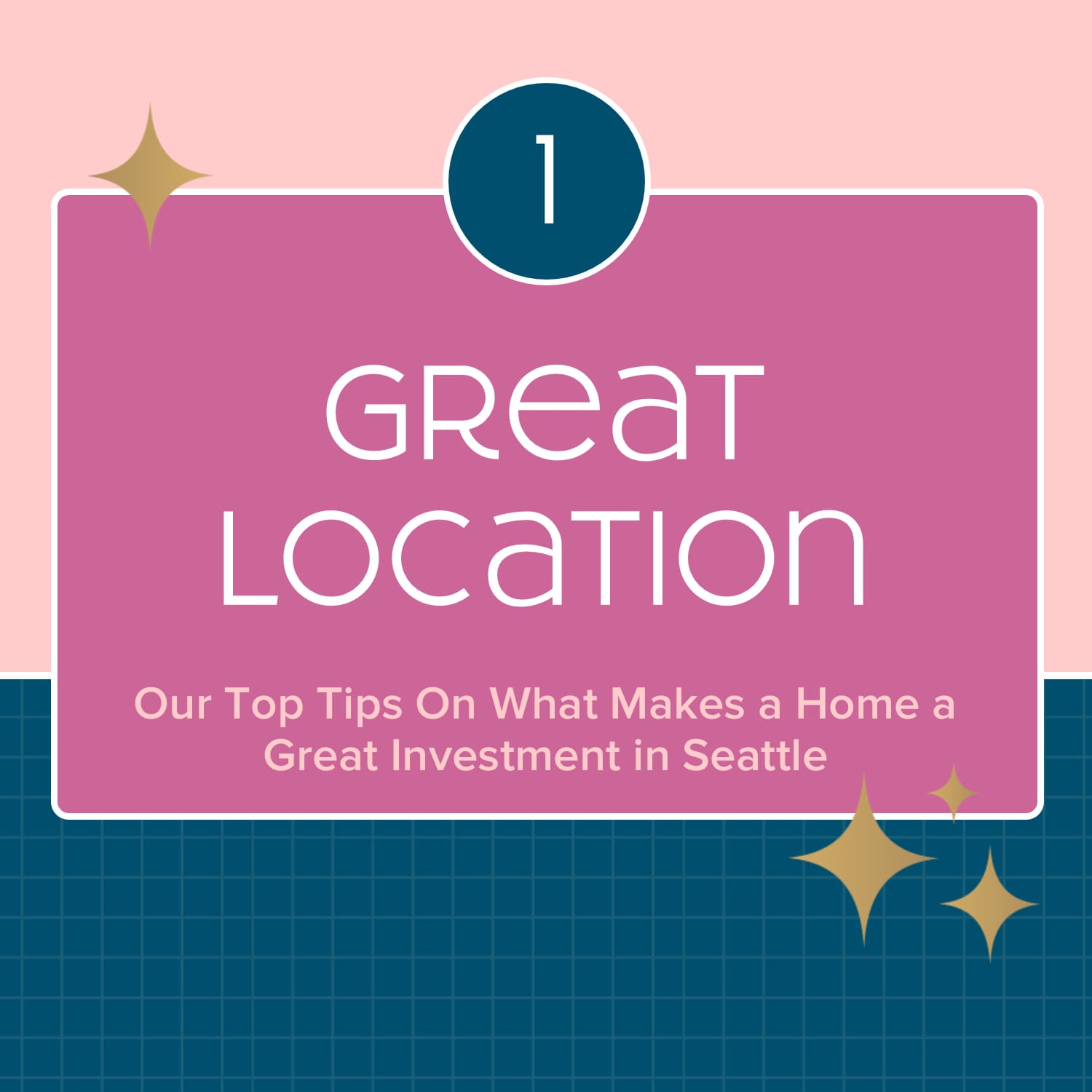 Finding a home with a high "walk score" that is close to schools, parks, and dining is always a plus for an investment property. Renters and future home buyers love the convenience and will always pay a higher price to get it. This Judkins Park home is centrally located close to great restaurants, it's minutes from downtown, and well, the Park—Judkins Park—is literally at the end of the block.
2. Close to Transit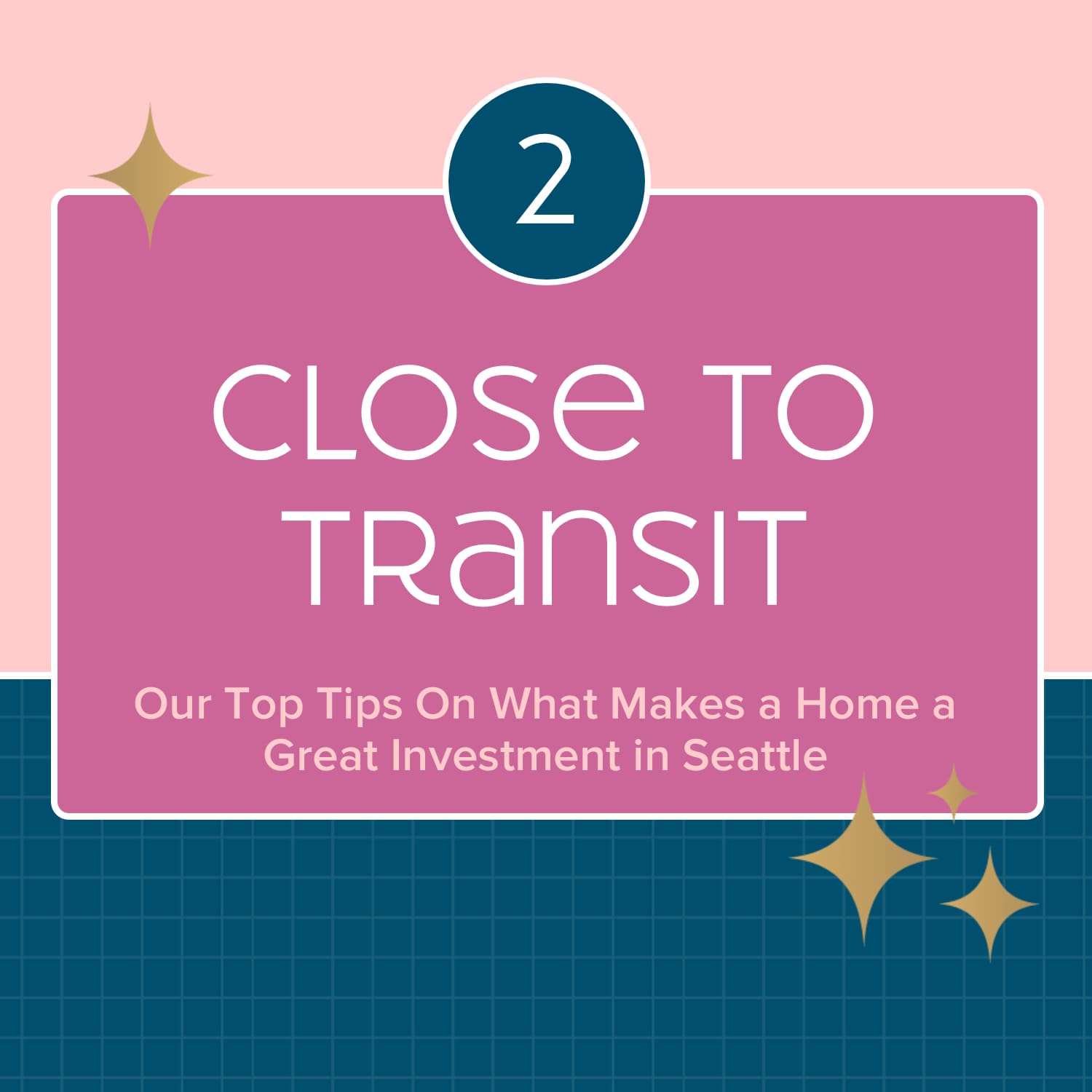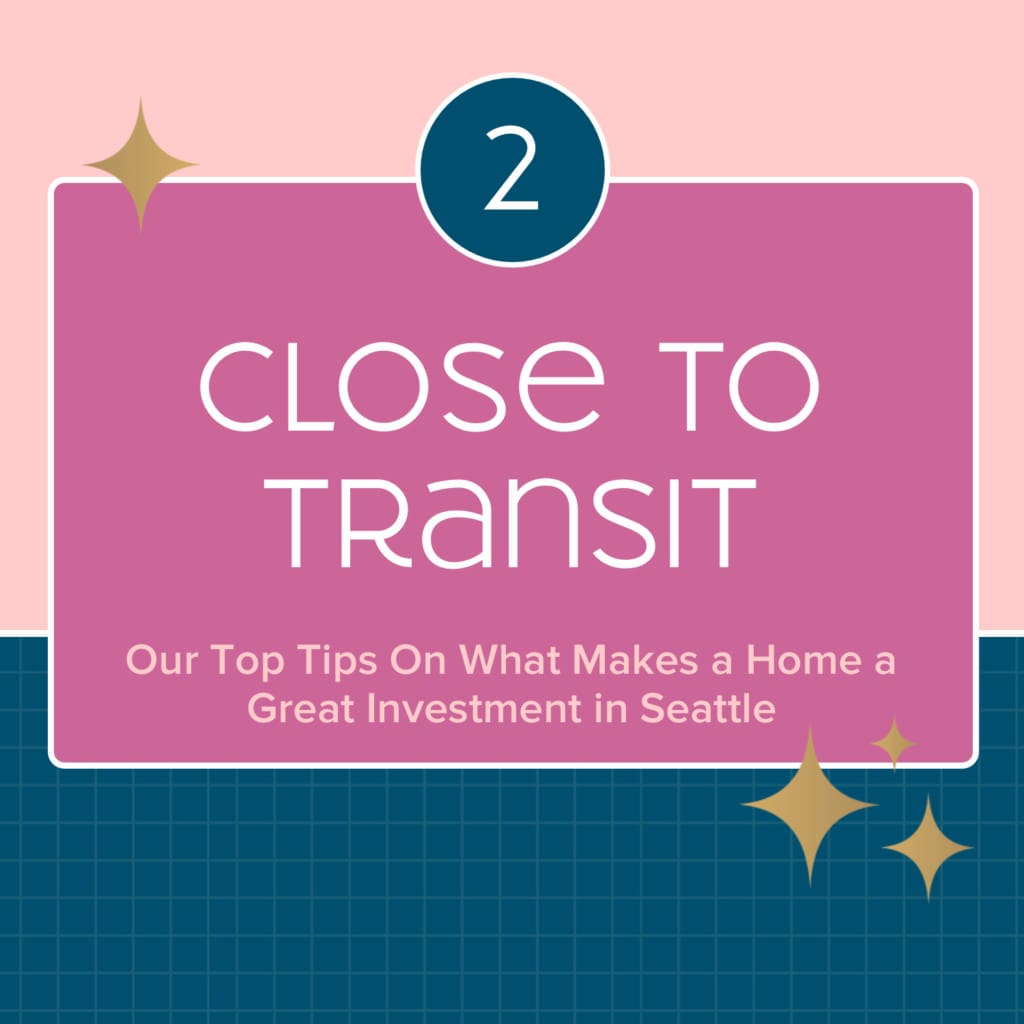 This is also all about convenience. Buyers and renters love the idea of NOT having to use a car to get around. Especially in Seattle. So being near transit is a huge plus and ensures your home will not just hold its value, but continue to appreciate from year to year.
This duplex is not only located on 23rd Ave S where you are just a block or two from a major bus line, but it is also only 2 blocks to the future Judkins Park Light Rail Station. This station will be opening either in late 2024 or early 2025 and will connect Seattle's North-South Link light rail line to the east-west line that will run into Bellevue and Redmond. You can walk 2 blocks and either go east to Microsoft, north to the University of Washington, or south to Downtown or the Airport. No car. No Ubers. Talk about convenience!
3. Ability to Improve the Home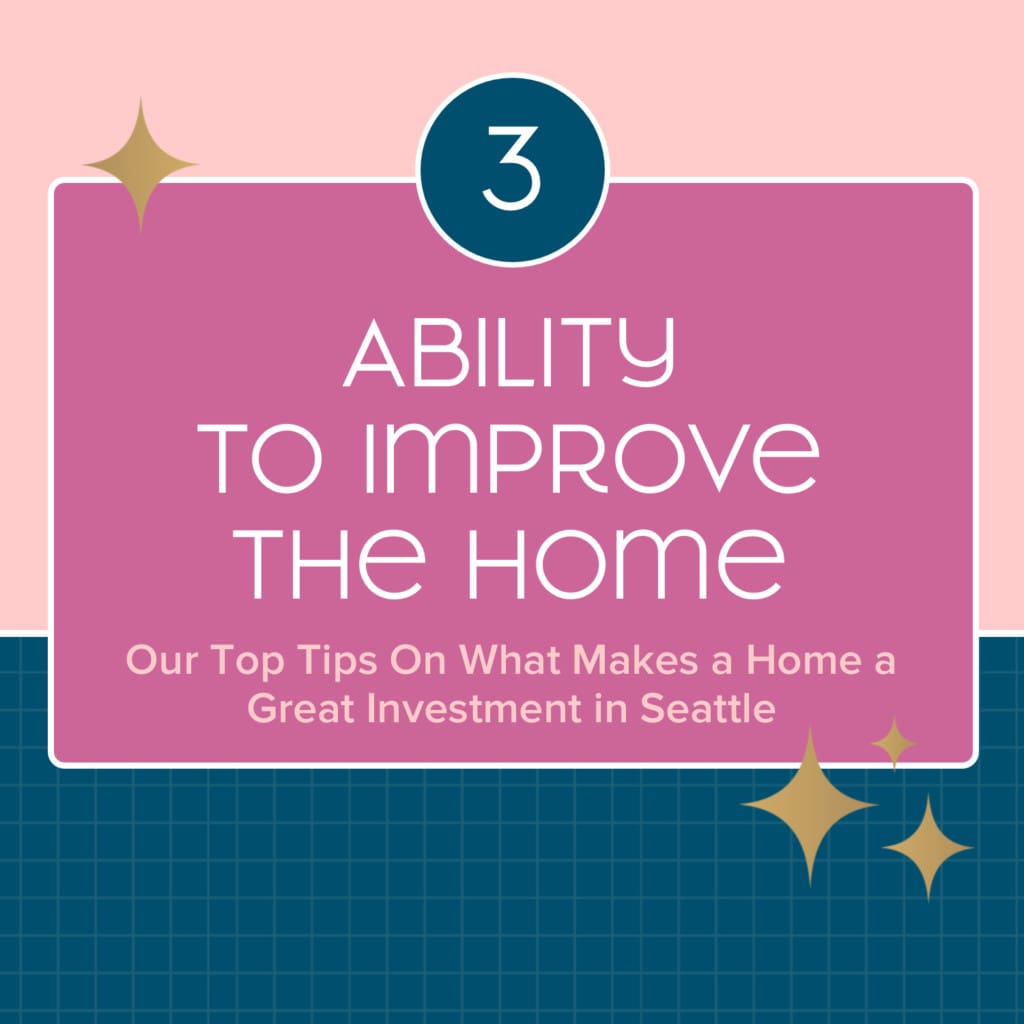 I absolutely love selling homes that need a little elbow grease, and this home for sure fits into this category. It's absolutely livable and rentable now, but it is also ripe and ready for a fab kitchen and bath remodel. Buying a home, like this, where you have the ability to gain equity through thoughtful home improvements is a huge plus in my book if you do it right!
If you upgrade a home well and with intention, you will garner a higher return on your investment than what you can get through appreciation alone. I had a client many years ago who decided to install this super fancy Italian marble tile in the bathrooms of one of his rental properties. Talk about expensive! Truly, you should not be breaking the bank on a rental remodel.
4. Rental Potential aka Passive Income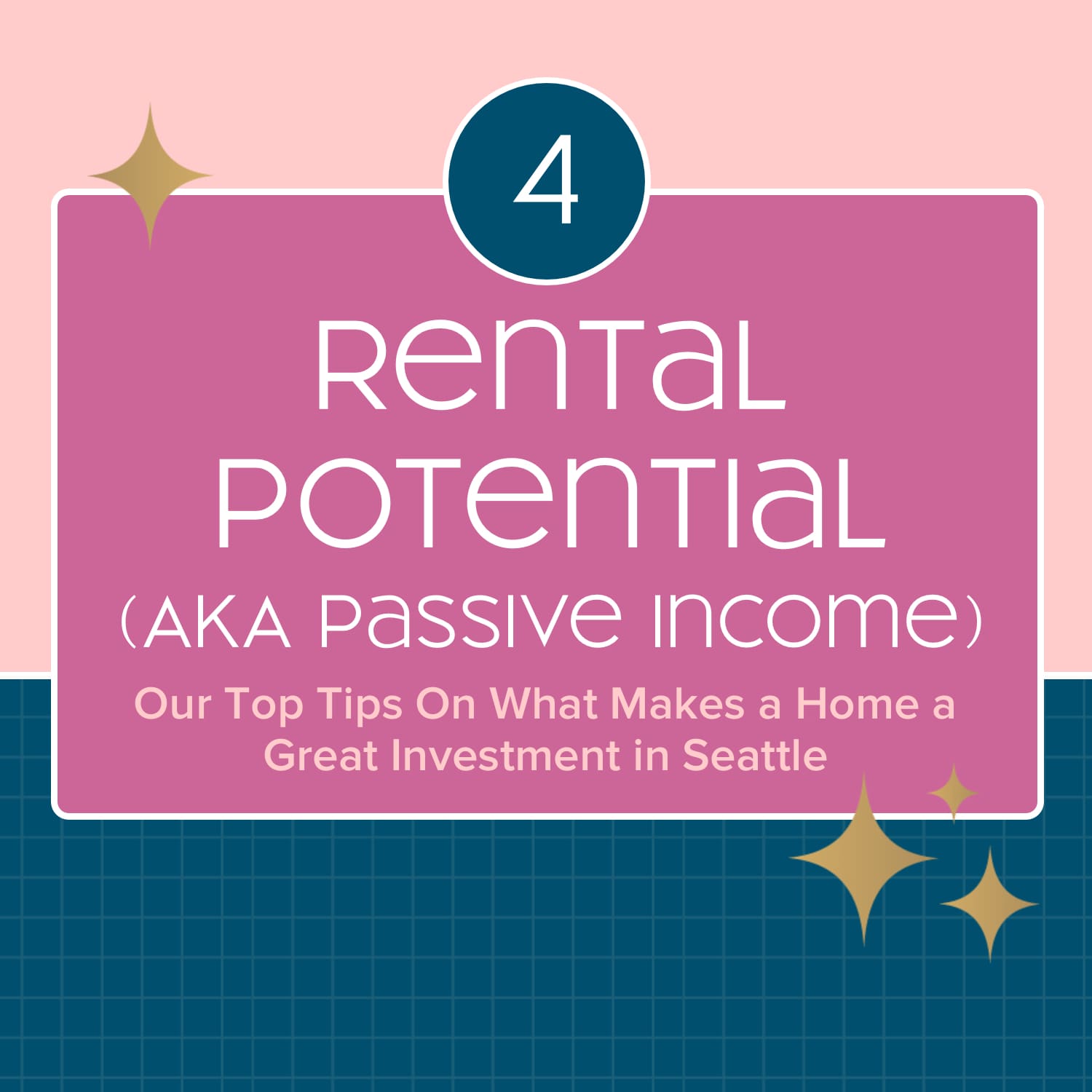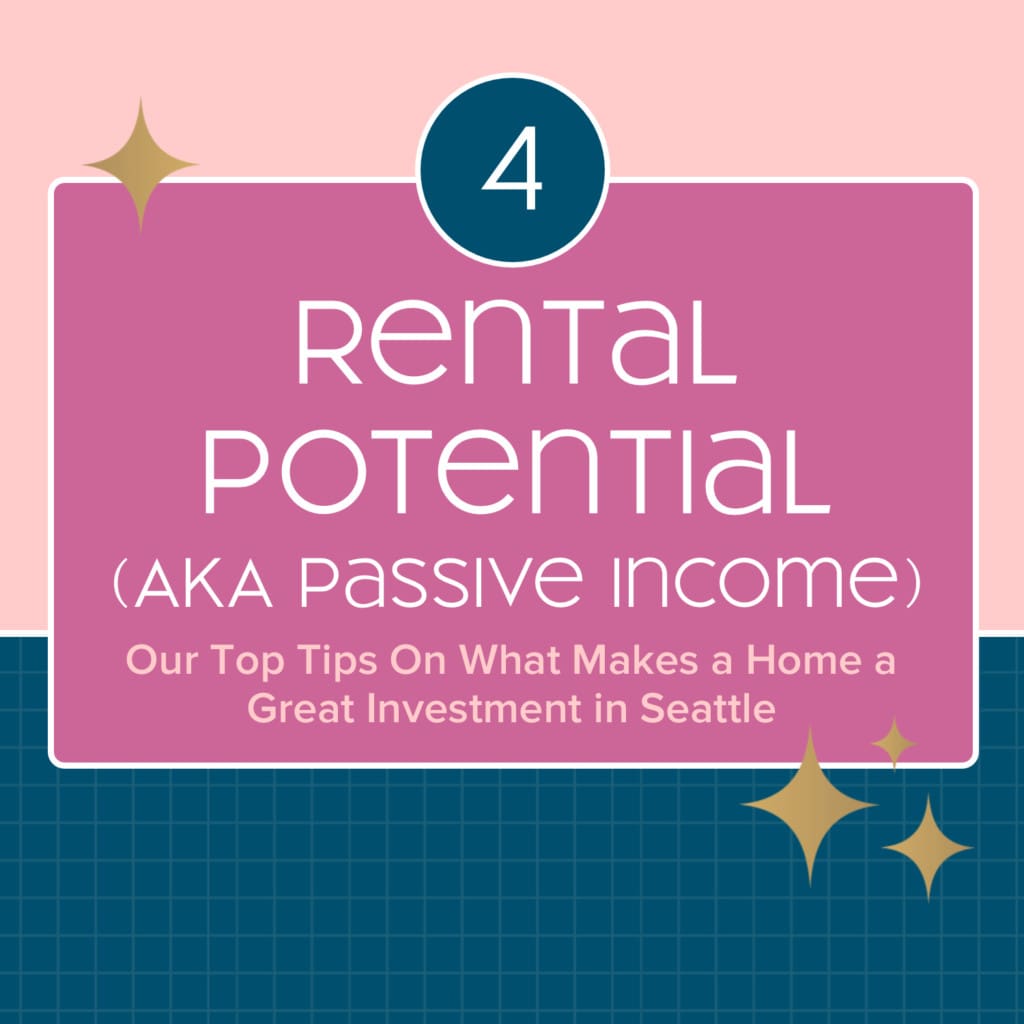 This home definitely fits the bill for generating passive income. It is a legal duplex with a 2-bedroom unit upstairs and a 2-bedroom unit downstairs. Both were renting in 2022 for a total of $3,150. Duplexes, triplexes, and other multi-family properties are not just great investments, but you can buy them as your primary residence and have your tenants help pay your mortgage. I do suggest you purchase these types of homes with the intention of holding them long-term to get the best return on your investment.
Other types of properties that also make good long-term rentals are townhouses and condos. These are great starter homes that have the potential to become solid rentals when it's time to move up. Just be sure to check the title for a townhome or the HOA rules for a condo to see if there are any stated rental restrictions. Also, be aware that the city has added more regulations on short-term/Airbnb-type rentals and MOST condos do not allow these at all.
5. Has Potential for Future Development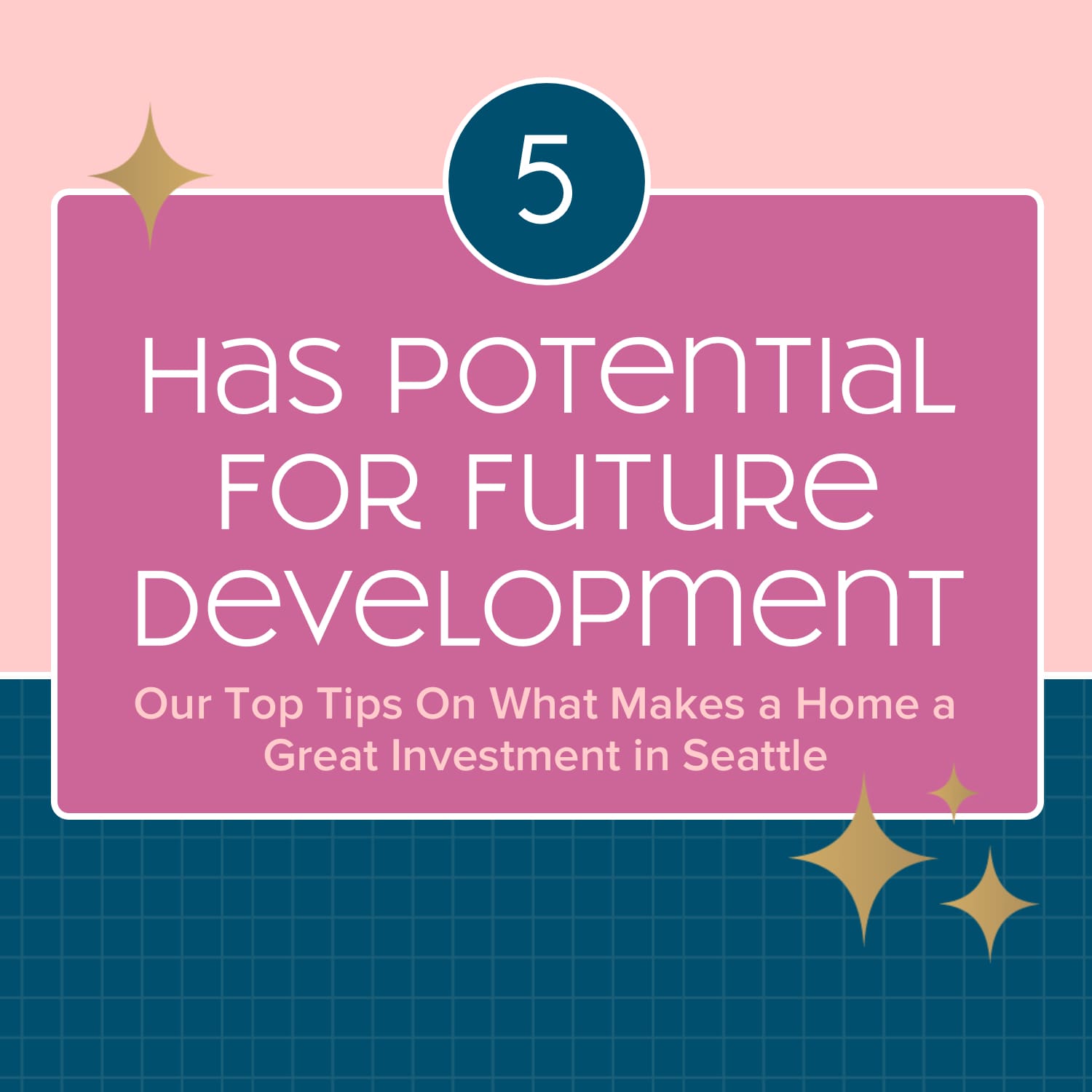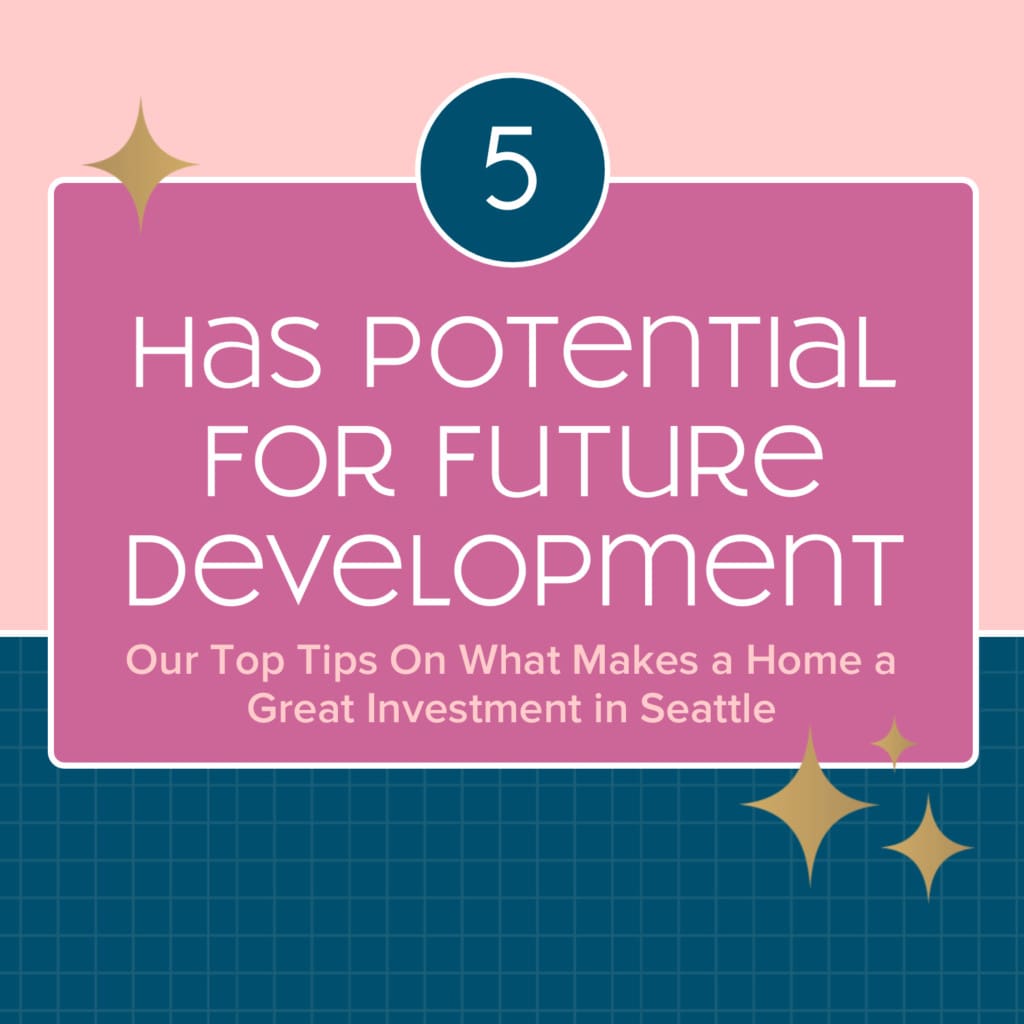 This is definitely the hardest mark to hit when making a real estate investment purchase. If you are thinking about buying a property for future development, make sure to check the zoning, lot size, and consider the location. The city can be fickle about where they are willing to give a variance for density, in spite of the fact that we need more density everywhere in Seattle, not just in our south-end neighborhoods! Buying a property that allows for increased density is not only great for an investment, but it's great for our city.
This Judkins Park duplex may fit the bill for future development based on the current zoning and location. Whether you are looking to improve a property for increased rental potential, add an Accessory Dwelling Unit, or convert a property to townhouses, it is crucial that as a buyer you do your research with the city. You may even need a feasibility study to ensure you can execute your vision.
---
Now You Have a Few Tips On How to Find a Great Investment Home in Seattle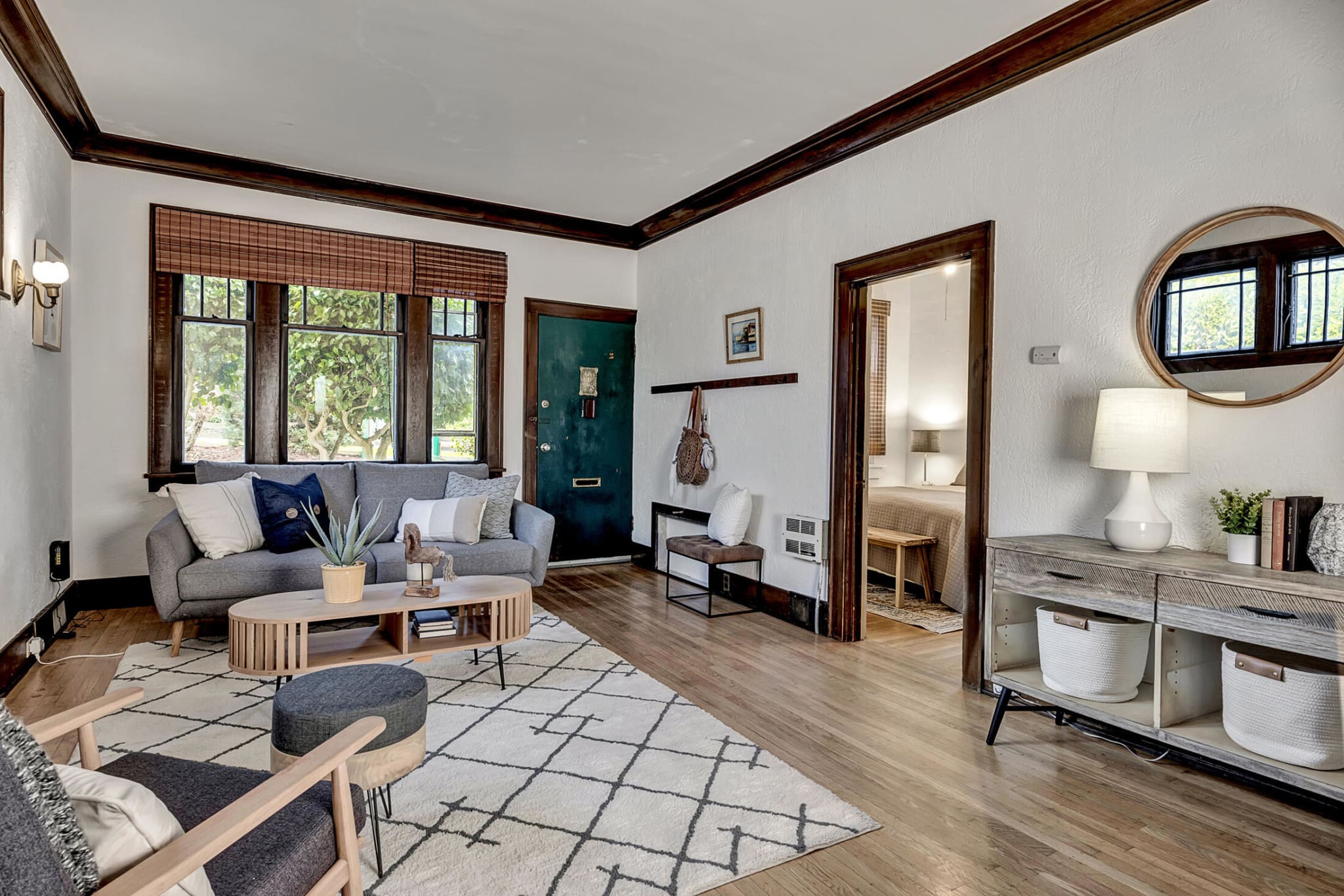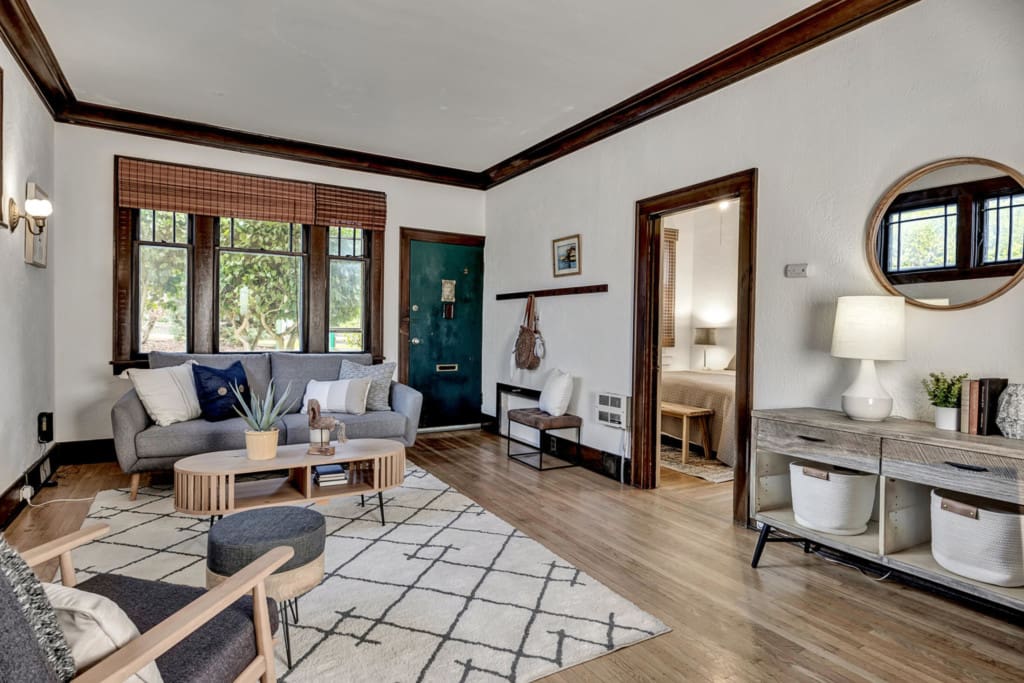 The five key features I look for in a home to measure whether it will make a good investment home in Seattle are as follows.
Five Tips for Finding a Great Investment Home in Seattle
A Great Location
Close to Transit
Ability to Improve the Home
Rental Potential aka Passive Income
Has Potential for Future Development
And if you are curious about our newest Judkins Park Duplex check out the listing here.
Feel free to contact us directly at thediva@teamedivarealestate.com or call/text 206-271-0264. I am always happy to talk to someone who is curious about investing in a home in Seattle.