Bacon Strip: Sylvia's Special Christmas Gifts
One of Team Diva's favorite parties is wrapping up (and putting a bow on) its holiday events this weekend. Bacon Strip hosted by Sylvia O'Stayformore brings boys, burlesque, drag and—of course—bacon to Theatre Off Jackson. This Friday and Saturday, December 16 and 17. The cast is a little different on the two nights, so check out the website for the performer list. We'll be there on Saturday to see our beloved DonnaTella Howe. Don't miss Apostrophe (FKA Queen Dan'l) on both nights, for some truly outrageous, artful monster drag, and the talented boys of House of Darling. Get tickets online.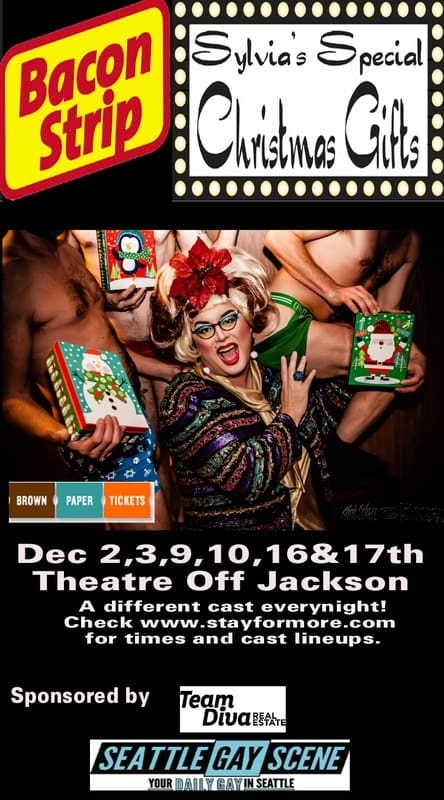 Land of the Sweets: The Burlesque Nutcracker at Triple Door
This is The annual winter burlesque bonanza by the Atomic Bombshells returns to The Triple Door. Land of the Sweets: The Burlesque Nutcracker is so decadent, it will give you cavities, then fill them with nougat. There are early and late seatings, so whether you want to get home before the kiddies' bedtime or stay up late, you have options. This is the 11th year of Land of the Sweets, co-hosted by Jasper McCann and lily Verlaine, and it just keeps getting sweeter. Get tickets online.
https://www.youtube.com/watch?v=-R5Ya0F5KzA
Homo for the Holidays at Oddfellows Building
One of the most hilarious and raucous holiday events you'll ever see, Homo for the Holidays blends an all-star cast of burlesque, cabaret, dance, drag and music in the gayest of apparel. BenDeLaCreme, Kitten LaRue and Lou Henry Hoover are the glittering masterminds behind this local holiday classic. The pageant happens in the grand west hall of the Oddfellows Building, where you can drink and dine at the Tin Table before or after. Just save room for Cookie. Get tickets online.


Dina Martina's Christmas Show at Re-Bar
If you haven't seen Dina Martina's Christmas Show yet, then you have never had a real Seattle Christmas. You haven't been to legendary dive Re-Bar, you are missing out on some of the freshest, weirdest entertainment in town. Whether you are new to town or not, Dina Martina's festival of generous gifts (both pronounced with a soft g, naturally), catastrophic carols and comedic genius is not to be missed. Merry crass mess to all! Get tickets online.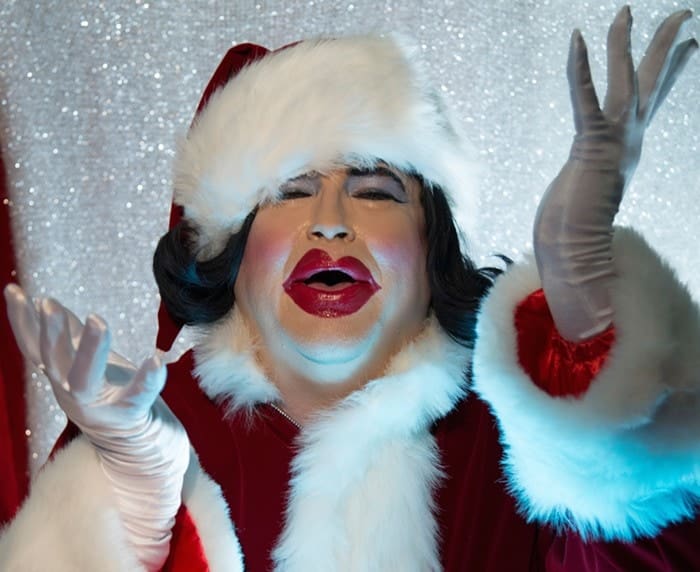 Wonderland Winter Cabaret at The Cancan
Oo la la! The winter cabaret Wonderland starts this weekend at The Cancan. The scintillating spectacle continues into January, reveling in the frost while warming audiences with its tantalizing dances and dinner options. This includes a special night of celebration on New Year's Eve. The crew has added an additional show after its 6:00 and 8:30 shows. The 11:00 performance includes a champagne toast and party favors, and all performances on NYE have a specially created 4-course menu. See the various showtimes online.