Spring is the best time for Diva Dwellers to put their house on the market. Consistently one sees higher number of sales and better prices fetched during the spring. Around this time of year we start to get a lot of calls from our Diva Dwellers who are ready to finally have a second bathroom, a garage, move out of their condo, or whatever the reason they want to sell their current dwelling for one up the street. The Divas walk in and, with a keen eye, look for how we can sell the home for top dollar, at minimal expense, and make it easy for our folks. Often we come across a kitchen that needs a Diva makeover.
The kitchen is the home's center stage. It is where people congregate during parties, it is where we bake cute cupcakes and plan large dinner parties. It is also an area where buyers can easily identify issues. Buyers will quickly perceive value or discount on purchase price based on what they find in a kitchen. But more importantly the kitchen is where our home owning imaginations can really take flight.
Think about it from the buyer's perspective. Many people are working well above forty hours a week and have super tight funding restrictions to buy a home. The idea of having to ALSO renovate a kitchen on top of coming up with their down payment is going to be the difference of selling your house or not selling it at all. Here are some hints to make that Kitchen fantastic for not a lot of money!
Let's get your kitchen in Diva-riffic shape!
Step 1: Keep Original Cabinets if They are in Good Condition
Look at ways to repaint, re-stain and/or refresh the existing panels. You can also order new cabinet faces for way less money than having to replace all of the cabinets. Obviously if you are in a higher end market consider spending a little more in this area to get that stunning updated look and feel.
Step 2: Make Sure All of the Appliances Match
Yes – buyers will notice if you have a stainless steel stove, white dishwasher and a refrigerator that is getting ready to break down. Upgrade to stainless steel if it makes sense. But more importantly just make sure it all looks clean and simple.
Step 3: Smart Ways to Upgrade Your Counters
Do you still have the original builder grade tile counters? Or the sexy green tile from the former owner. Were you waiting for just the right counter to come around? Well now is the time. Here is our number one suggestion. Go to Stone World in the SoDo. Go to the back or into the yard. They sell slab counters that are remnants. Other recent favorites that we adore is a slab of marble found at Second Use on a kitchen island. The surrounding counters are butcher block from Ikea. Economical and so French countryside yummy.
Step 4: Flooring Can Finish the Look
Kitchen floors are a train wreck of food preparation, pets, kids and other disasters. It's the most traveled and used space in your entire house. Wear and tear can easily come through and require a simple upgrade. People adore cork, marmoleum, and hardwoods over the peel and stick flooring of our youth. As usual, make sure your flooring integrates with the look of your kitchen. There are lots of great wood laminate flooring products that look more expansive than they are in reality.
Step 5: Paint to Impress / Please No Yellow
Lots of people think that yellow looks fun and festive. Seattle's reflective light has lots of green and blue hues. As a result many yellow painted rooms photograph in a way that looks sickly. Stick with a theme and make sure it integrates with the counters, cabinets and flooring. Personally, I'm a big fan of latte, stark white, Tiffany blue, steel grey, and other colors that make the food you are preparing center stage.
Photos of Diva Dwellings Post Kitchen Refreshes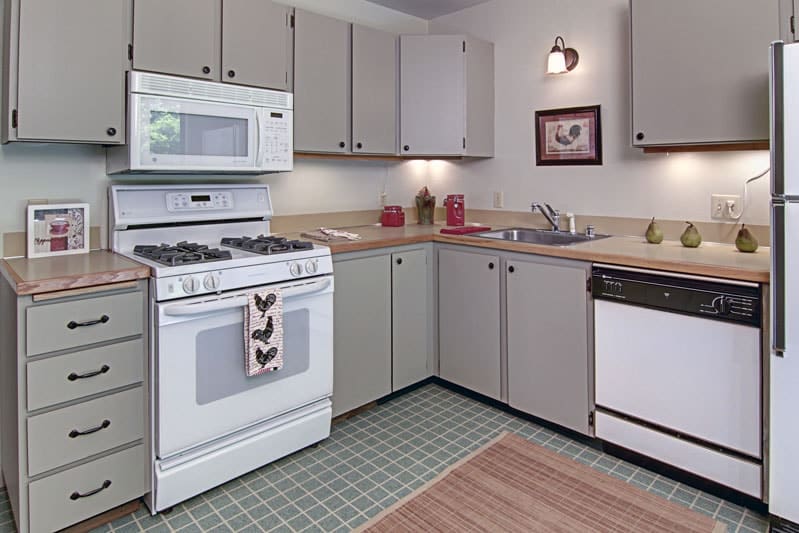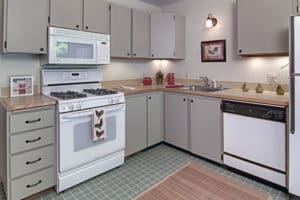 Here are some inspiration articles to get you going:
Always feel free to check out our remodeling resources page or Swanking up for the Sale to get you started. Also – Team Diva love to catch up with our pals and see how your house is coming along. Give us a ring if you are thinking about updating, renovating, selling, just want to have coffee, etc. Let's get that house sold with a new Diva Kitchen!