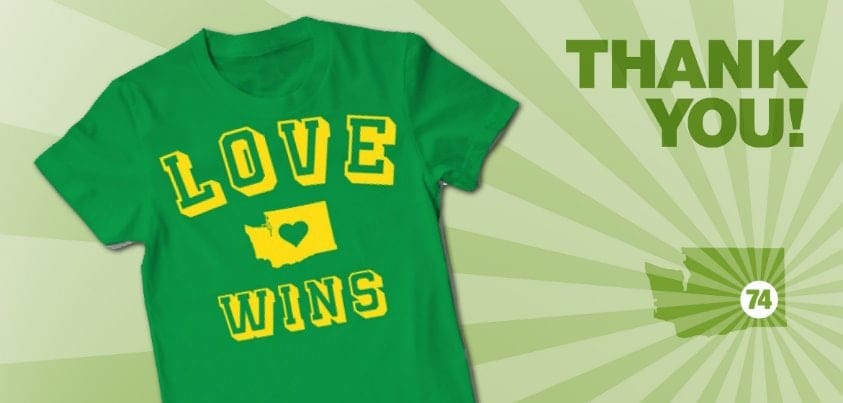 Well Diva pals, WE DID IT! Last Tuesday, history was made in Washington State (as well as in Maryland and Maine) as we approved same-sex marriage for the very first time by popular vote. We are so proud of our state for taking such a monumental stance on marriage equality, showing the world that we believe in equal rights for all. Now not only can we Divas get married, but so many of our loving and committed Diva Dwellers and Divotees can also tie the knot. Also, remember our friends John and Stuart that we met at a marriage equality fundraiser? Well they are already planning on marking their 35th anniversary together on December 8th with a fabulous wedding celebration on December 9th, the first possible day for gay marriage in Washington! So for all of you wondering about the ins and outs of the law, here's the breakdown of how it all works: Since the law has officially passes, it goes into effect on December 6th. That day, same-sex couples will be able to apply for marriage licenses throughout the state. Three days later, on December 9th, will be the first official day for all of those fabulous gay weddings to take place and mark the official beginning of marriage equality in Washington. Although we Divas won't be jumping on the wagon right off the bat, keep an eye out for details to come- rest assured it will be the Diva event of the year in 2013!
We have been honored to be a part of the fight for marriage equality in Washington State all the way from the beginning to the end. It's been a long time coming, but we couldn't be happier to be living in a state that finally recognizes yet another aspect of equality under the law. Although it's only one step in a long journey of full equality in the U.S., it is a HUGE step and as one of our favorites, Macklemore, says "it's a damn good place to start."
Check out how important marriage equality means to the Divas and Washington State in the King5 report on Election Day – the Divas are even a featured interview!